JOURNAL OF A LIFE – Roots
"A Life Worth Living Is A Life Worth Recording"
'Cowboy' Joe Schroeder
JOURNAL OF A LIFE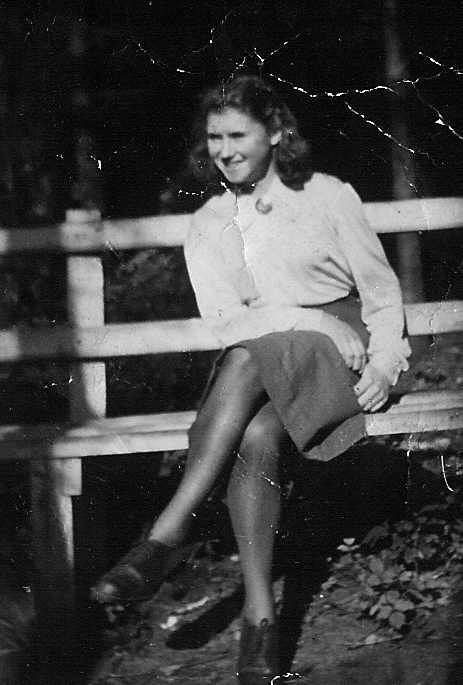 The Early Years – ROOTS
Prologue
We have had a wonderful, wonderful childhood.  My childhood was full of all sorts of little episodes,  happy ones, interesting ones, sad ones, and overall a wonderful sense of 'being', of 'life', of floating. It is worth recording, at least some of it. Not just the childhood but life, the whole journey through this life so far, as a little document of a life in the 20th Century. Just in case my grandchildren will be as interested in "the olden times" as I have always been. That is my reason for making this journal, to record a happy memory.
I remember when I was a child, and later in my teens, listening for ever fascinated to stories from older people. And when they were in their 50s or 60s it seemed all so long, long ago when I was in my teens etc. And now I am nearly 57, in fact when this is finally finished I might be in my early 60s myself, it is time to write some of the life and experiences down.
I was born in 1926, how far, far away that sounds even to me, and yet a lot of happenings are in my mind as if they had only happened yesterday
My parents were born in 1889 and 1893 which is the last Century and some of the tales will be of their telling.
My Grandparents were born in the 1860's and that seems incredible, that I remember things which happened to people born that long ago.  At least some of the things they told, and some of the things I did with them.
At least three Wars lie between those lives. The 1870/71, the so-called First World War 1914/18, and the so-called Great War 1939/45 in my own lifetime . And in between and at the same time lots and lots of other great and small wars. My wish would be that, when these words are read by my great-grandchildren that 'War' is as strange a word for them as Space travel is to us now. That would be wonderful.
ROOTS
It was in the 1880s when a budding young Engineer married his lass. In this case it was in East Fresia in North Germany, in a little Coastal Hamlet called Carolinensiel. The young, very dashing, good looking Oltmann Kruse took the very beautiful daughter of the village, a neighbour child, called Hischeline Haschenburger as his bride.
Their future then lies in the town of Wilhelmshaven. There they spent nearly all their married life and became the proud parents of seven children, five girls and two boys.  Grandfather or 'Opa' was the Engineer in charge of the 'Suedcentrale' the South Power station of the Marine Werft which was one of the largest Shipbuilding Yards in the old Germany.
The Kaiser had made this little place in 1869, consisting of a few small Townships, Heppens, Band, Ruestringen, into his town, in fact it became William's Harbour i.e. Wilhelmshaven on the 17th of June 1869, for Emperor Wilhelm the First.  His son, Wilhelm the second, made it then into an important naval base.
The post which Opa held was quite something, very respectable and with great responsibility. They lived in the great house by the Centrale which was the due for this great Engineer. My sister Paula remembers very ,very  happy times spent roaming in  this big house , playing with cousins and the younger end of Oma and Opa's children. It must have been wonderful. I was too small to remember any of this. By the time my memory starts the Grandparents are already living in a little flat in the town and Granddad is retired. Anyway, there are these seven children and my own mother, Marie, (or Mietze), is the second eldest daughter of this happy couple.
My father comes from the Rhineland, born in Krefeld and later living in Kempen-am-Niederrhein. As we always lived in Wilhelmshaven and visits to and from relatives of the Rhineland were very rare occasions I really don't know too much of my Grandparents in the Rhineland. Except that my Granddad, the lovely old Conrad Schepers, was always my special Granddad. At least that was what my childish fantasy always very firmly believed. And I remember dreaming a lot of him, my very special, very own Granddad. How did this come about? I don't really know but one thing I do remember clearly.  When I was told that Granddad had died, of Sugar Diabetes, in the August of 1926 after I had been born in April of that year, it became quite clear to me from the beginning that he had made room for me on this earth, as I had it fixed in my mind that that was the way it had to happen. God could only keep an eye on so many people on earth, so when there were too many people in one family, an old one had to go when new ones came. It also took care of the Wars for me as they had to happen because things had got a little bit out-of-hand and a lot had to go.  Dreadfully simple wasn't it? but that's how it was, I was only very small but this "special Granddad" idea stayed with me for a very long time, even when older.
Grandmother came to stay with us sometimes.  I can only remember her faintly as a very stern old lady in a rocking chair. She lived with her youngest daughter, darling Aunty Paula, in Kleve on the Nieder-rhein until she died. There also were five children.  My father, Walter, was the eldest, then Tante Erna (who married very rich and was a lovely aunty living in Duisburg, the first people I knew as a child who actually owned a motorcar!!!!!!) Aunty Mathilde, who died as a young woman, a beautiful lady, and then Tante Paula, who is now eighty-three and absolutely fantastic, and then the youngest uncle Arthur, who had the business with my father in that great firm, but more about that later.
My father was in the Marines in the first World War 1914/18 and fought gallantly with the 5th Matrosen Regiment there. He became a Prisoner-of-War of the French towards the end of the War in Flanders. Many a good tale was told about that to the ever listening ears of his daughter Annekaete who adored him.
He escaped from the French and fled to North Germany at the beginning of 1919. The Rhineland was still under French occupation and so he could not get home. So he came to Wilhelmshaven. He had been stationed there for a little while during the War and had become friendly with the lovely Marie Kruse who was his sweetheart. So when he could not get to his own home he naturally came to his sweetheart. They married on the 1st September 1919 and happiness was with them through good and bad times.
He was a Glazier and Signwriter by trade, a Master of both in fact.   He opened his own business.
But that, Dear Reader, is a tale for another day…
🙂
For myself, I hope that today's post encourages us all to reflect on our own roots. 
Where was our family tree planted?
What fruit did it bear?
What seeds are we 'throwing out' on the life journeys we have and are undertaking.
As well as those undertaken by those who are near and dear to US.
We are who we are because of these  roots and these journeys.
Where is YOUR journey taking you next, I wonder, Dear Reader?
🙂
Oh, and by the way,
If you got value from todays content please 'like' it and $hare it with three people who could most benefit from its message
🙂
FREEDOM, STRENGTH AND HONOR TO YOU

"Teaching families to FIND money, CREATE income and DEVELOP Generational WEALTH"
Let's stay in touch
Phone: 610-781-2392
Skype: prpock
Facebook
LinkedIn
Twitter
YouTube
Google Plus
PARTICIPATE in our Generation Of Wealth Communities
We Are Think And Grow Rich Call (Mon – Fri) 712-432-0990 Access Code: 565762#
Generation Of Wealth Broadcast (Sat)
Timeless Wisdom In Action (Facebook Group)
Carnegie Project 10 Billion (Facebook Group)
Freedom Nation United Blog
LOVE WEALTH – LOVE HEALTH – LOVE HAPPINESS – LOVE LOVE