JOURNAL OF A LIFE – The Games Are Over. Life Begins In Earnest.
 #freedomquadrant 
Life can be tough enough. We NEED to celebrate our accomplishments and stop beating ourselves up about what we "haven't" …
  (See more…)
JOURNAL OF A LIFE
Yes, Yes, Yes
Welcome, Welcome, Welcome
Freedom Nation United


Find Money, Create Income and Develop Wealth
Poke about and check us out –> –> –> –> –> –> –> –> –>
🙂
As a great mentor of mine – Joe Schroeder – never tired of saying "A Life Worth Living is a Life Worth Recording" so today I am here to share another episode in the life's journey of one of the great people whose life I am privileged to have shared a part of – my mother AnneKaete Pocklington.
The Games Are Over. Life Begins In Earnest.
Imagine, if you will, the scene in a young child's life when everyone is gathered around a radio.
Your Country is AT WAR.
What could that possibly mean in the mind of a child?
READ ON…
The Games Are Over. Life Begins In Earnest.
These were all such wonderful times and one could go on forever telling the tales. So many things altered after, and nothing ever was going to be the same again.
First of all that fateful day when all the grown ups went upstairs, into Tetta's Living-room, to listen to the Radio for that special announcement which was supposed to come.… and, fateful day, came with the words……"and so from eleven o'clock this morning, we are at W A R !!!!!!" Tears and worried faces, and holding hands and wondering. And one was really too small and wasn't really told anything properly. One had to figure a lot out oneself, and listen to catch little bits of conversations when the Elders talked.
Things like….Hermann will have to go, he is still young enough ..and… a good thing, it will be over at Christmas, the Radio had said so … the boys will all be back at Christmas with the sophisticated weapons they had now … the fleet is strong….well, we could not let the Poles get away with the raping of the women and children when they overran and raided the borders … (What was raping? Must be nasty)…. Thank God Walter is still a child….Will Vati and Atta have to go? …
To me it was just one thought, roll on Christmas and everything would be alright again. I had always loved to listen to Vati's tales of his Army experiences, when they had so many Cockroaches in their food in the trenches that the lads could not eat it. And then somebody had found a large Mincer in the village and from then on they minced all the food and, thank God, they had no more Cockroaches……. And other really funny things, when Dad was in the War…..
And here was now a War, and they talked about everybody going to it, maybe being killed, and hardship and heartaches, and rations and all sorts nasty. That was not the thing at all. It never sounded like that before. And to cap it all, the very afternoon the anti-aircraft guns started shooting a plane flying overhead. …. It came down and went over our heads, and we saw that it was not a German Plane (Dad did ) and the Pilot did not bail out but shot with his Machine Gun at the 'Emden' (Cruiser) in the harbour and went down with his plane next to the ship. And when he was flying overhead and was being shot at and we all went outside to see. And Vati shouting and telling us all to get into the house and shelter. . . . . . and the people talking later about this brave Englishman, who did not save his life and bale out, but tried to shoot the battleship as he went down. And that they must be brave boys who did that. . . . . and all that on the very first day of the War. It was all so strange and so very frightening and also … exciting.
And from then on, hardly any school. And all the teachers having to be Soldiers and our school  shutting up shop. And all the boys Paula' s age and a bit younger having to be Soldiers, and wanting to be Soldiers, and going off to War and me thinking … hardly worth it, surely, when they will be back by Christmas. . . . and me having to go to that ghastly school I hated so much.
Our Form teacher there was roundish, called Herr W, who always, every day, did not wear suits like other teachers but was in Uniform, the black Uniform of the S.A. Or let's just call it Hitler's Uniform now. But at the time, I don't know why, I did not like him for that reason even though I liked Hitler very much. He was 'our Fuehrer' who was going to save Germany from all these enemies. But this teacher I disliked more, because of that Uniform.
And he had a very large Bunch of very heavy keys. And when you had to learn the 'cases', the pronouns governing this and that, and the adjectives governing this or that, you threw these up into the air, for them to hit the very high ceiling in the class, and that was important, and then caught them again, whilst you were saying the tables (mit, nach, bei, seit, von, zu, etc.) govern the dative…you will never forget them again in your life because your swollen hands hurt for the rest of the day…
And we would have Gas Mask training on the playground. We would all stand in a ring and the teachers in the middle, demonstrating how to put these on (see photo on page ???). Because the enemy was going to throw Gas bombs any day now and we must be prepared. We had no Gas masks at the time but we all carried a little tin with a cloth which had been dipped in Vinegar and water. One clapped this wet cloth in front of one's mouth as soon as the gas bombs fell. Uugh!!' one always smelled of horrible Vinegar after these training sessions.
🙂
If  life is the best teacher, doesn't it make sense to learn from the lives of others?
So what did I learn from today's episode?
I learned directly from my mother's experienceing it, what it was like as World War II was announded to the people, 
I learned of the concerns of the parents,
I learned what was being preached about the enemy by the propaganda machine in order to over-ride the Commandment "Thou Shalt Not Kill", and
I realized that in life there really are days after which "nothing is ever the same again"…
So Now it's YOUR turn, dear Reader. What did YOU learn?
Please ADD and SHARE your insights in the COMMENT BOX Below
Next Episode –>
🙂
READY TO COMMIT TO YOUR SELF-IMPROVEMENT?
ENROLL IN OUR F*R*E*E 30-DAY MENTORED SELF-STUDY BOOT CAMP
🙂
Oh, by the way,
If you got value from todays content please 'like' it and $hare it with three people who could most benefit from its message
🙂
FREEDOM, STRENGTH AND HONOR TO YOU

"Teaching families to FIND money, CREATE income and DEVELOP Generational WEALTH"
Let's stay in touch
Phone: 610-781-2392
Skype: prpock
PARTICIPATE in our Generation Of Wealth Initiatives
M-W-F: "Rules Of Money" CyberLunch – Noon EST, Noon CST, Noon MST, Noon PST – Registration Required
Tu-Th: "How The Markets Work" CyberLunch – Noon EST, Noon CST, Noon MST, Noon PST – Registration Required
DAILY: "Grow Rich MasterMind" – Click here to Sample
MONDAYS: "Timeless Wisdom In Action" MasterMind Study Group – click here to view our  Facebook Group
BY APPOINTMENT: "FIND MONEY" Interviews – Click To Request Appointment

ON SOCIAL MEDIA: Blog – Twitter – YouTube – Pinterest  – Google+ – LinkedIn –  Facebook
LOVE WEALTH – LOVE HEALTH – LOVE HAPPINESS – LOVE LOVE

🙂
Oh, and by the way, did I mention that we help families Find Money, Create Income and Develop Wealth. Click here or on the image below to get the process started. Because YOU are WORTH MORE!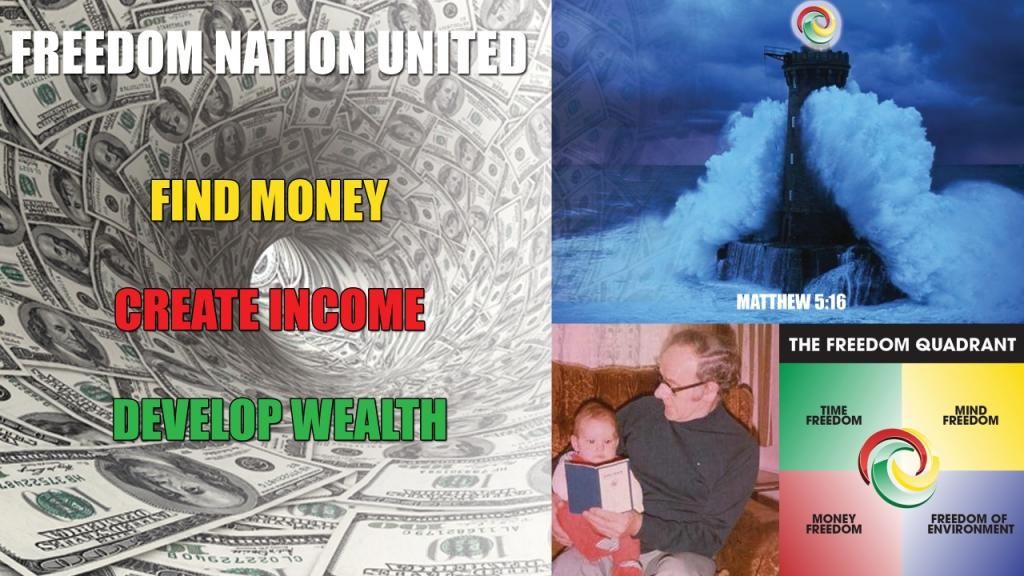 THANK YOU, THANK YOU, THANK YOU