JOURNAL OF A LIFE – The Great Exodus
 #freedomquadrant 
No Power On Earth Can Open A Closed Mind. Let's Keep OUR Antennas Of Understanding Open To Receive At All Times 🙂
  (See more…)
JOURNAL OF A LIFE
Yes, Yes, Yes
Welcome, Welcome, Welcome
Freedom Nation United


Find Money, Create Income and Develop Wealth
Poke about and check us out –> –> –> –> –> –> –> –> –>
🙂
As a great mentor of mine – Joe Schroeder – never tired of saying "A Life Worth Living is a Life Worth Recording" so today I am here to share another episode in the life's journey of one of the great people whose life I am privileged to have shared a part of – my mother AnneKaete Pocklington.
The Great Exodus
Imagine, if you will, that you live in a military seaport in a time of War
You are, obviously, in a direct line of fire.
So what do you do to keep your children safe?
Another 'Great Exodus' begins.
READ ON…
The Great Exodus
When I see pictures nowadays, of little children being evacuated from London during the War, it makes my memories come back and I cannot but help and smile. When I think of the great exodus from Wilhelmshaven, it must have been quite some thing. Fairly at the beginning of the War, in the early Spring of 1940, before I was confirmed and had left school. The authorities must have decided, as the War had not quite finished after all at Christmas, it must be more serious then they had thought. And as Wilhelmshaven was a War Harbour, it was time that all Civilians were evacuated. Navy wives and children first, then ordinary mothers and children, then other females and so on. And so it was time that Mutti had to go with her 3 children. Paula was not allowed just yet, neither was Tetta allowed to, as she has no children. And so we got marching orders, all pack your clothes the Lorry will be here tomorrow morning.
And that was that, Mam cried bitterly, she was heartbroken to leave her oldest child, and Dad, behind. And off we went. To a very, very tiny village in the Jeverland, about 25 km away, dropped in a school away from everywhere. Bit by bit the farmers and small-holders came and collected their ration of people. They had not been asked, we had not been asked, and there we were, thrown together hardly understanding each other's language, their Dialect was very strong. If they spoke with each other you did not understand a word. Mum must have been heartbroken. But we settled reasonably to our task. We all felt badly that Paula was not entitled to be 'saved' just because she was a working girl. As we could not all stay at the same farm I had to go somewhere alone. And that was a bit frightening. But the people were kindness itself and I liked it in a couple of days, once I knew Mum was not too far away and I could reach her in about half an hours walk through fields and lanes.
They killed a Pig the third day I was there, and I was allowed to watch. He put the gun to its head, pressed a trigger, it made no noise, and the squeaking pig fell to the floor. Just a tiny hole showed the gun had shot it. And then they stabbed a hole in its neck and kept pumping it's foreleg. And the blood came gushing into a bucket. This was, in no time, made into black Puddings. And the whole Pig was Sausages and Pieces of Ham hanging under the Ceiling or in smoking rooms, and Pork salted in large barrels, in no time at all. I have never seen anything as quick. But it had to be quick I suppose, before anybody got to know a pig had been killed!!!
A week later we were all back home and that was that. The women in that time must have had a lot of guts, defying not only the bombs of the enemy but also the law in the land which had decreed. . . . .
Mutti learned that the East-Frisians kept pouring you one cup of tea after another as long as you placed your cup the right way up after you had emptied it. It was a sign you were ready for a 'fill up'. Only when you turned the cup upside down after draining the last drop did the housewife know you did not want anymore. Until Mutti was told this, they must have thought 'my, my! Can she drink tea'. But they had the kettle on the go all day anyway, so it did not matter.
🙂
If  life is the best teacher, doesn't it make sense to learn from the lives of others?
So what did I learn from today's episode?
I could not help thinking as I read this episode of the story of the "Pied Piper Of Hameln" and how by following his tune all the children disappeared.
How empty the streets must have been.
How empty the hearts of the mothers and fathers must have been.
As Pete Seeger's anthem asks "Where HAVE All The Flowers Gone" ???
So Now it's YOUR turn, dear Reader. What did YOU learn?
Please ADD and SHARE your insights in the COMMENT BOX Below
Next Episode –>
🙂
READY TO COMMIT TO YOUR SELF-IMPROVEMENT?
ENROLL IN OUR F*R*E*E 30-DAY MENTORED SELF-STUDY BOOT CAMP
🙂
Oh, by the way,
If you got value from todays content please 'like' it and $hare it with three people who could most benefit from its message
🙂
FREEDOM, STRENGTH AND HONOR TO YOU

"Teaching families to FIND money, CREATE income and DEVELOP Generational WEALTH"
Let's stay in touch
Phone: 610-781-2392
Skype: prpock
PARTICIPATE in our Generation Of Wealth Initiatives
M-W-F: "Rules Of Money" CyberLunch – Noon EST, Noon CST, Noon MST, Noon PST – Registration Required
Tu-Th: "How The Markets Work" CyberLunch – Noon EST, Noon CST, Noon MST, Noon PST – Registration Required
DAILY: "Grow Rich MasterMind" – Click here to Sample
MONDAYS: "Timeless Wisdom In Action" MasterMind Study Group – click here to view our  Facebook Group
BY APPOINTMENT: "FIND MONEY" Interviews – Click To Request Appointment

ON SOCIAL MEDIA: Blog – Twitter – YouTube – Pinterest  – Google+ – LinkedIn –  Facebook
LOVE WEALTH – LOVE HEALTH – LOVE HAPPINESS – LOVE LOVE

🙂
Oh, and by the way, did I mention that we help families Find Money, Create Income and Develop Wealth. Click here or on the image below to get the process started. Because YOU are WORTH MORE!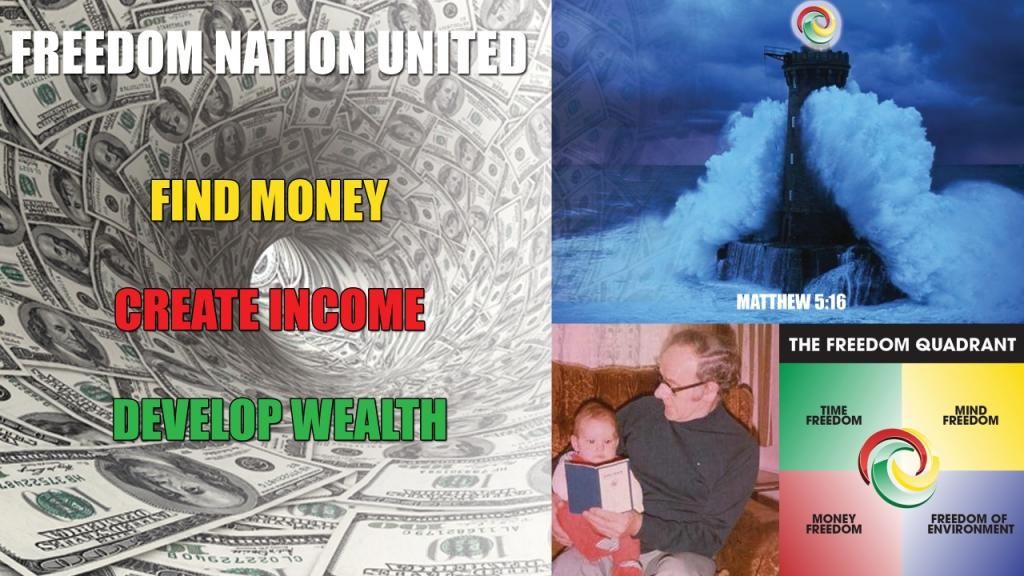 THANK YOU, THANK YOU, THANK YOU