JOURNAL OF A LIFE – This And That #2
 #freedomquadrant 
A Wealth Generation Plan: Nurture Increase. Teach. Teach How To Teach. Teach How To Teach How To Teach 🙂
  (See more…)
JOURNAL OF A LIFE
Yes, Yes, Yes
Welcome, Welcome, Welcome
Freedom Nation United


Find Money, Create Income and Develop Wealth
Poke about and check us out –> –> –> –> –> –> –> –> –>
🙂
As a great mentor of mine – Joe Schroeder – never tired of saying "A Life Worth Living is a Life Worth Recording" so today I am here to share another episode in the life's journey of one of the great people whose life I am privileged to have shared a part of – my mother AnneKaete Pocklington.
This And That #2
What was the school system like in pre-WWII Germany?
What was the daily routine?
The fountain-pen was a new invention.
How did you write?
READ ON…
This And That #2
So many, many things to remember, which might be strange by the time my Grandchildren are interested in 'the past '. For instance in school, and our class, there were about 25 children in the class. We all started school at 6 years old. No playschool or Infants or such before, just straight into the eighth class, as it was called, at six years old; School started at eight o'clock in the morning. The first year one would probably finish about 12 o'clock. later it could be as late as 2.00 p.m. (1400 hours). A class would be about 50 minutes and then 5 or ten minutes break, to start again at the full hour. About 10 there would be a longer break of about 15 minutes. During that break we all queued in the long Corridor for our hot Cocoa or milk. Most people had the Cocoa. There was no assembly in the morning all the classes together. You went straight into the class' room and waited for the teacher, then stood up until told to sit down.
School was every day Monday 'till Saturday. You had to do homework every day. If the temperature outside in the shadow rose to 30°C you were all sent home because it was too hot to work. You had the same teacher for all the lessons except sport and maybe singing. You had physical Exercise at least twice a week, swimming in the summer, ball-games in the winter. Plus Gymnastics about once a week when the whole class went to a large Gymnasium, about 10 minutes walk away.
For the first two years one had a slate, black and framed in a white wood frame. (This had to be scrubbed clean at all times and was often inspected). You wrote on these slates with a grey slate pencil (which broke easy in half) and on the right side of the frame was a hole, through which a string, or two, were attached. On these were fastened on the end a small damp sponge and a clean dry square.(Either crocheted or toweling). This was to wipe the slate clean. On one side were squares and on the other, at first lines, later no lines, just plain black.
You carried your satchel on the back, like a Rucksack. You had your Fibel, your first Reader, your slate, your pencil case and your Sandwiches in the Satchel. If the Sponge did not hang on the slate this was carried in a little tin in the Satchel, very wet so that it cleaned better. For the first two years you would be writing on this slate and then you felt very grown up when you got your first, very thin, exercise book to write in, first with lead pencil and soon with ink. Real Ink. With a Holder and nibs of various thickness'. And then you had to carry a little bottle of ink as well, unless in some classes this was supplied. Then you had inkwells in the desk which was filled every morning from a large bottle. A very messy job.
A Fountain Pen was just about invented but you did not use it in school (it would spoil your handwriting) but most likely you would not own one. That would be one of the presents you might get for your birthday, Confirmation or Christmas. And these Fountainpens were filled from an inkwell by turning while a bolt went down inside the pen.(A posh Pen had see through walls so that you saw it). Then you dipped it into the ink and turned the bolt back up, which sucked the ink up with it. My fingers were always, but always alas, full of ink when I had anything to do with ink at all.
At 10 years old you would be entered for the High school examination, if your parents wished you to go, and if the teacher thought you good enough. If you passed you left then for secondary modern or High School. The latter, the Academic school leading to Abiture, the other both craft and semi academic, leading to 'mittlere Reife' (O-level). At 14 you left the school you had started at 6, having gone through all its eight classes, ending up with first class. The other schools ended at 16 or 18 years old . If you, at any time during your eight school years were not good enough and seem not to have reached the standard expected of you that year, you had to do the same year again. This decision took place at Easter every year with your most important report. These reports came twice a year, autumn and Easter. Had to be signed by father or Guardian (mother's signature was not considered good enough). To make sure he knew that you had to pull your socks up if you wanted to go up at Easter. So – you were not advanced and did the year again .
But if you had to do a year more than twice you were very seriously considered for the 'Help School' which was a special school for slightly backward children. If you were a late Developer you could be coming back to your own school if you improved. Some children did. I did not have to do a class again ever and so went through my years in the normal eight years. Some of my friends had to do nine or ten years until they finally made the first class, as it was called. Some left from the 'second class', if the parents could not afford to keep them longer at school and waited for them to earn.
We always had two weeks holiday at Easter. And then came back into the new class, one higher. Usually with the same teachers. You kept the same teacher for quite a number of years . Then we had five weeks in midsummer, the long holiday, later extended to six weeks. And then one week in Autumn. That was all the holiday there was, apart from two days at Whitsun and, through my schooldays, one day for Hitler's birthday if it fell during the week. Oh, of course, and two weeks at Christmas .
Another 'this and that' I just like to mention here is my mother's illness which, thank God, is also disappearing from the scene, hopefully for good. It was called 'an open leg'. Which was an ulcerated leg, usually the left leg, and nearly always in women. More often Women than Men anyway. And during my childhood a quite frequent illness, in Germany, whilst seemingly hardly known in England. But even there it occurred occasionally and was known as a 'white Ieg'. It was less known and did not last as long.
My mother's leg became ulcerated, after just a very little hole just above her left ankle, about 1937, and remained 'open' almost until she died in 1966, being treated by various Specialists all the time. And this, unfortunately, is one of the memories of my childhood and teenage years. What my poor Mam had to suffer is just too dreadful to imagine. Sometimes she would scream for hours so loud that it could be heard houses away. The pain is absolutely indescribable, she would cry and scream for a long time until at last, from sheer exhaustion, or enough painkilling tablets to almost daze her, she would get some rest. We children cried silently, or in our own bedrooms with her, but could not help at all.
It was a dreadful illness. Some of the Specialists who could not help, would use as an excuse, that she would most likely die of heart failure if the hole ever healed. A cruel excuse . Later on she found a Doctor who changed and washed the blood somehow, and that eased the situation somewhat. The pain was almost gone, or at least not as severe as earlier. The hole at its best would be about 2 centimetre round, and at it's worst about 15 to 20 cm. May it never become a well known illness again, please God……….
🙂
If  life is the best teacher, doesn't it make sense to learn from the lives of others?
So what did I learn from today's episode?
I learned that adapting schooling to new technology – such as the fountain-pen – is a constant that is always accompanied by parental trepidation, and
I learned of the suffering that my dear Oma, one of the sweetest, gentlest people I ever knew, had to go through.  I cannot imagine what she had to endure and to be told by a doctor that if it healed you were at risk of a heart-attack…
So Now it's YOUR turn, dear Reader. What did YOU learn?
Please ADD and SHARE your insights in the COMMENT BOX Below
Next Episode –>
🙂
READY TO COMMIT TO YOUR SELF-IMPROVEMENT?
ENROLL IN OUR F*R*E*E 30-DAY MENTORED SELF-STUDY BOOT CAMP
🙂
Oh, by the way,
If you got value from todays content please 'like' it and $hare it with three people who could most benefit from its message
🙂
FREEDOM, STRENGTH AND HONOR TO YOU

"Teaching families to FIND money, CREATE income and DEVELOP Generational WEALTH"
Let's stay in touch
Phone: 610-781-2392
Skype: prpock
PARTICIPATE in our Generation Of Wealth Initiatives
M-W-F: "Rules Of Money" CyberLunch – Noon EST, Noon CST, Noon MST, Noon PST – Registration Required
Tu-Th: "How The Markets Work" CyberLunch – Noon EST, Noon CST, Noon MST, Noon PST – Registration Required
DAILY: "Grow Rich MasterMind" – Click here to Sample
MONDAYS: "Timeless Wisdom In Action" MasterMind Study Group – click here to view our  Facebook Group
BY APPOINTMENT: "FIND MONEY" Interviews – Click To Request Appointment

ON SOCIAL MEDIA: Blog – Twitter – YouTube – Pinterest  – Google+ – LinkedIn –  Facebook
LOVE WEALTH – LOVE HEALTH – LOVE HAPPINESS – LOVE LOVE

🙂
Oh, and by the way, did I mention that we help families Find Money, Create Income and Develop Wealth. Click here or on the image below to get the process started. Because YOU are WORTH MORE!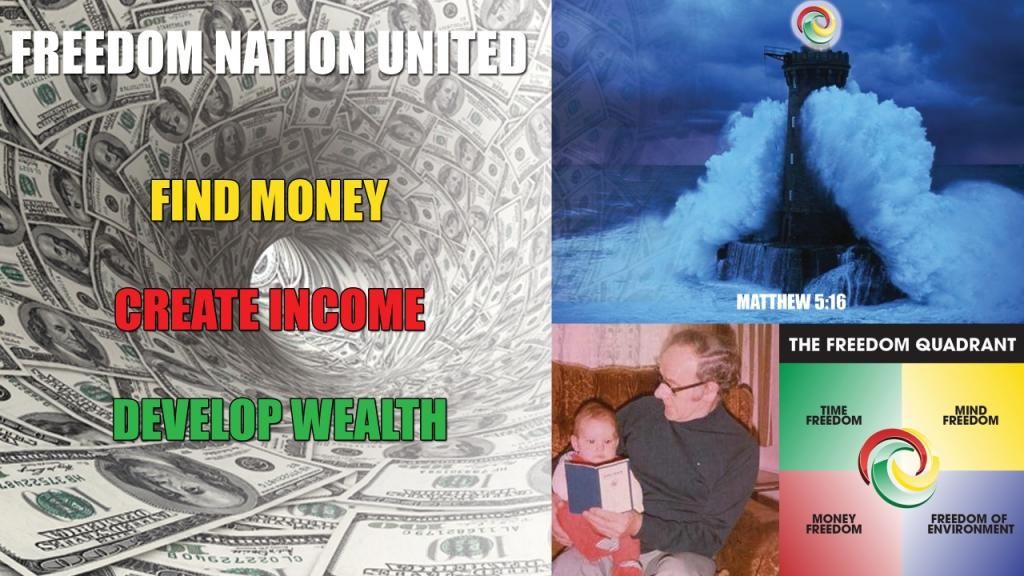 THANK YOU, THANK YOU, THANK YOU