JOURNAL OF A LIFE – Bye, Bye, Schooldays
 #freedomquadrant 
You have been prepared a lifetime for THIS day. Make the most of it 🙂
  (See more…)
JOURNAL OF A LIFE
Yes, Yes, Yes
Welcome, Welcome, Welcome
Freedom Nation United


Find Money, Create Income and Develop Wealth
Poke about and check us out –> –> –> –> –> –> –> –> –>
🙂
As a great mentor of mine – Joe Schroeder – never tired of saying "A Life Worth Living is a Life Worth Recording" so today I am here to share another episode in the life's journey of one of the great people whose life I am privileged to have shared a part of – my mother AnneKaete Pocklington.
Bye, Bye, Schooldays
Imagine, if you will, the relief you must feel when your formal schooling is over.
Especially when you are in fear of the teacher in charge.
But what next?
READ ON…
Bye, Bye, Schooldays
And then, at last, the schooldays were over. And one received one's last school report. Mine being dreadful. Not only did I dislike the school and teachers in this particular school intensely, and they did not like me either. And that animosity showed itself only too clearly in the report too. To me, it oozes hatred.
I was once hit so hard over my head that I ran out of the class and home to Dad, for talking in class when I honestly and truly had not . But then again, my Dad was not in the Partei!!! and this uniformed Teacher was 'in charge' of the troop in that district, and we lived in that District. I once was sent by another teacher to ask for a 'Duden', could he please have the same. I had never heard of such a thing, it's a German Dictionary. But I had never heard the word. At home, ours, was called a 'Woerterbuch', So I went to that class and asked the Teacher, Herr W., could I please have the 'Juden' (Jew). Well, he howled with laughter. He took me back to the Teacher and told him what I had said, they both screeched with laughter, and then Herr W. took from class to class, interrupted the lesson and told the class what I had said. And then he took me into the Corridor, when we had been in all 8 classes, and hit me so hard in the back that I had no wind left. It was all a nightmare and my home sickness for my teachers, my beloved teachers and my school became almost unbearable.
And then it was all over, thank God.
And the Law at that time was such that, no matter what you were going to do after you left school, you had to go for one year, working for a Farmer or a Family in town with more than 4 children. And for that you would get paid 10 Marks a month Everybody, rich and poor, had to do this, before they could start on a Career of any kind . This broke many a spoilt child's heart. Only children, for instance, who had been the idol of their parents, often could not take it, but that was the law, and you obeyed.
So we went to the Labour Exchange and got the name of a Farmer in Altengrooden, just outside Wilhelmshaven and Mutti and I set off for an Interview. It was about 3/4 hours Bus ride from town. To a very large Farm. I was accepted and that was the start of ……..
🙂
If  life is the best teacher, doesn't it make sense to learn from the lives of others?
So what did I learn from today's episode?
I learned you lucky I have been in life to have been blessed with teachers that I – for the most part – adored, or at least respected, and
I learned of the ramifications to my mother in Hitler's Germany of my grandfather's principled stand to not become a 'Party Member' …
So Now it's YOUR turn, dear Reader. What did YOU learn?
Please ADD and SHARE your insights in the COMMENT BOX Below
Next Episode –>
🙂
READY TO COMMIT TO YOUR SELF-IMPROVEMENT?
ENROLL IN OUR F*R*E*E 30-DAY MENTORED SELF-STUDY BOOT CAMP
🙂
Oh, by the way,
If you got value from todays content please 'like' it and $hare it with three people who could most benefit from its message
🙂
FREEDOM, STRENGTH AND HONOR TO YOU

"Teaching families to FIND money, CREATE income and DEVELOP Generational WEALTH"
Let's stay in touch
Phone: 610-781-2392
Skype: prpock
PARTICIPATE in our Generation Of Wealth Initiatives
M-W-F: "Rules Of Money" CyberLunch – Noon EST, Noon CST, Noon MST, Noon PST – Registration Required
Tu-Th: "How The Markets Work" CyberLunch – Noon EST, Noon CST, Noon MST, Noon PST – Registration Required
DAILY: "Grow Rich MasterMind" – Click here to Sample
MONDAYS: "Timeless Wisdom In Action" MasterMind Study Group – click here to view our  Facebook Group
BY APPOINTMENT: "FIND MONEY" Interviews – Click To Request Appointment

ON SOCIAL MEDIA: Blog – Twitter – YouTube – Pinterest  – Google+ – LinkedIn –  Facebook
LOVE WEALTH – LOVE HEALTH – LOVE HAPPINESS – LOVE LOVE

🙂
Oh, and by the way, did I mention that we help families Find Money, Create Income and Develop Wealth. Click here or on the image below to get the process started. Because YOU are WORTH MORE!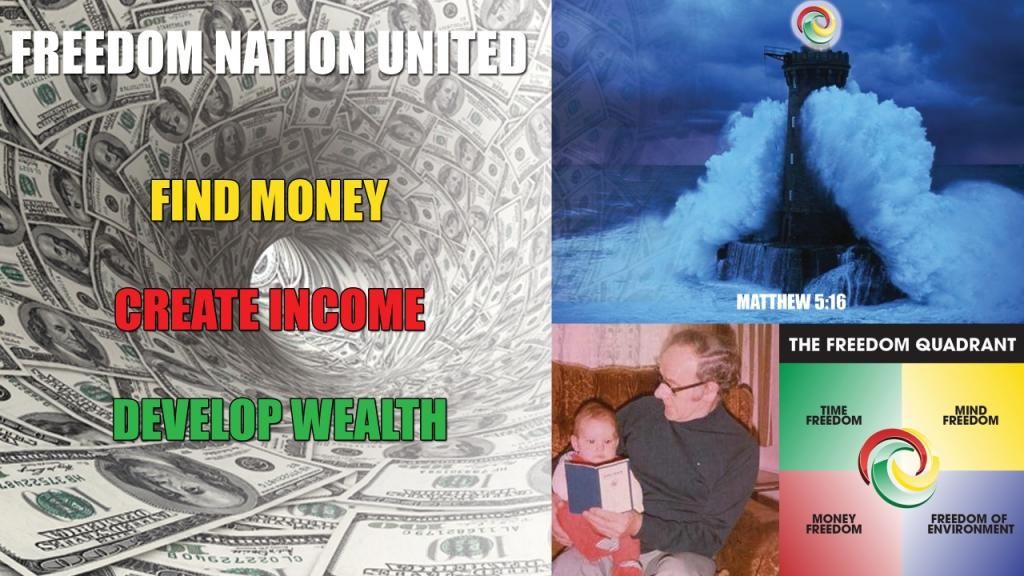 THANK YOU, THANK YOU, THANK YOU