JOURNAL OF A LIFE – My Wonderful Time As A Farmgirl
 #freedomquadrant 
We have to master the FUN-DA-MENTALS
in order to innovate with integrity 🙂
  (See more…)
JOURNAL OF A LIFE
Yes, Yes, Yes
Welcome, Welcome, Welcome
Freedom Nation United


Find Money, Create Income and Develop Wealth
Poke about and check us out –> –> –> –> –> –> –> –> –>
🙂
As a great mentor of mine – Joe Schroeder – never tired of saying "A Life Worth Living is a Life Worth Recording" so today I am here to share another episode in the life's journey of one of the great people whose life I am privileged to have shared a part of – my mother AnneKaete Pocklington.
My Wonderful Time As A Farmgirl
Imagine, if you will, you are billeted to the house of Claus Stoertebecker, who had been a favorite ever since you could read.
The Robin Hood' of North Germany.
You have to learn to do the farm work.
What did it involve?
READ ON…
My Wonderful Time As A Farmgirl
It was, first of all, a wonderful Farmhouse. Very old and had, at one time, belonged to 'Claus Stoertebecker'. He was a brave Sea Captain long, long ago.  And the stories of Claus Stoertebecker had been my favourite ever since I could read. He was the 'Robin Hood' of North Germany and he was a Sea Captain, back in the 15th Century.
And this house had belonged to him, and it had a wonderful deep, deep cellar under part of the house, with a rounded ceiling, intricately made from red bricks, reached through a trapdoor in the kitchen. And that was where he hid himself, his men, and all his treasures I was told. And my eyes and ears could hardly believe what they saw and heard.
But mainly there was this lovely Family itself. Herr Georg Morgenstern, a very strict but extremely fair Master. His lovely, very beautiful wife Jurkea, very dark beautiful eyes, a dark skin and black long hair. Like a Gypsy Princess to my imagination. And she was a German Aristocrat, had a 'von' to her name. Oh, she was a Beauty, and wonderfully kind to me, a stupid Townie who had come to be a Landgirl.
Then there was Rainer, the eldest son, only two years younger than myself. I would be falling in love with him a year or so later, without him knowing of course. Boys had no time for girls anyway. But we were always great pals. Then came Sigrid, again a dark beauty like her Mother. Then Jurkea (a lovely Eastfrisian name), round faced and blonde. Then Gisela, a very dark beauty, long black plaits and very dark eyes, very dainty. Then Guenter, about 4 years old I would think, who was going to be the Farmer. It never bothered him at that time what his sisters and brothers were going to do; But he would get the Farm. And he got very angry when he was teased that he might not. He had a very bad temper. And he would pester his Dad for a 'yes' answer until he got it when it was disputed who would take on the Farm. We were all a very happy family. Horses were Mr. Morgenstern's great love and we had four lovely 'Oldenburg' horses. One could tell the Oldenburger by his shortened tail and his Crown brand on his left flank. I loved these horses. And even though I was engaged for the house, when the horses had to be fetched and harnessed, Mr. M. would order me to fetch them, with a wink in his eyes. I might be in the middle of a huge washing up after dinner, I ran out to the fields quickly.
And when the housework was done I had to do Farm work anyway, which I found fascinating, but so much to learn. To milk the Cows to start with. First just one, then two, and gradually thirteen. And then to go out on to the field in the morning, at 6 o'clock, when it was still very dark, in the autumn, and find them, milk them, by myself. Frightened to death lest somebody was going to nobble me, but getting on with it, for Herr M. was good but a very strict Master.
Take note, girl, approach your Cow from behind, get on to the right of it, gently touching her back, talk all the time, bucket in the right hand, three legged miIkstool in the other, talk to it, stroke it, sit down. Rest your head on its flank, start milking. Gentle and firm at the same time. First the front teats both the left and the right one, then the two back. Squeeze with the thumb and the full 4 fingers at the same time and strip down; And make sure you get the last drop out otherwise the Cow will get sick. And watch your left knee so that she can't kick you. And clamp the bucket between your knees. Get on with it girl!
It usually went fine, even though one got many a swish with the dirty tail or an occasional kick in the leg. On the whole the cows got used to you and they all knew their names. I used to sing folk songs very quietly to them, on my lovely milking trips in the dark dewy mornings, with a clear frosty sky full of stars. And it was not too bad. And you got nice things said when all was well. But if…. if you spilled a drop of precious milk, oh my God, yes, you needed him, because Mr. M's voice would be thundering at you with such force, it could be heard seven fields away, where maybe some other hapless townie would know just what had happened. Because nothing makes a Farmer more cross, than the spilling of his precious milk. It turns him into a fiend. But as I said, mostly he was patient, very very kind, and full of fun.
It was not long and one of the Cows calved. And, of course, I had to help. Frau M. was expecting a Baby and could not help us at all. So there we were, Mr. M. and I, pulling and helping the poor Cow. A rope was tied to the calf's legs which were already showing, and we pulled whilst the Darling Cow, a tear in her eye, was gently mooing and looking with glazed eyes. Then we tied the ends of the rope to a wheel and very very gently turned the wheel every now and then. And the mother just mooed and chewed and looked pained and then, suddenly, flop, there was….the most wonderful calf imaginable!. I, Annekaete, had been privileged to witness another miracle. And this time the most wonderful and wholeheartedly most holy miracle . I had seen my first creature being born.
Mr. M. very quickly moved the calf to the front of the grateful mother who licked and kissed her baby 'till it was wonderfully white, and black and clean, and could "whoopsy-daisy" stand on its own four legs. We had sat up nearly all night, it had been hard work, boring at times, and frightening and full of tummyache with feeling for the cow, but at the end it had been God's real miracle and all was well. We saw the Mum being bedded down with her calf and then went into the kitchen where Mrs. M. had made us a nice cuppa and some breakfast. And Herr Morgenstern asked: "What did you think of that then, would you like some children?'" and I asked: "Is it like that when you have a Baby?" And he said: "Yes, almost, but for the wheel and the rope." And he laughed heartily as I did turn green and stated there and then, no way, and on no account, and never, never was I going to have a Baby.
And later on, when I had helped with more Cows, and watched over the pigs to be born so that Mum would not eat them, and watched my very favourite horse become a Mam for the first time, it became much more natural, and when Frau Morgenstern gave birth to my own, very own favourite Baby, Darling Juergen, a beautiful boy, I was not so frightened and thought she would be alright. And she was, and I was allowed to bath, feed, and dress my Darling Juergen every day while she was still in bed for 2 weeks. And I was very divided between my lovely horses and my Baby. And I was still only 14 years old.
Later on we all, with the farm, moved to Rodenkirchen by the River Weser, because the land near Wilhelmshaven was designated for Navy houses. And so we all settled into another farm together, learning the lay of the land, and the very large farmhouse (completely different style) together and that was another wonderful time.
🙂
If  life is the best teacher, doesn't it make sense to learn from the lives of others?
So what did I learn from today's episode?
I learned the technique of milking a cow and not getting your head kicked in, and
I was reminded of the love of a cow for her calf – the natural love of a mother for her offspring…
So Now it's YOUR turn, dear Reader. What did YOU learn?
Please ADD and SHARE your insights in the COMMENT BOX Below
Next Episode –>
🙂
READY TO COMMIT TO YOUR SELF-IMPROVEMENT?
ENROLL IN OUR F*R*E*E 30-DAY MENTORED SELF-STUDY BOOT CAMP
🙂
Oh, by the way,
If you got value from todays content please 'like' it and $hare it with three people who could most benefit from its message
🙂
FREEDOM, STRENGTH AND HONOR TO YOU

"Teaching families to FIND money, CREATE income and DEVELOP Generational WEALTH"
Let's stay in touch
Phone: 610-781-2392
Skype: prpock
PARTICIPATE in our Generation Of Wealth Initiatives
M-W-F: "Rules Of Money" CyberLunch – Noon EST, Noon CST, Noon MST, Noon PST – Registration Required
Tu-Th: "How The Markets Work" CyberLunch – Noon EST, Noon CST, Noon MST, Noon PST – Registration Required
DAILY: "Grow Rich MasterMind" – Click here to Sample
MONDAYS: "Timeless Wisdom In Action" MasterMind Study Group – click here to view our  Facebook Group
BY APPOINTMENT: "FIND MONEY" Interviews – Click To Request Appointment

ON SOCIAL MEDIA: Blog – Twitter – YouTube – Pinterest  – Google+ – LinkedIn –  Facebook
LOVE WEALTH – LOVE HEALTH – LOVE HAPPINESS – LOVE LOVE

🙂
Oh, and by the way, did I mention that we help families Find Money, Create Income and Develop Wealth. Click here or on the image below to get the process started. Because YOU are WORTH MORE!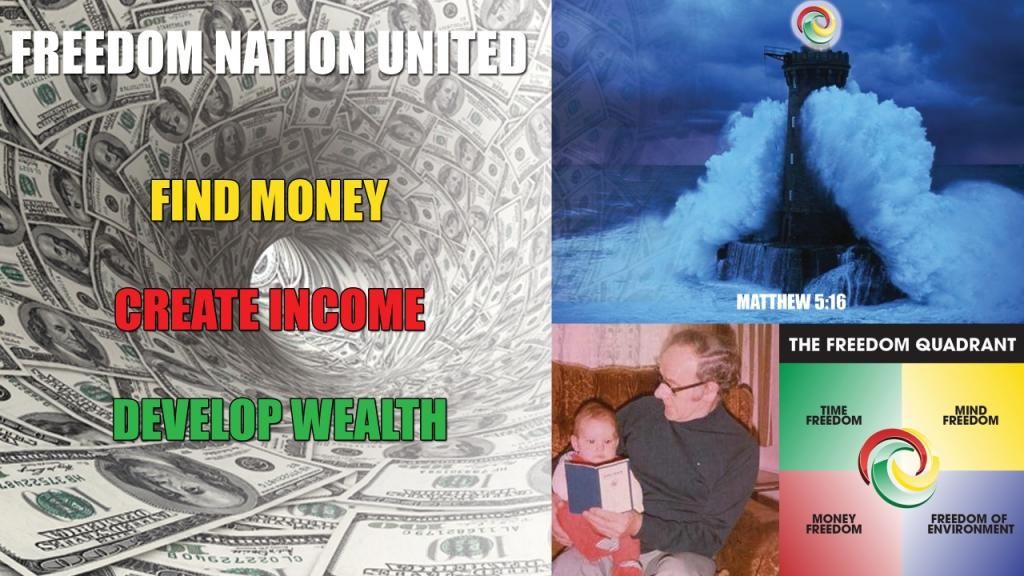 THANK YOU, THANK YOU, THANK YOU