JOURNAL OF A LIFE – The Time In Rodenkirchen
 #freedomquadrant 
People do not like to think. If one thinks, one must reach conclusions. Conclusions are not always pleasant. #HelenKeller wisdom 🙂
  (See more…)
JOURNAL OF A LIFE
Yes, Yes, Yes
Welcome, Welcome, Welcome
Freedom Nation United


Find Money, Create Income and Develop Wealth
Poke about and check us out –> –> –> –> –> –> –> –> –>
🙂
As a great mentor of mine – Joe Schroeder – never tired of saying "A Life Worth Living is a Life Worth Recording" so today I am here to share another episode in the life's journey of one of the great people whose life I am privileged to have shared a part of – my mother AnneKaete Pocklington.
The Time In Rodenkirchen
Imagine, if you will, "making hay while the sun shines" – quite literally…
Imagine that you are assigned to pea-picking duty in a time of War.
It's nice weather out, so you put it off to the afternoon.
But the weather changes.
What next?
READ ON…
The Time In Rodenkirchen
I had to go home for a while after about 9 months because Mutti was very ill. But by Law (as if I needed it by then) I had to do 12 months so I went back as soon as I could, for another 5 or 6 months.
And we made Butter and Cheese on the quiet in the locked wash-house. One was not really allowed to but they could not check them all day and night. And we had a large Vegetable Garden where we grew everything. And we had fruit trees galore. And Rainer and I became very real Pals.
And there were always the horses one could talk to for hours. It's amazing how much they understand, really it is. And is there anything lovelier than to ride out in the morning with an empty wagon drawn by two beautiful Oldenburger horses straining every muscle, go through the old Dyke gates to reach the juicy marshland beyond, and turn the hay all day in a gentle breeze coming from the river. And then at dinnertime, Sigrit or Jurkea would come out on the bike and bring us our Dinner, thick Sandwiches with Meat and Cheese, and large Gallon Teacans, enamel ones full of teas. And Herr M. would shout "Tea's up!" and we all flop into the hay and have our fare. We rest for about half an hour after, the hay smelling fresh and wonderful and then carry on 'till sunset. By then the Horses would be in the reins again, the wagon laden to the top, and we all climb on top, and make our way slowly home, driving the Wagon right into the byre to be unloaded either at night or first thing in the morning, straight after milking. Before the sun came high and one could see the sky. If it was red it would rain later and we would not go gathering.
Is there anything more wonderful, and majestic, to me it was not then, and still isn't. But then, there are so many things which are "The mostest!"
One day, a Landarmy girl and I were sent to a field far away from the house, one of our fields to gather Peas. When we got there, we had to cross a small bridge over the Rivulet. The Landarmy girl said: "Let's have a rest first and then work quicker after!!!"
Fateful words. When we had our rest for about an hour or so, a sudden thunder came with lashings of storm and rain. No more picking could be done . What now? She was from Berlin and knew just what to do, you had to be a quick thinker if you came from the real City. We gathered just a few in the rain, filled them into the Basket we had. And went home, she telling the story that we had fallen into the River crossing the bridge and all the gathered Peas had fallen in.
Herr M. looked very stern, go to Camp he tells her, go into your room he tells me, then he disappears for a while . And then he calls for me. Fetch a bowl of water, Annekaete, and after that he said, now fetch some of the Peas you have brought today. What was he up to?
I was shivering like mad by then. I did not like the situation at all, it was beginning to be a bit puzzling, why didn't he speak? Now then, Annekate, throw the Peas into the Bowl!' What do you see?" — "Yes, they don't, do they, they float!" And I have just been to that bridge and do you know what, there is not one pea floating in the water!. Oh I cried, oh did I cry, and pleaded to be forgiven, and I was the most unhappy person in God's whole wide world. I would never, never ever tell a lie, it was a dreadful thing to have done. Sure enough I cried myself to sleep that night,
I was so very unhappy, but the next morning nothing was said, we were just the same happy family again we had always been, and we all worked very hard hand in hand with and for each other and all was well. And that particular Berliner Landarmy girl never came again. Had he rung up the Camp and told them? I dare not ask, I was far too happy to be accepted again and that all was forgotten.
🙂
If  life is the best teacher, doesn't it make sense to learn from the lives of others?
So what did I learn from today's episode?
I learned that while whatever one does might be hard work, with the right attitude anything can be fun, and
I learned from the story of the 'floating peas' that it's not what you know, it's what others know that you don't that gets you in trouble sometimes…
So Now it's YOUR turn, dear Reader. What did YOU learn?
Please ADD and SHARE your insights in the COMMENT BOX Below
Next Episode –>
🙂
READY TO COMMIT TO YOUR SELF-IMPROVEMENT?
ENROLL IN OUR F*R*E*E 30-DAY MENTORED SELF-STUDY BOOT CAMP
🙂
Oh, by the way,
If you got value from todays content please 'like' it and $hare it with three people who could most benefit from its message
🙂
FREEDOM, STRENGTH AND HONOR TO YOU

"Teaching families to FIND money, CREATE income and DEVELOP Generational WEALTH"
Let's stay in touch
Phone: 610-781-2392
Skype: prpock
PARTICIPATE in our Generation Of Wealth Initiatives
M-W-F: "Rules Of Money" CyberLunch – Noon EST, Noon CST, Noon MST, Noon PST – Registration Required
Tu-Th: "How The Markets Work" CyberLunch – Noon EST, Noon CST, Noon MST, Noon PST – Registration Required
DAILY: "Grow Rich MasterMind" – Click here to Sample
MONDAYS: "Timeless Wisdom In Action" MasterMind Study Group – click here to view our  Facebook Group
BY APPOINTMENT: "FIND MONEY" Interviews – Click To Request Appointment

ON SOCIAL MEDIA: Blog – Twitter – YouTube – Pinterest  – Google+ – LinkedIn –  Facebook
LOVE WEALTH – LOVE HEALTH – LOVE HAPPINESS – LOVE LOVE

🙂
Oh, and by the way, did I mention that we help families Find Money, Create Income and Develop Wealth. Click here or on the image below to get the process started. Because YOU are WORTH MORE!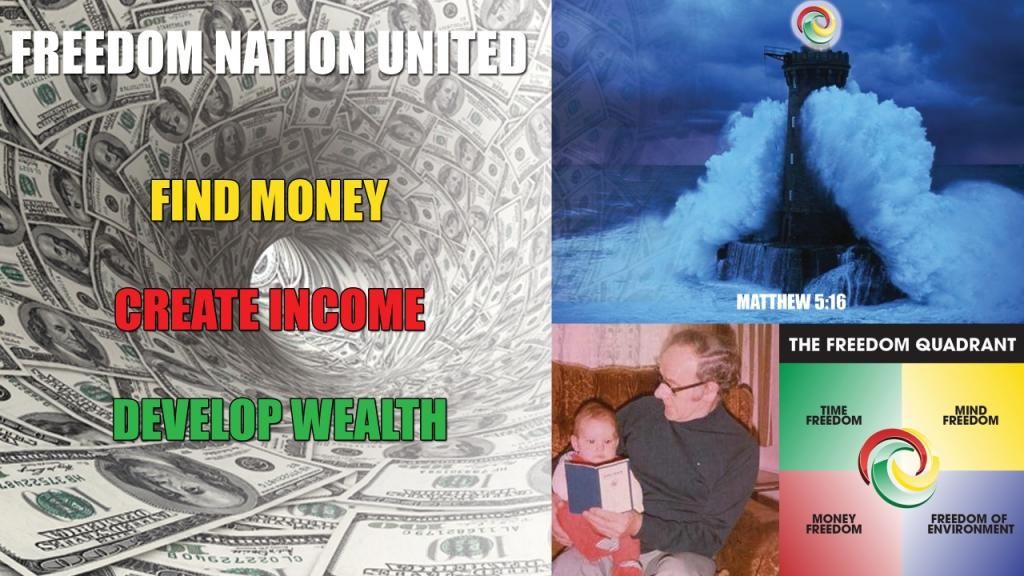 THANK YOU, THANK YOU, THANK YOU