JOURNAL OF A LIFE – And The Bombing Went On
 #freedomquadrant 
What we seek we ALWAYS find. We find out what we have to do to attain it. Then WE have to decide – do we REALLY want it enough to do the do!
  (See more…)
JOURNAL OF A LIFE
Yes, Yes, Yes
Welcome, Welcome, Welcome
Freedom Nation United


Find Money, Create Income and Develop Wealth
Poke about and check us out –> –> –> –> –> –> –> –> –>
🙂
As a great mentor of mine – Joe Schroeder – never tired of saying "A Life Worth Living is a Life Worth Recording" so today I am here to share another episode in the life's journey of one of the great people whose life I am privileged to have shared a part of – my mother AnneKaete Pocklington.
And The Bombing Went On
Imagine, if you will, you live in a military harbor at a time of War.
Although you are civilians you are 'legitimate' collateral damage.
Imagine the shelters you are in taking multiple direct hits.
This is the side of War most never read about from first-hand accounts, so
READ ON…
And The Bombing Went On
It is no good going into too many details, but it has to be said that this War was not a War in and on Flanders fields, it was a horrible War, in the Streets, Towns and ……things.
Wilhelmshaven was a Navy town, so I suppose one could not really expect anything else, but it got a terrible share of bombs all through the War. At the end 3/4 of the town lay in rubble and so many tragic things happened that one cannot recount them all. Some of them I still dream about 40 years on.
But the point is, if, if, history will excuse the happenings in my town because it was a Harbour, let there be no mistake, it happened everywhere, in the most peaceful towns and villages, everywhere, everywhere….
We had some very reasonable air-raid shelters, all over town. They were so strong with their concrete walls that the Allies could not destroy them after the War, and they are still there, some of them, and are used for all sorts of things.
And I was in one, many a time, when they got a direct hit whilst we were in them. The craters showed us that the bomb had slid off the pointed roof and burst next to 'the Bunker'.
Once I was in a certain place in the town when the Alarm came. We all were herded into the Shelter, you were not allowed to pass the shelter, the Wardens herded you in, but that's just by the by. It was partly done to stop thieves. The raid came, we had a few direct hits (they sounded different) and we were quite a long time before the all-clear came and we were allowed out on to the streets into the fresh air.
And opposite all the houses were flat; huge, very large blocks of apartments and flats were dust and rubble. And just behind me a young women came out—— and saw the rubble. And screamed and screamed and kept hitting her head against a concrete post, and blood running from her head, and still she screamed and banged her head. She had just slipped out, left her two children in the flat, little ones, to do a little bit of shopping in the shop in the building, below the flats. And the Alarm came and she was herded into the Bunker; no excuses allowed. And there it was, dust, and rubble, and a lot of emptiness, and nothingness, and she was alive…and, and, OH MY GOD!
And another time when we all, a lot of us, kept digging in the rubble, all day long, and we thought we heard the voices from within this rubble, and the man next to me kept saying '"I am coming, I am coming my Darling" and we used our hands only, very gently. And then, and then, he found a hand – and recognized his wife's ring, and we were all called off and told to go home, the Police would do the rest…. and we had just imagined the shouts from the rubble. …. had we???'????
That's War, that's War. Ban the H-Bomb????? What's the difference? Tell me somebody, what
is?
🙂
If  life is the best teacher, doesn't it make sense to learn from the lives of others?
So what did I learn from today's episode?
I learned why even now, over sixty years on, the memories are so powerfully painful that even celebratory fireworks bring back memories she wishes would not re-appear, and
I learned that, even today, when we may be more accurate and selective with our bombing guidance systems, the price of War is often paid by the no participant civilians…
To echo my Mum's words – "When will we ever learn?"
So Now it's YOUR turn, dear Reader. What did YOU learn?
Please ADD and SHARE your insights in the COMMENT BOX Below
Next Episode –>
🙂
READY TO COMMIT TO YOUR SELF-IMPROVEMENT?
ENROLL IN OUR F*R*E*E 30-DAY MENTORED SELF-STUDY BOOT CAMP
🙂
Oh, by the way,
If you got value from todays content please 'like' it and $hare it with three people who could most benefit from its message
🙂
FREEDOM, STRENGTH AND HONOR TO YOU

"Teaching families to FIND money, CREATE income and DEVELOP Generational WEALTH"
Let's stay in touch
Phone: 610-781-2392
Skype: prpock
PARTICIPATE in our Generation Of Wealth Initiatives
M-W-F: "Rules Of Money" CyberLunch – Noon EST, Noon CST, Noon MST, Noon PST – Registration Required
Tu-Th: "How The Markets Work" CyberLunch – Noon EST, Noon CST, Noon MST, Noon PST – Registration Required
DAILY: "Grow Rich MasterMind" – Click here to Sample
MONDAYS: "Timeless Wisdom In Action" MasterMind Study Group – click here to view our  Facebook Group
BY APPOINTMENT: "FIND MONEY" Interviews – Click To Request Appointment

ON SOCIAL MEDIA: Blog – Twitter – YouTube – Pinterest  – Google+ – LinkedIn –  Facebook
LOVE WEALTH – LOVE HEALTH – LOVE HAPPINESS – LOVE LOVE

🙂
Oh, and by the way, did I mention that we help families Find Money, Create Income and Develop Wealth. Click here or on the image below to get the process started. Because YOU are WORTH MORE!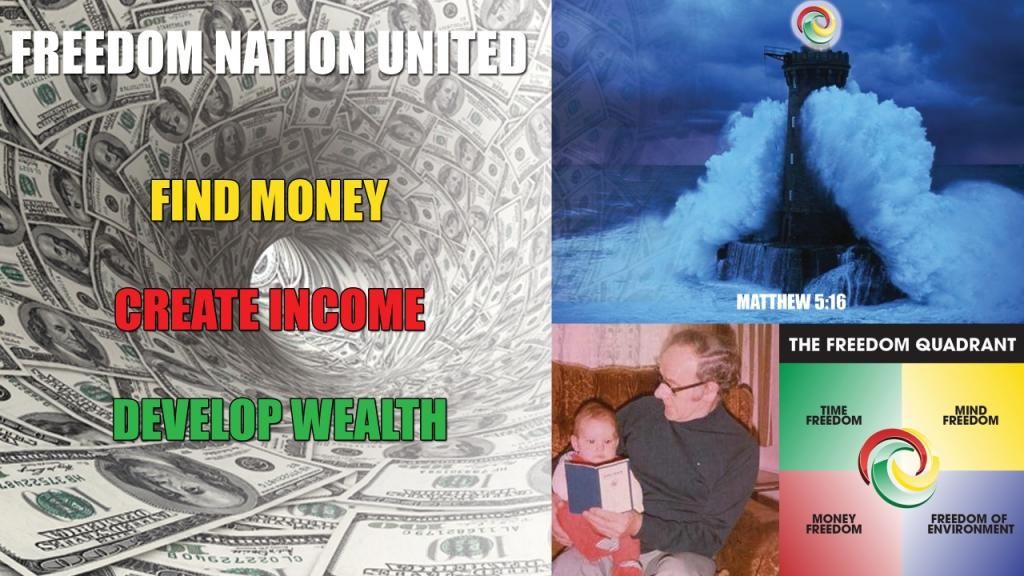 THANK YOU, THANK YOU, THANK YOU