JOURNAL OF A LIFE – And So – Into The Landarmy
 #freedomquadrant 
What constitutes true happiness? It is not attained through self-gratification but through fidelity to a worthy purpose #Helen Keller 🙂
  (See more…)
JOURNAL OF A LIFE
Yes, Yes, Yes
Welcome, Welcome, Welcome
Freedom Nation United


Find Money, Create Income and Develop Wealth
Poke about and check us out –> –> –> –> –> –> –> –> –>
🙂
As a great mentor of mine – Joe Schroeder – never tired of saying "A Life Worth Living is a Life Worth Recording" so today I am here to share another episode in the life's journey of one of the great people whose life I am privileged to have shared a part of – my mother AnneKaete Pocklington.
And So – Into The Landarmy
Imagine, if you will, your apprenticeship is over.
You will have to go into the Landarmy.
Why not volunteer and get started early?
After all – you are destines, are you not, to really be an ACTRESS!
READ ON…
And So – Into The Landarmy
Two years later my apprenticeship was over. It was the time to put in for Examen. Part of the apprenticeship was, one day a week, school. And there you learned shorthand, typing and bookkeeping. And I was not really any good, not very good anyway . And an I had to go into the Landarmy anyway, I decided to volunteer. To get there before the Examen, it saved a lot of bother anyway as I was going to be an actress anyway, as soon as this War was over. And so came the day when my call up papers arrived and I had the date when I had to present myself to the Landarmy camp Uchte near Nienburg by the River Weser. You had to do 6 months Landarmy, everybody had to, as soon as you had finished your apprenticeship or training for whatever job you had chosen.
Paula had served hers in the beautiful Erzgebirge or Mountain range now part of Poland and Yugoslavia but then part of Germany. And she had liked it fair enough. Now it was my turn. Again, a lovely Camp, fabulous Comradeship, hard work all day long on the farm, weeks on end on our knees gathering Potatoes. On your knees, row after row, get them in there.
But breakfast and evening meal in the camp, very disciplined, lots of 'Heil Hitler' mornings and nights, but you learned how to set a table, for instance, very prettily, how to count seven when you saw your neighbour had taken the last bite or chew, then offered the food to her or him for a second helping. How to butter bread spreading the butter everywhere, not just in the middle of the slice, make beds and present your locker shipshape and Bristol fashion, shorten your Uniform and sew on buttons. (It was amazing how many girls, poor little rich girls, also forced to join the Club, who had never done any of the things themselves and were glad of a little help from us ordinary folk). But they were just as good Comrades as anybody . It was not their fault that they had been Mammy's Darlings. Live and let live was always my motto!
Again, Annekaete entertained all the girls in her Dorm, about 15 of them, and some who had sneaked in from other Dorms, with lots and lots of tragic playlets and scenes from plays. Tears and sorrow in nearly every story. And the old 'Lily Marlene' of course, she went with me everywhere, deep voice and all…..
Thinking about it now it was a hard taskmaster of a time, but I enjoyed it very much. Nearly all of it. And very much adored my very first Camp leader who was strict but fair.
🙂
If  life is the best teacher, doesn't it make sense to learn from the lives of others?
So what did I learn from today's episode?
I learned again how hard work breeds comradeship, and
I learned that we all have our "crosses to bear" – even the poor little rich girls…
So Now it's YOUR turn, dear Reader. What did YOU learn?
Please ADD and SHARE your insights in the COMMENT BOX Below
Next Episode –>
🙂
READY TO COMMIT TO YOUR SELF-IMPROVEMENT?
ENROLL IN OUR F*R*E*E 30-DAY MENTORED SELF-STUDY BOOT CAMP
🙂
Oh, by the way,
If you got value from todays content please 'like' it and $hare it with three people who could most benefit from its message
🙂
FREEDOM, STRENGTH AND HONOR TO YOU

"Teaching families to FIND money, CREATE income and DEVELOP Generational WEALTH"
Let's stay in touch
Phone: 610-781-2392
Skype: prpock
PARTICIPATE in our Generation Of Wealth Initiatives
M-W-F: "Rules Of Money" CyberLunch – Noon EST, Noon CST, Noon MST, Noon PST – Registration Required
Tu-Th: "How The Markets Work" CyberLunch – Noon EST, Noon CST, Noon MST, Noon PST – Registration Required
DAILY: "Grow Rich MasterMind" – Click here to Sample
MONDAYS: "Timeless Wisdom In Action" MasterMind Study Group – click here to view our  Facebook Group
BY APPOINTMENT: "FIND MONEY" Interviews – Click To Request Appointment

ON SOCIAL MEDIA: Blog – Twitter – YouTube – Pinterest  – Google+ – LinkedIn –  Facebook
LOVE WEALTH – LOVE HEALTH – LOVE HAPPINESS – LOVE LOVE

🙂
Oh, and by the way, did I mention that we help families Find Money, Create Income and Develop Wealth. Click here or on the image below to get the process started. Because YOU are WORTH MORE!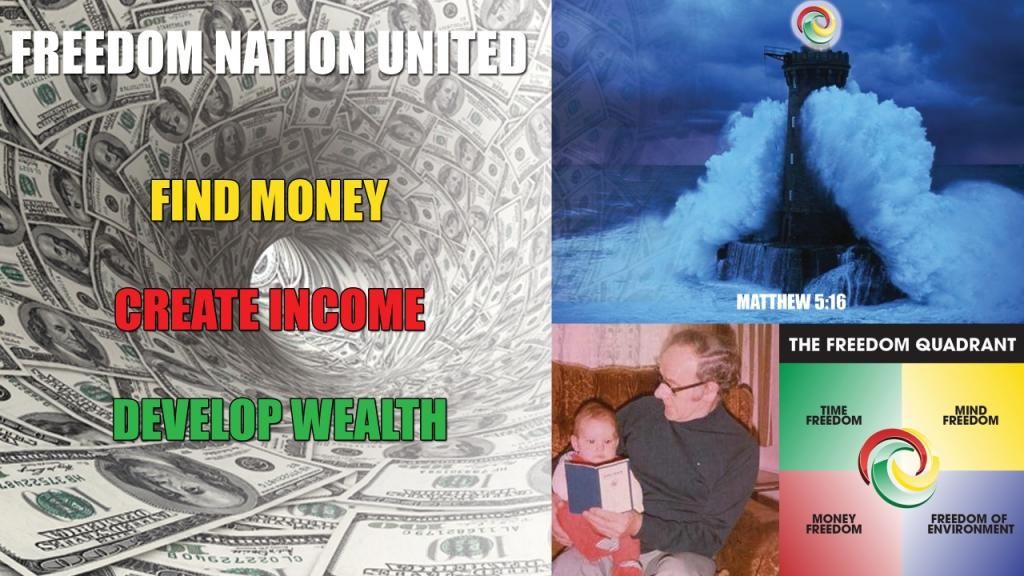 THANK YOU, THANK YOU, THANK YOU