JOURNAL OF A LIFE – Which Christmas Is It Going To Be Over?
 #freedomquadrant 
We do not attain FREEDOM by becoming a slave to someone else's dreams and goals 🙂
  (See more…)
JOURNAL OF A LIFE
Yes, Yes, Yes
Welcome, Welcome, Welcome
Freedom Nation United


Find Money, Create Income and Develop Wealth
Poke about and check us out –> –> –> –> –> –> –> –> –>
🙂
As a great mentor of mine – Joe Schroeder – never tired of saying "A Life Worth Living is a Life Worth Recording" so today I am here to share another episode in the life's journey of one of the great people whose life I am privileged to have shared a part of – my mother AnneKaete Pocklington.
Which Christmas Is It Going To Be Over?
Imagine, if you will, you are hanging out the washing.
An enemy plane comes over and drops leaflets.
Leaflets that say terrible things about your leader, your Country.
What would you do?
READ ON…
Which Christmas Is It Going To Be Over?
The Landarmy life was quite good. History tells us that there was an awful lot of training for all sorts of bad things . The way I experienced it, it was hard work – very, very hard work on the land, bringing in the harvest. Quite often at very small farms which could hardly be called 'farms', they were so small. And the husband would, most likely, be a Soldier, and we, the girls, were bringing in the very much needed Potatoes etc. And after the days work we had wonderful Comradeship and kindness from our Colleagues. It was disciplined of course, but so it should be if you have a group of girls from all sorts of backgrounds together. And we all had brothers, friends or mates at the fronts, and that is a very fast bond.
And we all bled for our beloved country. Let nobody be under the impression that Germany had a monopoly in Propaganda. It is done in all countries and only history, if honestly told, tells us which is true and what was real. I can only write as I saw, experienced and felt it at that time, and that's how it was.
Our country was in danger from enemies all round, our beloved leader was going to save us though, and we all did our bit.
One morning, for instance, whilst in this Camp, I was on Washday duty. That meant being in the field where we used to hang out the washing, rows and rows of lines, before breakfast and hanging out the washing. This particular morning, the lawn was full on leaflets. Most likely dropped from a plane. It was like a booklet and had some women on the front-page, behind barbed wire, pleading to be saved. And inside more pictures of dreadful happenings and the story told about Camps where such things took place . I was disgusted. I went straight in and told our Leader about this and gave her the book. She was equally disgusted, told me it was typical enemy propaganda, asked me to gather all I could find and bring to her. I did just that. Had another little look, handed them over, and never told a soul about it. As she had asked me not to.
History knows all about that. And what went on inside myself some years later, after 1945, is too dreadful to record. I had unwillingly been witness to some truth, and just did not believe it, as I did not at first after the War. And I dare say my Maiden Leader did not believe it to be true at that time.
And it was too terrible true. . . . .
🙂
If  life is the best teacher, doesn't it make sense to learn from the lives of others?
So what did I learn from today's episode?
I was reminded that the truth can be so horrible that it is difficult to believe sometimes , and
I was reminded we need to be vigilant in the maintenance of our antennas of understanding as we are bombarded, on a daily basis, by data disguised as information …
So Now it's YOUR turn, dear Reader. What did YOU learn?
Please ADD and SHARE your insights in the COMMENT BOX Below
Next Episode –>
🙂
READY TO COMMIT TO YOUR SELF-IMPROVEMENT?
ENROLL IN OUR F*R*E*E 30-DAY MENTORED SELF-STUDY BOOT CAMP
🙂
Oh, by the way,
If you got value from todays content please 'like' it and $hare it with three people who could most benefit from its message
🙂
FREEDOM, STRENGTH AND HONOR TO YOU

"Teaching families to FIND money, CREATE income and DEVELOP Generational WEALTH"
Let's stay in touch
Phone: 610-781-2392
Skype: prpock
PARTICIPATE in our Generation Of Wealth Initiatives
M-W-F: "Rules Of Money" CyberLunch – Noon EST, Noon CST, Noon MST, Noon PST – Registration Required
Tu-Th: "How The Markets Work" CyberLunch – Noon EST, Noon CST, Noon MST, Noon PST – Registration Required
DAILY: "Grow Rich MasterMind" – Click here to Sample
MONDAYS: "Timeless Wisdom In Action" MasterMind Study Group – click here to view our  Facebook Group
BY APPOINTMENT: "FIND MONEY" Interviews – Click To Request Appointment

ON SOCIAL MEDIA: Blog – Twitter – YouTube – Pinterest  – Google+ – LinkedIn –  Facebook
LOVE WEALTH – LOVE HEALTH – LOVE HAPPINESS – LOVE LOVE

🙂
Oh, and by the way, did I mention that we help families Find Money, Create Income and Develop Wealth. Click here or on the image below to get the process started. Because YOU are WORTH MORE!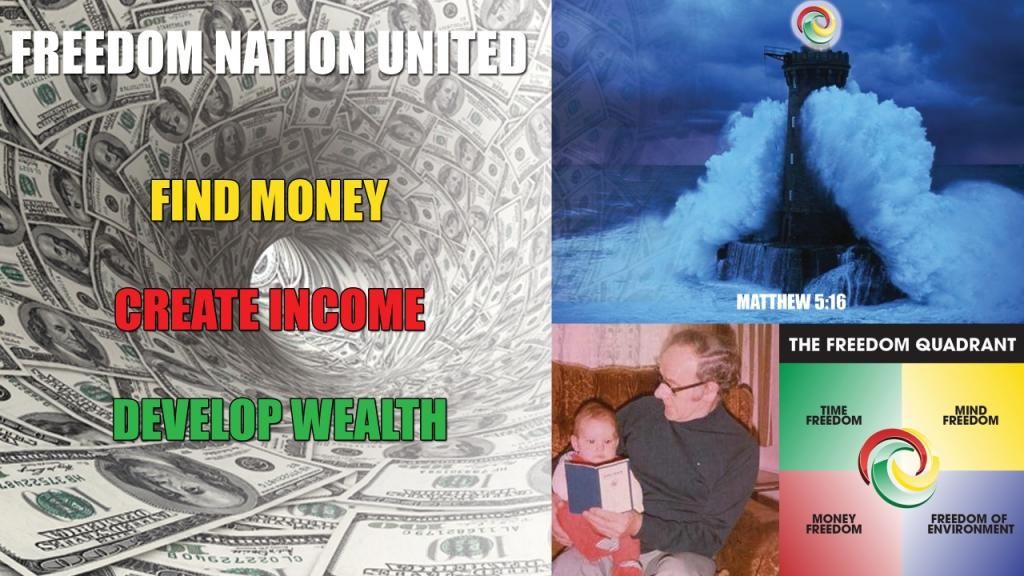 THANK YOU, THANK YOU, THANK YOU