JOURNAL OF A LIFE – Just A Little Comparison 1943 vs. 1983
 #freedomquadrant 
The Quality of our life is determined by our commitment to excellence, regardless of our chosen field 🙂
  (See more…)
JOURNAL OF A LIFE
Yes, Yes, Yes
Welcome, Welcome, Welcome
Freedom Nation United


Find Money, Create Income and Develop Wealth
Poke about and check us out –> –> –> –> –> –> –> –> –>
🙂
As a great mentor of mine – Joe Schroeder – never tired of saying "A Life Worth Living is a Life Worth Recording" so today I am here to share another episode in the life's journey of one of the great people whose life I am privileged to have shared a part of – my mother AnneKaete Pocklington.
Just A Little Comparison 1943 vs. 1983
Winston Churchill is famously quoted as saying "Those who ignore history are doomed to repeat it"
But what is history?
It is simply the collection of the lives lived at a particular time.
My mother wrote this Chapter comparing 1983 to 1943.
A time of 'Peace' to a time of 'War'?
What will 2023 hold?
READ ON…
Just A Little Comparison 1943 vs. 1983
At the time of writing this, in the Year 1983, we have daily reports in and out of the news about a large group of very brave woman who are sitting outside airfields, for months and years already, protesting about nuclear bombs etc. etc. A large group are known as the Greenham Common Peace women. All very dramatic and, on the whole, I admire their protest — if it only was not so isolated.
We have horror camps all over the world, we have people imprisoned for their colour, belief or religion, all over the globe … and, let me say this very quietly, if you have ever seen through a peephole you have dug, in a heap of rubble that minutes ago was a house…. and you see a child sitting clutching its Teddy, next to Mam and other people, and you and others dig very very carefully, lest some rubble fall more on them, and then you make it and all that's there is, what you have seen so far, no more, above that is rubble and everything cut off. No blood or anything nasty, just a child cut off at the neck and taller people cut in half… Or then again, when you peep another time and there is a room full of people, sitting, apparently fast asleep, looking quite peaceful, and when you get in they are all gone to sleep for good, and the blast had got them…
Then you ask: Nuclear bomb what? What is so special about that? Small bombs in the great war, 1939/45, comparatively small ones…why, oh why, you brave ladies, do you go through all this for one particular bomb? I wished, oh how I wished, that we all could think, drink, and somehow breathe Peace, that word to become more than a word
P E A C E !
P.S. It is 40 years since . And when I just wrote one page, a little of it, the other day, I did not sleep
one minute during the night. The memory was too fresh .…..
🙂
If  life is the best teacher, doesn't it make sense to learn from the lives of others?
So what did I learn from today's episode?
I learned that Wisnton Churchill was right, and
I reflected on 2013 and looked around at the state of the World, pictures from the Gaza Strip, words that we hear all too often such as 'ethnic cleansing', 'high school shootings', and thought
WHEN WILL WE EVER LEARN…
So Now it's YOUR turn, dear Reader. What did YOU learn?
Please ADD and SHARE your insights in the COMMENT BOX Below
Next Episode –>
🙂
READY TO COMMIT TO YOUR SELF-IMPROVEMENT?
ENROLL IN OUR F*R*E*E 30-DAY MENTORED SELF-STUDY BOOT CAMP
🙂
Oh, by the way,
If you got value from todays content please 'like' it and $hare it with three people who could most benefit from its message
🙂
FREEDOM, STRENGTH AND HONOR TO YOU

"Teaching families to FIND money, CREATE income and DEVELOP Generational WEALTH"
Let's stay in touch
Phone: 610-781-2392
Skype: prpock
PARTICIPATE in our Generation Of Wealth Initiatives
M-W-F: "Rules Of Money" CyberLunch – Noon EST, Noon CST, Noon MST, Noon PST – Registration Required
Tu-Th: "How The Markets Work" CyberLunch – Noon EST, Noon CST, Noon MST, Noon PST – Registration Required
DAILY: "Grow Rich MasterMind" – Click here to Sample
MONDAYS: "Timeless Wisdom In Action" MasterMind Study Group – click here to view our  Facebook Group
BY APPOINTMENT: "FIND MONEY" Interviews – Click To Request Appointment

ON SOCIAL MEDIA: Blog – Twitter – YouTube – Pinterest  – Google+ – LinkedIn –  Facebook
LOVE WEALTH – LOVE HEALTH – LOVE HAPPINESS – LOVE LOVE

🙂
Oh, and by the way, did I mention that we help families Find Money, Create Income and Develop Wealth. Click here or on the image below to get the process started. Because YOU are WORTH MORE!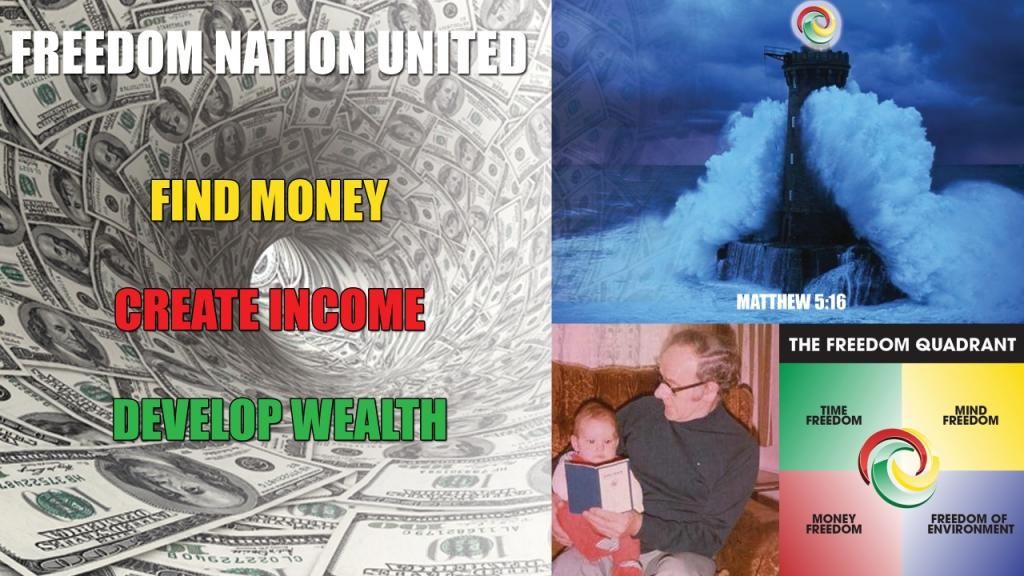 THANK YOU, THANK YOU, THANK YOU