JOURNAL OF A LIFE – The Airfield
 #freedomquadrant 
The greatest gift is an ability to bring out the best in people and awaken in them things that they did not realize to be possible for them 🙂
  (See more…)
JOURNAL OF A LIFE
Yes, Yes, Yes
Welcome, Welcome, Welcome
Freedom Nation United


Find Money, Create Income and Develop Wealth
Poke about and check us out –> –> –> –> –> –> –> –> –>
🙂
As a great mentor of mine – Joe Schroeder – never tired of saying "A Life Worth Living is a Life Worth Recording" so today I am here to share another episode in the life's journey of one of the great people whose life I am privileged to have shared a part of – my mother AnneKaete Pocklington.
The Airfield
Imagine, if you will, your responsibility calls for you to trace the paths of incoming bombers.
Bombers that will be carrying their payload of death and destruction over your family and friends.
Imagine you are being told that you are "winning" the war, and yet
On each journey home you are being shot on, at will, by enemy planes.
What is going on?
READ ON…
The Airfield
My next post was an airfield and large factory which built planes. The Fokke Wulf 190 I think it was called. First I worked in the Factory itself and learned another lot of things, like soldering, brazing and that sort of thing. From early morning until late at night, and again, in camps, this time near Bremerhaven, or the River Weser. Not all that far from my beloved Morgensterns in Rodenkirchen. And then I was transferred to the airfield in Blexen to work, still stationed at the Camp but going on a little train to work in the morning.
Earphones on and I learned how to transfer messages and numbers to paper and draw approaching enemy planes on to maps in front of me. And so we would know when to stay on the grounds with our to be tested planes. About 4 wonderful Pilots (who had been at the front before coming to this post) and a few Officers, and some Civil Administration staff. We all were great friends. Another girl, Lore, and myself came from Wilhelmshaven and it was particularly hard when we had drawn our lines for planes that went to our hometown, just across the water, and we could see the sky blacken with smoke when they left. It would be days before we knew if our families lived or had perished. But our bosses were so very very kind. It was all a good mixture. And the Camp at night was equally terrible. I greatly disliked all the Woman Officers of that Camp except one. And they disliked me even more. I was more in than out of trouble at that Camp, for one thing or another, as I could not keep quiet when something was not done fair or was not right, to my mind.
A lot of our girls came from areas of Germany which was now overrun by the Russians, and the tears in that Camp ran hot and frequent. And there was a lot of opportunity for nastiness if girl Officers had a mind to….and very highly charged atmospheres could be felt daily……
My dearest Paula came to visit me there quite often and that was always lovely. We had a wonderful time together we two…. As the months went on it appeared that we had a lot of planes standing up waiting for the odd screw or so, they were just not ready to be tested. And we would receive trainloads of things which belonged to the Army whilst our requirements had gone to the West-front. It was dreadful. We had endless discussions about it amongst ourselves. We could not figure what went on, but something was strange. And whenever we went home by train we would be shot at by Mosquitoes and Spitfires. The fast English planes which came from nowhere out of the sky and shot at the train. And we would all jump out and lay in the grass and embankment, and they would come over a few times and shoot, and then they go. And we would scramble back into the train and carry on. Very seldom any injuries even though it was all real and so very frightening. We were still told, this was late in 1944, that we were winning the War, and yet?????? Yes, We discussed quite a lot, who knew the answer?
And then Goebbels gave us in a speech a number one could write to. Fieldpost number 8000, I think. And to this you wrote if you thought something was not just as it should be, and….yes, you have guessed it……I wrote!
Why did the trains bring things belonging to the Westfront whilst we got their tackle etc.? And then I promptly forgot all about it, maybe they would look into things or not, I had to get it off my chest. And then, after a special hard bombing session over Wilhelmshaven one day, when the smoke blackened the sky for miles and hours, the boss offered Lore and me to make our way home for the day. We could not be flying anyway, so there would not be much to do, and we could go straight back to Camp at seven o'clock, and nobody would be any wiser about it. Well, that was too good to miss, we thanked him very much and went this way instead of that the next morning. In our working cloth, thick black boots, grey stockings hanging over them, blue dress with red neckerchief and a gray coat. We looked rough, but we went home, that was good. We found all our beloved ones alright and came, as arranged, home by train. ready to camp again and another day ….
🙂
If  life is the best teacher, doesn't it make sense to learn from the lives of others?
So what did I learn from today's episode?
I was reminded again of one of my mother's lifelong teachings – if something is wrong don't keep quiet, and
I was reminded that there are often signals that we only get to interpret in hindsight…
So Now it's YOUR turn, dear Reader. What did YOU learn?
Please ADD and SHARE your insights in the COMMENT BOX Below
Next Episode –>
🙂
READY TO COMMIT TO YOUR SELF-IMPROVEMENT?
ENROLL IN OUR F*R*E*E 30-DAY MENTORED SELF-STUDY BOOT CAMP
🙂
Oh, by the way,
If you got value from todays content please 'like' it and $hare it with three people who could most benefit from its message
🙂
FREEDOM, STRENGTH AND HONOR TO YOU

"Teaching families to FIND money, CREATE income and DEVELOP Generational WEALTH"
Let's stay in touch
Phone: 610-781-2392
Skype: prpock
PARTICIPATE in our Generation Of Wealth Initiatives
M-W-F: "Rules Of Money" CyberLunch – Noon EST, Noon CST, Noon MST, Noon PST – Registration Required
Tu-Th: "How The Markets Work" CyberLunch – Noon EST, Noon CST, Noon MST, Noon PST – Registration Required
DAILY: "Grow Rich MasterMind" – Click here to Sample
MONDAYS: "Timeless Wisdom In Action" MasterMind Study Group – click here to view our  Facebook Group
BY APPOINTMENT: "FIND MONEY" Interviews – Click To Request Appointment

ON SOCIAL MEDIA: Blog – Twitter – YouTube – Pinterest  – Google+ – LinkedIn –  Facebook
LOVE WEALTH – LOVE HEALTH – LOVE HAPPINESS – LOVE LOVE

🙂
Oh, and by the way, did I mention that we help families Find Money, Create Income and Develop Wealth. Click here or on the image below to get the process started. Because YOU are WORTH MORE!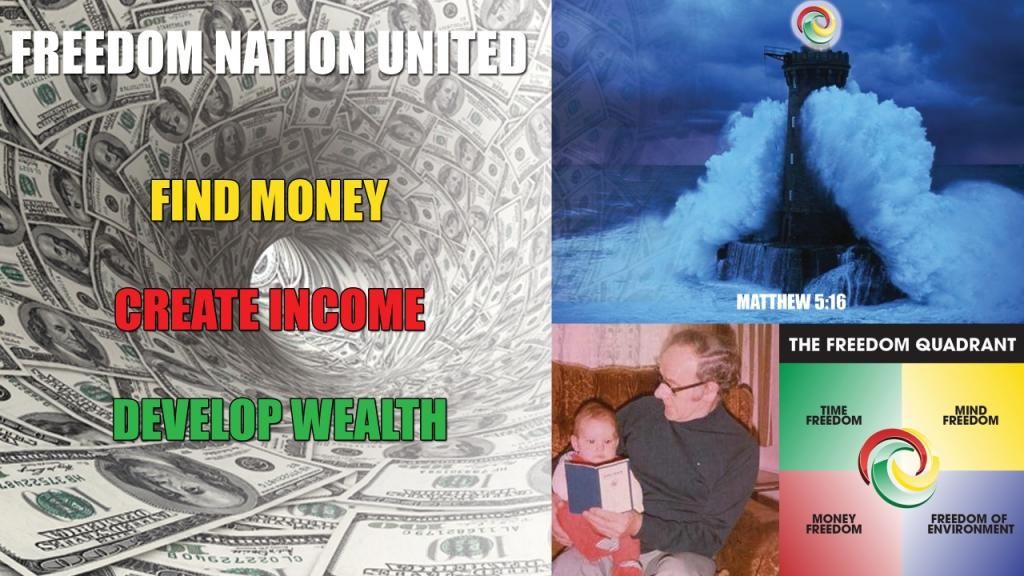 THANK YOU, THANK YOU, THANK YOU