JOURNAL OF A LIFE – Our Very Dear Friends – The Hopkinsons
 #freedomquadrant 
When we choose EXCELLENCE we have to PREPARE and PAY THE PRICE 🙂
  (See more…)
JOURNAL OF A LIFE
Yes, Yes, Yes
Welcome, Welcome, Welcome
Freedom Nation United


Find Money, Create Income and Develop Wealth
Poke about and check us out –> –> –> –> –> –> –> –> –>
🙂
As a great mentor of mine – Joe Schroeder – never tired of saying "A Life Worth Living is a Life Worth Recording" so today I am here to share another episode in the life's journey of one of the great people whose life I am privileged to have shared a part of – my mother AnneKaete Pocklington.
Our Very Dear Friends – The Hopkinsons
Imagine, if you will, that life has finally stabilized for you.
That part of your daily duties involves green grocery shopping at the bottom of the hill.
[tell me again Great Grandma, what is this "green-grocery" you speak of]
Imagine that you find out that the shopkeeper is not well.
Would you take on the additional task of helping out – not for the money but as a friend.
READ ON…
Our Very Dear Friends – The Hopkinsons
Through Mrs. G. I went shopping for my Greengrocery in the little shop at the bottom of the road. And, sure enough, the Lady was not well. I did not know at first what was the matter, but we soon became very friendly. First, because their daughter Brenda, about 14 years old, could sometimes Baby-sit for us, and then because their son Alan, a little bit older than Peter, became his great friend and the children always played with one another, on fine days outside, the Woodlands was a wonderful playground, and on rainy days inside my house or Alan's.
And gradually I got into the habit of helping out in the shop when dear Phyllis was not too well. Her trouble mainly had been that they had been cheated when they bought the business. And instead of keeping them all, Roy had to go back to work (as an Engineer on the Railway) and Phyllis had the shop all by herself. Selling as well as going to the Wholesalers at 6 o'clock in the morning to buy the right things. And all this was a bit much.
This friendship was, always has been, and still is, something very special. Roy has now gone, and Phyllis is on her own, but they really were very special friends.
Gradually I would help, not for money, just for friendship, more and more in the shop. Really enjoying it very much indeed. And once, both Phyllis and Roy were very ill at the same time and I ran the shop on my own for a little while, I really enjoyed every minute of it. Another role to play in fact. And any soft fruits they had left on the Saturday afternoon, I might get to take home, to make jams and bottle and this was also lovely.
Again, one could write a lot more. My days of loneliness before I got to know them were completely gone. Many time I had gone up to a little shop further up the village, to buy cotton reel or darning wool I did not really need – because Mr. Jackson had been stationed in Germany as a Soldier not long before, and had liked it so much that he was almost homesick for it too. And if I was very lucky he had time, and we would talk quite a long time, about Germany, whilst Peter fell asleep in his push chair. But this was all over now. Bill was back home. And I had some friends of my own. And my English had got a lot better.
The frustration, when you understand all that is said in an interesting discussion, but by the time you have sorted out your statement in your head, getting verb endings and cases correct, the subject had, more than likely, changed and you got very, very frustrated.
Trials and tribulations of an immigrant…
🙂
If  life is the best teacher, doesn't it make sense to learn from the lives of others?
So what did I learn from today's episode?
I learned that many of life's blessings seem at first paradoxes – we give then receive – to have a friend we must first be a friend, 
I learned that my mother truly lived another of the principles she taught me to live by, that "a stranger is just a friend we haven't met yet", and
I learned that, even in conversation, waiting until all circumstances are lined up almost always means one is left behind…
So Now it's YOUR turn, dear Reader. What did YOU learn?
Please ADD and SHARE your insights in the COMMENT BOX Below
Next Episode –>
🙂
READY TO COMMIT TO YOUR SELF-IMPROVEMENT?
ENROLL IN OUR F*R*E*E 30-DAY MENTORED SELF-STUDY BOOT CAMP
🙂
Oh, by the way,
If you got value from todays content please 'like' it and $hare it with three people who could most benefit from its message
🙂
FREEDOM, STRENGTH AND HONOR TO YOU

"Teaching families to FIND money, CREATE income and DEVELOP Generational WEALTH"
Let's stay in touch
Phone: 610-781-2392
Skype: prpock
PARTICIPATE in our Generation Of Wealth Communities
M-W-F: "Rules Of Money" CyberLunch – Noon EST, Noon CST, Noon MST, Noon PST – Registration Required
Tu-Th: "How The Markets Work" CyberLunch – Noon EST, Noon CST, Noon MST, Noon PST – Registration Required
DAILY: "Grow Rich MasterMind" – Click here to Sample
MONDAYS: "Timeless Wisdom In Action" MasterMind Study Group – click here to view our  Facebook Group
BY APPOINTMENT: "FIND MONEY" Interviews – Click To Request Appointment

ON SOCIAL MEDIA: Blog – Twitter – YouTube – Pinterest  – Google+ – LinkedIn –  Facebook
LOVE WEALTH – LOVE HEALTH – LOVE HAPPINESS – LOVE LOVE

🙂
Oh, and by the way, did I mention that we help families Find Money, Create Income and Develop Wealth. Click here or on the image below to get the process started. Because YOU are WORTH MORE!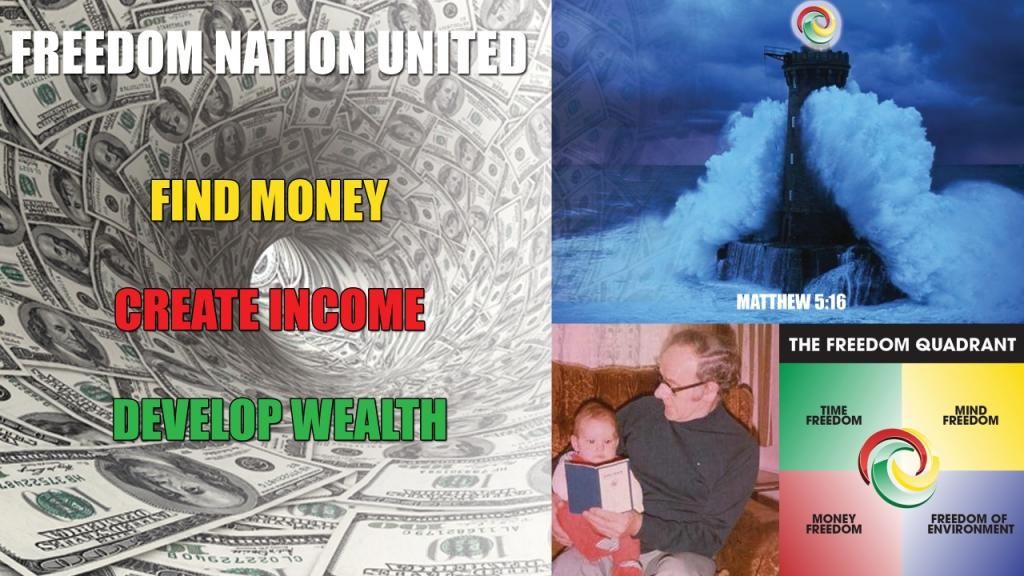 THANK YOU, THANK YOU, THANK YOU