JOURNAL OF A LIFE – The Miracle – We Find A Home Of Our Own
 #freedomquadrant 
If we have, and maintain, INTEGRITY – nothing else matters 🙂
  (See more…)
JOURNAL OF A LIFE
Yes, Yes, Yes
Welcome, Welcome, Welcome
Freedom Nation United


Find Money, Create Income and Develop Wealth
Poke about and check us out –> –> –> –> –> –> –> –> –>
🙂
As a great mentor of mine – Joe Schroeder – never tired of saying "A Life Worth Living is a Life Worth Recording" so today I am here to share another episode in the life's journey of one of the great people whose life I am privileged to have shared a part of – my mother AnneKaete Pocklington.
The Miracle – We Find A Home Of Our Own
Imagine, if you will, that after years of being excluded from the opportunity, a house shows up "out of nowhere' just because a foreign national is emigrating and wants to sell his furniture.
Imagine that you are going to have to give up creature comforts, such as an inside toilet, just for the freedom of 'getting on your own feet"
Would You?
Should You?
Could You?
READ ON…
The Miracle – We Find A Home Of Our Own
I would just like to say this, it was not altogether such a wonderful thing to be such great friends with a former German National, the wounds of the War were still very fresh. So the friendship of the dear Hopkinson's, and to a certain extent my bosses, the G's and their friends, was something I was very aware of and appreciated it very, very much.
But I never had open hostility anywhere, as I was warned before my marriage I would find. Far from it. This tiny Pennine village, with Mills all along the River Calder, was most friendly. And happy are the memories of dear old Ladies stopping me in the street, and wanting to know all about me. Had I mother and father, sister and brother at home. And was I writing? Very important, you must always write to your Mum, don't let her fret and worry. Have you written????
And then, one of the Customers in the shop, a Polish Gentleman, told us that he had permission to emigrate to America, and that he would soon be leaving the village. And that he wanted to sell some of his furniture, could we help. And one thing led to another, we applied for the house, and would buy his furniture if he spoke to his Landlord for us. And after weeks and weeks of negotiations, we got the key to the house. A wonderful, unbelievable stroke of luck.
The house belonged to one of the worsted mills in the valley, a large one called Whitworth Mill. And in order to rent this property Bill had to come and work for them.
He was, by then, quite happily employed by a large Yarn Mill in Sowerby Bridge called R & K Lees, as a Doffer. This was a man who made the Yarn, the twisting etc., after the spinning. But he would change gladly for our freedom. And so we moved, absolutely thrilled, into a little Cottage, up the Hill, just below the Church, called 11 Blackwood Hall. It just was 'one up and down', the Toilet at the end in a separate building. Cooking facilities in the kitchen – come – livingroom downstairs, and some steps leading up to the bedroom. This had a very high wall up to the pointed roof, sloping; down from there to the window.
Again, no door but a landing balustrade to it. Not very large, but downstairs a sink in the Cupboard in one corner, near to which we put the Gas stove, and draped a Curtain around it; it almost made a lovely home . In fact, at that time it was a beautiful home. We had Linoleum on the flagged floor, which broke easily because the flags were so uneven. A Yorkist Fireplace which I blackened every week, and the very high mantelpiece held my clock and favourite ornaments and it was all quite lovely. The luxury of the roomy Woodlands, with a real bathroom, and Toilet inside, had to be forgotten for the freedom of getting on our own feet.
The Vicar up at the Church would occasionally call on his way to and from the Church, and have a Cup of tea with us, the little shop just opposite was very friendly, Mrs. Oldfield giving me lots of advice and English Recipes. The Co-op around the corner a nice shop, and its Manager was so very friendly, and all the people up "Blackwood Hall" became such very, very good friends in years to come. Our home was small, but it had warm sunshine all around it. Of course, because Bill had to take just any job he could, in that mill, so that we would get the house, he got the one nobody really wanted. That was in the 'Dewel hole'! A rather nasty job and very smelly. Just to give a little idea of his job and therefore, sacrifice for us, it was like this.
The Mill used a lot of "shoddy", that were old clothes the Rag and Bone man had gathered around the street, these were used again and again, to make new cloth. Still do, its very important. But this had to be used to make new material. And so, after washing roughly, it was shredded and placed on the mill floor. New wools and materials were mixed with it, and this had to be tramped on to make it a mixture, with chemicals added to it. When all was laid, in layers on top of each other it would go into the shredding and carding machines etc. then washed again etc. until it could be spun into some new yarn. It was not a pleasant job at all. And the pay was very bad as well, but we had our own home to climb higher from, if we could.
One could not stand still. The pay was nine Guineas for a forty-eight hour week at that time, which was £9 – 9 shillings.
Just another side to that time, the first years in LuddendenFoot.
Because I could not answer quick enough in a discussion I learned to listen. And that is a very important lesson. Not many people are as fortunate as I was and learned the art of listening. Not just to the spoken word but between the lines as well.
At home we spoke German only, and outside the house we spoke English. Peter knew both and was fluent in both languages.
We lived about two years in our little Cottage. Not 'posh', but home. And during that time one day our Darling Peter, nearly 3 by then, was playing outside with his best friend David Riley. He had many little friends by then, but David and his sister Angela were his very best then. And he and David were playing at soldiers and shooting and War, as usual.
Suddenly my door opened. One came straight in from outside into the living room, of course. And two very dirty little faces pushed through the door, shy and eyes big and astonished, faces black as the ace of spades. And very tiny, Peter's voice came: "Mammy, Mammy……David says….Mum, David says….he says….he says that…..you…..he said that you are a German" And David very quickly saying, as if to defend himself: "Sorry but my Mam said you were!" And there it was, two little fellows, both my friends and one my Darling son, who had played at "War" and the "English" and the "German's" fighting for weeks, quite happily and natural, had got a problem. My greatest enemy all along – Propaganda – had raised it's ugly head.
But I had to be very quick here, to make this moment forgotten as quickly as it had come up. If I said the wrong thing here, it would come up again and again, as Peter grew up. How could I kill this off straight away, with one swoop. " Come here", I said "let's have a talk, lets just be friends for a minute"! All the time my head reeling, what shall I do please God? And then it came, like a flash.
"Oh yes, I am a German, with that I mean to say, I am English now, but I was born in Germany. And when I was little as you are now, I lived in Germany. But I was a "Goody", not a "Baddy", I was allowed out. The "Baddies" had to stay, but I was allowed out. That's why I am here. Do you see?
Oh, they both agreed, that was alright then. I did see relief on their little faces? Yes I did, as young as they were, there was relief. And what had happened I learned later, with them always playing at War and the Germans always being the baddies, Mrs. Riley very kindly had asked David not to play this at Mrs. Pocklington's house as she was a German. And the child, naturally, was horrified at that and asked Peter if this was true, who was then equally as horrified, and so before arguing they would settle this straight away by asking me. I said a big prayer whilst giving the answer for forgiveness, but it killed the ugly thought connected with it there and then.
🙂
If  life is the best teacher, doesn't it make sense to learn from the lives of others?
So what did I learn from today's episode?
I learned of terms for jobs that I never knew existed, that my father did, and that by OSHA Laws would probably be illegal today, 
I learned that the ingredient that turns a house into a home is LOVE, and
I learned that one of the most important skills in communication is the Art of LISTENING – something that is going out of style in the world of asynchronous interaction via minimally sized text messages and abbreviations…
So Now it's YOUR turn, dear Reader. What did YOU learn?
Please ADD and SHARE your insights in the COMMENT BOX Below
Next Episode –>
🙂
READY TO COMMIT TO YOUR SELF-IMPROVEMENT?
ENROLL IN OUR F*R*E*E 30-DAY MENTORED SELF-STUDY BOOT CAMP
🙂
Oh, by the way,
If you got value from todays content please 'like' it and $hare it with three people who could most benefit from its message
🙂
FREEDOM, STRENGTH AND HONOR TO YOU

"Teaching families to FIND money, CREATE income and DEVELOP Generational WEALTH"
Let's stay in touch
Phone: 610-781-2392
Skype: prpock
PARTICIPATE in our Generation Of Wealth Communities
M-W-F: "Rules Of Money" CyberLunch – Noon EST, Noon CST, Noon MST, Noon PST – Registration Required
Tu-Th: "How The Markets Work" CyberLunch – Noon EST, Noon CST, Noon MST, Noon PST – Registration Required
DAILY: "Grow Rich MasterMind" – Click here to Sample
MONDAYS: "Timeless Wisdom In Action" MasterMind Study Group – click here to view our  Facebook Group
BY APPOINTMENT: "FIND MONEY" Interviews – Click To Request Appointment

ON SOCIAL MEDIA: Blog – Twitter – YouTube – Pinterest  – Google+ – LinkedIn –  Facebook
LOVE WEALTH – LOVE HEALTH – LOVE HAPPINESS – LOVE LOVE

🙂
Oh, and by the way, did I mention that we help families Find Money, Create Income and Develop Wealth. Click here or on the image below to get the process started. Because YOU are WORTH MORE!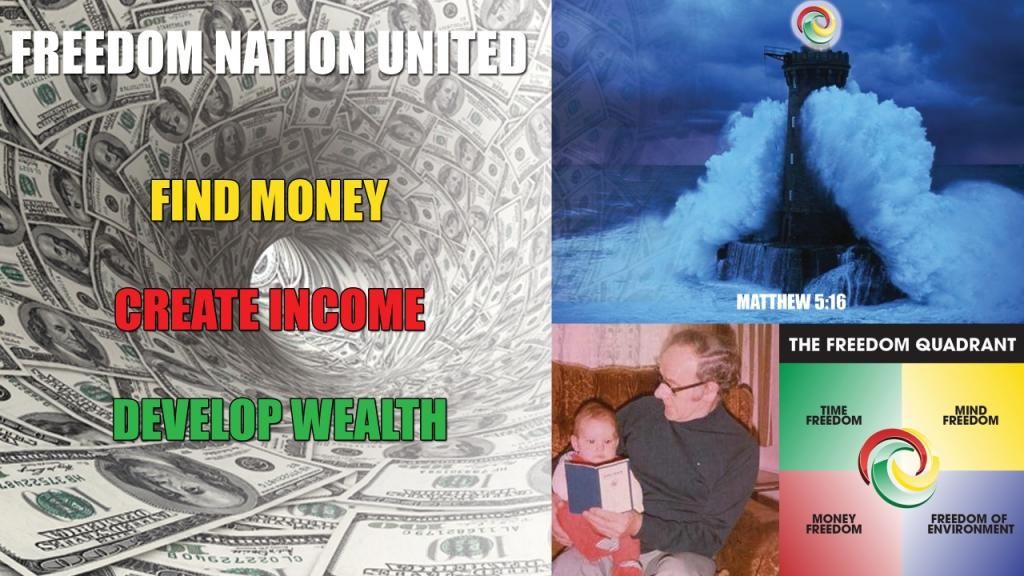 THANK YOU, THANK YOU, THANK YOU