JOURNAL OF A LIFE – We Move Up In The World – 20 Osborne Terrace
 #freedomquadrant 
Marketing is like running, aerobics, weight training…
Find out what you can do daily – until you can do progressively more 🙂
  (See more…)
JOURNAL OF A LIFE
Yes, Yes, Yes
Welcome, Welcome, Welcome
Freedom Nation United


Find Money, Create Income and Develop Wealth
Poke about and check us out –> –> –> –> –> –> –> –> –>
🙂
As a great mentor of mine – Joe Schroeder – never tired of saying "A Life Worth Living is a Life Worth Recording" so today I am here to share another episode in the life's journey of one of the great people whose life I am privileged to have shared a part of – my mother AnneKaete Pocklington.
We Move Up In The World – 20 Osborne Terrace
Imagine, if you will, that Monday is wash day and just happens to coincide with coal delivery day.
How cheerful would you be about lifting the line high above his lorry with your clothes prop?
[tell me again Great Grandma, what is this "clothes-prop" you speak of]
Imagine that you have to get dressed-up in your rubber boots to go to the toilet.
How about when your son pronounces to all and sundry that "we sit on boxes, not on chairs, when we eat.
Would the truth bother you?
READ ON…
We Move Up In The World – 20 Osborne Terrace
After a year or so one of the houses in the street just around the corner became empty, and it belonged to two sisters and a brother near by. And we applied for it, after much thinking about it they agreed and let us rent the house. And this was living it up, in a way. It was still a 'back to back' house. But it had a very tiny hallway when you came in, from which the steps went to the upstairs just in front of you. A large Sitting room, again with a Cupboard in the corner as before, with shelves above, and a sink, the so-called sink cupboard. And in the corner a door leading to the cellar. This cellar was divided into a coalshed and a storeroom. The coal would be thrown through a chute into this dark shed with a little door down there. And as this cellar step was under the other steps leading up, there were a few shelves on the cellarhead for storage. This was real.
And when you went upstairs the first flight of stairs went on to a real landing. And a proper door into a proper bedroom, with a very tiny little fireplace with iron surrounds. Oh, and downstairs was a lovely, very shiny black fireplace with a tiled surround, which did not need black leading, just wiping with a damp cloth. And even though it still had an oven, this could be used for airing things, we would cook in a proper gas oven of course.
Anyway, upstairs, from this landing, another flight of steps would lead even further up. And there you had two attics, one above our bedroom, with a sloping ceiling and a little window in the roof. And a proper door on. And then another proper door leading to an even larger attic, which was over the back houses, looking out over the valley yonder. Here one could store things and hang washing if it rained, and altogether a wonderful thing to have.
One had a hook outside the front door on which one fastened a washing line, right across the street, to fasten on another hook. And the Iady across the other side would do the same, she had a second hook on my side. And every Monday without fail, you would all hang your washing out and it would blow fresh and white on all the lines across the street. And when a delivery wagon came, he tooted his horn, and you all went out and lifted the washing very, very high with the help of a clothes prop, and let him pass. And you all would be, or pretend to be, very angry and shout at the Driver. But he was most likely a well liked friend like the Coalman or Postman, doing his work as best as he could. They actually avoided coming on Mondays into the streets as much as they could, because of the washday. And if anybody on the street happened to be out at the time, you naturally did the lifting for her. The houses across were that little bit posher as they had very tiny front gardens and were not back to back. But that did not matter. Everybody in Blackwood Hall knew everybody's business, and we were all good neighbours and friends. And all helped each other. If one was poorly, there were twenty neighbours to help. And if you ran out of anything when the shops were shut you could borrow, everything and anything.
You still had to get dressed up in Wellies and raincoat on bad days if you had to go to the Toilet. But they were proper Water Toilets, white washed twice a year, and locked with a key. And as we were only the third house from the end it was not too bad, it was not so good for the ones 6 houses from the end. There were about 12 houses with Toilets on each end.
At first we had only Gaslight. That meant a Gaslight from the ceiling in every room. And you pulled a little chain very gently and then lit a mantel with a taper or a match. And if one accidentally touched this delicate 'mantel', very fine woven hood about the size of an Egg-cup upside down, it broke very easily. But one al ways had a spare, just in case.
And then our Landladies and the landlord, the Ladies (Miss's Robinsons) lived at the back of us, and brother Joe who lived on the other side, decided they would pay for the Electricity putting in if we would pay a Pound more rent. We had asked permission to put it in ourselves. And so, for £40 this was done and the great day came and we had LIGHT!
That was a real treat. For one, I could use my iron again as the little irons, heated on the stove, were not very good. And then we could make a little kitchen from the storeroom down in the cellar. It had no window but who cared, it could become a kitchen with a bit of imagination. Memories came back, hadn't Kurti and I done wonders years ago, with a Cellar that became a house? We would have a go. So Bill made some doors in front of the stone slab shelves which were already there. Somebody gave me a rickety old small table, the Gas stove came downstairs. And there was even, in the corner, a real water tap. This was luxury indeed. So the boiler was put underneath it, a large shiny enamel bowl on top of that, just under the tap, and if you had a bit of imagination you had a proper kitchen with a sink. And what to sit on? Moving house was a big expense, with new curtains and lino and such. Buffets would cost a lot of money. But Phyllis gave us one. And then there were lots of appleboxes at the shop, were there not. Not doing anything in particular. Just the thing. The Wallpapershop in the village had a sale on, and there you could get little odd rolls of wallpaper for just a few shillings. Paste was made from plain flour and water, and high presto, I was in business. The appleboxes looked almost like buffets by the time I had put the wallpaper on them, and a little kitchen. And then I had still some left over.
And so it was that Peter's bedroom up in the attic above our bedroom now got quite a few lovely little cupboards, made of Orange boxes which had two separate spaces, for all his toys. And a proper Curtain in front, just like the ones in front of his window, pinned up because the ceiling/roof was naturally slanting. And they looked really good with the wallpaper on, I was glad I had learnt to make and mend during and after the War. And once the young man who was Manager in the little Co-op across the Road, and who had been really friendly and had told his Mam about us, invited us to their home for tea. Again, this lovely lady felt sorry that I was so far away from home and invited us for tea. And so we went. And when the tea was ready she asked us to sit down. And Peter said where? And when she pointed to the chairs he said: "oh, we sit on boxes at home when we eat, not on chairs!"
It was the truth, wasn't it, so why bother.
And Bill was now free again to change his job. That was very important. He had, for a long time, longed to go on the Railway, like dear Roy Hopkinson. The security, and the very interesting jobs to be had, seemed so good. And now he was free and could apply. And was accepted and was in no time learning to be a Guard on the Railway. That meant learning a lot. And at night I used to ask a lot of questions from a book and he would give me the answers he had learned. Week after week until his exams. And then he passed, and became a Goods Guard. Still a lot more to learn, it's more involved than just a Passenger Guard, as I well know, having learned all the rules and regulations with him. But he got a Uniform, started and finished work at every hour of the 24 hours there were in a day and night, and our life evolved around the 24 hour system of the Railway network. But we were a wonderfully happy little family. Hanne came to visit us, that brought 'home' a little nearer, and with Bill being on the Railway we were entitled to some cheaper travel, and that made a lot of difference. One large journey a year completely free and three partly free. And only half price abroad.
We used to save up for the first time, then Peter and I would go to Germany for at least 3 weeks, in which Bill saved up again because we were not there and one person could live cheaper. When I thought about it now, he must have practically starved himself to save as much as he did. One year Phyllis and Roy went with us, their first travel abroad, as guests of my Mam and Dad, that was lovely.
Bill would go with us every two years or so, but Peter and I went practically once a year and that made the homesickness very much less. Because I was at home and it was lovely, I also was very, very homesick to my Bill, my Darling husband, and that made the 'coming back' only half as bad. And there was always next year to look forward to.
And in the summer, when the sun was hot, I went on picnics with Peter and his friends, down by the old Mill. And we took our picnic with us, of Lemonade bottles of sugarwater and sandwiches with Butter and Sugar on it – like long long ago. And that was lovely. And then he was old enough to go by himself with his friends, and he was growing up very fast.
From me, walking with Peter along the canal bank to Sowerby Bridge, he in the Push chair, to collect Bill from work after finishing time, to us going for walks listening to the birds and counting the buds coming out on the trees, and catkins when he could walk, to picnics and then he and his friends going off by themselves, life was hard but also lovely.
And then he had to start school, and that was very, very hard. My big little Pal would say from now on "Teacher says, teacher does…." and a new world would open to him, and Bill and I were parents of a Schoolboy. Unbelievable. And then he was also a Choirboy in Church and looked so angelic in his black surplice and white ruffled collar!
🙂
If  life is the best teacher, doesn't it make sense to learn from the lives of others?
So what did I learn from today's episode?
I learned that 20 houses sharing a toilet breeds a sense of community, 
I learned that in the mouths of babes and sucklings the truth will out!
So Now it's YOUR turn, dear Reader. What did YOU learn?
Please ADD and SHARE your insights in the COMMENT BOX Below
Next Episode –>
🙂
READY TO COMMIT TO YOUR SELF-IMPROVEMENT?
ENROLL IN OUR F*R*E*E 30-DAY MENTORED SELF-STUDY BOOT CAMP
🙂
Oh, by the way,
If you got value from todays content please 'like' it and $hare it with three people who could most benefit from its message
🙂
FREEDOM, STRENGTH AND HONOR TO YOU

"Teaching families to FIND money, CREATE income and DEVELOP Generational WEALTH"
Let's stay in touch
Phone: 610-781-2392
Skype: prpock
PARTICIPATE in our Generation Of Wealth Communities
M-W-F: "Rules Of Money" CyberLunch – Noon EST, Noon CST, Noon MST, Noon PST – Registration Required
Tu-Th: "How The Markets Work" CyberLunch – Noon EST, Noon CST, Noon MST, Noon PST – Registration Required
DAILY: "Grow Rich MasterMind" – Click here to Sample
MONDAYS: "Timeless Wisdom In Action" MasterMind Study Group – click here to view our  Facebook Group
BY APPOINTMENT: "FIND MONEY" Interviews – Click To Request Appointment

ON SOCIAL MEDIA: Blog – Twitter – YouTube – Pinterest  – Google+ – LinkedIn –  Facebook
LOVE WEALTH – LOVE HEALTH – LOVE HAPPINESS – LOVE LOVE

🙂
Oh, and by the way, did I mention that we help families Find Money, Create Income and Develop Wealth. Click here or on the image below to get the process started. Because YOU are WORTH MORE!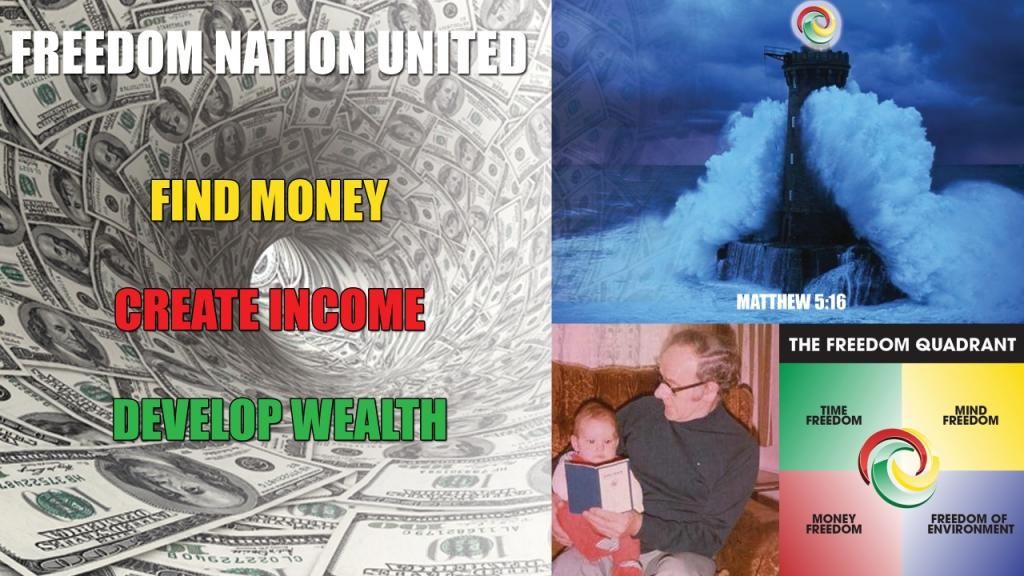 THANK YOU, THANK YOU, THANK YOU