JOURNAL OF A LIFE – My Boy Is At School – I Start Work
 #freedomquadrant 
The 3 "YOU"s that turn data into information are:
Is it USEFUL? If so, is it USEABLE? If so, is it USED! 🙂
  (See more…)
JOURNAL OF A LIFE
Yes, Yes, Yes
Welcome, Welcome, Welcome
Freedom Nation United


Find Money, Create Income and Develop Wealth
Poke about and check us out –> –> –> –> –> –> –> –> –>
🙂
As a great mentor of mine – Joe Schroeder – never tired of saying "A Life Worth Living is a Life Worth Recording" so today I am here to share another episode in the life's journey of one of the great people whose life I am privileged to have shared a part of – my mother AnneKaete Pocklington.
My Boy Is At School – I Start Work
Imagine, if you will, that your son is now at school.
Imagine your wife wants to "go to work".
Imagine your husband "cannot see the need".
There is an opening as a "Factory Girl".
What to do?
READ ON…
My Boy Is At School – I Start Work
It also was the done thing hereabouts that all women worked. The mills had an awtful lot of jobs which could only be done by women. And then again others which they liked to be done by women as they earned much, much less then men. About half the rate of a man for the same kind of job. Some women worked before the children went to school, and Grandma had the children, earning herself a little extra with it. Others, like me, thought seriously about working when the children had gone to school. But Bill was very much against that. He was the breadwinner, could I not see, we had enough to live on, and I managed to get to Germany once a year, could we not stay as we were?
But I finally persuaded him that I would go and have a try, just for a few months, to get a new carpet, and maybe a three-piece-suite. The carpet we had been given was alright, but……Oh, go on then, just for that then.
And so I looked round what was to be had. All the women round about worked in mills of some sort or another. But, as I was told, you have to be born to it. You could not just go and work there without being born to it! So I took a job in a plastics factory. Like the mills, catering for mothers; with working hours from 9 in the morning 'till 4 in the afternoon, the same hours as our children were at the village school.
And there I was, learning another role to play. A biscuit tin lid in front of me, with a sack-cloth square laid in it, over which one poured some kind of acidy liquid, smelling very strong. And a man would bring you a very large sack, full of halves of little balls, like table tennis balls but smaller. And on the other side of me would hang another, empty sack. And you placed all the half balls onto this wet mat in front of you, next to each other. Then lift each up and press them together, so making a round ball. All day long, hundreds and hundreds of coloured ball; made of plastic would be made that way. And what were they for? Oh, very important work! They were for birds to play with, Budgerigars and Canaries, in their cages. Some would stay as they are, some, smaller ones, would get a smaller one stuck on to it, and so became a bird itself, with a loaded bottom to make it stand up. And sometimes you would stick little ladders together, all toys for birds to play with!!! And you would be on piecework, so many balls, so many pennies, taken more or less by the day but paid weekly.
The first day I learned with somebody, the second day I was all day doing it by myself. And my hands were very sore and the balls of the hands and fingers just one lot of large blisters But I got on fine. And in the evening I handed in my full sack of balls to be weighed, and so, counted. And then I rushed home, collecting my Peter from school on the way down.
And the next day I was there again, on my buffet pressing my birds toys together with my painful hands. And halfway through the morning I was called to the Manager and told….that all my yesterday's work, with few exceptions, had come apart again and would not be paid for. Oh, the heartbreak, I went into the Loo (Toilet) and had a jolly good cry. Did my work the rest of the day, was glad when it was time to go home, and never went back again. Putting cream on my sore hands for days until they gradually healed.
Then I got a job, fairly quickly, in one of the largest mills in the whole area, a family-owned mill called Murgatroyds Oats Royd Mill, a proud firm and name. There I got a job in the Canteen, as a Trolley girl and general hand. This meant that I would go twice a day, once mornings and once afternoons, through the whole Mill, a massive place, with a large trolley with a tea urn on it and lots of cakes and buns. And these I would sell, to all and sundry, in the factory. People did not leave the spinning frame or weaving loom or whatever, for the break, they bought things quickly from me and ate while they worked. And so I learned lip reading. It is amazing how much you can talk and understand in all that noise of the machinery, by just lip-reading. And again everybody was kind and very good indeed. The rest of the day was spent helping to cook, bake, serve the Dinners, clean the Canteen after people had gone back to work, and endless and endless washing up. No machines at all, all done by hand in massive big sinks. We were a happy crowd of women and all enjoyed our work to a certain extent. And Peter was allowed to come with me to work when the school holidays were on. And that was quite a bonus, playing in the kitchen with his toys, out of the way of machinery and oven. Unless Bill was on nightshift and could look after him during the days.
This way we were able to buy these little things for the house which made it all so much easier and nicer. Like replacing boxes with buffets to sit on.
And the carpet, and a new lovely uncut moquett, light brown coloured three piece suite. It cost about £65 and was many weeks of my wage, but it was so lovely.
🙂
If  life is the best teacher, doesn't it make sense to learn from the lives of others?
So what did I learn from today's episode?
I learned of the strange job that was my mother's introduction to "piece work", 
I was introduced to the fact that the concept of stopping working to be "on break" was foreign to the workers at t'Mill, and
I learned of the joys of purchasing basics such as carpeting and buffets as the result of ones own labors…
So Now it's YOUR turn, dear Reader. What did YOU learn?
Please ADD and SHARE your insights in the COMMENT BOX Below
Next Episode –>
🙂
READY TO COMMIT TO YOUR SELF-IMPROVEMENT?
ENROLL IN OUR F*R*E*E 30-DAY MENTORED SELF-STUDY BOOT CAMP
🙂
Oh, by the way,
If you got value from todays content please 'like' it and $hare it with three people who could most benefit from its message
🙂
FREEDOM, STRENGTH AND HONOR TO YOU

"Teaching families to FIND money, CREATE income and DEVELOP Generational WEALTH"
Let's stay in touch
Phone: 610-781-2392
Skype: prpock
PARTICIPATE in our Generation Of Wealth Communities
M-W-F: "Rules Of Money" CyberLunch – Noon EST, Noon CST, Noon MST, Noon PST – Registration Required
Tu-Th: "How The Markets Work" CyberLunch – Noon EST, Noon CST, Noon MST, Noon PST – Registration Required
DAILY: "Grow Rich MasterMind" – Click here to Sample
MONDAYS: "Timeless Wisdom In Action" MasterMind Study Group – click here to view our  Facebook Group
BY APPOINTMENT: "FIND MONEY" Interviews – Click To Request Appointment

ON SOCIAL MEDIA: Blog – Twitter – YouTube – Pinterest  – Google+ – LinkedIn –  Facebook
LOVE WEALTH – LOVE HEALTH – LOVE HAPPINESS – LOVE LOVE

🙂
Oh, and by the way, did I mention that we help families Find Money, Create Income and Develop Wealth. Click here or on the image below to get the process started. Because YOU are WORTH MORE!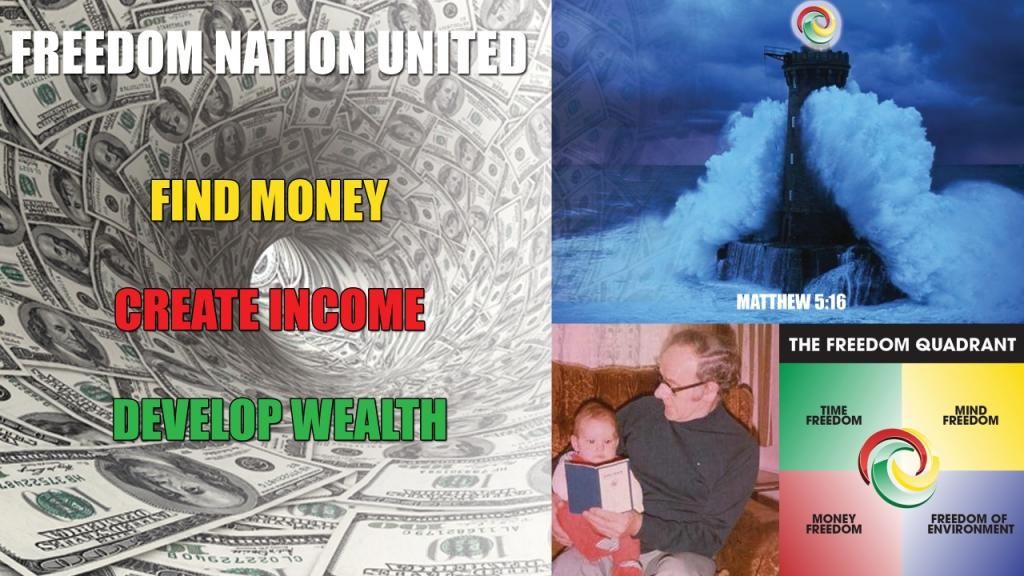 THANK YOU, THANK YOU, THANK YOU