JOURNAL OF A LIFE – You Have To Be Born To Work In T'Mill
 #freedomquadrant 


If we want to talk to people while they consume their entertainment, we have to actually be their entertainment #GaryVaynerchuck 


  (See more…)
JOURNAL OF A LIFE
Yes, Yes, Yes
Welcome, Welcome, Welcome
Freedom Nation United


Find Money, Create Income and Develop Wealth
Poke about and check us out –> –> –> –> –> –> –> –> –>
🙂
As a great mentor of mine – Joe Schroeder – never tired of saying "A Life Worth Living is a Life Worth Recording" so today I am here to share another episode in the life's journey of one of the great people whose life I am privileged to have shared a part of – my mother AnneKaete Pocklington.
You Have To Be Born To Work In T'Mill
Imagine, if you will, you have been happy working as a 'trolley girl'.
Imagine an opportunity arises to become a Weaver.
What did that job entail?
You are required to become a member of a Union, though you have no idea what that involves.
What would you do?
READ ON…
You Have To Be Born To Work In T'Mill
And then somebody told me, quite out of the blue, that a Blanket Mill in the next village, Brearley needed a Blanket Weaver and would take a learner and was I game or was I scared at trying my hand at it? Scared? Me? No way, I would master it. And I went and asked for the job, and was accepted.
And so I became a Blanket Weaver at Harwood's Blanket Firm at Brearley. And that was very interesting. The first week or two I learned with a kind, little round Lady called Liza, a lovely roundfaced spinster lady of about 50 I would say, who had worked in this mill since she had left school at the age of 12, first as a part-timer and then full-time. And Liza showed me the job right. You filled your shuttle with a Bobbin from a Basket next to your loom, threading the end of the yarn through a hole. Then squeezed this shuttle very tight into the shiny smooth holder on your right. Then, as you held the end until your shuttle had whizzed back, you turned your loom on, by a lever on your right. And you held the beam across the loom with your left hand so that it did not jump back but swung the right way. Back first, so that the weft was open, and then along would swish your shuttle, at very great speed. And the beam would swing up and down, to open the weft in its turn, and so you would gradually make a Blanket. You got ninepence per blanket, plus a penny War effort, which had never been taken away, plus 2 pence bonus, plus another penny or so for this and that, until you really got about one shilling and six pence for a Blanket. But all these extra pennies were still a kind of privilege which could be taken off. And if you were lucky and all went well for you, you might come home with about £8 a week, and that was a small fortune to this little family. And if you were unlucky and had a trap, oh my, oh my……A 'trap' was when you had not concentrated and left a shuttle on the left and set one off on the right, and bang, they would meet, and you had thousands of ends to find and knot together. Heartbreaking. Or if something on the loom went wrong and threw your shuttle and the same thing happened. You had 2 looms, one in front, one behind you, and these things could happen quite easily. The loom's fault and occasionally yours. And with all the tremendous noise about you, you would talk
with your friend on the next loom as if all was quiet. By just lip-reading. There I had no accent at all.
And Barbara Baldwin and I became wonderful friends during that time.
But you had to think pounds, shillings and pence all day or you would earn nothing. And nothing else to think about. And it was what was called, a hundred percent shop. That means that you had to be in the Union to work there. And as my conscience, through my past, would not let me be 'in something' without knowing what it was for and doing and what it's policies were, I went to the meetings. And it was then, and still is, if you are one of the few who go to meetings; if you go more than once, you are on the Committee. And so it was that Barbara and I were on the Union Committee. And became sort of unofficial Shop Stewards at the firm, because we collected the weekly Union dues. I think Barbara was an official one for a time. And that meant that everybody grumbled like mad to us, for days on end, and when you then got the boss up to explain the situation which caused the trouble, they only needed to be spoken to by his charming self for a minute or two, and they all melted away…. and didn't know why Barbara and Anne had got him up….. A thankless job if ever there was one. But the Management of this firm was really and truly fair and good. They didn't mind us being Union mad, I think they liked to beat us down with utter charm now and then, and all remained the same, bad weft and all, and no harm was done…..!
And then, suddenly, I had a lump on my breast…. and had to go into hospital and have an operation. Luckily it was not the dreaded cancer and all went well. But it would hurt too much to lean over the beam on the loom, which squashed your breast every time, that frightened me after that. And so, very regretfully to leave my Pals, I found myself another job.
Not before going to the Dentist with Barbara. To help her as she was very frightened I made an appointment for myself for a check up. And finding out that she had very little wrong with hers and I had the dreaded Pyorrhea, Inflammation of the Gums, which, at that time, meant all teeth out, there and then, and so I lost what was, up to then, a lovely set of teeth to get 'an artificial Dining set ' as it was laughingly called. I think that is one of the most advanced things now, the education about teeth, their treatment, and care. But as the Dentist said, maybe the War, the inadequate food, and the baby shortly after, might have influenced the situation at that time.
🙂
If  life is the best teacher, doesn't it make sense to learn from the lives of others?
So what did I learn from today's episode?
I learned how my mother loved the philosophy "if others are doing it, I can learn it", and
I learned how thankless the task of representing to management the complaints of workers is…
So Now it's YOUR turn, dear Reader. What did YOU learn?
Please ADD and SHARE your insights in the COMMENT BOX Below
Next Episode –>
🙂
READY TO COMMIT TO YOUR SELF-IMPROVEMENT?
ENROLL IN OUR F*R*E*E 30-DAY MENTORED SELF-STUDY BOOT CAMP
🙂
Oh, by the way,
If you got value from todays content please 'like' it and $hare it with three people who could most benefit from its message
🙂
FREEDOM, STRENGTH AND HONOR TO YOU

"Teaching families to FIND money, CREATE income and DEVELOP Generational WEALTH"
Let's stay in touch
Phone: 610-781-2392
Skype: prpock
PARTICIPATE in our Generation Of Wealth Communities
M-W-F: "Rules Of Money" CyberLunch – Noon EST, Noon CST, Noon MST, Noon PST – Registration Required
Tu-Th: "How The Markets Work" CyberLunch – Noon EST, Noon CST, Noon MST, Noon PST – Registration Required
DAILY: "Grow Rich MasterMind" – Click here to Sample
MONDAYS: "Timeless Wisdom In Action" MasterMind Study Group – click here to view our  Facebook Group
BY APPOINTMENT: "FIND MONEY" Interviews – Click To Request Appointment

ON SOCIAL MEDIA: Blog – Twitter – YouTube – Pinterest  – Google+ – LinkedIn –  Facebook
LOVE WEALTH – LOVE HEALTH – LOVE HAPPINESS – LOVE LOVE

🙂
Oh, and by the way, did I mention that we help families Find Money, Create Income and Develop Wealth. Click here or on the image below to get the process started. Because YOU are WORTH MORE!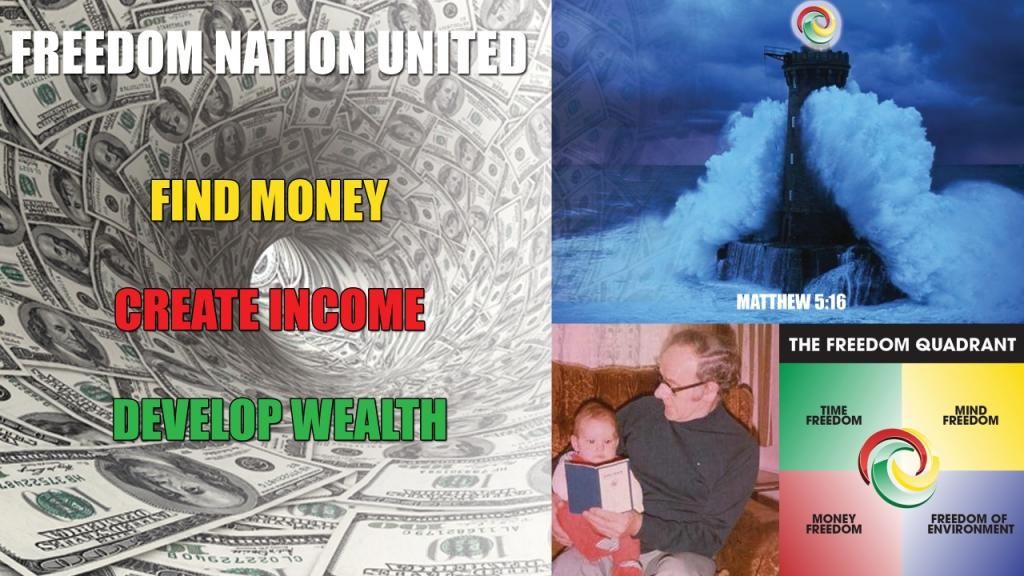 THANK YOU, THANK YOU, THANK YOU