JOURNAL OF A LIFE – Yes, Madam, May I Help You?
 #freedomquadrant 
When we aim for the stars and hit the moon
we still shine light on the World… 
  (See more…)
JOURNAL OF A LIFE
Yes, Yes, Yes
Welcome, Welcome, Welcome
Freedom Nation United


Find Money, Create Income and Develop Wealth
Poke about and check us out –> –> –> –> –> –> –> –> –>
🙂
As a great mentor of mine – Joe Schroeder – never tired of saying "A Life Worth Living is a Life Worth Recording" so today I am here to share another episode in the life's journey of one of the great people whose life I am privileged to have shared a part of – my mother AnneKaete Pocklington.
Yes, Madam, May I Help You
Imagine, if you will, you are presented with a new opportunity in life.
You "go with the flow" – with no expectations.
But life, it seems, has other plans!
READ ON…
Yes, Madam, May I Help You
Through our full-time Union Representative, who was a great Co-op man, I was told to go for an interview at the Hebden Bridge Co-op, who needed an assistant in their Grocery shop. I went along not hoping much, because of my accent, and got the job. And so I became a true Shop Assistant in a Grocery shop.
And everything was still weighed at that time. Very few things came in ready Packets. And the scales were beautiful brass scales, very highly polished. Real weights on one side, brilliant brass plate on the other. And just a few scales were automatic. And so, on Mondays and Tuesday mornings, we would all be scrubbing the shop first, and clean all brass, even the door, in the morning. And then, in the afternoons, we would all weigh things out. Sugar in blue bags, neatly folded a certain way on the top. Tea in little red coloured bags with a point to them. Flour in brown bags neatly closed, and so on, everything in its place and a place for everything. And the boss, in his starched white overall coat with a long apron in front, would watch us all carefully, and tell us if we did wrong, no matter how old you were.
And the Members of the Co-op Committee would come and do their shopping, and the boss would always try to serve them himself. And if you were unlucky to get one you were very careful what you said and how you said it. But that did not really matter, one was naturally polite in those days, and to serve a Customer and recommend this and that to her, was a real pleasure and made the job very much worthwhile.
In no time I was considered good enough to be one who could be trusted to help anywhere, in all the 14 Branches, whenever somebody was off. And so I was working now and then in all the Branches and that was very interesting by itself, as every hillside and village spoke its own dialect, all with a slightly different twang to it, and had different attitudes, to life, to you, to Co-op, to everything.
And to me, it was another role in life. And Bill did not seem to mind too much, when we had got
the Carpet, and the three piece suite, and I worked just a little longer, maybe another few years……
My other year of work lasted another eight years in 'the Economic'.
Again, quite suddenly, somebody said that the 'Economic', a range of 40 shops in and around Halifax, needed an assistant at their Luddenden Foot branch. And I applied and got the job. And so it was that I found myself working at the shop very near home, just at the bottom of the hill, as a shop Assistant with a wonderful Manager called John. We all got on terrifically well, the other Assistant, myself, and boss John. And the beauty was that I could keep an eye on Peter all the time, now he was growing up more, whilst he was on holiday from school. When he was smaller he came with me to the shops in Hebden Bridge, and he would 'help' filling the shelves, and the Manager would give him the odd shilling at the end of the week, as 'wage', making him very proud. But he was growing up now, and played different games. And needed space. And here he could reach me every minute of the day, and play in the shop if he wanted to. Like tidying up the cellar or filling up shelves.
Unfortunately I had to have a hysterectomy at that time and was off work for quite a while, coming eventually back as a part-timer first, but the bosses were very kind about it.
And then I became a Manager for a while in the shop. I had taken over when the Manager was on holiday anyway, and now I was in charge. This was quite good but I did not want the responsibility all the time and was glad when a young colleague of ours, Ronny, was made the Manager after a while on my recommendation. To me, that sort of a job belonged to somebody who could make a Career that way, not a second earner. To me it was quite wrong to take such an important place away from a man or person who was full earner. At that time one thought only of a man as manager, seldom of a woman in charge, even though, there were plenty, even at the Economic, at least three in the 40 shops, and that was a lot in those days.
And so life went on quite well for a while. And during that time I fell in love. Madly and all absorbing, I fell in love. Deep and everlasting, I fell in love– with a house! ! ! Number 24 Blackwood Hall, just opposite were we used to live, had been empty and for sale for over six months. And I thought of it, day and night, and was it maybe, just by chance, possible for us to buy a house ? ? ? ? ~
🙂
If  life is the best teacher, doesn't it make sense to learn from the lives of others?
So what did I learn from today's episode?
I learned that sometimes in life we don't see in ourselves the potential that others see in us, and
I learned that despite the fact that my mother was not on stage living her dream to be an actress, she applied the skills of her formal training – listening, speaking clearly, using and reading body language – to great effect as she took in new roles in the play we call LIFE.
I guess Shakespeare put it best – The Whole World's a stage…
So Now it's YOUR turn, dear Reader. What did YOU learn?
Please ADD and SHARE your insights in the COMMENT BOX Below
Next Episode –>
🙂
READY TO COMMIT TO YOUR SELF-IMPROVEMENT?
ENROLL IN OUR F*R*E*E 30-DAY MENTORED SELF-STUDY BOOT CAMP
🙂
Oh, by the way,
If you got value from todays content please 'like' it and $hare it with three people who could most benefit from its message
🙂
FREEDOM, STRENGTH AND HONOR TO YOU

"Teaching families to FIND money, CREATE income and DEVELOP Generational WEALTH"
Let's stay in touch
Phone: 610-781-2392
Skype: prpock
PARTICIPATE in our Generation Of Wealth Communities
M-W-F: "Rules Of Money" CyberLunch – Noon EST, Noon CST, Noon MST, Noon PST – Registration Required
Tu-Th: "How The Markets Work" CyberLunch – Noon EST, Noon CST, Noon MST, Noon PST – Registration Required
DAILY: "Grow Rich MasterMind" – Click here to Sample
MONDAYS: "Timeless Wisdom In Action" MasterMind Study Group – click here to view our  Facebook Group
BY APPOINTMENT: "FIND MONEY" Interviews – Click To Request Appointment

ON SOCIAL MEDIA: Blog – Twitter – YouTube – Pinterest  – Google+ – LinkedIn –  Facebook
LOVE WEALTH – LOVE HEALTH – LOVE HAPPINESS – LOVE LOVE

🙂
Oh, and by the way, did I mention that we help families Find Money, Create Income and Develop Wealth. Click here or on the image below to get the process started. Because YOU are WORTH MORE!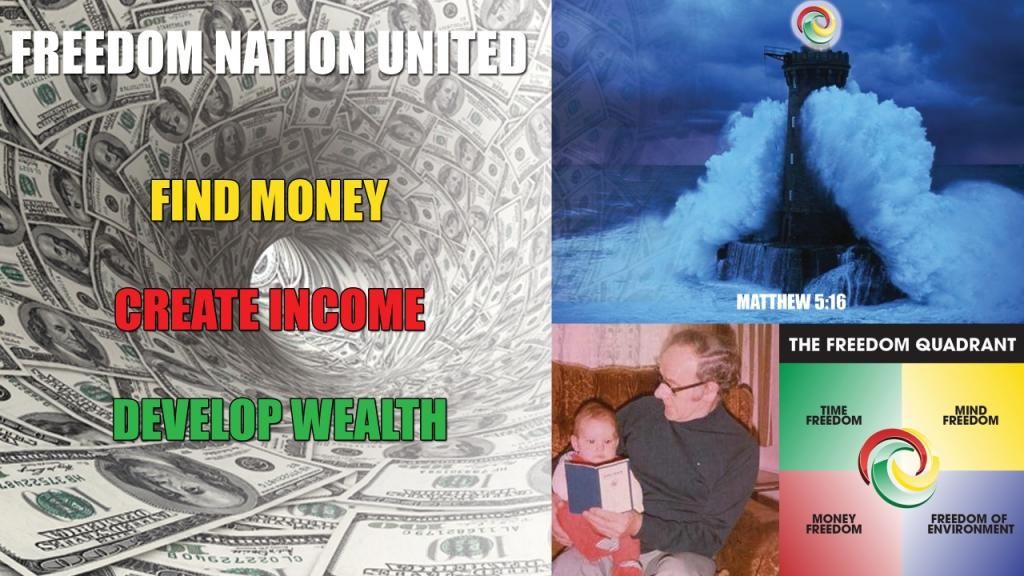 THANK YOU, THANK YOU, THANK YOU