JOURNAL OF A LIFE – This Is Twenty-Four Blackwood Hall
 #freedomquadrant 
Whenever we think Visualization doesn't work, it won't.
But also remember that everything that ever was once wasn't.
  (See more…)
JOURNAL OF A LIFE
Yes, Yes, Yes
Welcome, Welcome, Welcome
Freedom Nation United


Find Money, Create Income and Develop Wealth
Poke about and check us out –> –> –> –> –> –> –> –> –>
🙂
As a great mentor of mine – Joe Schroeder – never tired of saying "A Life Worth Living is a Life Worth Recording" so today I am here to share another episode in the life's journey of one of the great people whose life I am privileged to have shared a part of – my mother AnneKaete Pocklington.
This Is Twenty-Four Blackwood Hall
Imagine, if you will, you haven't got "two half-pennies to rub together" but you have a dream.
You finally pluck up the courage to talk about it to your spouse.
You find out that this is not just your dream, but it is a shared vision.
Can you create the financing to make this vision a reality?
What sacrifice would it entail?
READ ON…
This Is Twenty-Four Blackwood Hall
It's no good, I would have to tell Bill about my day and night dreams about that house. We had not two ha'pennies to rub together, as the saying goes. And yet, I would always go for a walk past there, and go up the few steps on to the little Terrace, and peep into the windows. And I could not get rid of the thought, however I tried. Usually, when I had had something on my mind, I would talk it over with Bill, and then it would go. So I told him. And to my utter amazement, he was nearly as much bitten by the bug as I was, after I had told him. This was most unusual, as he always was the level-headed one in our little family. The man who could only see black and white, no shades of grey, who kept our dreams squarely in the regions of possibilities, not amongst the unattainable.
We peeped together into the window, and dreamed together. And had a word about it with dear Phyllis and Roy, who were very encouraging, telling us to at least try. Making us, the little family without any riches, aware of possibilities to buy houses in England, through the Halifax Building Society, the biggest in the world. And as I write this, the fact is still true.
And so, on Sunday afternoon, of all times, we went to see the Gentleman who was in charge of the little Building Society Office in the village for a long number of years. A very wise and good man who advised people at all times from the vast reservoir of his experience. And he did not mind at all, us calling, and he told us how much was asked for the house and how much we would most likely get it for. £850 was the asking price, this would, most likely, become £800 in time. And how much money had we got. At our disposal, well, not much. He asked about Insurance, holiday money, etc. etc. And that there would be such a thing as borrowing from the seller as he wanted to get his property sold.
And so it was that we went home and counted up. We had been saving very regularly for quite some time, at half a crown, this was two shillings and six pence, a week for Peter, and five shillings, double that amount, for us. Both easy to draw in case we needed money urgently. And we always saved at a holiday club with one of Bill's Colleagues. Everybody did that. In each works was somebody who took it on himself to hold the holiday Bank. And he would collect a set amount each week on payday and put it in the Bank. And a week before the big holiday, called Wakes Week around here, when all factories, all shops and everything closed for a week, it was pay out day. No doubt a good thing for the man who collected, as he would have the accumulated interest on that moneys. But that did not matter, it kept everybody saving year after year, and that was important.
You did not want your colleagues to think you were hard up, and not pay a few weeks. No way. Had you saved by yourself this would surely have happened and savings would not be as regular. And wages were really bad, one could really just manage, and yet, people did go on holiday for a week each year, however humble, just through this method of saving. And so we canceled ours, canceled an insurance which brought some money, even though the loss is really great, it was now money in hand, took the money from both our little bankbooks of regular saving. Even that saved for Peter, which was about £35. As we argued he would get a good roof over his head that way, and eventually get the house for it. And we would start to save again as soon as we could.
And so, in April 1958, we became the proud owners of this desirable property, for £800. A dream had, once more, come true. We had borrowed £100 from the owner, to be paid back in a year, about £500 from the Building Society to be paid back over 20 years, and had managed to scrape the other £200 together in bits, as mentioned above. And we hoped that the bill from the Solicitors, for converting the sale, would not come too soon. And it did not. We ate just bread and Jam for about three weeks until we had enough money saved for that bill, which was, when it came, quite a large amount, about £24. But we went proudly to pay as we had got it saved, in cash. And the £10 borrowed from the vendor was also paid off in less time than it should.
So now we had only the mortgage on the house to pay, at £1, yes, one Pound a week, over 20 years at about 5% a year interest charged. And for this we got our very own little palace. Up about 3 little steps onto a Terrace, with a little flower-bed surround. One could not call it a Garden, but it was a beautiful sight in the summer with the roses, carnations, and all sorts of little flowers. And one could sit out and look over the wonderful countryside round about, from this lovely elevated position. But then inside, a large sitting room with a modern tiled fire place, beige and yellow and green tiles surrounding the firegrate. Very lovely. Then – and this was good – through into our own real kitchen. A real, wonderful kitchen. With a real white sink, room for a real table and chairs, and a real kitchen cupboard. And white tiles half way up the wall all round.
And we soon bought a second hand kitchen cupboard somewhere. And a large Window looking out, overlooking the backs of the houses formerly opposite us. And very friendly people living there who one could wave to as one was busy in the kitchen, and have a few words perhaps. A kitchen from where a proper door led downstairs into a real cellar, a very good keeping place. Not many houses in this part of England had cellars, so this was a real bonus. And under the stairs some shelves again for keeping things. This was 'under' the stairs leading up to a little landing from the kitchen. With a little concertina door at the kitchen end. And from this tiny 'real' landing upstairs you had first on the left a door leading into Peter's bedroom. His first real bedroom with a proper window, a neat square room, oh bliss. Next door our bedroom, really a good square room, again with a large window.
But most of all, and this was the very special room, a real, real bathroom and toilet. Cream tiled right to the top, a white bath and wash-basin. Oh, this was unbelievable. Now we had made it, we owned a real little Palace. The fact that we still owed the Building Society did not come into it, you had bought the house, to your own mind, when the contract was signed and you moved in. We could not get to Germany that year, of course all the money had gone for this Palace, but that did not matter at all.
And the next year, my Dad sold his very precious Stamp Collection, his great hobby ever since I could remember, for about a thousand Marks, and these lovely, lovely people, my wonderful wonderful parents, had their first holiday in their married life. Trouble and strife, and 4 children had never allowed them the luxury ever before. And here they were, in our own little Palace, as our very honoured Guests, and we were so very, very proud – and happy – and could hardly believe it all. It was just unforgettably wonderful.
And they liked it all so very very much that they really hated to leave again. My dear Dad, a man of not too many words, was in tears as it was finally time to go up and change, to get ready to go to the Station, it was all so very wonderful for them, as for us
U N F O R G E T T A B L E !
🙂
If  life is the best teacher, doesn't it make sense to learn from the lives of others?
So what did I learn from today's episode?
I learned that the steps dream, to vision, to reality were the same for my parents as they are for everyone willing to overcome the obstacles that always present themselves, and
I learned yet another side to my Opa Schepers, who was willing to sacrifice his very precious stamp collection, a passion of his for years, just to visit his precious daughter and check out that she wasn't crazy telling him they had 'bought a house'.
So Now it's YOUR turn, dear Reader. What did YOU learn?
Please ADD and SHARE your insights in the COMMENT BOX Below
Next Episode –>
🙂
READY TO COMMIT TO YOUR SELF-IMPROVEMENT?
ENROLL IN OUR F*R*E*E 30-DAY MENTORED SELF-STUDY BOOT CAMP
🙂
Oh, by the way,
If you got value from todays content please 'like' it and $hare it with three people who could most benefit from its message
🙂
FREEDOM, STRENGTH AND HONOR TO YOU

"Teaching families to FIND money, CREATE income and DEVELOP Generational WEALTH"
Let's stay in touch
Phone: 610-781-2392
Skype: prpock
PARTICIPATE in our Generation Of Wealth Communities
M-W-F: "Rules Of Money" CyberLunch – Noon EST, Noon CST, Noon MST, Noon PST – Registration Required
Tu-Th: "How The Markets Work" CyberLunch – Noon EST, Noon CST, Noon MST, Noon PST – Registration Required
DAILY: "Grow Rich MasterMind" – Click here to Sample
MONDAYS: "Timeless Wisdom In Action" MasterMind Study Group – click here to view our  Facebook Group
BY APPOINTMENT: "FIND MONEY" Interviews – Click To Request Appointment

ON SOCIAL MEDIA: Blog – Twitter – YouTube – Pinterest  – Google+ – LinkedIn –  Facebook
LOVE WEALTH – LOVE HEALTH – LOVE HAPPINESS – LOVE LOVE

🙂
Oh, and by the way, did I mention that we help families Find Money, Create Income and Develop Wealth. Click here or on the image below to get the process started. Because YOU are WORTH MORE!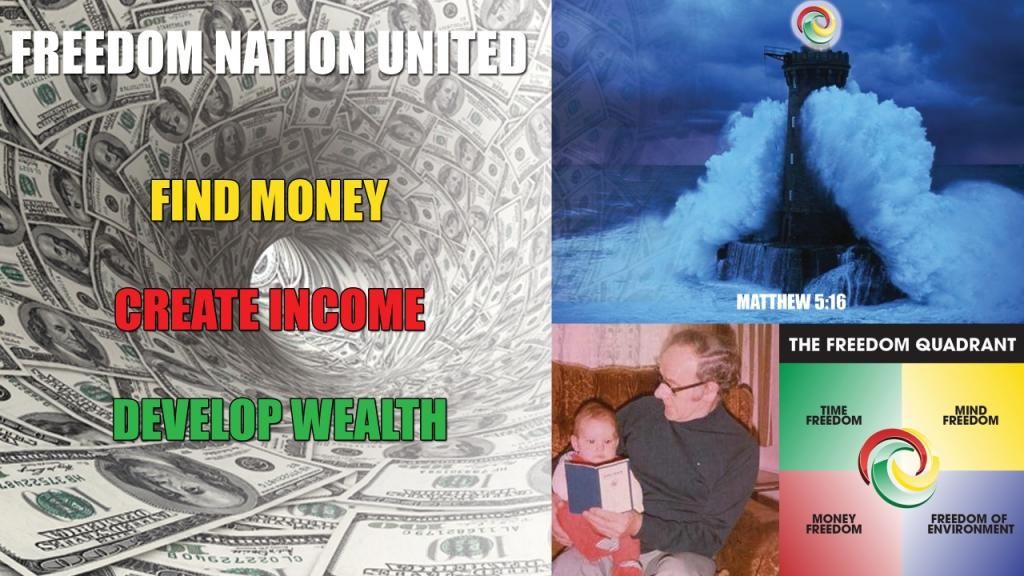 THANK YOU, THANK YOU, THANK YOU