JOURNAL OF A LIFE – My King Has Died – Long Live The Queen
 #freedomquadrant 
We must be aware of the thoughts that control us,
for we can "fire" them at any time if they are not serving us
RobertSouth via DaveCraft 
  (See more…)
JOURNAL OF A LIFE
Yes, Yes, Yes
Welcome, Welcome, Welcome
Freedom Nation United


Find Money, Create Income and Develop Wealth
Poke about and check us out –> –> –> –> –> –> –> –> –>
🙂
As a great mentor of mine – Joe Schroeder – never tired of saying "A Life Worth Living is a Life Worth Recording" so today I am here to share another episode in the life's journey of one of the great people whose life I am privileged to have shared a part of – my mother AnneKaete Pocklington.
My King Has Died – Long Live The Queen
Imagine, if you will, you have had a childhood in a country ruled by a Dictator and then ravaged by War.
Imagine you have the "Peace Of Mind" that you got from the knowledge that, whatever happened, there would be a King and Queen looking after the Country.
Then the King Dies.
READ ON…
My King Has Died – Long Live The Queen
I shall never forget this terrible morning in 1952. A few days ago we saw on the Television, not ours but some friends, that our King, King George the Vl, saw his daughter, our lovely Princess Elizabeth, off. She and her husband Prince Philip were once more going on a goodwill visit abroad. And it seemed a very windy day as the King waved for the last tine, the wind blowing his grey hair. And as I saw this I had a cold shiver down my back. 'He will never see his beloved daughter again' went through my head. Immediately I spoke sharply with myself, not to think such silly things. But – maybe it was a little prophecy – it did happen.
The Radio just went dead for a minute, on that fateful day in February 1952, and then it gave us this shocking announcement. The King is dead, long live the Queen. My Diary on that day is certainly smudged with tears. I could not help it, I cried my heart out. And when Peter came in and saw me crying, he was only tiny, I told him that the King George VI had died.
And he ran straight out and round the corner to a neighbour and said: "Mrs. Radins, Coalman is dead, my Mam said Coalman's dead!" She came round like a shot, what happened, she had only seen him that morning? How could my little boy know then that there is more than one George in the world. He only knew one George, MacMahon, the Co-op Coalman. And if a George was dead it could only be him.
The mistake was soon cleared up and we all in the neighbourhood were full of sorrow, and wishing our new Queen, so very very young, all the best for the great work she had to take on.
GOD SAVE THE QUEEN
And then, in 1953, came the great Coronation, and that was happiness for everybody in all the land. Everybody who had a Television at that time, and this was not too many, invited as many as they could to come and watch it. And so we went to Phyllis and Roy, together with a lot more people, to watch the wonderful Coronation. And the whole village celebrated with a Sportsday for the children on the village green. And they all received a silver spoon from the Town. It was a fantastic day, very very special. A wonderful day.
And everybody went to the pictures the week after to see the Pathe news film of the whole Coronation in colour. Television was only black and white, and here one had the unforgettable sight in full colour.
It was so wonderful.
🙂
If  life is the best teacher, doesn't it make sense to learn from the lives of others?
So what did I learn from today's episode?
I learned that for a two year old George the Coalman is every bit as important as George the King, and
I got a deeper respect for the continuity of the succession as expressed in the simple phrase "The King is Dead, Long Live The Queen"…
So Now it's YOUR turn, dear Reader. What did YOU learn?
Please ADD and SHARE your insights in the COMMENT BOX Below
Next Episode –>
🙂
READY TO COMMIT TO YOUR SELF-IMPROVEMENT?
ENROLL IN OUR F*R*E*E 30-DAY MENTORED SELF-STUDY BOOT CAMP
🙂
Oh, by the way,
If you got value from todays content please 'like' it and $hare it with three people who could most benefit from its message
🙂
FREEDOM, STRENGTH AND HONOR TO YOU

"Teaching families to FIND money, CREATE income and DEVELOP Generational WEALTH"
Let's stay in touch
Phone: 610-781-2392
Skype: prpock
PARTICIPATE in our Generation Of Wealth Communities
M-W-F: "Rules Of Money" CyberLunch – Noon EST, Noon CST, Noon MST, Noon PST – Registration Required
Tu-Th: "How The Markets Work" CyberLunch – Noon EST, Noon CST, Noon MST, Noon PST – Registration Required
DAILY: "Grow Rich MasterMind" – Click here to Sample
MONDAYS: "Timeless Wisdom In Action" MasterMind Study Group – click here to view our  Facebook Group
BY APPOINTMENT: "FIND MONEY" Interviews – Click To Request Appointment

ON SOCIAL MEDIA: Blog – Twitter – YouTube – Pinterest  – Google+ – LinkedIn –  Facebook
LOVE WEALTH – LOVE HEALTH – LOVE HAPPINESS – LOVE LOVE

🙂
Oh, and by the way, did I mention that we help families Find Money, Create Income and Develop Wealth. Click here or on the image below to get the process started. Because YOU are WORTH MORE!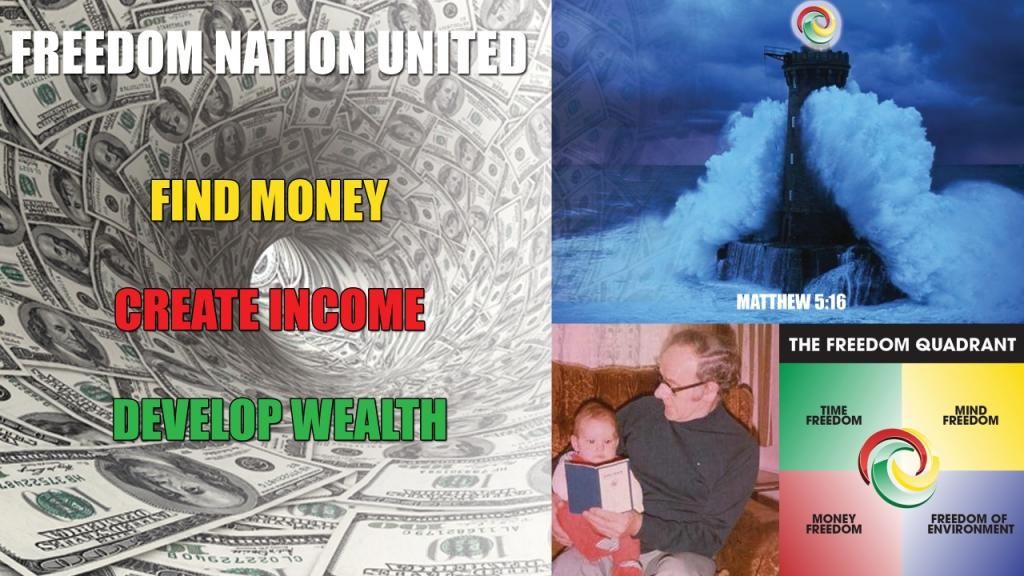 THANK YOU, THANK YOU, THANK YOU