JOURNAL OF A LIFE – Once More Into Hospital
 #freedomquadrant 
We CAN focus energy on disciplines that add value into the lives
of others in order to remove habits that detract from
our value to ourselves.
  (See more…)
JOURNAL OF A LIFE
Yes, Yes, Yes
Welcome, Welcome, Welcome
Freedom Nation United


Find Money, Create Income and Develop Wealth
Poke about and check us out –> –> –> –> –> –> –> –> –>
🙂
As a great mentor of mine – Joe Schroeder – never tired of saying "A Life Worth Living is a Life Worth Recording" so today I am here to share another episode in the life's journey of one of the great people whose life I am privileged to have shared a part of – my mother AnneKaete Pocklington.
Once More Into Hospital
Imagine, if you will, you have been plagues with medical problems that require hospital visits at ever shorter intervals.
Finally the doctor decides on the most radical solution.
How would you feel?
READ ON…
Once More Into Hospital
Just after we bought the lovely house in 24 Blackwood Hall, I had to go into hospital once more. I had been in and out so many times for years and years. I had some Fibroids in my womb which kept coming back. First there was an interval of about 2 years, then it would be 18 months, then 12 months and so on.
When I was young and unmarried, the doctors kept saying it will go when you marry. When I was married they said, it will go when you have a child. When I had a child they kept saying it would go when I had another child.
But somehow, by now, I didn't believe them anymore. So when the Year 1958 came it brought a lot of things with it.
We bought the lovely little castle, small, but 'ours', on the first of April of that year. Just a few months before I had started work at the Economic, just at the bottom of the hill, which was much better.
And then, while I was still playing at dolls house with my new house, I had to go into hospital once more. On April 21, 1958. And this time the Doctors thought it better if I had my womb taken away. So they gave me a Hysterectomy. It was a nasty time and I will not dwell on it. But one really hoped that this would be it, no more hospital. And now we knew for sure, our Darling Peter would be the only child. He would never know brother or sister, he would be the only one. And we thanked God even more for "him".
I came out of Hospital on the 15th of May and was so very glad to be back home with my Darlings again. And such is human nature, it makes you do the silliest things.
We had a long time before decided we would not 'plan' another child. If one came that would be alright, but we would not plan it. And then, if Peter showed any promise at all, he could study if he wanted. With two or three children this might not be possible. But this child would be able to go to school as long as he wanted and his brain let him. Not like his mother and father, who both would have dearly loved some higher education but could not, because of the circumstances. That was fine. But now, when I knew I could not have another child, I found it hard to look at a newborn baby without tears welling up in me. It all seemed so silly, but such is human nature. It is controversial to say the least. I went home to Germany for three weeks that summer to help me to recuperate. And a very dear friend of mine, Trudl Schubert, came back with me for three weeks. That shows that things at last became a little better, even in Germany. One could, at last. see things getting better.
Hanne came the year after on a visit. And that was the first time our Peter got a bicycle. What a wonderful surprise that was. Hanne gave us some money towards it and we bought a secondhand bicycle, from Hopkinsons, for £10. That just shows how things were then, the first bike at 10 years old, and that a secondhand one paid for by his parents and Hanne to make it possible. But the happiness that bike gave, was much much more than anything that can be given to a child now.
And the advent of Television came only very gradually. Like the Radio had done when I was a small child. We had to wait for quite a while before we got one ourselves. We watched occasionally at our friends' homes, and then we got one, finally, a very good secondhand set, in 1956. It was nice to be able to take part in conversations now at work. Because this was what the new "Box in the Corner" brought with it. Every morning the conversation was about things that were 'on' last night. And if you did not own a set you were just not 'with it'.
And for a long time a neighbour of ours came every night, but every night, and watched our TV. Whether we wanted to or not. Her husband finally bought a set for them so that he saw a little bit of his wife again in the evening. And for the World Cup, the Football Cup, in 1966, which was played in England, we got our first real good set so that we could watch it all on TV.
Atta came to England for the games and Bill and Peter went with him to a lot of matches. It was great for Peter. But that is his story, not mine
🙂
If  life is the best teacher, doesn't it make sense to learn from the lives of others?
So what did I learn from today's episode?
I learned of my parents hopes and dreams for me being, in part, fuelled bt their dreams of an education that was "stolen" by a War,
I learned of the significance that the year 1958 had not only in my life, but in the lives of my parents, and
I learned, to my surprise of the dominating influence TV had, in its early days, as a conversation starter – rather than the conversation stealer I have come to view it as…
So Now it's YOUR turn, dear Reader. What did YOU learn?
Please ADD and SHARE your insights in the COMMENT BOX Below
Next Episode –>
🙂
READY TO COMMIT TO YOUR SELF-IMPROVEMENT?
ENROLL IN OUR F*R*E*E 30-DAY MENTORED SELF-STUDY BOOT CAMP
🙂
Oh, by the way,
If you got value from todays content please 'like' it and $hare it with three people who could most benefit from its message
🙂
FREEDOM, STRENGTH AND HONOR TO YOU

"Teaching families to FIND money, CREATE income and DEVELOP Generational WEALTH"
Let's stay in touch
Phone: 610-781-2392
Skype: prpock
PARTICIPATE in our Generation Of Wealth Communities
M-W-F: "Rules Of Money" CyberLunch – Noon EST, Noon CST, Noon MST, Noon PST – Registration Required
Tu-Th: "How The Markets Work" CyberLunch – Noon EST, Noon CST, Noon MST, Noon PST – Registration Required
DAILY: "Grow Rich MasterMind" – Click here to Sample
MONDAYS: "Timeless Wisdom In Action" MasterMind Study Group – click here to view our  Facebook Group
BY APPOINTMENT: "FIND MONEY" Interviews – Click To Request Appointment

ON SOCIAL MEDIA: Blog – Twitter – YouTube – Pinterest  – Google+ – LinkedIn –  Facebook
LOVE WEALTH – LOVE HEALTH – LOVE HAPPINESS – LOVE LOVE

🙂
Oh, and by the way, did I mention that we help families Find Money, Create Income and Develop Wealth. Click here or on the image below to get the process started. Because YOU are WORTH MORE!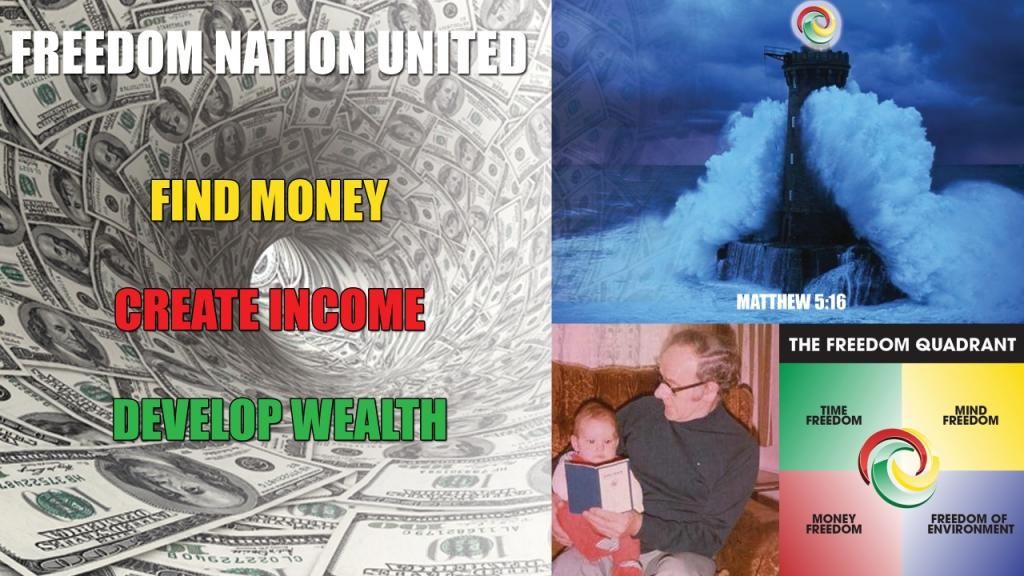 THANK YOU, THANK YOU, THANK YOU