JOURNAL OF A LIFE – Any German National Interested In Forming A Society
 #freedomquadrant 


We start to succeed the moment we take focus off making excuses as to why not and put focus on reasons why to.


  (See more…)
JOURNAL OF A LIFE
Yes, Yes, Yes
Welcome, Welcome, Welcome
Freedom Nation United


Find Money, Create Income and Develop Wealth
Poke about and check us out –> –> –> –> –> –> –> –> –>
🙂
As a great mentor of mine – Joe Schroeder – never tired of saying "A Life Worth Living is a Life Worth Recording" so today I am here to share another episode in the life's journey of one of the great people whose life I am privileged to have shared a part of – my mother AnneKaete Pocklington.
Any German National Interested In Forming A Society
Imagine, if you will, you see an advertisement to "join a Society".
What could this be about?
Fortunately in this case, for my mother "curiosity killed the cat"
READ ON…
Any German National Interested In Forming A Society
The above seemed a very strange advert, one day in 1958, in the Halifax Courier. It could mean all sorts of things, from political to other extremes. But 'curiosity killed the cat' is an old saying. And so I found myself on the way to Forest Cottage, a Community Centre on the North Side of Halifax. An area I did not know much about. I had to catch two buses to reach that side. As it turned out this was really a lovely beginning to something different and extraordinary which both Bill and I enjoyed for many many years and brought us a host of new friends, both here and in Germany, over the years.
The advert had been placed by Mr. Arnold Edwards who was the 'Warden' of the above Community Centre. Born in about 1906, just as a guide as to his Generation. He was, he is, the most interested and valuable person one could wish to meet. A Philosopher and Humanitarian in its purest sense. To him, people mattered, really and truly, without any trimmings whatsoever. In my mind he is one of these very, very rare people one meets, who ought to walk all the time with his hands at his sides, with the palms permanently open toward the person he walks towards. Because that is how I would paint him if I could paint. Absolutely free and open, and down to earth.
Anyway, he had been to Germany many a time. Starting in 1949, with Alderman Whiteley, by going over to Aachen with a small group of students on a goodwill tour to see what they could do. This then led to an exchange of people, staying in one another's homes. A Town Twinning, And thousands of people intermixing for years and years. It still goes on very strong indeed. However, Mr. Edwards had been in Germany, and whilst walking the streets in that foreign town, not speaking the language, he thought what it must be like for any Germans who might live in his hometown of Halifax. And he made up his mind there and then to start off a German Circle if he could. Hence the advert.
And there were about a dozen very apprehensive people who met for the first time that evening. Quite a few people like me who had married a British Soldier and had come to live in this country. After my original question about any chance of it being political, in which case I did not want to know, it seemed a good aim and should be encouraged. And so it was, and it lasted for many years to come.
I had the great honour to be voted its first President. An honour I greatly appreciated and took very seriously. It was a wonderful harmonious group of about 12 to 15 people, who met once a fortnight at Forest Cottage. Beginning and ending every meeting with a few verses of a German Folksong.
Then, gradually, other people came to the meeting who had learned German and were interested in the customs and way of life in Germany. That was still alright. Then their partners joined, who did not speak the language and the hitherto small Committee grew and 'a mixture of language' at these evenings was decided upon. And gradually, over the years, the circle widened and altered until it was still a going concern but far removed from its original conceptions. Whether this was a good thing or bad could be argued forever more.
The point is that it brought us an interesting hobby and some lovely new acquaintances, some later becoming very good friends.
When Mr. Edwards finally retired in 1971 Bill was one of the few people who took over the 'Anglo German Circle', run on similar lines it had been in later years. Iris Sharpe, Harry Wildsmith, Irene O'Connor, are names that come to mind of that period. It almost died a natural death after a while. Not only because it had a divided Committee, as so often happens, but the original Germans had integrated so well that Mr. Edwards original thought had lost its magic and this was now a Social Club with all its ups and downs.
Some years later Iris Sharpe started on her own a real Halifax/Aachen Society, built up with the Town Twinning as its conception and this was a worthwhile conception Society which is still very strong in the town to this day. Even though Iris has long given up its Chairmanship a long time ago. Personally I think she will, one day, some years ahead, return as its President, as Arnold Edwards, now 77, is at the moment.
A very, very worthwhile and very happy friendship between six people came out of this original group. And that was Iris and Dougie Sharpe, Betty and Harry Wildsmith and Bill and myself. And for many years we had a great lot of fun and wonderful times together. With that group a few very special and interesting episodes, of which I will tell later, were experienced. But they all make a separate story and will be told in good time.
We have grown apart now as interests changed, but we are still on good terms and wishing one another well.
🙂
If  life is the best teacher, doesn't it make sense to learn from the lives of others?
So what did I learn from today's episode?
I learned of the openness of my mother to, as her father put it – find out more first without rushing to judgement, and
I found out more about the friendships that result from the philosophy she passed on to me that "a stranger is just a friend you haven't met yet". It has served me well…
So Now it's YOUR turn, dear Reader. What did YOU learn?
Please ADD and SHARE your insights in the COMMENT BOX Below
Next Episode –>
🙂
READY TO COMMIT TO YOUR SELF-IMPROVEMENT?
ENROLL IN OUR F*R*E*E 30-DAY MENTORED SELF-STUDY BOOT CAMP
🙂
Oh, by the way,
If you got value from todays content please 'like' it and $hare it with three people who could most benefit from its message
🙂
FREEDOM, STRENGTH AND HONOR TO YOU

"Teaching families to FIND money, CREATE income and DEVELOP Generational WEALTH"
Let's stay in touch
Phone: 610-781-2392
Skype: prpock
PARTICIPATE in our Generation Of Wealth Communities
M-W-F: "Rules Of Money" CyberLunch – Noon EST, Noon CST, Noon MST, Noon PST – Registration Required
Tu-Th: "How The Markets Work" CyberLunch – Noon EST, Noon CST, Noon MST, Noon PST – Registration Required
DAILY: "Grow Rich MasterMind" – Click here to Sample
MONDAYS: "Timeless Wisdom In Action" MasterMind Study Group – click here to view our  Facebook Group
BY APPOINTMENT: "FIND MONEY" Interviews – Click To Request Appointment

ON SOCIAL MEDIA: Blog – Twitter – YouTube – Pinterest  – Google+ – LinkedIn –  Facebook
LOVE WEALTH – LOVE HEALTH – LOVE HAPPINESS – LOVE LOVE

🙂
Oh, and by the way, did I mention that we help families Find Money, Create Income and Develop Wealth. Click here or on the image below to get the process started. Because YOU are WORTH MORE!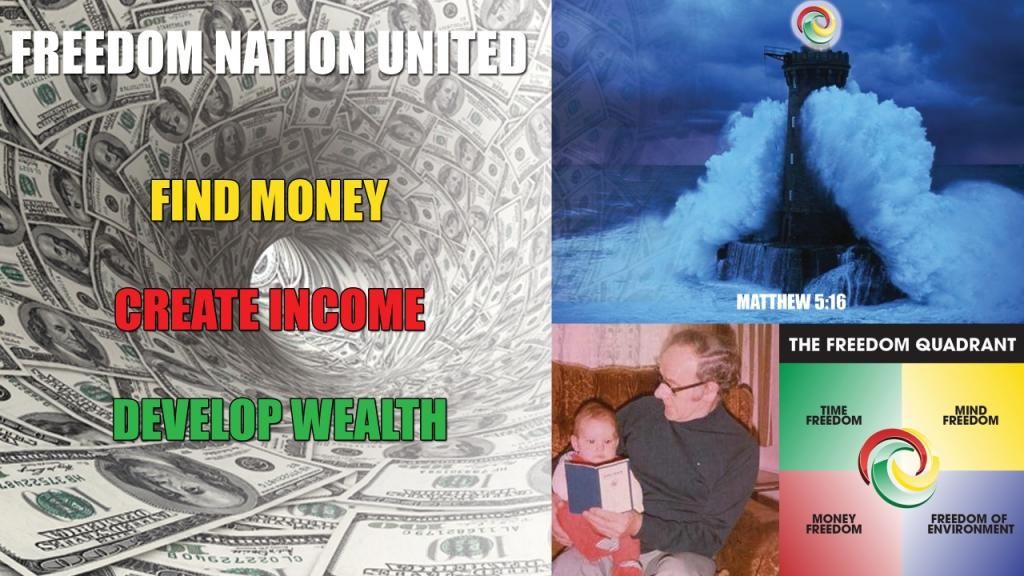 THANK YOU, THANK YOU, THANK YOU