JOURNAL OF A LIFE – Can I Be Of Service To The Firm In Any Other Way?
 #freedomquadrant 
There Are No Coincidences – Only Divine Appointments
that WE Set In Motion By OUR Decisions 
  (See more…)
JOURNAL OF A LIFE
Yes, Yes, Yes
Welcome, Welcome, Welcome
Freedom Nation United


Find Money, Create Income and Develop Wealth
Poke about and check us out –> –> –> –> –> –> –> –> –>
🙂
As a great mentor of mine – Joe Schroeder – never tired of saying "A Life Worth Living is a Life Worth Recording" so today I am here to share another episode in the life's journey of one of the great people whose life I am privileged to have shared a part of – my mother AnneKaete Pocklington.
Can I Be Of Service To The Firm In Any Other Way?
Imagine, if you will, that though you are only a 'lowly' shop assistant, your desire is to reduce the shop's bad debt (in terms of receivables) without losing a customer.
How would you go about it?
Imagine you want to stay aware of politics because you have experience first-hand how a passive electorate brought a dictator to power.
Yet you are 'only' a shop-keeper.
What to do?
READ ON…
Can I Be Of Service To The Firm In Any Other Way?
My Career as a shop assistant, Manager, and the Assistant again had, in the meantime, gone its happy way. My ambition, to see the bed debt sums in that shop diminish, and not lose a customer with it, came to a very, very happy and wonderful fruition. I did manage to get people to reduce their amount owing to nil and still remain friends and shopkeeper/customer whilst doing it. One Lady for instance, poor lass, she was a little harassed housewife with about four or five children. Irish, Catholic, and really and truly hard up. She had her 'account' with the shop for years and years, depressing to say the least. But then again, in those days, the Priest visited his flock in the village every, but every, Friday night, when the man had come home with his wage packet, and asked for his envelope with the amount due in it. Never mind owing the Economic, first things first, and that was your salvation in the hereafter. Thank God, sincerely, thank God, the world and the Catholic Church are much more human now than they were, even in the 1950's. And that again was nothing compared to the 30's.
Anyway, this lass seems a typical case to illustrate. By arrangement with her I would save her some bacon ends or similar, and make her cook a soup lasting maybe two days from these very cheap ingredients. For that, by agreement, I would take 10 shillings or a pound off her account. We would discuss how much she could afford each week, depending on the goods I could recommend cheap, or on special offer. A woman like that would not have a great deal of imagination, not like her mother, perhaps, used to have. The idea of everything in tins was a new idea which her generation had at their service. Not like her mother who made everything herself.
And, quite frankly, one had to be fairly firm to use these newfangled tins with thought. I personally was better off that way because I had immigrated and made and baked a lot myself. Because I wanted the meals my mother made which were German dishes. So I made things which others bought in tins. However, I digress. Gradually, and not all that slowly, we managed to remove all the outstanding areas for this wonderful little mother. And the Priest still got his share too. Then we saved up the same way, by me putting the odd shillings or pounds into a tin, so that she could get a new set of teeth. Undernourishment and children had taken all her teeth away. And that gave her confidence to save some more. For the very first time, since she had come to England to marry her Irish husband working over here, she saved enough money for her, and her youngest child, to go over and visit her mother. The child did not have to pay, and we saved her fare painstakingly over months. But it was a wonderful feeling the morning she left, to see her Mam.
That was just one case. Many were different and all needed different ways of treatment, but we all made it, together, and that was a very lovely feeling of belonging. I do think that somebody up there looked after us all in those days. I still think of that dear little mother with affection and gratitude. I, myself, not all that long ago, before I could start work, had walked up the hill to my little Cottage in Blackwood Hall, one up and one down, and only a few shillings rent to pay, yes, walked up that hill and thought "oh, if only I could find half a crown (two shillings and six pence or an eighth of a pound), if only, what a lovely tea we would have…" Maybe that was the secret, we knew and cared for one another in those days.
And during Election time. People before the day would be talking to each other in the shop and laughingly; and some with just a hint of seriousness, point out each others' parties and their aims. And if you had something to conserve you were a Conservative, and if you lived hand to mouth you were Labour. It was as simple as that, no foreign Policy or even Home Policy mattered. And you argued a bit, and told each other which has the better thing to vote for. And if you were poor and voted Tory (Conservative), and many did, your fellow poors would think you a bit snobbish and queer, but …. And that was the secret.
After the Election you met again at the Economic, you laughed and said to one another "Well, you got in this time didn't you, never mind, we will have our chance next time". And that was it, no bitterness, no real friction, just a little excitement about it all and then it was all over. The real serious politics were left to the few people who had politics often more as a hobby than anything else.
It was not really true. I was so very interested and knew that this simple approach of ordinary people of both parties was not a very good thing. But, of course, being a shopkeeper you had NO politics and that was that.
I could not afford the luxury of being so blissful about it. My background had taught me the danger of it all. But I loved the very attitude our customers took just the same. I suppose, come to think about it, I thought as long as I kept an eye on things it was alright. There is nothing like being a 'big head', but whatever, those were the days.
And Bill and I gave our house as Committee Room a few times as we were nearest the Polling Station, and that again was great fun and excitement. And when we were both asked if we would like to be considered as Candidates at different times, we felt very honored, but did, of course, decline. We were interested but definitely lacked the spark and devotion and, dare I say it, fanaticism, for that. That, to me, was often very dangerous, to be too much of a fanatic. In anything, not just politics. To be a fanatic to me is 'the Devil's Work'.
Anyway, suddenly, all my playing at Shopkeeper and all my enthusiasm for it left me. I longed very much for peace and not carrying other peoples worries on my shoulder, and how to make ends meet. And, first very slowly, then a bit stronger, the thought grew in me to do something different.
And so I got up one night, about half past one, and wrote a letter to the Owner and Managing Director of all the 40 shops, and told him that I was very fed up working in the shop. But that I was a fantastic worker and that it would be a great loss to him if I just gave my notice. So should he be so kind and give this a thought, if he could use this valuable asset somewhere else. And I went, in the middle of the night, out of the house and posted it. So that I could not change my mind. And for the first time for quite awhile I slept deep and soundly.
When I told Bill about it in the morning he did think his wife had finally snapped. One just did not do such a thing, I must be crazy, I think he was really a bit ashamed that his wife had done such a thing. But, 'wonders never cease', I got an interview with the Director, and he more or less agreed with me, that I had only one thing to sell and that was my labour, and my way seemed as good an idea as any, even a little crazy, and he put it to me that I could come and work in the Warehouse, getting the papers, orders etc., ready for all the shops, if I wanted.
And so began a very, very happy wonderful time for me as the only Warehouse Clerk, in a very tiny Office. Where I did Paperwork, my very favourite, sums, and physical work for two very happy years.
🙂
If  life is the best teacher, doesn't it make sense to learn from the lives of others?
So what did I learn from today's episode?
I learned how an ounce of compassion is worth more financially that a "pound of felsh", and
I learned of the politics behind "having no political views" – publicly at least…
So Now it's YOUR turn, dear Reader. What did YOU learn?
Please ADD and SHARE your insights in the COMMENT BOX Below
Next Episode –>
🙂
READY TO COMMIT TO YOUR SELF-IMPROVEMENT?
ENROLL IN OUR F*R*E*E 30-DAY MENTORED SELF-STUDY BOOT CAMP
🙂
Oh, by the way,
If you got value from todays content please 'like' it and $hare it with three people who could most benefit from its message
🙂
FREEDOM, STRENGTH AND HONOR TO YOU

"Teaching families to FIND money, CREATE income and DEVELOP Generational WEALTH"
Let's stay in touch
Phone: 610-781-2392
Skype: prpock
PARTICIPATE in our Generation Of Wealth Communities
M-W-F: "Rules Of Money" CyberLunch – Noon EST, Noon CST, Noon MST, Noon PST – Registration Required
Tu-Th: "How The Markets Work" CyberLunch – Noon EST, Noon CST, Noon MST, Noon PST – Registration Required
DAILY: "Grow Rich MasterMind" – Click here to Sample
MONDAYS: "Timeless Wisdom In Action" MasterMind Study Group – click here to view our  Facebook Group
BY APPOINTMENT: "FIND MONEY" Interviews – Click To Request Appointment

ON SOCIAL MEDIA: Blog – Twitter – YouTube – Pinterest  – Google+ – LinkedIn –  Facebook
LOVE WEALTH – LOVE HEALTH – LOVE HAPPINESS – LOVE LOVE

🙂
Oh, and by the way, did I mention that we help families Find Money, Create Income and Develop Wealth. Click here or on the image below to get the process started. Because YOU are WORTH MORE!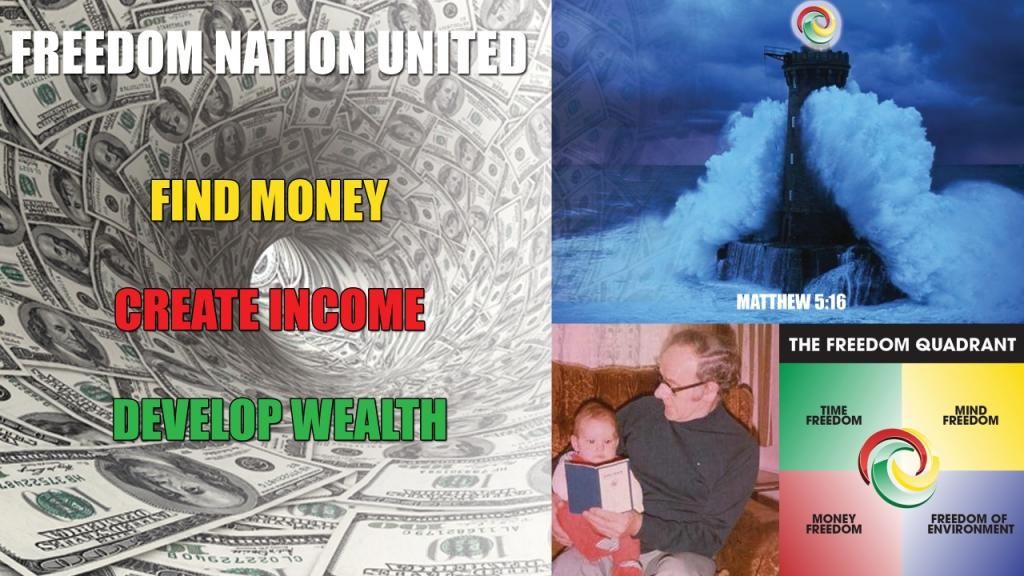 THANK YOU, THANK YOU, THANK YOU