JOURNAL OF A LIFE – There Is English, And There Is Engineering Language
 #freedomquadrant 
We are always one MINOR carburetor adjustment away from
our next MAJOR breakthrough
  (See more…)
JOURNAL OF A LIFE
Yes, Yes, Yes
Welcome, Welcome, Welcome
Freedom Nation United


Find Money, Create Income and Develop Wealth
Poke about and check us out –> –> –> –> –> –> –> –> –>
🙂
As a great mentor of mine – Joe Schroeder – never tired of saying "A Life Worth Living is a Life Worth Recording" so today I am here to share another episode in the life's journey of one of the great people whose life I am privileged to have shared a part of – my mother AnneKaete Pocklington.
There Is English, And There Is Engineering Language
Imagine, if you will, you are happy and content in your job of eight years.
Out of the blue you are offered DOUBLE WAGES to leave for a totally new line of work.
You are being asked to translate from and to your 'native language'.
No-brainer, it seems. Right?
READ ON…
There Is English, And There Is Engineering Language
I was really and truly happy at the Economic, all the eight years I had worked for them. But then a very tempting offer came my way. It came through the German Circle at Forest Cottage. The wife of a German National working as an Engineer for a very large international Gas Engineers firm in Halifax, Drakes Engineering, told her husband about me when they needed a Translater Clerk.
And so, out of the blue, I was asked to come for an interview and, after the test, here and there, was offered the job of a Translator Clerk.
And even through I was very happy in my job, the sudden offer of more than twice the money I was getting – from £5 to £I0 so suddenly, made me change over. And this firm designed, delivered, made and built huge Gas Works, so there certainly was variety to this interesting job. And having to translate from and into German I had to really and truly digest all the written words. And Erwin Seher, the German National, was kind, patient and considerate, very, very much so, with this girl, who thought???? she could translate and had never realized that there is English, and German, yes, and.. Engineering. Where a pipe is a pipe if it leads from this point to that, but becomes something completely different if it does this, or is for that.
There are about 15 different names for a pipe in an Engineering Design. And also, everything has a name. If you had a drawing for a machine every inch of that drawing has a name. For instance, the little catch on the back of the sewing machine, which lifts up the foot, has a name, not just 'the thing at the back'.
It was a very difficult time and every night at home I sat and learned new vocabulary from old translations. But I mastered, and I liked the job and was very, very sad when the firm went bankrupt after just over a year of me being there, because the Northsea Gas was beginning to come in. And that this, an old Family Firm, which had been so proud for over a hundred years, had to finish. It made me sad for the wonderful boss, the last in the line of the old established firm.
But somebody must have been looking after me. Just as Mr. John told us that it would be advisable to look for a job, I got another offer, out of the blue.
Would I be interested and could I please come for an Interview?
🙂
If  life is the best teacher, doesn't it make sense to learn from the lives of others?
So what did I learn from today's episode?
I learned the language we speak daily does not meet the specifications required for technical implamentation, and
I learned, once again,  of the dedication and effort my mother was willing to put into overcomeing any challenge placed in front of her…
So Now it's YOUR turn, dear Reader. What did YOU learn?
Please ADD and SHARE your insights in the COMMENT BOX Below
Next Episode –>
🙂
READY TO COMMIT TO YOUR SELF-IMPROVEMENT?
ENROLL IN OUR F*R*E*E 30-DAY MENTORED SELF-STUDY BOOT CAMP
🙂
Oh, by the way,
If you got value from todays content please 'like' it and $hare it with three people who could most benefit from its message
🙂
FREEDOM, STRENGTH AND HONOR TO YOU

"Teaching families to FIND money, CREATE income and DEVELOP Generational WEALTH"
Let's stay in touch
Phone: 610-781-2392
Skype: prpock
PARTICIPATE in our Generation Of Wealth Communities
M-W-F: "Rules Of Money" CyberLunch – Noon EST, Noon CST, Noon MST, Noon PST – Registration Required
Tu-Th: "How The Markets Work" CyberLunch – Noon EST, Noon CST, Noon MST, Noon PST – Registration Required
DAILY: "Grow Rich MasterMind" – Click here to Sample
MONDAYS: "Timeless Wisdom In Action" MasterMind Study Group – click here to view our  Facebook Group
BY APPOINTMENT: "FIND MONEY" Interviews – Click To Request Appointment

ON SOCIAL MEDIA: Blog – Twitter – YouTube – Pinterest  – Google+ – LinkedIn –  Facebook
LOVE WEALTH – LOVE HEALTH – LOVE HAPPINESS – LOVE LOVE

🙂
Oh, and by the way, did I mention that we help families Find Money, Create Income and Develop Wealth. Click here or on the image below to get the process started. Because YOU are WORTH MORE!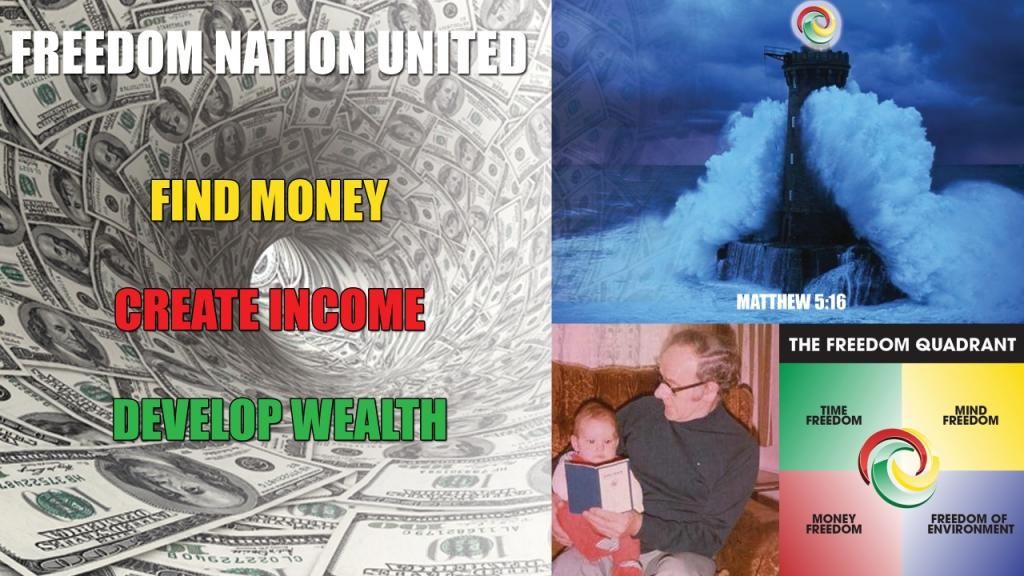 THANK YOU, THANK YOU, THANK YOU