JOURNAL OF A LIFE – Translate This Please – Report On A Fashion Show
 #freedomquadrant 
Let the D.I.M.E create your own economy.
Derive Income. Monitor Expenses.
  (See more…)
JOURNAL OF A LIFE
Yes, Yes, Yes
Welcome, Welcome, Welcome
Freedom Nation United


Find Money, Create Income and Develop Wealth
Poke about and check us out –> –> –> –> –> –> –> –> –>
🙂
As a great mentor of mine – Joe Schroeder – never tired of saying "A Life Worth Living is a Life Worth Recording" so today I am here to share another episode in the life's journey of one of the great people whose life I am privileged to have shared a part of – my mother AnneKaete Pocklington.
Translate This Please – Report On A Fashion Show
Imagine, if you will, somebody know somebody who recommends YOU for a new position – a new opportunity.
Why not you think? You've done it before.
It's just another role to play in the game of life, right?
So off you go again.
READ ON…
Translate This Please – Report On A Fashion Show
Again, somebody had known somebody who knew somebody, and my name was mentioned. And so I received a Telephone call from the Company Secretary from a firm called Bondina BDA Ltd. at Greetland, who needed a Translater Clerk. Again, I went for an interview, had to take a test paper home, go for an interview again after that had been assessed, and got the job. I would be attached to the Cost Office for times when there were no translations to do.
And so another wonderful spell began for me. Working in the Costing Office, doing my beloved sums and figure work, under my lovely boss Geoff Taylor, and translating for all the bosses, Chemists, Section heads etc. in the firm. Very, very hard and much to learn. Again, sitting at home at night and learning, learning, learning, new vocabulary for Chemistry, machines, fashion terms etc., but gradually getting better at it. And doing waste analysis which then asked for a report on the Director's desk once a month in German and English. Being on the Works Committee, another lovely wondrous Experience.
Again having such a wonderful human being as a boss. Mr. Bert Shipping, the Managing Director, was a Person I admired and respected tremendously, because he was extraordinarily fair, strict, and human, all at the same time. A very tremendous person and wonderful to have had as a boss. But many others in that firm were wonderful fair-minded bosses to me. The fashion side of my translations were the hardest to do. I never had much interest in fashion at all. And there I not only had to know the selling terms, I had to know the materials, the language of the reporters of very high couture in Paris, Berlin, London and Rome.
No, I loved to translate for the Chemists and Workmanagers best. But taking it all, I liked it all together very much indeed.
Until a lot of my Costing Analysis went on to Computers, and a change of Section Head of that Department, whom I disliked greatly because he was such a phoney, and the Translations became fewer and fewer as Germany translated a lot of things before sending the same to us, that I was very bored through not having enough to do. It made me restless, and it was time to move on to somewhere else. Even though I could have stayed on and done the same as others, pretended to be busy, but – alas – I could not. So I thought of something else for a change. And a colleague gave me a clue…………
The Firm had become very much larger in the meantime and was called Bondina Ltd. Vilene Ltd. and Vileda and is still going strong at this time. It was 50% owned by a German firm called Freudenberg, Weinheim, Bergstrasse. I don't know if it still is.
Just as a point of interest. It was said that, when the firm wanted to come over here to trade in England it had to go in with an English firm and trade under an English name because the Garment Industry in England was predominately Jewish. And they would never, but never, trade with a German after their recent history and the Holocaust. All of which might have had nothing to do with this firm. But it sounded and was a German firm, and such were the times, such things were very important.
🙂
If  life is the best teacher, doesn't it make sense to learn from the lives of others?
So what did I learn from today's episode?
I learned that people work for people and not Companies,
I learned that even 50 years ago positions you loved could become nightmares just through a change of leadership, and
I learned that the scars of War run deep – even in the "shark tank" of business ownership…
So Now it's YOUR turn, dear Reader. What did YOU learn?
Please ADD and SHARE your insights in the COMMENT BOX Below
Next Episode –>
🙂
READY TO COMMIT TO YOUR SELF-IMPROVEMENT?
ENROLL IN OUR F*R*E*E 30-DAY MENTORED SELF-STUDY BOOT CAMP
🙂
Oh, by the way,
If you got value from todays content please 'like' it and $hare it with three people who could most benefit from its message
🙂
FREEDOM, STRENGTH AND HONOR TO YOU

"Teaching families to FIND money, CREATE income and DEVELOP Generational WEALTH"
Let's stay in touch
Phone: 610-781-2392
Skype: prpock
PARTICIPATE in our Generation Of Wealth Communities
M-W-F: "Rules Of Money" CyberLunch – Noon EST, Noon CST, Noon MST, Noon PST – Registration Required
Tu-Th: "How The Markets Work" CyberLunch – Noon EST, Noon CST, Noon MST, Noon PST – Registration Required
DAILY: "Grow Rich MasterMind" – Click here to Sample
MONDAYS: "Timeless Wisdom In Action" MasterMind Study Group – click here to view our  Facebook Group
BY APPOINTMENT: "FIND MONEY" Interviews – Click To Request Appointment

ON SOCIAL MEDIA: Blog – Twitter – YouTube – Pinterest  – Google+ – LinkedIn –  Facebook
LOVE WEALTH – LOVE HEALTH – LOVE HAPPINESS – LOVE LOVE

🙂
Oh, and by the way, did I mention that we help families Find Money, Create Income and Develop Wealth. Click here or on the image below to get the process started. Because YOU are WORTH MORE!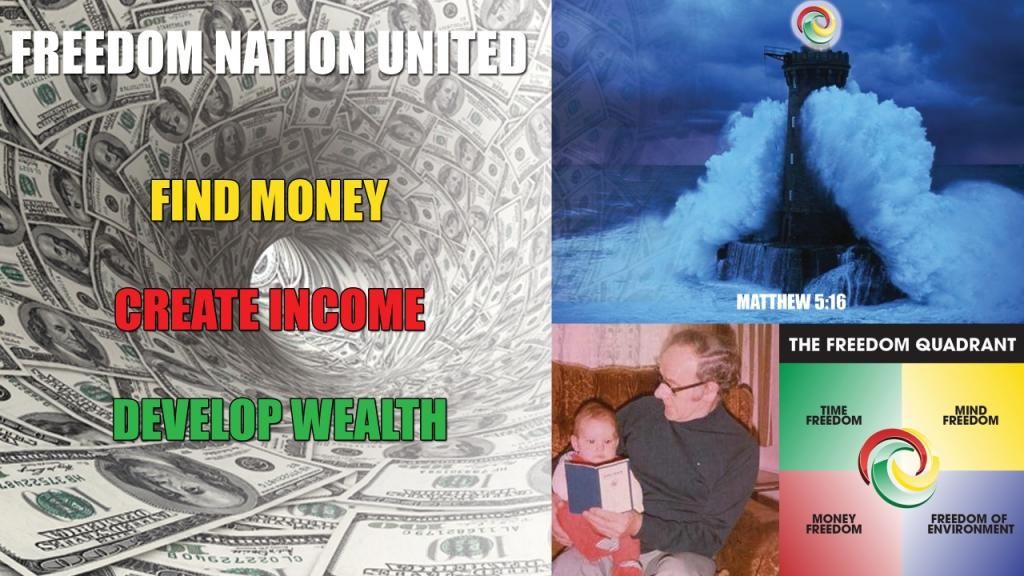 THANK YOU, THANK YOU, THANK YOU