JOURNAL OF A LIFE – I Bet You There Is No Such Thing As A Housing Manager
 #freedomquadrant 
Our Rewards Increase When We Are "SOULed" Out To The System
with VISION, FAITH, PURPOSE and GRATITUDE
  (See more…)
JOURNAL OF A LIFE
Yes, Yes, Yes
Welcome, Welcome, Welcome
Freedom Nation United


Find Money, Create Income and Develop Wealth
Poke about and check us out –> –> –> –> –> –> –> –> –>
🙂
As a great mentor of mine – Joe Schroeder – never tired of saying "A Life Worth Living is a Life Worth Recording" so today I am here to share another episode in the life's journey of one of the great people whose life I am privileged to have shared a part of – my mother AnneKaete Pocklington.
I Bet You There Is No Such Thing As A Housing Manager
Imagine, if you will, somebody you know had been trying to see the Corporation's Housing Manager.
You get the idea of perhaps working there, just to find out if there was one.
Harmless enough, right?
But somehow the Universe is listening.
Funny how it seems to work that way, right?
So up pops an advert in the local paper for a position.
READ ON…
I Bet You There Is No Such Thing As A Housing Manager
This is a harmless enough remark. Made by a young Colleague who lived in a Council flat or house, and had tried to see the housing Manager for some reason or another. And had never managed. That gave me the idea that I would like to work there and find out 'if' there was such a man or not. Because there were many complaints about people who worked in that Department, mainly by Tenants who lived in that kind of Property. Or people, like me some years ago, who tried and better tried to get a Council house to rent. So I would like to find out more about "Local Government'. And wished, in a way, that, I never had wanted to.
But, "Hey Presto", there was an advert in the paper for a Clerk in the Housing Department. A letter in the post with my application, and the Interview. Ending up with me working for the Council, local Government in the Housing Department as a Counter Clerk.
And I had been interviewed by the "Housing Manager", so there was such a post after all. The 'set up' of a local Government as a Landlord during and after the War in England when there was no private building of houses to live in at all. No permission was granted for private building of any kind until the early 1950's. As Germany had already started the great 'build up', England kept to its restrictions. But, as the lads had been promised houses when they were fighting, a great, gigantic scheme of local Government building took place. And around every town in England very large, gigantic housing estates sprang up, making local Government the largest landlord ever, anywhere in the world. This was then followed by 'Slum Clearance', the tearing down, regardless, of any substandard homes, and building more and more estates. Some very good properties, solidly built, were pulled down by unscrupulous councils.
Instead of modernizing some houses, to preserve the character of towns and cities, they pulled the heart out of everything. With the result that people acquired bathrooms in exchange for friendship, neighbourhood, heart and belonging. Some never found themselves again and even more people than ever before lived now in slums. New slums, larger slums. Whereas before, you kept a certain standard because, more than likely your mother, relations and friends lived in the same streets. Now you were suddenly all sprinkled all over the globe and the 'family' feeling had gone
When I joined the Housing Department of Halifax town in about 1971, it had a huge stock of property. Some excellent, some very good, some quite good but an awful lot of it downright bad. In fact, if these houses had been owned by private Landlords, the law at the time would have disowned him long ago for bad properties. Halifax had at the time about 100,000 (one hundred thousand) people in population, and owned about 10,000 (ten thousand) dwellings of one kind and another for housing. That was roughly the proportion, even though some towns, like Sheffield, had many many more houses per population.
Once these houses were put up, no money was put aside for upkeep and repair. And a lot of fiddling went on besides. Bribing Officials to get laws passed and quotations accepted, backhanders one way and another. The same to the firm delivering the materials, then between foreman and his materials, then the builder himself and him being on 'Bonus' work. Encouraging him not to turn out his best work to earn a living wage. And so it went on. Consequently all over England are some very good houses and some extremely badly built with very inferior material. Because there was never enough housing stock, as some got so bad and fell by the roadside, some became slums in no time. One did not do away with slums, one just removed them to somewhere else, and with the age of people marrying getting younger and younger, the problem got larger and larger.
And by the time I became employed there, to look for the 'Housing Manager' I found that there was such a man, but he 'dare not' show his face in the office where the customers were. It was far too dangerous for one reason or another.
And I, personally, had to do an awful lot of rethinking of my ideals, my adoration for the British people, the rights and wrongs of dealings with a local Government Society, and many more things. There is a saying that one side of the people do not know how the other side lives. I had taken that saying as just one of the old wives tales. But I was soon finding out that it is about the truest saying there is. And I had, from my side, to learn an awful lot about the other side I would never ever have believed, had I not lived through this trauma.
Just by the way, I liked the boss, the Housing Manager at that time, again very, very much. And he again was very strict, but utterly fair as a boss and very good to work for. And I liked my Colleagues, Iris had stated work there as well, but in a different part of the Housing Department
🙂
If  life is the best teacher, doesn't it make sense to learn from the lives of others?
So what did I learn from today's episode?
I learned ththat once again, what you think about you bring about, and
I learned that there are often unintended consequences to the most well-meaning of plans…
So Now it's YOUR turn, dear Reader. What did YOU learn?
Please ADD and SHARE your insights in the COMMENT BOX Below
Next Episode –>
🙂
READY TO COMMIT TO YOUR SELF-IMPROVEMENT?
ENROLL IN OUR F*R*E*E 30-DAY MENTORED SELF-STUDY BOOT CAMP
🙂
Oh, by the way,
If you got value from todays content please 'like' it and $hare it with three people who could most benefit from its message
🙂
FREEDOM, STRENGTH AND HONOR TO YOU

"Teaching families to FIND money, CREATE income and DEVELOP Generational WEALTH"
Let's stay in touch
Phone: 610-781-2392
Skype: prpock
PARTICIPATE in our Generation Of Wealth Communities
M-W-F: "Rules Of Money" CyberLunch – Noon EST, Noon CST, Noon MST, Noon PST – Registration Required
Tu-Th: "How The Markets Work" CyberLunch – Noon EST, Noon CST, Noon MST, Noon PST – Registration Required
DAILY: "Grow Rich MasterMind" – Click here to Sample
MONDAYS: "Timeless Wisdom In Action" MasterMind Study Group – click here to view our  Facebook Group
BY APPOINTMENT: "FIND MONEY" Interviews – Click To Request Appointment

ON SOCIAL MEDIA: Blog – Twitter – YouTube – Pinterest  – Google+ – LinkedIn –  Facebook
LOVE WEALTH – LOVE HEALTH – LOVE HAPPINESS – LOVE LOVE

🙂
Oh, and by the way, did I mention that we help families Find Money, Create Income and Develop Wealth. Click here or on the image below to get the process started. Because YOU are WORTH MORE!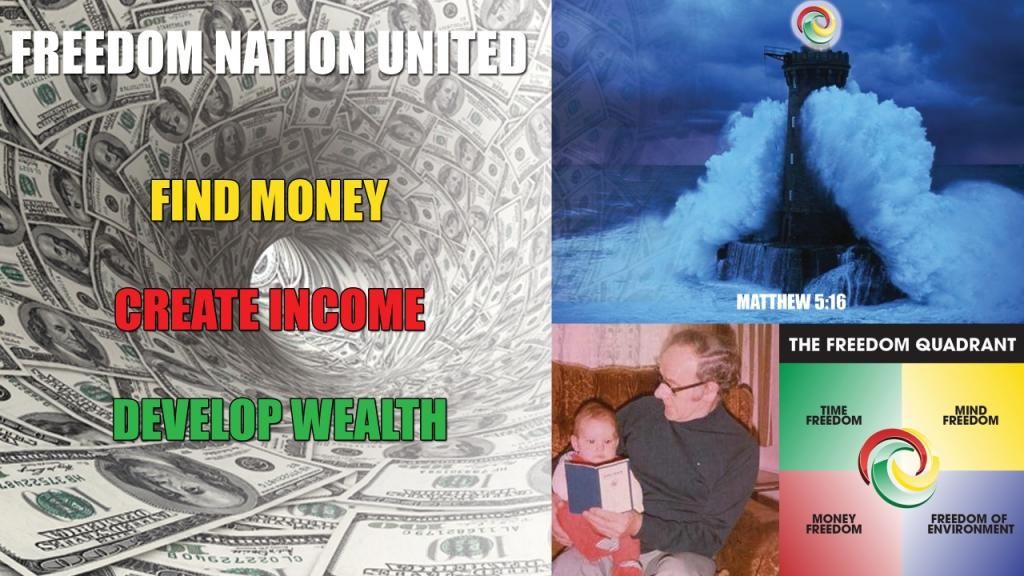 THANK YOU, THANK YOU, THANK YOU