JOURNAL OF A LIFE – Pocklingtons Become Mobile
 #freedomquadrant 
Business Growth REQUIRES interviewing large numbers of unacceptable people in order to select the few deserving of our time
  (See more…)
JOURNAL OF A LIFE
Yes, Yes, Yes
Welcome, Welcome, Welcome
Freedom Nation United


Find Money, Create Income and Develop Wealth
Poke about and check us out –> –> –> –> –> –> –> –> –>
🙂
As a great mentor of mine – Joe Schroeder – never tired of saying "A Life Worth Living is a Life Worth Recording" so today I am here to share another episode in the life's journey of one of the great people whose life I am privileged to have shared a part of – my mother AnneKaete Pocklington.
Pocklingtons Become Mobile
Imagine, if you will, your wages have doubled.
What are you going to do with this "new" money?
You have been happy enough with Public Transportation.
But that shiny red car keeps winking at you?
READ ON…
Pocklingtons Become Mobile
A very wonderful thing was brought about with me moving from the Economic, and lower wage, to the larger earnings as a Translater Clerk. We had now some money to spare which made us think slightly different.
Up until now I had just about earned a nice little sum of money which allowed us to live a little better than we would have from one wage. Nothing special. But assuring the journey 'Home' to see my parents, and sisters and brother. Which all still meant a great deal. And no need for Bill killing himself working all hours God sent. We had a long time ago taken Roy Hopkinson's advice, which proved invaluable and still is to this day.
If you both go out to work, make sure that the second wage is never ever used for the "daily bread". The roof over your head, the warm fire in the hearth, and the food on the table must always come from the breadwinner, yes, and the coat on your back. The second earner can make life easier, but never let these two get mixed. And so I coined for myself the saying: "Bill works for the bread, which we could live on very well. But it tastes better if there is something on the bread". And that would be the Jam. So I would work for the Jam whilst Bill worked for the bread. And never had we got the two mixed up.
And then I was suddenly earning over £10 per week, on a job greatly enjoyed. I had never earned more than £5 before at the Economic. And so, in order that we would not get too big headed we must do something quite different with that money.
And so we planned – and wished – and bought – our first C A R ! This was a wonderful adventure. First we went to various dealers and just looked and priced. Then we went home and did some figures. If this car did so much per mile, this might have a better reputation for good materials, and so on. Then we narrowed it down to about two. And then we went to Dews, a large Garage and Dealer in Town, to test-drive a Car. And the very first, a cardinal Red Vauxhall Viva, so very lovely, persuaded us both that we need look no further. We were both in love with our first, brand new, car, costing about £650, if I remember right, and being our great delight for a long time.
Originally Bill had said we would not buy a car because there were no garages to be had anywhere. And so I set to again and searched and searched, until I found us a garage. On Mr. Grenshaw's land at the Woodlands. And now we had this beautiful shiny red car to put into it. Wasn't it all unbelievable. Six months later she was ours completely' and paid in full. And I am sure she liked us too, the way she used to wink at me when we went out in her, she was lovely.
As an aside – Peter here.
I remember the day this car was bought quite clearly. My Mum and Dad came down to the recreation park / football field to show it off to me and my only reaction was "Uh, OK. Can I get back to the game now, next goal wins"
🙂
If  life is the best teacher, doesn't it make sense to learn from the lives of others?
So what did I learn from today's episode?
I learned the source of my mother's advice to me that "you must work for the bread and if your wife must work be sure she works for the jam", and
I learned of the fun my Mum and Dad must have had as they did their "due diligence" on the purchase of their first car…
So Now it's YOUR turn, dear Reader. What did YOU learn?
Please ADD and SHARE your insights in the COMMENT BOX Below
Next Episode –>
🙂
READY TO COMMIT TO YOUR SELF-IMPROVEMENT?
ENROLL IN OUR F*R*E*E 30-DAY MENTORED SELF-STUDY BOOT CAMP
🙂
Oh, by the way,
If you got value from todays content please 'like' it and $hare it with three people who could most benefit from its message
🙂
FREEDOM, STRENGTH AND HONOR TO YOU

"Teaching families to FIND money, CREATE income and DEVELOP Generational WEALTH"
Let's stay in touch
Phone: 610-781-2392
Skype: prpock
PARTICIPATE in our Generation Of Wealth Communities
M-W-F: "Rules Of Money" CyberLunch – Noon EST, Noon CST, Noon MST, Noon PST – Registration Required
Tu-Th: "How The Markets Work" CyberLunch – Noon EST, Noon CST, Noon MST, Noon PST – Registration Required
DAILY: "Grow Rich MasterMind" – Click here to Sample
MONDAYS: "Timeless Wisdom In Action" MasterMind Study Group – click here to view our  Facebook Group
BY APPOINTMENT: "FIND MONEY" Interviews – Click To Request Appointment

ON SOCIAL MEDIA: Blog – Twitter – YouTube – Pinterest  – Google+ – LinkedIn –  Facebook
LOVE WEALTH – LOVE HEALTH – LOVE HAPPINESS – LOVE LOVE

🙂
Oh, and by the way, did I mention that we help families Find Money, Create Income and Develop Wealth. Click here or on the image below to get the process started. Because YOU are WORTH MORE!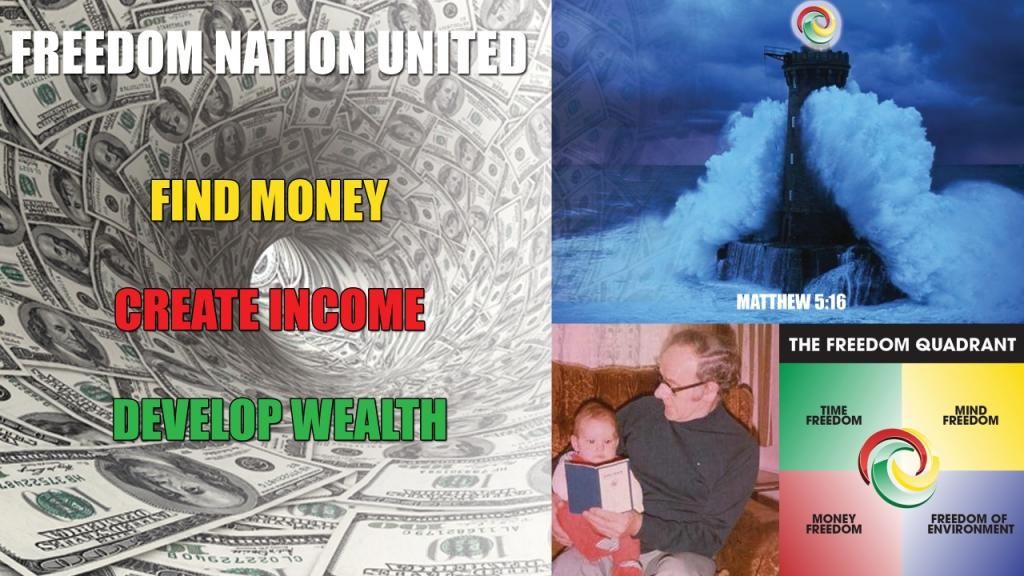 THANK YOU, THANK YOU, THANK YOU