JOURNAL OF A LIFE – Let's Move Nearer Our Works
 #freedomquadrant 
AWARENESS – One's Ability To See What Is Not Visible
  (See more…)
JOURNAL OF A LIFE
Yes, Yes, Yes
Welcome, Welcome, Welcome
Freedom Nation United


Find Money, Create Income and Develop Wealth
Poke about and check us out –> –> –> –> –> –> –> –> –>
🙂
As a great mentor of mine – Joe Schroeder – never tired of saying "A Life Worth Living is a Life Worth Recording" so today I am here to share another episode in the life's journey of one of the great people whose life I am privileged to have shared a part of – my mother AnneKaete Pocklington.
Let's Move Nearer Our Works
Imagine, if you will, that you leave the job you love in order to protect your childrens' future.
Would you do that?.
You finish up in a job that nearly kills you.
How could that work out for the better?
READ ON…
Let's Move Nearer Our Works
As all things happen we were now saving up quite nicely with our combined earnings. And I did not feel ready to give up work just now. The interest outside the house still meant a lot. Especially with Bill being on shift-work. He had to finish on the Railway while Peter was in the second year at the Grammar school and doing very well. The Government, and a Minister called Beeching, had decided to cut the Railway down very drastically. And so many stations had to go, about half of them all over England. And because Sowerby Bridge Station was also closed Bill
could either move somewhere down South or leave the Railway.
Because we were desperate to protect Peter's future we decided not to leave. So Bill had to leave his beloved job as a Guard on British Railways to find another job. And he then started, at the age of 35, a most harassing job. He learned to be a Carpet Weaver. When he went for the interview they said he was really too old. (Dreadful, at 35 to be told you are too old for anything). But they let him start. And he worked there, very very hard, for almost three years. My poor Bill looked very thin, and tired, and unhappy all the time. But I could not persuade him to change his job. It did not look good on your report if you changed your job too often, was my poor Darling's old-fashioned view.
My great worry at that time, for my Darling, was nothing compared to the suffering he went through. But at last he could not stand it any longer. And he did look for another job, Just as a very dear Colleague of mine had become a very good acquaintance, she and her husband Ted. And Ted knew that they wanted somebody at Elland Power Station. And so my Darling had to learn once more from the start and work himself up. And again, I held the book whilst he learned the rules. But he took all the examinations offered, City and Guild and the Departmental ones, and he made it, until he again found a stimulating and interesting job. At this moment being a Turbine Operator, an interesting and very responsible position.
And I was working at Bondina at that time, and Peter was at the University, we looked around for houses to buy. Maybe near our work. And so we found, fell in love, and bought this house, 47 Cherry Tree Drive, Greetland, for £3550 and became the proud owners of a more modern, three bedroom Dormer Bungalow.
Soon after I left Bondina, and had to travel again, but still, Bill was near his work. But the interest here is that a sort of inflation came about in England, only a year or so after us buying this house. It was engineered by the Building Societies, I am convinced, at top level, because house prices in England were terrifically cheap compared with the rest of Europe.
That made our house in no time suddenly worth £10000 and it has been rising ever since. Blackwood Hall has risen too in price, but not just as rapidly and steep. It sold 3 years later for £300 more than we had got, whilst our new one in that time had more than doubled. Not that that mattered to us. We would have to buy in the same high priced market, had we quickly sold again, and gained nothing. But at least we had bought just before the sudden rise and had got the guts to do it. We would have been far too frightened to take up such a big mortgage after the rise, and would probably never have moved.
We sold Blackwood Hall for £1600 when we sold it, so that had just about doubled in 14 years. That was the normal rise in cost of living. The other house price rise was artificially evoked and never came down again. I do think it was a leveling up with Continental Prices, but it has never properly caught up with German House Prices, not in Yorkshire anyway, up until now. At the moment now I presume the house to be worth about £18000, judging by prices asked round about. That is still far below the current house prices on the Continent, such as Germany for instance. But I loved this little house too. We had now three bedrooms, a small kitchen, a through lounge, an attic and a Toilet/bathroom also downstairs.
And, what's more, a garage by the house, and a wonderful small and intimate garden at the back. My wonderful pride and joy in the summer. Where I could lie and dream and listen to the birds singing. In my own little garden, and watch the butterflies dancing, and the bees humming, sheltered from wind by the Garage on one side and a high wall of gold and green Cypress trees, planted in 1977.
And we had central heating in the house, heated from the gas fire in the through lounge, which was also a new thing for us. Yes, the move into 47 Cherry Tree on the 22nd December 1970 was a very happy move. Peter, when he came home from the University on short breaks was not altogether happy to have left the very happy hunting grounds of his childhood, but a few of his Pals had also moved from there and it was not too bad to think of it that way.
And in any case, would he ever really live at home again with us, when he had finished his studies. That was still a very great question at that time. And he was a man now and might want to have his own base anyway,
I loved 'playing at house ' again in any new house. But as that was only about 4 years old, compared to the 65 year old Blackwood Hall, I was truly amazed how much less dust and dirt there was, in this younger house. It was truly amazing to feel the difference. Our friends Hetty and Arnold Greenwood live now in our old house and so I see my first love now and then and love it still. But would not like to have to climb the hill daily anymore.
🙂
If  life is the best teacher, doesn't it make sense to learn from the lives of others?
So what did I learn from today's episode?
I learned again of the sacrifices my father was willing to undertake to ensure the stability of my education, and I am humbled, and
I learned that markets can be artificially manipulated to stimulate activity, and that real people, properly positioned, can become beneficiaries of such market moves…
So Now it's YOUR turn, dear Reader. What did YOU learn?
Please ADD and SHARE your insights in the COMMENT BOX Below
Next Episode –>
🙂
READY TO COMMIT TO YOUR SELF-IMPROVEMENT?
ENROLL IN OUR F*R*E*E 30-DAY MENTORED SELF-STUDY BOOT CAMP
🙂
Oh, by the way,
If you got value from todays content please 'like' it and $hare it with three people who could most benefit from its message
🙂
FREEDOM, STRENGTH AND HONOR TO YOU

"Teaching families to FIND money, CREATE income and DEVELOP Generational WEALTH"
Let's stay in touch
Phone: 610-781-2392
Skype: prpock
PARTICIPATE in our Generation Of Wealth Communities
M-W-F: "Rules Of Money" CyberLunch – Noon EST, Noon CST, Noon MST, Noon PST – Registration Required
Tu-Th: "How The Markets Work" CyberLunch – Noon EST, Noon CST, Noon MST, Noon PST – Registration Required
DAILY: "Grow Rich MasterMind" – Click here to Sample
MONDAYS: "Timeless Wisdom In Action" MasterMind Study Group – click here to view our  Facebook Group
BY APPOINTMENT: "FIND MONEY" Interviews – Click To Request Appointment

ON SOCIAL MEDIA: Blog – Twitter – YouTube – Pinterest  – Google+ – LinkedIn –  Facebook
LOVE WEALTH – LOVE HEALTH – LOVE HAPPINESS – LOVE LOVE

🙂
Oh, and by the way, did I mention that we help families Find Money, Create Income and Develop Wealth. Click here or on the image below to get the process started. Because YOU are WORTH MORE!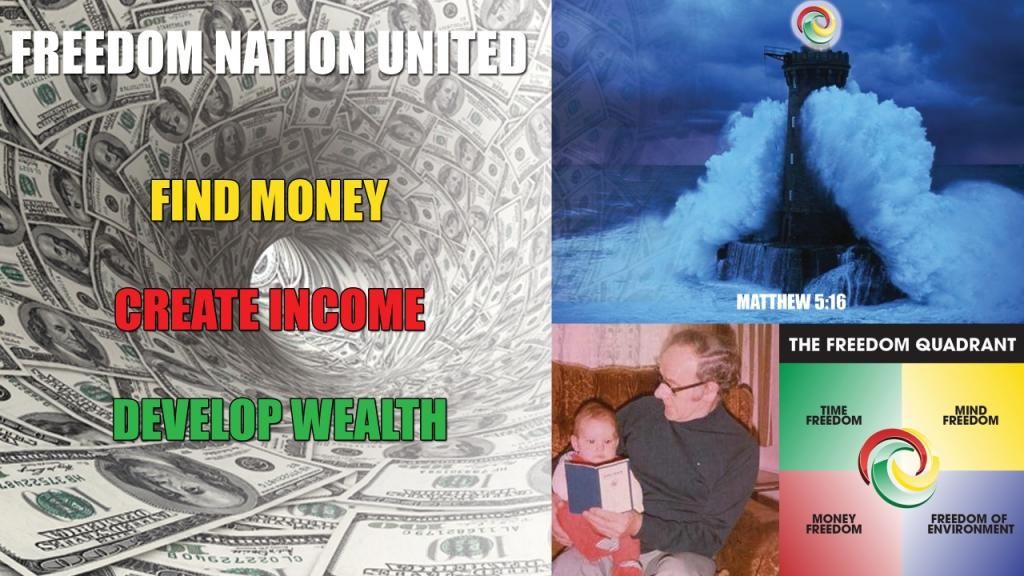 THANK YOU, THANK YOU, THANK YOU