JOURNAL OF A LIFE – Farewell My Dear Son, Birds Must Fly
 #freedomquadrant 
We plant seeds, not fully grown oak trees…
God plants mountains, not pebbles…
  (See more…)
JOURNAL OF A LIFE
Yes, Yes, Yes
Welcome, Welcome, Welcome
Freedom Nation United


Find Money, Create Income and Develop Wealth
Poke about and check us out –> –> –> –> –> –> –> –> –>
🙂
As a great mentor of mine – Joe Schroeder – never tired of saying "A Life Worth Living is a Life Worth Recording" so today I am here to share another episode in the life's journey of one of the great people whose life I am privileged to have shared a part of – my mother AnneKaete Pocklington.
Farewell My Dear Son, Birds Must Fly
Imagine, if you will, that your son has 'completed' the education you so desired for him.
It is his time to become a 'rat' and join in 'the race'.
He is also in love.
Birds MUST fly.
READ ON…
Farewell My Dear Son, Birds Must Fly
Peter had now finished his studies for the time-being. After his Mathematics Degree he had also studied Computer Science and he was now well on the way of really joining the Rat Race and starting work somewhere.
He left us finally on the Ist September to go and work in Hannover, Germany. Strange that he should go back to the country he was born in', even though it was 'under the British Flag", whilst England was in Occupation there. And he had always been English, British by birth, and was very proud of it. And now he had to join the so-called "Brain Drain" and leave for Germany to get some work. The history, why this was so, is again his story to tell.
And quite some months ago he had had a lovely little girlfriend called Eileen. And as the football season started and this girlfriend had to take second best place behind the leather bladder she gave him the sack. Like many another girlfriend before her, from what I could gather on the quiet. Well, this dear little girl, with long brown hair and very beautiful dark brown eyes, became his girlfriend again, and he was her very, very loyal friend.
And as mothers know, and hear without so many words being spoken, it sounded more and more as if this girl was going to be the one he would choose.
And so it was, on the 20th December 1971 Bill and I gained a daughter. And so our family grew that little bit bigger, later on to become larger still, as we have, at this moment, three very beautiful little Grandchildren – whom we all love dearly. But that again, is another story. I just wanted to have mentioned it, the day that our Peter made his choice and herewith gave us a daughter.
Another chapter in my life, being a MOTHER IN LAW which is a very strange role to be.
🙂
If  life is the best teacher, doesn't it make sense to learn from the lives of others?
So what did I learn from today's episode?
I learned that although we ourselves might not realize it at the time – a mother knows, and
I learned that in my mother's loving eyes, far from losing a son I was giving her a daughter …
So Now it's YOUR turn, dear Reader. What did YOU learn?
Please ADD and SHARE your insights in the COMMENT BOX Below
Next Episode –>
🙂
READY TO COMMIT TO YOUR SELF-IMPROVEMENT?
ENROLL IN OUR F*R*E*E 30-DAY MENTORED SELF-STUDY BOOT CAMP
🙂
Oh, by the way,
If you got value from todays content please 'like' it and $hare it with three people who could most benefit from its message
🙂
FREEDOM, STRENGTH AND HONOR TO YOU

"Teaching families to FIND money, CREATE income and DEVELOP Generational WEALTH"
Let's stay in touch
Phone: 610-781-2392
Skype: prpock
PARTICIPATE in our Generation Of Wealth Initiatives
M-W-F: "Rules Of Money" CyberLunch – Noon EST, Noon CST, Noon MST, Noon PST – Registration Required
Tu-Th: "How The Markets Work" CyberLunch – Noon EST, Noon CST, Noon MST, Noon PST – Registration Required
DAILY: "Grow Rich MasterMind" – Click here to Sample
MONDAYS: "Timeless Wisdom In Action" MasterMind Study Group – click here to view our  Facebook Group
BY APPOINTMENT: "FIND MONEY" Interviews – Click To Request Appointment

ON SOCIAL MEDIA: Blog – Twitter – YouTube – Pinterest  – Google+ – LinkedIn –  Facebook
LOVE WEALTH – LOVE HEALTH – LOVE HAPPINESS – LOVE LOVE

🙂
Oh, and by the way, did I mention that we help families Find Money, Create Income and Develop Wealth. Click here or on the image below to get the process started. Because YOU are WORTH MORE!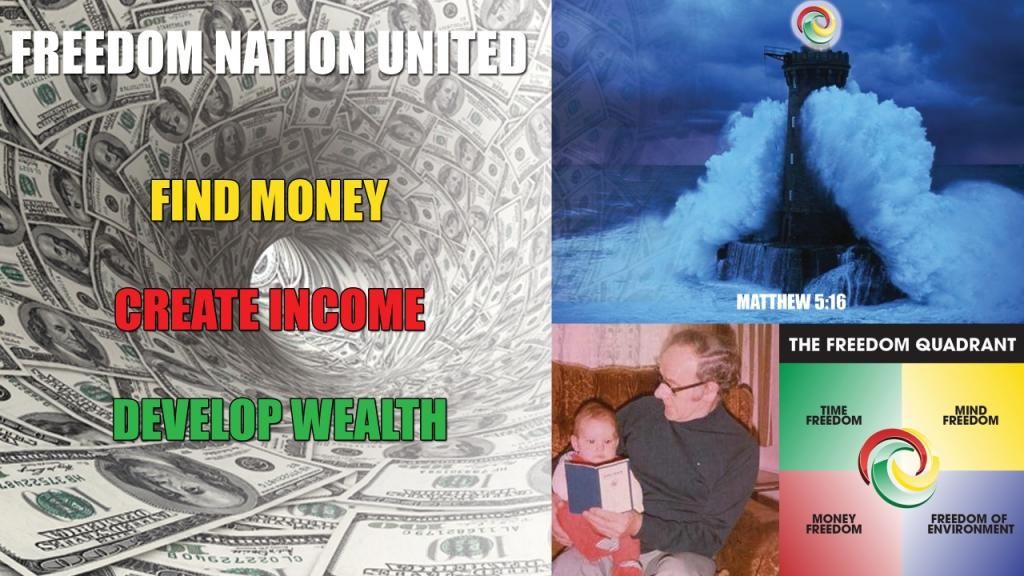 THANK YOU, THANK YOU, THANK YOU