JOURNAL OF A LIFE – Let's Learn A Language For Our Holiday
 #freedomquadrant 
Nobody should be satisfied with a little, if they are capable of
USING AND ENJOYING more #WallaceWattles wisdom
  (See more…)
JOURNAL OF A LIFE
Yes, Yes, Yes
Welcome, Welcome, Welcome
Freedom Nation United


Find Money, Create Income and Develop Wealth
Poke about and check us out –> –> –> –> –> –> –> –> –>
🙂
As a great mentor of mine – Joe Schroeder – never tired of saying "A Life Worth Living is a Life Worth Recording" so today I am here to share another episode in the life's journey of one of the great people whose life I am privileged to have shared a part of – my mother AnneKaete Pocklington.
Let's Learn A Language For Our Holiday
Imagine, if you will, that once again somebody tells somebody about you.
Another role to play.
But this is not a play.
This is life.
READ ON…
Let's Learn A Language For Our Holiday
Another very strange thing happened to me around 1963. Whilst I was working at the Bondina Ltd. I received a Telephone call from a Secretary of the Headmaster of a College of Further Education in Todmorden.
Apparently they had tried to get hold of me for some days. They had first rung up the Economic as their information was that I worked at the shop at Luddenden Foot. (That was a very long time ago). Through the Economic Office, the remnants of Drakes etc. they finally had got hold of me at the Bondina Office. The point was that they badly needed a German Teacher, a Teacher for the German Language is more correct. And somebody had told somebody about me. It is strange how information and things come about which somehow affected me and my life on so many occasions. And so I found myself sitting in the Office of the Headmaster of this College, waiting for him to come in and give me the 'once over', in fact, interview me for a job. I was not very nervous as I still thought this a great joke and could not really think they would consider me even remotely a possibility, once it had got past the "search for me" stage.
But, how wrong can you be. He seemed to think me quite alright for the job, a part-time Teacher in Further Education, and offered me the job. Saying that there was a great advantage for native speakers to teach a language. And that they had a wonderful, first class, teacher. A Mrs. Crossley, for years she was, to put it mildly, excellent. I did not know Mrs. Crossley then, but thank my lucky stars now for getting to know her then because she, and her dear husband Alan, soon became very dear friends of ours which they still are at the moment of writing. Annelie was also a German born bride of an English Soldier, like me, and had her ups and downs between homesickness and really settling in here. A very lovely couple, living in Todmorden. They have two sons, Lance working now in a Bank, an Andre being an Engineer for tile CEGB (Central Electricity Generating; Board) in Britain. Now both married, at that time schoolboys like Peter.
However, I agreed to become a Teacher and had the courage to say yes because – well, after all, I did speak the language, so what could go wrong?? Oh, bless your childlike innocence, Annekate, just how wrong can you possibly be? Never did anybody let themselves in so blissfully, for a new job which was very very difficult.
Luckily I had at least done one thing, and that was, ask if I may watch Annelie Crossley teaching her class before starting mine. And that helped just a little. And brought Annelie into my life. And her friendship and help was really appreciated.
And so my first evening came. A class of about twenty eager grown-up people facing their teacher for the first time. And – the – teacher – faced – about – forty – inquisitive – eyes – for – the first – time.
I could not remember when I had ever been so frightened before, not only that, I could not remember anything at all. Reading the Register at the beginning of the lesson and finding out that the very large Gentleman in the front row was a Doctor was enough to make me swoon. But the training as an actress carried me through the first evening, how much I will never know. But suddenly all I could do was to take on the 'part' of a 'teacher' and it worked. I managed to live through the evening and the pupils and I were friends already after the first two hours. And I had been honest, I told them that we would have to learn together, they teaching me English and to be a teacher, and I would promise that they would be able to converse in some kind of German by Easter.
This was the beginning of it all. Months and months of sitting at home in the evening until midnight, learning, and re-learning the rules of the complicated German Grammatic. (One forgets the rules as soon as one leaves school. And the longer one is at school, the longer these rule remain in the foreground of one's brain. Mine had jumped to the back of it all at the very beginning of the War, when regular schooling became a thing of the Past).
A verb? Luckily I could still ask Peter who was still at school if I was not sure. And so it went on, bit by bit. And it came back and was learned for the first times. My lessons were always very well prepared, I could not afford it to be otherwise. But it was all well worth while. It gave me 14 wonderfully happy years of teaching, of having a wonderful experience, yes, and privilege, to open people's mind to a completely new world, of language, of people, of friendships with people in another land, of a new way of life. Of experiencing people from other lands, not getting to know via the dreadful propaganda. Even now, 20 years later I am friendly and aquainted with quite a few of my former students who have gone on, through Annelie's and other classes, to greater things and Examinations. It was a wonderful Privilege, to be able to be that teacher, and so open new horizons to people who were eager to take this journey with me.
Later on I taught at Forest Cottage in Halifax, Hebden Bridge and at Sowood near Stainland. Occasionally also at Sowerby Bridge. But Todmorden was the happiest time. I loved the people, and the town, and everything about it. And it gave us our lovely, loving friends Annelie and Alan.
🙂
If  life is the best teacher, doesn't it make sense to learn from the lives of others?
So what did I learn from today's episode?
I remembered the hours and hours that my mother was willing to put in to prepare herself to do the best she could on behalf of her people, her students, and
I look on the lifetime friendships that resulted simply from her caring so much and her willingness to say yes to something new…
So Now it's YOUR turn, dear Reader. What did YOU learn?
Please ADD and SHARE your insights in the COMMENT BOX Below
Next Episode –>
🙂
READY TO COMMIT TO YOUR SELF-IMPROVEMENT?
ENROLL IN OUR F*R*E*E 30-DAY MENTORED SELF-STUDY BOOT CAMP
🙂
Oh, by the way,
If you got value from todays content please 'like' it and $hare it with three people who could most benefit from its message
🙂
FREEDOM, STRENGTH AND HONOR TO YOU

"Teaching families to FIND money, CREATE income and DEVELOP Generational WEALTH"
Let's stay in touch
Phone: 610-781-2392
Skype: prpock
PARTICIPATE in our Generation Of Wealth Initiatives
M-W-F: "Rules Of Money" CyberLunch – Noon EST, Noon CST, Noon MST, Noon PST – Registration Required
Tu-Th: "How The Markets Work" CyberLunch – Noon EST, Noon CST, Noon MST, Noon PST – Registration Required
DAILY: "Grow Rich MasterMind" – Click here to Sample
MONDAYS: "Timeless Wisdom In Action" MasterMind Study Group – click here to view our  Facebook Group
BY APPOINTMENT: "FIND MONEY" Interviews – Click To Request Appointment

ON SOCIAL MEDIA: Blog – Twitter – YouTube – Pinterest  – Google+ – LinkedIn –  Facebook
LOVE WEALTH – LOVE HEALTH – LOVE HAPPINESS – LOVE LOVE

🙂
Oh, and by the way, did I mention that we help families Find Money, Create Income and Develop Wealth. Click here or on the image below to get the process started. Because YOU are WORTH MORE!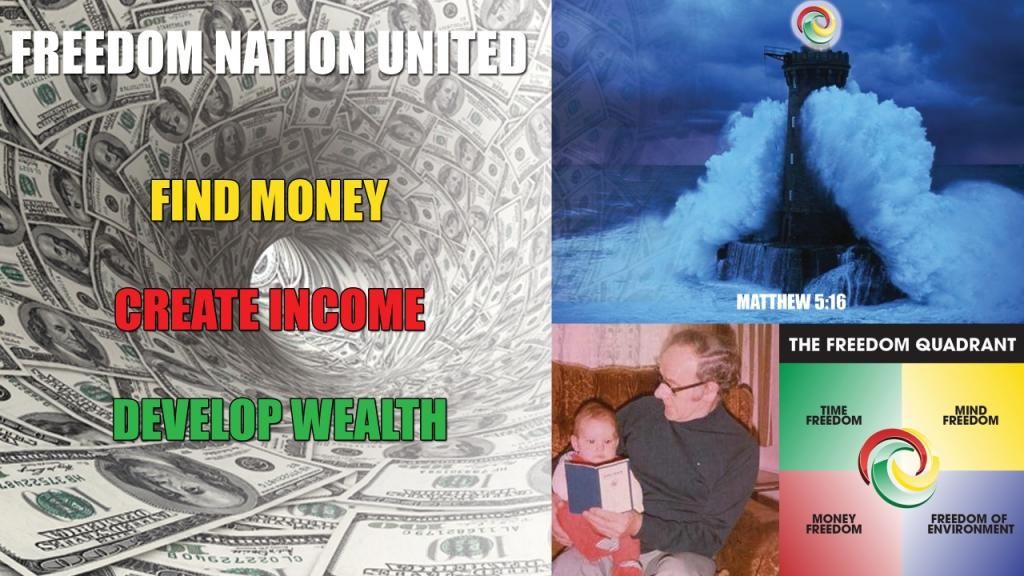 THANK YOU, THANK YOU, THANK YOU