JOURNAL OF A LIFE – Twenty-Five Very Happy Years
 #freedomquadrant 
A reason most broke people turn to other broke people for advice about money is to confirm and re-inforce their prejudices.
  (See more…)
JOURNAL OF A LIFE
Yes, Yes, Yes
Welcome, Welcome, Welcome
Freedom Nation United


Find Money, Create Income and Develop Wealth
Poke about and check us out –> –> –> –> –> –> –> –> –>
🙂
As a great mentor of mine – Joe Schroeder – never tired of saying "A Life Worth Living is a Life Worth Recording" so today I am here to share another episode in the life's journey of one of the great people whose life I am privileged to have shared a part of – my mother AnneKaete Pocklington.
Twenty-Five Very Happy Years
Imagine, if you will, that you suddenly realize that you have been married 25 years.
How did the time go so fast?
A marriage that you had gone into with some trepidation.
A marriage built on love and courage.
Now it is time to honor the happy times with a trip.
But where to?
READ ON…
Twenty-Five Very Happy Years
It seemed unbelievable in 1973 that Bill and I had already been happily married for 25 years. Wonderful years with lots of ups and downs. But mainly happiness, even when we were struggling.
When we were first married and had come to England I was rather afraid of how this marriage would work out in the end. And, should I ever get an illness from which I could not recover, if Bill would let me spend some time at home again. And there we were, 25 years hence, and all was well.
As we had been married in Germany, and none of the guests we had at our Wedding could possibly be present, we decided to go away on a very special holiday, to make up for the honeymoon we did not have in 1948. And so we had a lovely time choosing and planning beforehand. And we decided on Italy. Somebody had told us about a wonderful holiday they had spent in Cattolica on the Italian Adriatic. And it was absolutely wonderful. A small resort, not too full at that time of the year, with wonderful tree-lined streets everywhere. And fantastic people everywhere. The Hotel Britannica was a smallish hotel and the Italian proprietor a wonderful man.
The exotic food, beautifully cooked and served, the Cappucino in the bars, the midnight swims in our own swimming pool, the dances to melancholic Italian melodies, the walks in the moonlight along the waterfront. Watching the fishing boats come back home on the morning tide. It was all, every moment of that wonderful 2 weeks, an experience rather than a holiday.
And – had we really been married 25 years – it seemed almost impossible. On the actual day, the first of May, we were in Rome. After a very interesting bus journey through the Appennine Mountains, with hair raising bends, we landed in Rome. The historic place which has an interest in every corner of its being. And we went, of course, to St. Peter's, to look around like any other tourist. I did not expect it to be such a moving experience as it was. And standing in front of Michaelangelo's Pieta was, was …. I can not describe it, words really fail me, how a piece of cold marble could be moulded into anything so wondrous and living beautiful was like a miracle to me.
The statue had been damaged by some lunatic just before, and was now whole again and behind a strong piece of glass, but even through that, one felt its magic. And the fountain, and statues, and marvelous churches, yes, it was an experience. Nothing nicer could have taken place for me, 25 years after the other magic day
Florence was another experience that week, another town of the World which is outstanding, with its statues, palaces, old churches and Domes. Wondrous Italy, to me it was just Magic, all the way, just Magic.
🙂
If  life is the best teacher, doesn't it make sense to learn from the lives of others?
So what did I learn from today's episode?
I learned of the joy that my mother and father were rewarded with, not only in the execution, but also in the planning for, their Silver Wedding trip, and
I gained another appreciation for the power of great works of art to transcend time and space and move people…
So Now it's YOUR turn, dear Reader. What did YOU learn?
Please ADD and SHARE your insights in the COMMENT BOX Below
Next Episode –>
🙂
READY TO COMMIT TO YOUR SELF-IMPROVEMENT?
ENROLL IN OUR F*R*E*E 30-DAY MENTORED SELF-STUDY BOOT CAMP
🙂
Oh, by the way,
If you got value from todays content please 'like' it and $hare it with three people who could most benefit from its message
🙂
FREEDOM, STRENGTH AND HONOR TO YOU

"Teaching families to FIND money, CREATE income and DEVELOP Generational WEALTH"
Let's stay in touch
Phone: 610-781-2392
Skype: prpock
PARTICIPATE in our Generation Of Wealth Initiatives
M-W-F: "Rules Of Money" CyberLunch – Noon EST, Noon CST, Noon MST, Noon PST – Registration Required
Tu-Th: "How The Markets Work" CyberLunch – Noon EST, Noon CST, Noon MST, Noon PST – Registration Required
DAILY: "Grow Rich MasterMind" – Click here to Sample
MONDAYS: "Timeless Wisdom In Action" MasterMind Study Group – click here to view our  Facebook Group
BY APPOINTMENT: "FIND MONEY" Interviews – Click To Request Appointment

ON SOCIAL MEDIA: Blog – Twitter – YouTube – Pinterest  – Google+ – LinkedIn –  Facebook
LOVE WEALTH – LOVE HEALTH – LOVE HAPPINESS – LOVE LOVE

🙂
Oh, and by the way, did I mention that we help families Find Money, Create Income and Develop Wealth. Click here or on the image below to get the process started. Because YOU are WORTH MORE!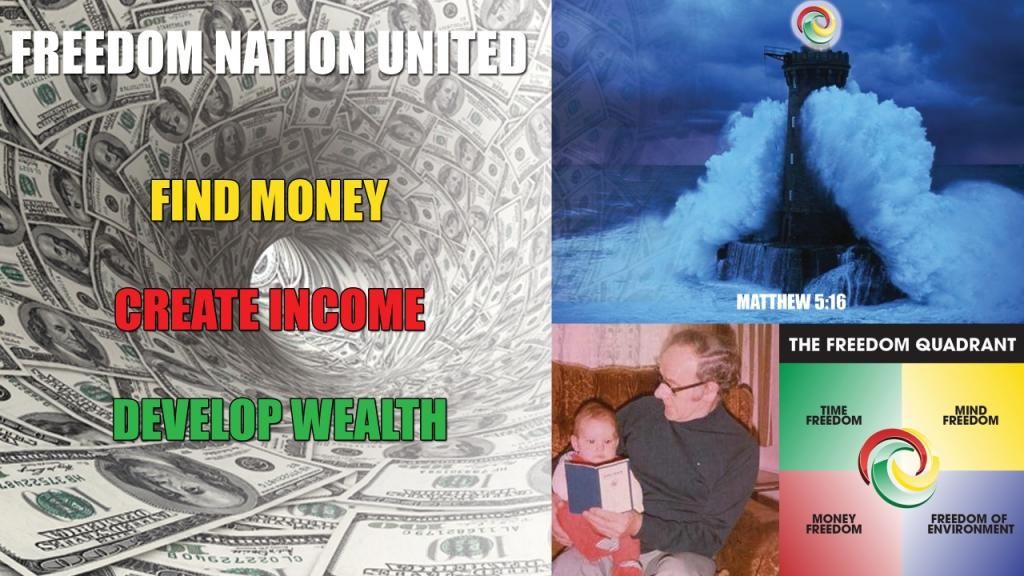 THANK YOU, THANK YOU, THANK YOU