JOURNAL OF A LIFE – Let's Show You Germany
 #freedomquadrant 
We are not born winners.  We are not born losers.  We ARE born CHOOSERS!
  (See more…)
JOURNAL OF A LIFE
Yes, Yes, Yes
Welcome, Welcome, Welcome
Freedom Nation United


Find Money, Create Income and Develop Wealth
Poke about and check us out –> –> –> –> –> –> –> –> –>
🙂
As a great mentor of mine – Joe Schroeder – never tired of saying "A Life Worth Living is a Life Worth Recording" so today I am here to share another episode in the life's journey of one of the great people whose life I am privileged to have shared a part of – my mother AnneKaete Pocklington.
Let's Show You Germany
Imagine, if you will, you were showing off the land of YOUR birth.
What would you choose to show?
You are doing it with friends.
How would you go about it?
READ ON…
Let's Show You Germany
Those were the words to our friends Iris and Dougie, and Betty and Harry one day in 1970. And out of that remark a very special time began for the Six of us. We decided that we would save up and buy a car, bus or some kind of transport into which we could all fit our tackle and tents a look at some more of Germany than the four had seen hitherto. And no sooner planned than we went into action and did just that.
We saved about two shillings and sixpence every week and so started a proper holiday bank. And suddenly Harry found us a lovely but very old and dilapidated Van to buy, for about £300. And so a van, called Stacker by us, came into our lives. He was a sorrowful sight. A sort of Rock and Roll band had had him and with all the heavy equipment; and general ill-treatment Stacker was full of ills and pains. But Doctor Harry the only real Motor Mechanic (Harry was a Foreman in a Garage at that time), and his two Assistants Bill and Dougie, worked many evenings and weekends to make and mend and generally nurse poor old Stacker back to health until he gleamed with pride in himself. And on the ninth of June 1971 we six set off to the Continent on a most wonderful adventure.
We crossed the water from Dover to Ostend and then went through wonderful clean, flat, Holland, on a very hot day, towards Germany and Jever where my Darling sister Paula and all her family and brother Walter and Ilse, all waited for us – when we finally arrived at about 10pm. Tired but happy, and we were all greeted so warmly that it soon made up for the long hot journey.
A couple of days later we went to Hannover where Christel and her friends greeted us. We stayed the night and then went into the Harz Mountains. A wondrous sight again, with trees, legends, and high mountains. From where we looked into the Eastern Zone, its watchtowers and minefields could all be seen from one point. That made me shiver it was so terrifyingly awesome.
From there we went further south into the Frankenland, Kassel, Goettingen, Bamberg, my beloved Nuernberg, all come to mind. Then over the Bergstrasse, then Heidelberg, the Eiffel, and finally Aachen where all our friends waited for us. It was all a wonderful experience and we all enjoyed it so much.
I had been able to show my friends 'my land', it is all contained in another book, so I will not write it all in too great detail. Bit it really was a new and wonderful experience. Melting six people together in a two-week adventure and seeing as much as we could, it was wonderful.
But my most memorable evening was one evening on the Rhine. Maybe I am not fair, we had many memorable moments, but this one was especially good. Iris and Dougie have really wonderful singing voices. Their singing together has given me, over the years, special moments of magic whenever they happen. They harmonize so lovely together that it is a real treat.
Anyway, this particular evening, outside our tents, we all sang together. We had a bottle of wine and the moon stood high in the clear sky which twinkled with hosts of stars. And it was mainly Iris and Dougie singing, and we just doing a little humming besides. But every tent around became still, as if by magic. And the clapping and asking for more was tremendous whenever they finished. It was such a lovely evening that Bill and I could not sleep when we all stopped. We went for a walk along good old father Rhine, and he told us some more stories from his life, and gurgled and splashed for us, as silent boats, just one light showing, glided past us. The whole evening was truly one of magic, as so many more that time.
And when I proudly showed my friends my beloved Nuernberg I was so very glad to see that all its wounds had now been healed and craftsmen had built the old town up. And Master Painters had painted the Guild and Craft houses as gaily as they were before. And all the churches had windows in again and were at their best. It was so lovely.
Yes, it was a lovely adventure for six people which we will never forget and will never have together in this life again. There are things which one can do only once, and this was one of them.
Even the last three days, with our lovely friends in Aachen, was something special. Aachen is the twin town of Halifax, and through the many exchanges between the towns, with which Bill and I helped a lot, we had many friends in that town, still have, and it was nice to see them all.
🙂
If  life is the best teacher, doesn't it make sense to learn from the lives of others?
So what did I learn from today's episode?
I learned how creative my mum and dad could be on the financial side when they set their minds to something, and
I became a participant, in my mind, of the beautiful trip that 'the six' undertook.  Although the locations alone were great, reading between the lines, to experience them in such deep friendship is a privilege that is reserved for special people ….
So Now it's YOUR turn, dear Reader. What did YOU learn?
Please ADD and SHARE your insights in the COMMENT BOX Below
Next Episode –>
🙂
READY TO COMMIT TO YOUR SELF-IMPROVEMENT?
ENROLL IN OUR F*R*E*E 30-DAY MENTORED SELF-STUDY BOOT CAMP
🙂
Oh, by the way,
If you got value from todays content please 'like' it and $hare it with three people who could most benefit from its message
🙂
FREEDOM, STRENGTH AND HONOR TO YOU

"Teaching families to FIND money, CREATE income and DEVELOP Generational WEALTH"
Let's stay in touch
Phone: 610-781-2392
Skype: prpock
PARTICIPATE in our Generation Of Wealth Initiatives
M-W-F: "Rules Of Money" CyberLunch – Noon EST, Noon CST, Noon MST, Noon PST – Registration Required
Tu-Th: "How The Markets Work" CyberLunch – Noon EST, Noon CST, Noon MST, Noon PST – Registration Required
DAILY: "Grow Rich MasterMind" – Click here to Sample
MONDAYS: "Timeless Wisdom In Action" MasterMind Study Group – click here to view our  Facebook Group
BY APPOINTMENT: "FIND MONEY" Interviews – Click To Request Appointment

ON SOCIAL MEDIA: Blog – Twitter – YouTube – Pinterest  – Google+ – LinkedIn –  Facebook
LOVE WEALTH – LOVE HEALTH – LOVE HAPPINESS – LOVE LOVE

🙂
Oh, and by the way, did I mention that we help families Find Money, Create Income and Develop Wealth. Click here or on the image below to get the process started. Because YOU are WORTH MORE!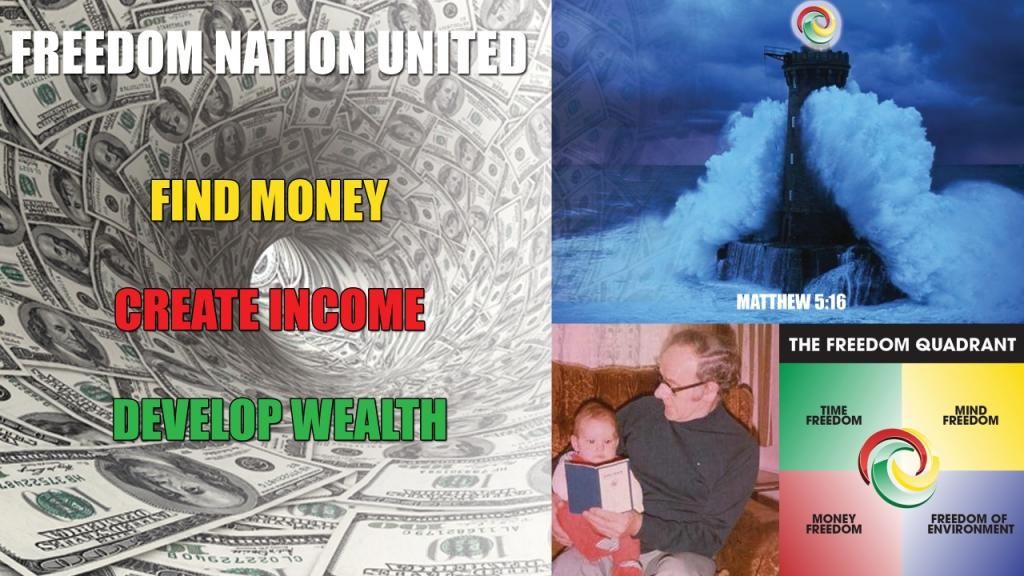 THANK YOU, THANK YOU, THANK YOU