JOURNAL OF A LIFE – Yes, Councilor – But Of Course, Madame Mayor
 #freedomquadrant 
Everybody "has" a good day. It's the "present" we get for waking up. It's the good decisions we take action on that make it great for us.
  (See more…)
JOURNAL OF A LIFE
Yes, Yes, Yes
Welcome, Welcome, Welcome
Freedom Nation United


Find Money, Create Income and Develop Wealth
Poke about and check us out –> –> –> –> –> –> –> –> –>
🙂
As a great mentor of mine – Joe Schroeder – never tired of saying "A Life Worth Living is a Life Worth Recording" so today I am here to share another episode in the life's journey of one of the great people whose life I am privileged to have shared a part of – my mother AnneKaete Pocklington.
Yes, Councilor – But Of Course, Madame Mayor
Imagine, if you will, one of your closest friends is a long-standing member of the Town Council.
Suddenly she is elected to be Mayor.
And that this friend realizes that, although you have been building bridges between peoples for years, the 'Town Twinning' with your counterpart in Germany has never been made formal.
How could that become an opportunity for another life experience for you?
READ ON…
Yes, Councilor – But Of Course, Madame Mayor
When we got to know Betty she had been a Councillor for about a year or so, now she has been on the Council for 16 years and it is all a great experience. We have seen her change from being a wonderful caring person to a political animal – and that's quite another story. But I shall always be very grateful to Betty for a magic and wonderful week-end which I was allowed to have because of her.
It was in the autumn of 1979, and Betty had been elected Mayor that year in May. Harry, being Betty's escort that year. And, as it happened; Halifax had never exchanged or signed proper Twin Town Charters like most towns had by now. When Halifax started its twinning with a German town, way back in 1949, it was a firm friendship arrangement and a signing or sealing by Corporations not necessary. In the meantime this had become as good a reason as any for celebrations and posh get together for Councilors and Civic Dignitaries all over the place. And so it had become the thing. And in 1979, thirty years after its conception, with well over a thousand people already exchanged in the past, it was decided that the Lord Mayor of Aachen would come over and the signing of a Charter would be done. And as Betty was the Mayor this seemed very good.
Betty had taken part in the Exchanges for a few years. And Harry, of course, who had even learned German at nightschool. And when Madam Mayor was told that the Lord Mayor of Aachen did not speak any English and that they would have an interpreter all weekend, Betty very kindly mentioned my name. As she would feel more at ease with me, whom she knew, and who she knew was very interested in the area and had a lot of knowledge about it. And so it was that I was officially asked to be the official Interpreter all weekend. And that again, was a wonderful experience I would not have liked to have missed. And I will be always grateful to Betty for making it possible to have this experience.
Before the great day Bill and I had a great time going shopping for my outfits. It had to be sensible, a little bit of chic and yet quiet and good. And a blue Alkantara Suit with matching handbag and shoes seemed, and was, the ideal outfit. I felt 'right' in it and good. I had never had anything as expensive in my life, the outfit well over £100 was something I had never had. But for once I wanted to look just right, even though my interest in clothing has never been and still is, not very great. For that weekend it was fun to be right.
A multi-coloured Kaftan was another outfit and a black Kaftan for the Gala Dinner on one of the evenings was also just right. But let me recall from the beginning of the weekend. When little plain 'me' became a very important appendix to a large Social function of a Corporation.
About 8am. on the Saturday morning a very large black gleaming Daimler with the crest of  Calderdale on its side and a pennant fluttering on its wing, halted outside 47 Cherry Tree Drive. And out stepped the Chauffeur and the Mayor's Mace-bearer to open the door for me, Anne Pocklington. I just sank back into the luxurious deep seats of this huge limousine .
We whisked through the town to a Catholic Church on the other side of town, St.Malachys. The Service was almost over, and then the Lord Mayor, Herr Malangre and the Oberstadtdirektor, Town Clerk, Herr Dr. Berger, and both their wives came out of the church. We introduced and greeted one another, with the help of the lovely Macebearer of Calderdale, the lovely Eddy, in his black formal suit and correctness.
Mrs. Malangre was a beautiful Lady and the Lord Mayor a wonderful Gentleman, that the whole week end became a world of wonder and happiness for me. He was so wonderful, obviously knew how to speak with an interpreter, which only very few people can do well, and made my work one great round of pleasure. The art of speaking with an interpreter is spacing the speech so that the interpreter can translate all that is said. And speaking slowly and with emphasis on special points. Mr. Malangre, who spoke French fluently but had no English, was an expert at spacing all his sentences and speeches. And both he and his wife were tremendously interested in all aspects of English History, way of life, its present Industry, with Halifax in particular, the beauty of Yorkshire Landscape all around us, every moment of their weekend was to them filled with interesting facets of all kinds. And I was privileged to be at their side and explaining my lovely Calder Valley to them, pointing out the history and Industrial Revolution in this beautiful valley.
We vent to various museums and had a drive through the valley and around Halifax. We visited factories, the Halifax Building Society especially. There we had coffee with the General Director; it is the biggest and best Building Society in the world. We had Coffee in the Conference room, a look into Mr. Thaire's Office, were shown around the whole ultra-modern building (only opened by the Queen a few years ago). And talked about the business of the Society, in General, and in comparison with Germany. And who was in the middle of it all? Me, just "li'l Ol' Me".
And then we went to Mackintosh, the great Chocolate Factory in the town, and again had a little get together with its Director and then went around the factory. We went through the old Folk Museum Shibden Hall and were shown more thoroughly around by the Museums Director than I would ever have done otherwise. My beloved Shibden Hall, every nook and cranny. Oh, it was all such an unbelievable experience, it seemed like a dream.
And one night we had a Gala Dinner in the Mayor's Parlour in the Town Hall. And never have I seen a more beautiful table than this one was. And our Mayor, Councillor Betty Wildsmith (our Betty) was sitting at the top of the table of course, and next to her on one side, the Lord Mayor, and on the other side his wife, Mrs. Melangre. Next to her sat Harry, the Mayor's Escort. And who was sitting next to the Lord Mayor? Yes, I was not dreaming, it was me. And about another 25 Dignitaries and Officials also around the table. And the Silver with the Calderdale Crest, and the China with the same Crest, so were the Serviettes, it was a dream……..
And the Silver Candlesticks gleamed and shone, and the flower decorations, Orchids and roses and Carnations were so beautiful, its unbelievable. When does an ordinary member of the town get the chance to see this Regalia near to? Never ever, but I had the chance to see it and be a guest. It was a wonderful experience. And the "Piecehall Plate" the grateful Corporation gave me afterwards as a present for my three days work really was not necessary as I had enjoyed it all so very much. I appreciated their kindness and treasure this plate greatly, but it was all such a lovely experience – that I truly did not want anything for it.. And the Lord Mayor was so grateful that I had been at his side all the weekend that he also gave me a wonderful book called 'Kunststadt Aachen', which I treasure greatly. Dr. Berger and his wife could speak quite good English and did not need my services, but they were very friendly too. But the Lord Mayor and his wife were something really special with their dignity and graciousness.
Through Betty being the Mayor that year we had many opportunities to be in on official functions like Mayor Making, Mayor's Sunday, the 'at home' meetings etc. in the Mayor's Parlour and many things, but this special weekend was something really wonderful, even the Mayor's ball a few weeks later, which was very nice, was just nothing compared with this "Royal" Occasion.
I translated all letters to the Mayor's Office that year and also for the next Mayor the following year. It was always a rewarding experience to do this, something I liked to do very much. And I was glad to be of help, it would have been a great pity if they had had to pay for any of the translations, either that weekend or later. I often wonder who does it now and hope they don't have to pay for it. It is a privilege and a pleasure to do this work.
🙂
If  life is the best teacher, doesn't it make sense to learn from the lives of others?
So what did I learn from today's episode?
I learned in a little more detail of the "Pomp and Circumstance" that surrounds formal events in England – even in 'little old Halifax', and
I learned of the history of the "Piece Hall Plate" that now hangs proudly in my own home as a reminder of that day when Anne was whisked away in a Chauffeur-driven Daimler with the crest of Calderdale on its side…
So Now it's YOUR turn, dear Reader. What did YOU learn?
Please ADD and SHARE your insights in the COMMENT BOX Below
Next Episode –>
🙂
READY TO COMMIT TO YOUR SELF-IMPROVEMENT?
ENROLL IN OUR F*R*E*E 30-DAY MENTORED SELF-STUDY BOOT CAMP
🙂
Oh, by the way,
If you got value from todays content please 'like' it and $hare it with three people who could most benefit from its message
🙂
FREEDOM, STRENGTH AND HONOR TO YOU

"Teaching families to FIND money, CREATE income and DEVELOP Generational WEALTH"
Let's stay in touch
Phone: 610-781-2392
Skype: prpock
PARTICIPATE in our Generation Of Wealth Initiatives
M-W-F: "Rules Of Money" CyberLunch – Noon EST, Noon CST, Noon MST, Noon PST – Registration Required
Tu-Th: "How The Markets Work" CyberLunch – Noon EST, Noon CST, Noon MST, Noon PST – Registration Required
DAILY: "Grow Rich MasterMind" – Click here to Sample
MONDAYS: "Timeless Wisdom In Action" MasterMind Study Group – click here to view our  Facebook Group
BY APPOINTMENT: "FIND MONEY" Interviews – Click To Request Appointment

ON SOCIAL MEDIA: Blog – Twitter – YouTube – Pinterest  – Google+ – LinkedIn –  Facebook
LOVE WEALTH – LOVE HEALTH – LOVE HAPPINESS – LOVE LOVE

🙂
Oh, and by the way, did I mention that we help families Find Money, Create Income and Develop Wealth. Click here or on the image below to get the process started. Because YOU are WORTH MORE!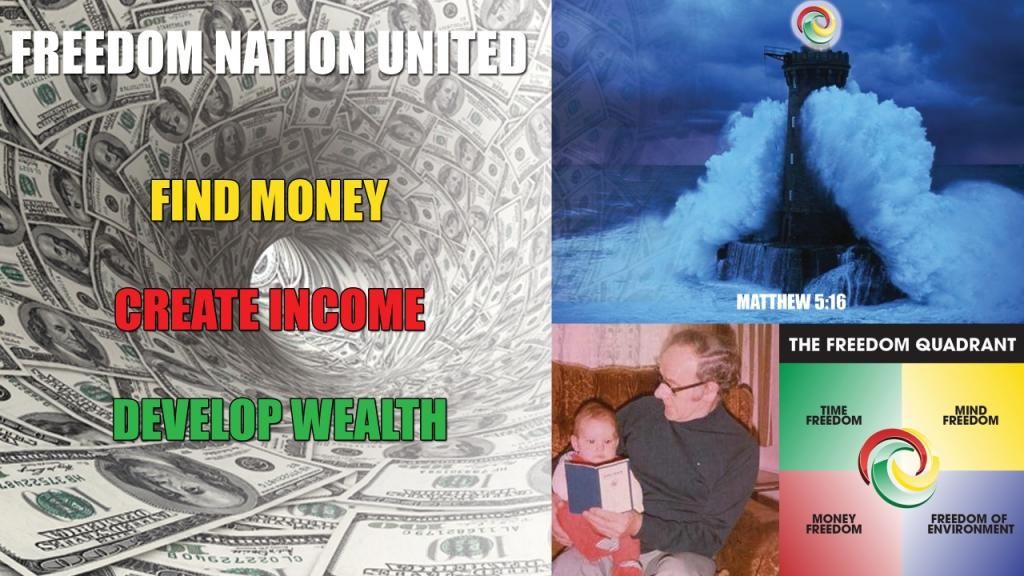 THANK YOU, THANK YOU, THANK YOU