And On The Seventh Day #3421
 #freedomquadrant 
The World teaches us to "fit in" while the Universe wants us to "shine out" 🙂
  (See more…)
And On The Seventh Day #3421
Yes, Yes, Yes
Welcome, Welcome, Welcome
Freedom Nation United


Find Money, Create Income and Develop Wealth
Poke about and check us out –> –> –> –> –> –> –> –> –>
🙂
As the owner of a small business there is ALWAYS some task that 'has' to be done, Right?.  Something that you consider 'URGENT', Right?For today's post I am going to ask you a simple question.
What is the most important asset of your business?
Your products?
Your services?
Your clients?
Your business partners?
Your staff?
Your blog?
All good answers, but think again…
The most important asset of  YOUR business is, in my opinion, YOU.
🙂
Why are you in business?
Robert Kiyosaki defined a business owner as someone who could walk away from the business for 6 months, and return to find the business is still making a profit.
That seems like a good working-definition to me.
After all, how could we be helping people on the road to Freedom if their outcome left them hostage to their business?
Another benefit of this definition is that it weeds out many of the so-called 'business opportunities' being pitched today, that seem to turn into, at best, an opportunity for self-employment.
🙂
Anyway, instead of a six months 'absence' I am going to ask you, Dear Reader, to focus on you – FOR TODAY.
So, Are You Sitting Comfortably?
Let's Begin…
AND ON THE SEVENTH DAY #3421
So what did GOD do on the Seventh Day?
HE RESTED
If it was Good enough for God, shouldn't it be Go(o)d enough for us?
🙂
Now it doesn't say he slept…
It doesn't say he 'vegged out' and did nothing…
It doesn't say he packed the kids into a mini-van, took them to three separate sports tournaments, somehow multi-tasking with that 'labor-saving' device known as the iPhone, IPad or other 'connection' device of choice.
It does however note along the way that 'he reflected'
That said, let me give you, dear reader, the opportunity to reflect on another week of creation at Freedom Nation United…
Start by watching this short video
🙂
IN THE BEGINNING WAS THE WORD
Reflect on the daily Freedom Quadrant Tweets as follows:
Sunday ==> Awareness – one's ability to see what is not visible
Monday ==> We plant seeds, not fully grown oak trees… God plants mountains, not pebbles…
Tuesday ==> Nobody should be satisfied with a little, if they are capable of USING AND ENJOYING more #WallaceWattles wisdom
Wednesday ==> A reason most broke people turn to other broke people for advice about money is to confirm and re-inforce their prejudices.
Thursday ==> We are not born winners.  We are not born losers.  We ARE born CHOOSERS!
Friday ==> Everybody "has" a good day. It's the "present" we get for waking up. It's the good decisions we take action on that make it great for us.
Today ==> The World teaches us to "fit in" while the Universe wants us to "shine out"
(Note: to receive these directly to you, text "DAILY MIND$ET" and your text message device# to 610-781-2392)
🙂
FEATURED
FACULTY OF FREEDOM

BLOG POST OF THE WEEK

Pride of place this week goes to Joan Harrington with her "How To Find The Right Mentor" post
What a great choice of topic this is.  It is key for anyone desiring success to find the RIGHT mentor. Not just anybody who will take them under their wing, but the RIGHT one. Having Zig Ziglar and Richard Branson on her side is icing on the cake.  I love both her tips on "how to find" and the observations about what happens "when you do find" – the latter being a great way to test whether the people we have chosen as mentors really are?
Once again our REAL PEOPLE HELPING REAL PEOPLE mission was served well through in-sights provided on a variety of topics, as follows:
Peter Pocklington — And On The Seventh Day #3420
Joan Harrington — How To Find The Right Mentor
Merle Gibbins — 4 Tips To Get More Likes, Follows, Stumbles or Subscribers
Bruce Nelson — Stop Leaving Money On The Table
Joan Harrington — How Great Is Your Content Really?
Bruno Buergi — Do You Have The Freedom At Work You Wish To Have
Lisa Thompson – 7 Ways To Create A Viral Marketing Campaign
Bruno Buergi — What Are The Best eMail Marketing Tips Today?
Lisa Thompson — How To Create An Authority Site – 1 of 4
Merle Gibbins — 4 Tips To Ensure Public Service Ads Don't Show Up
Donna Ward — Engagement In Email Marketing
Stephen Sithole — Unbiased Herbalife Review
Donna Ward — Want To Optimize Your Blog For Traffic?
Michael Pearce — Do You Champion Wellness?
Donna Ward — Still Discovering New Keywords?
Joan Harrington — Why Aren't Your Readers Devouring Your Emails?
Peter Pocklington — Farewell My Dear Son, Birds Must Fly
🙂
OUR FREEDOM OF ENVIRONMENT SOUNDTRACK
Today's energy video is "Crown Of Creation"  by Jefferson Airplane
"In loyalty to their kind, they cannot tolerate our minds; In loyalty to our kind, we cannot tolerate their obstruction"
Click here to draw energy from the harmonies of the Universe as expressed in this week's Freedom Of Environment Playlist .
Thank You to Laura Brannigan, The Bachelors, Jefferson Airplane, Joe South, The Band, Elvis Presley, Lynrd Skynrd, Bob Seger, Hot Chocolate, Katy Perry, Fleetwood Mac and The Beatles – The artists whose creativity I benefit from through the harmonies of the Universe, and
Thank You to Adele Roberts, Fj Ortega, Phil McGarvey,  Kayla Olivieri, Neville Barrett, Caryn Elizabeth, Paul Hutchings, Bobby James, Dustin Walker, Wallace Wattles,The Timeless Wisdom In Action Group, and the We Are Think And Grow Rich Group – The people who inspired my connections to these harmonies this week.
AND SO THE JOURNEY TO FREEDOM CONTINUES FOR US ALL
CHECK US OUT.
JOIN IN.
ADD YOUR IN-SIGHTS.
FREEDOM REQUIRES THE POWER OF THE MASTER-MIND
But don't just take it from me…
You can tell Infinite Intelligence – The Book Of Genesis sent you!
🙂
READY TO COMMIT TO YOUR SELF-IMPROVEMENT?
ENROLL IN OUR F*R*E*E 30-DAY MENTORED SELF-STUDY BOOT CAMP
🙂
For myself, I hope that today's post has helped you as God Intended – with a little bit of rest and re-creation…
<:-)
Oh, and by the way,
If you got value from todays content please add YOUR in-sights to the comment box below, then 'like' it and $hare this post with three people who could most benefit from its message
See you on our next blog
🙂
FREEDOM, STRENGTH AND HONOR TO YOU

"Teaching families to FIND money, CREATE income and DEVELOP Generational WEALTH"
Let's stay in touch
Phone: 610-781-2392
Skype: prpock
PARTICIPATE in our Generation Of Wealth Initiatives
M-W-F: "Rules Of Money" CyberLunch – Noon EST, Noon CST, Noon MST, Noon PST – Registration Required
Tu-Th: "How The Markets Work" CyberLunch – Noon EST, Noon CST, Noon MST, Noon PST – Registration Required
DAILY: "Grow Rich MasterMind" – Click here to Sample
MONDAYS: "Timeless Wisdom In Action" MasterMind Study Group – click here to view our  Facebook Group
BY APPOINTMENT: "FIND MONEY" Interviews – Click To Request Appointment

ON SOCIAL MEDIA: Blog – Twitter – YouTube – Pinterest  – Google+ – LinkedIn –  Facebook
LOVE WEALTH – LOVE HEALTH – LOVE HAPPINESS – LOVE LOVE

🙂
Oh, and by the way, did I mention that we help families Find Money, Create Income and Develop Wealth. Click here or on the image below to get the process started. Because YOU are WORTH MORE!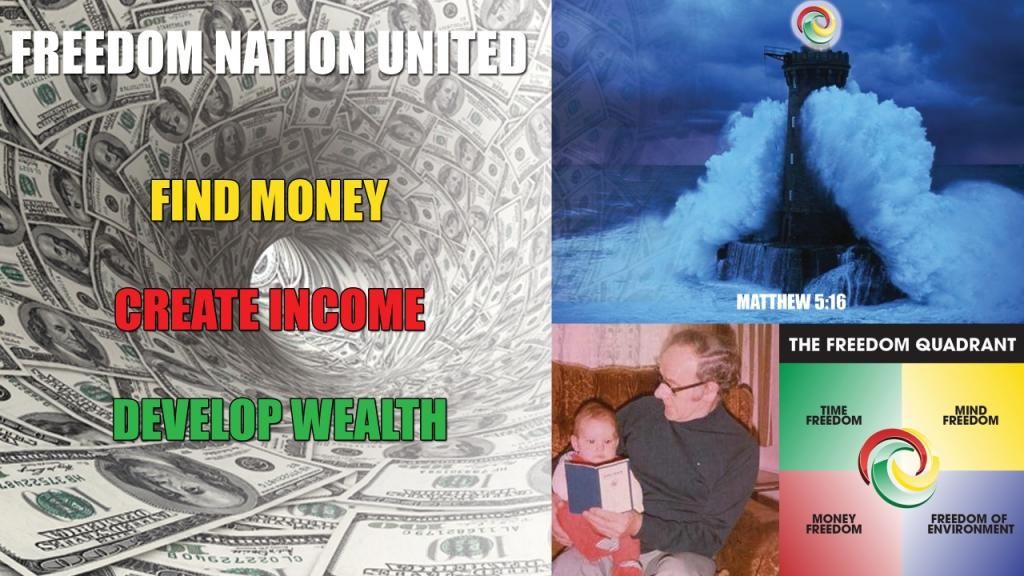 THANK YOU, THANK YOU, THANK YOU