JOURNAL OF A LIFE – The Outings
 #freedomquadrant 
In Life, "I can't" is not really short for "I cannot". If some other human being has done it then it most often means "I CHOSE not to"
  (See more…)
JOURNAL OF A LIFE
Yes, Yes, Yes
Welcome, Welcome, Welcome
Freedom Nation United


Find Money, Create Income and Develop Wealth
Poke about and check us out –> –> –> –> –> –> –> –> –>
🙂
As a great mentor of mine – Joe Schroeder – never tired of saying "A Life Worth Living is a Life Worth Recording" so today I am here to share another episode in the life's journey of one of the great people whose life I am privileged to have shared a part of – my mother AnneKaete Pocklington.
The Outings
So what did people do for entertainment before the television became ubiquitous?
What did people do when every family did not possess a car (or four)?
If it takes a village – what did the village do for fun?
Why, my child, they went out on 'Outings'
READ ON…
The Outings
And we would have outings. Either from the Church, or the Scouts, or the Boys Brigade. These were partly to make money, partly maybe to say thanks for money raised before for this and that. And we would set off. The bus leaving the village early and arriving back very late, and a wonderful time was had in between.
Often this would go to Blackpool to see the lights. You set off fairly early, playing on the sands, or went on to the 'Golden Mile' a stretch of Promenade where one amusement stall was on to the next. And people would wear "kiss me quick" funny hats, people of all ages, because more or less they were all on day trips. And then you would have tea somewhere or fish and chips and you would go and find your Coach again. And as it became dark the 'lights' came on. This is a wonderful spectacle in the autumn every year when literally millions of coloured lightbulbs are displaying wondrous tableaux pictures over the full seven miles of Promenade. And the trams would be ships and Gondolas through cleverly arranged light bulbs.  And your Coach would slowly creep along the Promenade in a long long line of traffic, and you shouted 'look here' and 'oooo' and 'luvely' all the time. It was a wonderful spectacle to see. Once, when we went with the Church, leaving about 5 o'clock in the evening, a man went to sleep just before entering Blackpool, slept right through the drive along the colourful Promenade, and woke up when we left Blackpool, and asked "are we nearly there?". We all laughed, he had come to see the lights and missed it completely. With all out ooo's and aaaa's and shouting.
Yes, we were a big happy family; so many names could be mentioned but there would be too many, and it does not really matter.
And when you were invited to a Wedding, a hat was very essential and a 'must'. If you did not own one because you did not often wear one, that did not matter at all, there was always somebody who had one. And so it could be that the same hat, with matching handbag quite often, would be seen on many Wedding Photos.
And if you had not been seen for a while, somebody came and asked if you were alright. And you did the same with others, you inquired round if anybody had seen so and so. Some people say that Yorkshire Folk are nosy. I say that they definitely are not, they are just 'Family'.
🙂
If  life is the best teacher, doesn't it make sense to learn from the lives of others?
So what did I learn from today's episode?
I learned about how simply happy and happily simple life in a village was 'back in the day', and
I learned that there is a lot to be said about a culture that notices when people are 'not there'…
So Now it's YOUR turn, dear Reader. What did YOU learn?
Please ADD and SHARE your insights in the COMMENT BOX Below
Next Episode –>
🙂
READY TO COMMIT TO YOUR SELF-IMPROVEMENT?
ENROLL IN OUR F*R*E*E 30-DAY MENTORED SELF-STUDY BOOT CAMP
🙂
Oh, by the way,
If you got value from todays content please 'like' it and $hare it with three people who could most benefit from its message
🙂
FREEDOM, STRENGTH AND HONOR TO YOU

"Teaching families to FIND money, CREATE income and DEVELOP Generational WEALTH"
Let's stay in touch
Phone: 610-781-2392
Skype: prpock
PARTICIPATE in our Generation Of Wealth Initiatives
M-W-F: "Rules Of Money" CyberLunch – Noon EST, Noon CST, Noon MST, Noon PST – Registration Required
Tu-Th: "How The Markets Work" CyberLunch – Noon EST, Noon CST, Noon MST, Noon PST – Registration Required
DAILY: "Grow Rich MasterMind" – Click here to Sample
MONDAYS: "Timeless Wisdom In Action" MasterMind Study Group – click here to view our  Facebook Group
BY APPOINTMENT: "FIND MONEY" Interviews – Click To Request Appointment

ON SOCIAL MEDIA: Blog – Twitter – YouTube – Pinterest  – Google+ – LinkedIn –  Facebook
LOVE WEALTH – LOVE HEALTH – LOVE HAPPINESS – LOVE LOVE

🙂
Oh, and by the way, did I mention that we help families Find Money, Create Income and Develop Wealth. Click here or on the image below to get the process started. Because YOU are WORTH MORE!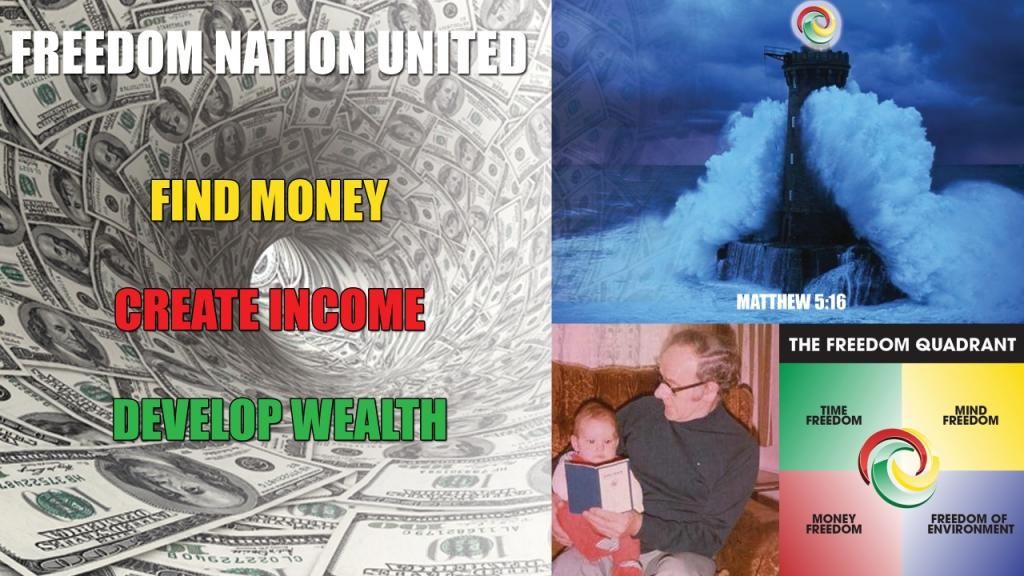 THANK YOU, THANK YOU, THANK YOU