JOURNAL OF A LIFE – Examinations I Have Had Over The Years
 #freedomquadrant 
If we don't have a "warm" market
we have to BE the warmth that attracts the market.
  (See more…)
JOURNAL OF A LIFE
Yes, Yes, Yes
Welcome, Welcome, Welcome
Freedom Nation United


Find Money, Create Income and Develop Wealth
Poke about and check us out –> –> –> –> –> –> –> –> –>
🙂
As a great mentor of mine – Joe Schroeder – never tired of saying "A Life Worth Living is a Life Worth Recording" so today I am here to share another episode in the life's journey of one of the great people whose life I am privileged to have shared a part of – my mother AnneKaete Pocklington.
Examinations I Have Had Over The Years
Should husbands or wives teach their spouses to drive?
What was it that caused these two people who loved each other to drive each other almost insane?
Fortunately, it all turned out well in the end?
Or did it?
READ ON…
Examinations I Have Had Over The Years
It occurs to me that the way Examinations are held, and what for, might well change over the years. So I will just mention a few I have been connected with.
I had or rather wanted to, and did, take a 12 weeks course for part-time teaching after I had been a teacher for about two years. The West Riding of Yorkshire held this course for the first time and I took the opportunity. It was held at Whiteley College and we went every Saturday for about 5 hours. And we were lectured on teaching aids, preparation of class work, syllabus, etc. All things which had come to me naturally in the event. But to have it confirmed was very good. And then you had the Examination Day. You had to make out a syllabus and a chart exactly how you would proceed over the years, and then you had to teach your fellow students for 20 minutes in a proper class situation. Get them to respond to your teaching, whilst a panel of Judges watched. I passed that with flying colours. But, in fact, I passed it all, and was very proud to receive my Certificate.
And in 1975 I made up my mind that I would like to pass my driving test, learn to drive, before I was 50 years old, which would be in April 1976. And so I got a provisional license and Bill started to teach me, and it was a very precarious situation, it always is between man and wife. Only we thought we would be different. And many a time I came home crying my eyes out.
The situation arising is understandable when one considers the fact that a woman is usually very clever at being a housewife. She is, to his eyes, clever and brainy to run things so smoothly as she does. And then he gets her behind the driving wheel and she turns out to be utterly stupid in the things she does. He can not believe it's his woman. And he loses his temper and shouts in sheer frustration. And she, on the other hand, has normally a quite considerate husband who hardly ever shouts at her. He might lose his temper on other things but does not, on the whole shout at her. And there is this stranger, who sits there next to her, who shouts and calls her stupid!!!! It just is not the thing. And so a lot of frustration arises out of this particular pupil/teacher relationship.
However, I entered for the test, failed for some minor factor and then I enrolled with a professional teacher for six lessons. He entered me for a test fairly soon again and I passed my Driving test with five weeks to spare on the first of March 1976. That was a very lovely feeling and Bill and I had become friends again fairly soon after he had given up teaching me, even though, after seven years I am still nervous driving with Bill next to me, whilst I am quite at home with somebody else being my Passenger.
The driving test consisted of going to the test-centre, signing a paper proving that you are you. Then walking with your Test Person, mine was a man, towards your Car. He would point out a car to you about 25 yards away and ask you the number of the vehicle. Proving that you can see. Then into your Car, all the correct procedure as specified in the highway Code. Then drive off and proceed to his direction. For about 20 minutes you weave in and out of traffic, do a 3-point turn in a little side street, do an Emergency stop somewhere, start and stop naturally a few times. Left and right turns etc. and before you know it you are back at the centre. You are told to stop and park. Then he asked me about five questions on the Highway Code, which is the Rule of the Road as seen from the Law side. And then, and then —- he hands you a paper. My first time paper told me I had failed and the reason why. Hesitating at a Traffic Light, was my reason, and the second time it was a green paper which was handed to me with: "Congratulations, you have passed the test!" Lovely words. That was the Driving Test at that time in England.
And then I took a third big test. I made my mind up in 1980 to take the Examination of the Institute of Linguists. I had been told that I could take the German Language test if I had been in this country over 21 years, and declared English to be my mother tongue. But this was not so.
And so I went to nightschool for a term and prepared for the Examination. And I passed the Intermediate examination of the Institute of Linguists for the English Language in the Summer of 1981. I received a very lovely Certificate for that and felt proud that I had made it. The Final Certificate one takes more or less just at a specific field, if one uses the language for anything in Particular. And as I have no plans to do that, and no specified field I could state, the Intermediate Certificate is a very good and proper one to have. It was a fairly hard Examination in three parts, lasting altogether about 5 hours if I remember right. So for me it was something special I had done and made me feel good.
I decided not to become a member of the Institute, which costs about £20 a year, (and I would be able to become one now), because it puts one under various obligations. Amongst other things the fact that one ought to charge the correct price for translations to uphold a very honourable profession. Well, quite rightly so, but I like to help out occasionally, like I did for the Mayor of Calderdale, and in these hard times not to charge for it.
Just recently I enjoyed translating a BBC Film which is now owned by the West Yorkshire Tourist Information Office in Hebden Bridge, about the History of the Upper Calder Valley, into the German language so that it can be shown to German Visitors coming over; and this way give them the wonderful history of the valley in one swoop. This could not have been done for payment at all, money is always short in local Governments of any kind. And so it gave me great pleasure to translate it.
🙂
If  life is the best teacher, doesn't it make sense to learn from the lives of others?
So what did I learn from today's episode?
I took pride in the fact that my mother was willing to subject herself, even in later years of her life, to the rigours of examinations in things she was already competent in – just because, and
I learned that there are times when even the best of relationships are tested to the extreme…
So Now it's YOUR turn, dear Reader. What did YOU learn?
Please ADD and SHARE your insights in the COMMENT BOX Below
Next Episode –>
🙂
READY TO COMMIT TO YOUR SELF-IMPROVEMENT?
ENROLL IN OUR F*R*E*E 30-DAY MENTORED SELF-STUDY BOOT CAMP
🙂
Oh, by the way,
If you got value from todays content please 'like' it and $hare it with three people who could most benefit from its message
🙂
FREEDOM, STRENGTH AND HONOR TO YOU

"Teaching families to FIND money, CREATE income and DEVELOP Generational WEALTH"
Let's stay in touch
Phone: 610-781-2392
Skype: prpock
PARTICIPATE in our Generation Of Wealth Initiatives
M-W-F: "Rules Of Money" CyberLunch – Noon EST, Noon CST, Noon MST, Noon PST – Registration Required
Tu-Th: "How The Markets Work" CyberLunch – Noon EST, Noon CST, Noon MST, Noon PST – Registration Required
DAILY: "Grow Rich MasterMind" – Click here to Sample
MONDAYS: "Timeless Wisdom In Action" MasterMind Study Group – click here to view our  Facebook Group
BY APPOINTMENT: "FIND MONEY" Interviews – Click To Request Appointment

ON SOCIAL MEDIA: Blog – Twitter – YouTube – Pinterest  – Google+ – LinkedIn –  Facebook
LOVE WEALTH – LOVE HEALTH – LOVE HAPPINESS – LOVE LOVE

🙂
Oh, and by the way, did I mention that we help families Find Money, Create Income and Develop Wealth. Click here or on the image below to get the process started. Because YOU are WORTH MORE!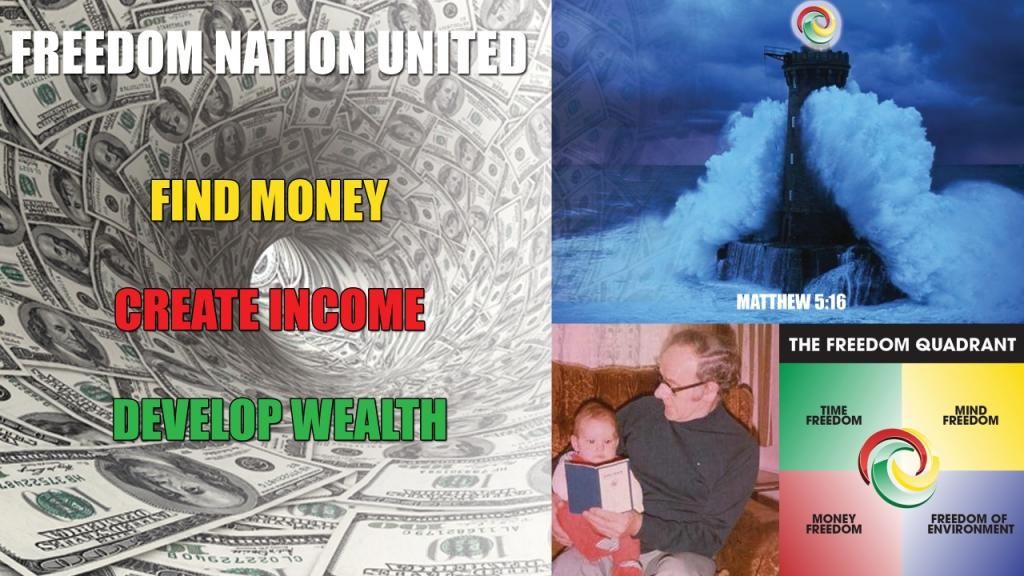 THANK YOU, THANK YOU, THANK YOU