JOURNAL OF A LIFE – What About Retirement, Anne?
 #freedomquadrant 
Don't expect everyone to understand YOUR grind, when God did not give them YOUR Vision
  (See more…)
JOURNAL OF A LIFE
Yes, Yes, Yes
Welcome, Welcome, Welcome
Freedom Nation United


Find Money, Create Income and Develop Wealth
Poke about and check us out –> –> –> –> –> –> –> –> –>
🙂
As a great mentor of mine – Joe Schroeder – never tired of saying "A Life Worth Living is a Life Worth Recording" so today I am here to share another episode in the life's journey of one of the great people whose life I am privileged to have shared a part of – my mother AnneKaete Pocklington.
What About Retirement, Anne?
Imagine, if you will, the concept of  'early retirement' is introduced to you, but you don't quite qualify.
You remain working, but the seed has been sown.
The opportunity is introduced again a few years later, but with new conditions. Again you don't qualify.
You remain at work, but that seed is still germinating – calling out!
And then…
READ ON…
What About Retirement, Anne?
When I was still at the Housing Office as a Rent Collector, the local Government started a scheme by which people who were 50 and had at least 5 years service could take early retirement. This was a Government approved and encouraged scheme to cut down the ridiculously large machinery of local Governments. Some of my Rent Collector Colleagues took the chance. I could have done but had been there just a few days under 5 years but was over 50. So I could not take this chance and went through the trauma of the Repair Desk instead. And now, in 1980, the same offer was made again but one had to be 55, and, alas, I was just a few weeks under 55 and had to miss the second offer. But I decided there and then that, if the offer would be made again in the next year, I would make the necessary inquiries and consider it very seriously.
And so it came about that I played with the thought quite happily for a full twelve months. And when it was offered again in 1981 I took the chance and made inquiries about it all. A very exciting time to give the thought of giving up working outside the house such a serious thought.
I had started work a long time ago just to help out to get a new carpet and some easy chairs. Now, 27 years later…… and various cars later…….. and buying first one house and then another later….. and Peter now happily married and away from home….. and the Mortgage having been paid for and forgotten some years before….. I was finally playing with the idea of becoming a full time housewife again. Or was I really just planning that? No, surely, there would not be enough work in that house to become a full-time housewife. So what would I be doing? How hard up would we be without that Salary of mine coming in? Would we have to restrain ourselves very much? Could we not go and see Paula now and then. We were all getting older and that became as important again as it was when my dear parents became older. It all wanted sorting out.
There were a lot of unknown factors in such a move.
I was then told that I would get a lump sum of about £2550 and an annual Pension of £850 which would be index linked. This meant it would go up a certain percentage as the "Cost of Living" went up, the so-called Inflation, every year. The interest on money invested with, for instance, the Building Society, was fairly high, at about 10% annually. This would give me another £255 per year. With other words I would have £1000 per year!
I plunged for:
R E T I R E M E N T
🙂
If  life is the best teacher, doesn't it make sense to learn from the lives of others?
So what did I learn from today's episode?
I learned, from the example of my mother's life that what is usually termed 'luck' by the uninvolved is to be found at the intersection of preparedness and opportunity, and
I learned a seed, once sown into fertile ground, needs time to germinate before it will come to fruition…
So Now it's YOUR turn, dear Reader. What did YOU learn?
Please ADD and SHARE your insights in the COMMENT BOX Below
Next Episode –>
🙂
READY TO COMMIT TO YOUR SELF-IMPROVEMENT?
ENROLL IN OUR F*R*E*E 30-DAY MENTORED SELF-STUDY BOOT CAMP
🙂
Oh, by the way,
If you got value from todays content please 'like' it and $hare it with three people who could most benefit from its message
🙂
FREEDOM, STRENGTH AND HONOR TO YOU

"Teaching families to FIND money, CREATE income and DEVELOP Generational WEALTH"
Let's stay in touch
Phone: 610-781-2392
Skype: prpock
PARTICIPATE in our Generation Of Wealth Initiatives
M-W-F: "Rules Of Money" CyberLunch – Noon EST, Noon CST, Noon MST, Noon PST – Registration Required
Tu-Th: "How The Markets Work" CyberLunch – Noon EST, Noon CST, Noon MST, Noon PST – Registration Required
DAILY: "Grow Rich MasterMind" – Click here to Sample
MONDAYS: "Timeless Wisdom In Action" MasterMind Study Group – click here to view our  Facebook Group
BY APPOINTMENT: "FIND MONEY" Interviews – Click To Request Appointment

ON SOCIAL MEDIA: Blog – Twitter – YouTube – Pinterest  – Google+ – LinkedIn –  Facebook
LOVE WEALTH – LOVE HEALTH – LOVE HAPPINESS – LOVE LOVE

🙂
Oh, and by the way, did I mention that we help families Find Money, Create Income and Develop Wealth. Click here or on the image below to get the process started. Because YOU are WORTH MORE!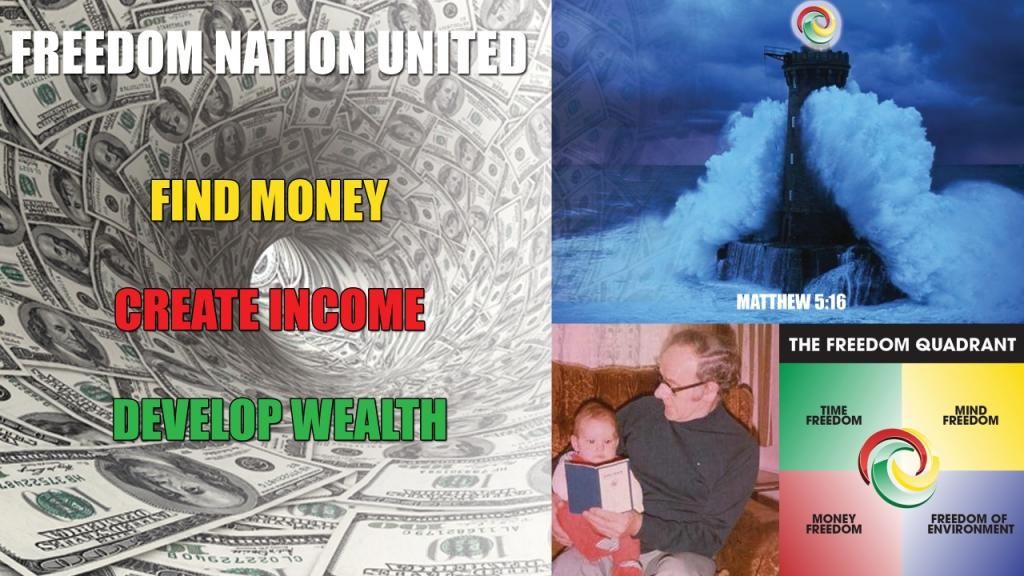 THANK YOU, THANK YOU, THANK YOU