JOURNAL OF A LIFE – The Prisoners Of War
 #freedomquadrant 
SUCCESS = Getting up every day and keeping on getting better at being a positive force in the lives of those who cross your path that day 🙂
  (See more…)
JOURNAL OF A LIFE
Yes, Yes, Yes
Welcome, Welcome, Welcome
Freedom Nation United


Find Money, Create Income and Develop Wealth
Poke about and check us out –> –> –> –> –> –> –> –> –>
🙂
As a great mentor of mine – Joe Schroeder – never tired of saying "A Life Worth Living is a Life Worth Recording" so today I am here to share another episode in the life's journey of one of the great people whose life I am privileged to have shared a part of – my mother AnneKaete Pocklington.
The Prisoners Of War
Imagine, if you will, you are a child and your Nation is at War…
You keep seeing lines of starving men being marched to some work site or other.
Prisoners Of War.
How would YOU treat them?
What did my Oma (Grandmother) do?
READ ON…
The Prisoners Of War
That is another side of War. When you live reasonably happy in your own home. And you play with your Pals . And, even though things are rationed, you were still reasonable full after every meal And then . . . . . a column of men, dressed in rags, with grey rags and bandages around their feet, come along the road, led by a Soldier, on their way to some work . . . . . and they sneak to look into your dustbin to see if there is anything, anything at all eatable, because they are so hungry. And you are told they are Prisoners of War….. Later on, after the War, we all learned what hunger really means . But then we did not really know, the Rations at the beginning of War were reasonable . But these men…we were frightened of them as children.
But Mutti said we need not be frightened, they were Soldiers, just like our boys at the front, only they….were hungry …. And she made sure that her Dustbin always had some bread or other eatables on the top…. And the Soldiers were lucky in a way, because their guard did look the other way……
The first day after the War one saw quite often that Germans were stopped in the streets, by former Prisoners in their striped clothing, and all their watches or anything valuable was taken off them. There was some sort of Free-for-all for about two weeks where the people who had suffered so much, were allowed to take, just take, not hurt anybody, just take things……
One also saw many many women, a Colleague of mine, a very dear girl amongst these, who had been raped by the Russians advancing, and they would never be well again. My colleague, only about 16 at the time, was raped by 23 men, one after the other, and she was damaged for life . Many an operation was performed in the hope that she could be mended. I lost touch with her and don't know if it ever was a success. We had been told by propaganda that it was happening on the Westfront, whilst it really happened on the Eastside after the War was over! God help them, they do not know what they are doing….
🙂
If  life is the best teacher, doesn't it make sense to learn from the lives of others?
So what did I learn from today's episode?
I learned that even in times of War good people on both 'sides'can be found expressing their humanity, and
I learned that in times of War human beings are also capable of inhumane acts of depravity.
So Now it's YOUR turn, dear Reader. What did YOU learn?
Please ADD and SHARE your insights in the COMMENT BOX Below
Next Episode –>
🙂
READY TO COMMIT TO YOUR SELF-IMPROVEMENT?
ENROLL IN OUR F*R*E*E 30-DAY MENTORED SELF-STUDY BOOT CAMP
🙂
Oh, by the way,
If you got value from todays content please 'like' it and $hare it with three people who could most benefit from its message
🙂
FREEDOM, STRENGTH AND HONOR TO YOU

"Teaching families to FIND money, CREATE income and DEVELOP Generational WEALTH"
Let's stay in touch
Phone: 610-781-2392
Skype: prpock
PARTICIPATE in our Generation Of Wealth Initiatives
M-W-F: "Rules Of Money" CyberLunch – Noon EST, Noon CST, Noon MST, Noon PST – Registration Required
Tu-Th: "How The Markets Work" CyberLunch – Noon EST, Noon CST, Noon MST, Noon PST – Registration Required
DAILY: "Grow Rich MasterMind" – Click here to Sample
MONDAYS: "Timeless Wisdom In Action" MasterMind Study Group – click here to view our  Facebook Group
BY APPOINTMENT: "FIND MONEY" Interviews – Click To Request Appointment

ON SOCIAL MEDIA: Blog – Twitter – YouTube – Pinterest  – Google+ – LinkedIn –  Facebook
LOVE WEALTH – LOVE HEALTH – LOVE HAPPINESS – LOVE LOVE

🙂
Oh, and by the way, did I mention that we help families Find Money, Create Income and Develop Wealth. Click here or on the image below to get the process started. Because YOU are WORTH MORE!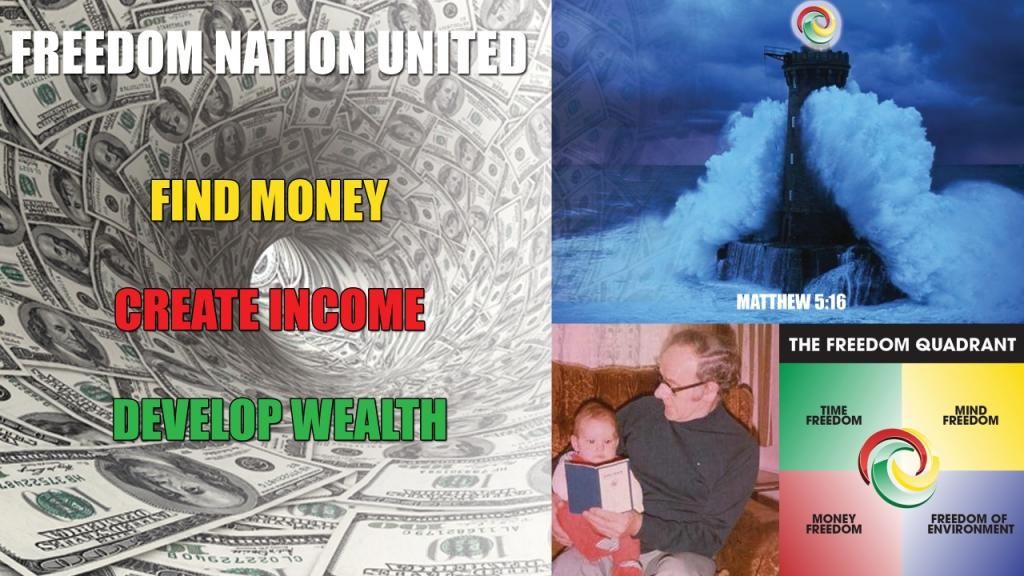 THANK YOU, THANK YOU, THANK YOU