A North Yorkshire Childhood
"History may be written in the books of the famous – but it is created by the lives of everyday individuals"
Anne-Kaete Pocklington
THE STORY OF BILL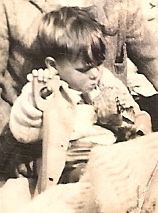 A North Yorkshire Childhood
I am tempted to start on the date of our first meeting, but that would put things the wrong way round, so I will start at the beginning.
Little is known about his childhood, so I can only talk from snatches of conversation with and amongst Relatives, or from Bill himself when he did speak about his childhood, and that was not very often. He always lived for the present, for his Family, for his wife and beloved Son. And, I am sure, he wanted to make doubly sure that our beloved Son Peter had a better start in life than his own had been.
He was born on the 27th March 1927 to his Mam, Ethel Pocklington nee Blades, in Langthorne, Bedale, North Yorkshire.
His Siblings were FREDA 1921, Lol (Laurence) 1923, Dorothy 1925, then himself, Albert 1927 (Bill), and then John 1931. And a half-sister, adopted by his Mothers Sister, born 1917.
His Dad was Frederic Pocklington, one of 13 children.
Bill's Mother died in September 1935, when Bill was 8 years old, John, of course, was only four years old. But their Mother had been in Hospital for the last 3 1/2 years. She went in when Bill was only four, so he had only a vague recollection, as children in those days, were not allowed to make visits in the Hospital.
John will have had most Attention, naturally, from the two older Sisters, themselves still young at 14 and 10 years old. They helped Dad to keep the Family together with the help of Grandma, their Dad's Mother, and younger aunts.
Much, Much later, in fact fairly recently, John and Bill were talking about their childhood. And they agreed, birthdays, of anybody, were never ever mentioned or known. I found that none of the grown up Sisters or Brothers knew their Mother's Birthday.
Bill was very attached to John, more than all the others. And John was saying how he was sent across to the Farmhouse when it was Mam's Funeral; and other times when the Family was busy. He loved to go there, it always was a special treat he never forgot. Mainly because THEY had TOYS there.
He said there were none at All in 'our' house. 'Can you remember any toys, Alby, in our House?" And Bill said 'no' none at all. That to me is very strange, no Toys at all. I thought it was very sad, so very sad! And Bill could not remember anything at all about his Mam's funeral (at 8 years old). He presumed that he was at school that day and was not told.
He also remembered having to help on Grandad's farm a lot, straight after school. And 'woe betide him' if he forgot any. And one of his jobs was getting kindling wood for lighting the fire in the morning. And having to lock up the Chickens at night. And he was told that one night he got up, sleep walking, fetched some Wood, laid it down, and went back to bed. They all laughed but did not wake him. But Bill never seemed to mind the work.
When it came near to leaving school, his Teacher came to ask Bill's Father if he would let him stay on as he had potential. He attended a very small little Village school and seemed to have liked it, and the Teachers, well. Fred turned to his young son and said 'Do you want to keep on at school' Bill replied, of course, 'NO' and that was that. No staying on at school, having potential or not.
Bill also remembers a few outings to REDCAR, a Northern Seaside town, as a small child. It had lots and lots of white yellow Sand, and the big Sea and that it was so lovely. In Redcar lived his Mother's Sister, with her Husband and 'Cousin' Elsie. Elsie and Freda were always great friends, not knowing that they were Half Sisters. Ethel had been an unmarried Mother, something really bad in those Days. Her Sister could not have Children. So, when Fred wanted to marry her and said that he did not want her Child, Ethel made her barren Sister and Husband very, very happy. I always thought that Freda and Elsie looked so very much alike that I wondered who the real Father of Elsie was. Those Days were full of secrets, silly secrets.
As he was about 14 years old, Bill remembered that his Grandad wanted to adopt him legally. There were long talks between Grandad and his Son Fred. All the other Brothers and Sisters of Fred had already left home and learnt a Trade. Only his eldest Son Fred was expected to stay and work with his Father on the Farm. In those days there was no argument. So now it was asked that Albert could be adopted legally. The oldest Boy, his Brother Lol, had left home at his earliest opportunity. "NO WAY", said Fred, I will never agree to that. You had me as an unpaid Worker and now you want my Son, no way! And that was that. And that firm Statement gave Bill the chance for HIS Life. And, as it happened, a future he could never have dreamed of in those far off Days. The Lad from the tiny Village, almost more a Hamlet, conquered himself a WORLD. Bill always thought if he had been asked again, do you want to stay on at School etc. he would, most likely, have said 'YES', but Fate determined different. He was not asked by Grandad, who had been told a firm 'NO'.
Thanks be to God, says I.
Not many things can be remembered, except very nice Teachers, and watching the HUNT a lot, riding by. Coming over the Hill in their lovely red Coats. I remember how much it impressed me when I first came to Langthorne. Hearing the Hunting Horns from afar, then the Horses Hooves stamping the Earth, and then, suddenly, the full Hunt——— and then they were gone and one heard the Horn again in the Distance. In those Moments it really felt like 'Gods own Country' as Bill always called that part of the Country, always.
The Cottage they lived in, in this place called LANGTHORNE, was very, very small. But 'large' as farm workers cottages went in those days. This one had two Bedrooms, a Livingroom / Kitchen, and a Parlour, that was quite good in the olden days. The word comes from the french for 'talking'.
Langthorne, although small, had nevertheless three places of Worship. On a Sunday the little Lad went every time to three Churches. Anglican, Methodist and Baptist. Whilst she was still alive, with Grandma Pocklington. This was never missed. She only went to one, the Anglican, with Bill, but the others were his idea. He wanted to know what the difference was, but never found it. In one he was a Choir Boy and in another he would be helping to ring the little Bell, just one, and in another unlock the door for the Minister to come. He would, most likely, have been in 2 or 3 Chapels before. Bill's Grandad, who could not read or write, knew all the Hymns and would sing them all the time. whilst working or traveling somewhere by Horse and Cart. Bill sitting with him on the Box. And he knew all the Verses, or most of them, and Bill learnt them from him. But he never went to Church!

The other Siblings did not seem to go as much, except Freda. But he remembers himself going with Grandma to Church every Sunday.
The Cottage was rendered white, shining bright in the little Village, called 'Rose INN Cottage', with small Windows, very small. The Door in the middle, with little Windows to the left and right. Freda remembered baking Bread in this Cottage, for ALL the Family. A Stone at a time, a Stone of flour. That is 14 Pounds of Flour. And this as a 14 year old Child. On a Board on the Floor. She was too small to do it on the table. This way she could kneed from above the dough.
Next door was a Public House, in this long Building, with its Cottage on the other end of it. An unmade wide Path in front to a Wall of a little Meadow. Behind the Building a little Vegetable Garden behind each Cottage. Brother John, as he grew up, had always lovely Vegetables here.
The Path through these Vegetables led to the outside Toilet. A Tub Toilet. This was emptied periodically by the Authority. About 20 to 30 steps from the Backdoor. Its wooden Door had a heart cut in it. This was so that, if one heard steps, one could shout or sing to let them know it was engaged. One 'sat' on a throne of Wood. A plank really, with a round hole cut into it, which had a loose round wooden lid. This, one always replaced after, to keep Flies down there I suppose. The result landed far below one.
I am describing this in detail as the next Generation of ours has hardly a picture of this contraption and the Generation after that no idea at all. There was also a tiny little Shed on the Side of the Garden for Coal, Bikes and Garden tools. From there one fetched an ordinary Bucket full of Coal for the open Fire. It stood at the side of the Fireplace.
One entered the house straight into the Livingroom/Kitchen. On the left the door into the Parlour, about the same size as this room. It contained a Chair and Table, a sort of Cupboard and Drawers. And a Settle. This is a kind of Settee/Lounger. Two or three could sit on it. But I doubt if ever anybody had sat in this room. Maybe it was a bedroom when they were all at home.
The kitchen also had a Settle under the Window. The next Wall a built-in Cupboard on the right, a very large 'Yorkie' Fireplace. The Water store on the left and the oven on the right of the actual open fire! The Water tank always gave instant hot Water. A Stone Mantlepiece high above, where the 'Tapers' stood in a Jar. These are thin Wax Sticks or thin Rolls of Paper. Used to take a Flame from the Grate to light another Fire, Pipe or Oil Lamp.
Bill's Father could cook most delicious Meals, and Roast Beef in particular on this open Fire and the Oven. There was a sort of moveable lever on the Firegrate, to enable Pans (on it) to be moved on to the Flames or near it to cook slowly. With that the outside of the Pans were always very, very black with thick soot on them. That took some cleaning!!!
The Rail in front of the Mantlepiece (Stone Slab the length of the Fireplace) held Towels and Oven cloth. These were always black spotted from flying soot. Up on the ceiling in front of the fire was a five Rod drying Rail. This was lowered to hang the washing on and then pulled up again to dry the washing. As it was just in front of the heat it dried everything very quickly, alas, maybe a bit sooty if the fire had a 'blow back', which happened fairly regular. And one might have to do the washing again.
The next Wall had a door to the upstairs. When you opened it with a 'Snicket', a sort of lever, you were faced by Stone steps leading to two bedrooms above. Next to this door a large, black Chest with six Drawers. Two magnificent Brass Oil lamps stood here. The only lighting, apart from Candles, in this house. These were lit by Bill's Father when darkness came. One had to be careful not to touch the part which lit the flame. When one left the room and went to another, one took Candles.
Then a door again, leading into the 'Scullery'. That is a place where, in large houses, the Scullery Maid worked by doing the washing up. To a certain extent that was the reason for this small place. But this one had no sink, only a cold Water Tap, about a foot from the floor, with a grate underneath it where the Water could escape when there was no Bowl beneath it. That was the only means of Water in this Cottage. And it had a small sort of table where the necessary Bowls and Pans lived. From here the door led to the Garden and Loo.
The last Wall in this Room had another Cupboard, again blackened over the years, made of Wood. This held the Food etc., needed for daily living. We still had Ration books when I arrived, so the Cupboard did not need to hold a lot. It also had some home made Jams which Fred had made.
Upstairs the two bedrooms had just beds and one little Wardrobe or Cupboard in each. Again the Windows very small, and the part one could open even smaller. And no Ceiling but the rafters. This was my Darlings HOME.
When I came into this house with my beloved Bill and 6 months old Peter I stepped back into another Century, way, way back.
Peter's Pram, with my Baby in it, was placed on the left side of the Fireplace, where a Chair stood previously. Bill insisted as this was the warmest place in the house. And, believe me, these 'open' Fires were only warm if you sat or stood right in front of them.
His beautiful pram, white inside and out, and mainly white Baby clothes, were always spotted with Black Soot, everywhere, even in his lovely blonde Curls.
Bill had sent lots of Towels home from the Army and proudly told me we had lots of Towels when we got home. But, alas, not one of them was still there, not even in use, they had all been done away with. Poor Bill was so disappointed. It was not much, but to him it was something.
It had been arranged that we would visit here but – alas – the town of Braintree, where Bill's brother LOL lived, did not give permission for us to live with Lol. His wife had run away to Australia whilst he was in the Forces, with a Soldier from down under, and it had been arranged that we would live with Lol, in his 2 bedroom Prefab, and I would look after both Men until we got a house for ourselves. But they argued that, so many Lads from Braintree were coming back, if Lol had space, he should let one of them have this space, not a Lad from Yorkshire. This Yorkshire Man had to go back up North where he belonged. That was our own Story about 'No Room at the Inn'.
But before all this came out we had decided to stay a little longer with Bill's Father. So we slept in the Parlour on a quickly borrowed bed.
However, this was Bill's home and the enormous large Rooms in my Parent's Flat, even after we had been bombed out of the House we owned, must have looked like a Palace for this young Man who was made to feel so very happy in my home. And this was but a smallish Flat, 4 large Rooms, Kitchen and Bathroom. That was small compared to our bombed out House in which I lived all my childhood until 1943.
Bill was truly very, very happy in my HOME and, indeed, was dearly loved by my Mother, Father, Siblings etc. etc. Maybe, I thought, maybe for the first time in his life. For the first time he had a Mam, to start with. Mutti, as he always called her. But I digress, we are really still talking about the little Lad and where he lived.
His first job, after leaving school, was as an errand boy in a little Grocery shop in HACKFIRTH, one of the next Villages. Langthorne had no shop! Only a tiny Shop, the Man had been called up and they needed to have somebody to deliver the Grocery. That was still the 'done' thing. As far as these people knew there was a war on somewhere, but don't let things get out of hand. Groceries were DELIVERED.
The Farms were all very far apart and it must have been a struggle for this fourteen year old, of small stature, to peddle on this old bike with a Basket in the front, through these Country Lanes. But, as he told me about it he did not seem to mind. He does not know how much money he earned because, as was done in those days, his Dad got the money and he got some Spending Money. Supplemented by the rare tips he got from the Customers.
Eventually, as he was the only Lad in the Village without a Bike, he took a Wheel of the Shop bike to build himself a working one, with a half Bike found in the Shed at home. He placed the old Wheel on the Shop bike and reported it broken. Of course, a blind man could have seen what had happened (so Bill told). The consequence was that Father had to come, the Culprit told off severely, and given the Sack. A case of 'on your Bike, Lad'. Alas, there was no bike. One very large Lesson learnt, NEVER cheat, its a big disgrace, not worth it.
So he looked for another job and found one, right in BEDALE, the nearest Market Town. A Biscuit Depot had been opened, where all well known Brands of Biscuits were delivered. They were all gathered there to save Petrol. In the Place of four or Five Biscuit Delivery Vans driving up and down the Country to the same shops, now they were sorted there to Order and taken by one Van.
And my Bill became a Drivers Mate. A big step up fromthe Bike Delivery. It was called 'United Biscuits', but Bill was employed by CRAWFORD's, still a well known Biscuit Firm. They would deliver in a roughly 50 mile radius. They loved to have, and needed local Drivers or Mates. All the Road signs over Rural England had been removed. That was to confuse the Germans, if they landed, singly or en Mass. So a local Mate was very useful.
So, Bill was a very happy Drivers Mate. Different Drivers, as one after another was called up. But he got on well with all of them. They taught Bill to drive as he got older. So he was quite capable of driving long before he was allowed to. And he drove now and then, giving the Driver a break.
During the War Driving Tests were not needed. So when the last Driver was called up, the young Bill became the Driver automatically. He tells me he was very proud, and the first drive was to his home to show off to his Sister Freda, just on leave from the ATS, to which she had been drafted, and Dorothy, his other Sister.
Then the decision was made, to make an even larger Depot in STOCKTON near MIDDLESBOROUGH, and they offered him a Position there. He asked his Father could he please go and found his Father was not keen on the idea. UNLESS he could live with an aunt Sarah, who lived there. She was Dad's Sister. Bill did not really know her but was keen to go.
So Father and Son ventured North, not easy in those days. There were no Buses even out of this little Hamlet. But they made it. The Son of his aunt had just been called up to be a BEVIN BOY in the Mines. A Bevin Boy was a Person who did not want, or was not fit enough, to go into the Army. So they replaced Men who were called up into the Army. It was the idea of a minister in the Government who was called 'Bevin', therefore the name.
However, that made a bed spare in the home and he could come, and Bill went to live with the aunt, her daughter and husband. The girl, apparently, was a very snooty Teenager and had no time for her Cousin at all. The Son came occasionally at the weekends. Both very tall people, like Bill's Grandad and some of Fred's Brothers. Fred was the smallest of all Siblings.
Not only were they very tall but VERY unkind about Bill's height and let him know what they thought. That he was a 'NOTHING'. This must have hurt Bill very much as he never ever wanted me to meet them and got upset if ever we talked about that Branch of the Family. But Freda also did not seem to know them at all.
And then, one Day, he was greeted by the aunt and daughter with the words "there is an important letter for you, most likely they are calling you up for a Bevin Boy somewhere. They don't want little ones like you in the Army". They gave him the letter and he was called up for the ROYAL MARINES????? YES, YES!!
At that time, and it might still be the same, the Royal Marines had to be 6 feet tall. So Bill thought it was a mistake at first. But, of course, he reported at the place in Deal/Kent, as requested.
To find himself with other Men of smaller Stature, all Drivers, at the Recruiting. About 200 Men had been called up, all Drivers, as they would be needed to invade Japan in due course when fully trained – to drive DUCKS which would land in Japan. The Marines would lie on the floor of these things, the short Drivers would not have their heads above the Parapet, and that would be that.
By the time they had been trained for their Mission, and had almost finished the Recruiting stages, the Atom Bomb had been dropped and the WAR finished. They were not needed anymore. Bill was just 18 years old.
Bill told me rather bitterly that the first thing he did when he had 'passed out' and had his first full set of dark blue, with red Stripes, proud Uniform. He had his photo taken professionally and sent one to his aunt. Just writing on "Who says Bevan Boy, meet ROYAL MARINE POCKLINGTON".
To do that, for a Person like he really was, just shows the hurt he must have had. But he loved the job whilst staying there, made good friends. Some he might have liked to enquire about but the thought of going back was just not good. So I never met any of those people.
But – alas – he lost a few friends through Call up. There was a War on. The Senior Members of Staff, his Bosses or Foremen, had to do Night Duty, in turn, for Firewatch. That meant that you stayed alert all night, watching for Germans coming, or Firebombs being dropped. Because these married men did not feel like it, he and a friend did a lot of Night watch for them, always being paid a shilling. This was much needed spending money which was scarce. And the Picture houses changed Films twice a week. And he and this friend also took Dancing Lessons to enable them to -gradually- pull the girls better.
I think that was good sound planning as he – some years later – found his wife that way, on the Dance Floor.
🙂
See you later, as the journey continues…
🙂
For myself, I hope that today's post has, in some way, encouraged you – Dear Reader – to reflect on the life journeys you have and are undertaking.
As well as those undertaken by those who are near and dear to YOU.
You are who you are because of these journeys.
Where is YOUR journey taking you next, I wonder?
🙂
Oh, and by the way,
If you got value from todays content please 'like' it and $hare it with three people who could most benefit from its message
🙂
FREEDOM, STRENGTH AND HONOR TO YOU

Let's stay in touch
Phone: 610-781-2392
Skype: prpock
Facebook
LinkedIn
Twitter
YouTube
Google Plus
PARTICIPATE in our Generation Of Wealth Communities
We Are Think And Grow Rich Call (Mon – Fri) 712-432-0990 Access Code: 565762#
Generation Of Wealth Broadcast (Sat)
Timeless Wisdom In Action (Facebook Group)
Carnegie Project 10 Billion (Facebook Group)
Freedom Nation United Blog
LOVE WEALTH – LOVE HEALTH – LOVE HAPPINESS – LOVE LOVE