JOURNAL OF A LIFE – The Man With A Stroke Who Drove Himself To Hospital
 #freedomquadrant 
The world and all its pain belong to the lack thinker.
The world and all its joy belong to the abundance thinker.
AND it's the same world 🙂
  (See more…)
JOURNAL OF A LIFE
Yes, Yes, Yes
Welcome, Welcome, Welcome
Freedom Nation United


Find Money, Create Income and Develop Wealth
Poke about and check us out –> –> –> –> –> –> –> –> –>
🙂
As a great mentor of mine – Joe Schroeder – never tired of saying "A Life Worth Living is a Life Worth Recording" so today I am here to share another episode in the life's journey of one of the great people whose life I am privileged to have shared a part of – my mother AnneKaete Pocklington.
The Man With A Stroke Who Drove Himself To Hospital
Imagine, if you will, you have settled down well to a life in 'retirement'
You go off to visit your family back in Germany.
No need to drag your spouse along, right?
Suddenly, out of the blue, you get a phone call.
But it is not your beloved Husband, but…
READ ON…
The Man With A Stroke Who Drove Himself To Hospital
In 1987 I went to see my aunty Paula and Cousin Hanne for a week or ten Days. We always have been really good friends. Tante Paula was mv Father's Sister, my favourite Aunt, and Hanne felt more like a Sister than a Cousin. That is still so to this Day, even though I have two wonderful Sisters for real, Christel and Paula.
Hanne stayed with us the last Day we were in Germany. And it was Hanne who came to visit us first when we were in England. Travel was not as frequent in the 50s as it is now. Bill was certainly as attached to Hanne as I was. She was just a few months younger than we were, and shared our sorrow and climb up with us. Paula had 5 children and much worry of her own, Cissi was still a Child when we left Germany. So, Hanne became also a 'sister'.
This was one of my journeys Manchester – Duesseldorf, where Bill was not so bothered to come. With three Women is not always inspiring for a Man. He wanted to give the Sitting room at Cherry Tree a Coat of paint, while I was out of the Way. It gave him a week to do the job at leisure and I would be back when all was cleared away.
He always liked to do that. When I was not there when things like that had to be done, he could start and stop when HE wanted to, and leave the Rest untidy without an interfering Woman.
A few days after arriving, I got a Telephone call from England. Not my Bill, as expected! The Voice said "I am a Sister at the General Hospital Halifax. I have to tell you, Mrs. Pocklington, that your Husband is my Patient. Bill has had a STROKE! ! !" — Followed by "NOT to worry, it is not bad". But it was, nevertheless, a Stroke, and Doctors were happy with his Progress. "His right side is lame but he can speak, would you like a word with him? We are trying to get hold of your Son".
So, Darling Bill came on the phone. He was crying very much and sounded so frightened, as he tried to tell me what had happened, and the PLEA, from the heart " Please, please come home!"
The next hours were shattered. I don't know how I went to the Airport or how I flew. I only know it could not be quick enough. My Darling Bill – a Stroke – Bill in Hospital – and me so far away. It is surprising how long or short the same length of Miles can be, in different circumstances.
I truly did not know how I got home, only remember wanting to tell everybody, every Stranger next to me, or looking at me, that MY BILL has had a STROKE. But, of course, I did not talk to anybody at all, all the way home.
And then straight to the Hospital, not home. In the meantime somebody had rung America, spoke to Eileen. She rang Peter in Holland, and they had him paged, somewhere in Holland, where he was on business. On a trip to Germany and Holland. Peter booked straight for England and was in Hospital before me. So, the THREESOME WAS AT LAST TOGETHER.
There was our Bill, and Dad, not too bad. His speech had come back very quick and he told us how relieved he was, so utterly relieved, when he saw our Peter. He had felt so frightened and alone and there, through the door, walked our Peter. He was not dreaming, it was our Peter, all was well.
His right Arm was weak, but he could move it already. His right leg flew out to the right a bit, in a circle almost, but he could walk and stand. I sent Prayers of thanks to Heaven.
What had happened? Bill had finished the painting the night before and had made everything tidy. Glad to have it done, for his Anne to come home to. He cleaned his brushes and went to bed. He was on afternoon Shift the next Day, so he could sleep in if he wished. He would be going to the Bank, get some money, go to Halifax and pay for our forthcoming Holiday to Yugoslavia.
At that time one wrote a cheque out to oneself, went to the Bank and cashed it for money. No Bank- or Credit cards then. So after breakfast he sat down to write out the cheque. He then thought there was something wrong with his arms. Some tingling and feeling funny. But he just put it down to, perhaps, having slept on it, and it would soon go. He got the Car out, went to the Bank in Elland, got the money, and back into the Car. A happy thing to do, pay for a Holiday.
As he drove into the Carpark in Halifax, he thought there was something wrong with the Car, as it did not turn right as it should have done. He slowed down, and had to do another right turn straight away after a few Yards. THEN IT DAWNED ON HIM, that it was not the Car but he himself. Not knowing what it was, he checked his Watch, knew the Doctor in Stainland, 5 Miles away, would be open, and decided to go there first, and then come back to Halifax.
Slowly he drove out of the Carpark, slowly he drove on the Road towards home and the Doctor. As he was about to pass the Hospital he decided, they would have Doctors. He would go there instead of our Doctor. No sooner thought than done. He drove to near the Entrance, there is a small parking lot for Doctors, he parked the Car, got out and locked it, and then walked towards the Door.
His right leg giving way more and more, until completely by the time he reached the Porters door. No idea what could possible be wrong with him. The Man asked cheerfully 'What can I do for you Sir' and he got the reply, I don't know, I think I am dying.
That was the last he remembered, and hearing Bells ringing. Naturally, the Man had pressed all Buttons for Emergency. Doctors came running from all sides.
Stretcher on wheels, and running along Corridors to Emergency. He was known from then on as "the man with a stroke who drove himself to the Hospital". Whenever we saw Doctors later, that was what they asked, "are you etc.?"
Bill thought this very amusing. But he also told many times how completely alone in the world he felt.
It was April 1987 and Bill recovered fairly quickly from this Stroke. We all thought ourselves very lucky! The Doctors were very happy with his progress. And he even lost some of the angst in time.
After 6 weeks on Sick leave, the Doctors wondered if he could try to go back to work. And Bill being Bill said he would have a try. I thought it was too early, especially considering the kind of work it was. The Electricity Bosses obliged by putting him on light work on days. After all, he was 60 years old and not 21.
And to my surprise it was alright. He did very well indeed and we did not know much about Stroke, not as much as we know now. We did not even think that Cigarettes could lead to Stroke. All that warning has come about since. But this was not our Concern anyway as we both had stopped in 1980. Me with the help of a Hypnotist (£15 for 10 Minutes) and Bill proving once again that that was silly, stopping at the same time as me with willpower alone. To prove to me that it could be done.
Life was beginning to be back to normal, until one day, in November 1988 —— when Bill was getting up in the morning, when sweat was pouring out all over his body, and he felt decidedly strange and fell back onto the bed.
S T R O K E
🙂
If  life is the best teacher, doesn't it make sense to learn from the lives of others?
So what did I learn from today's episode?
I remembered that fateful day as if it was yesterday, and
I gave thanks that that 'fate' had chosen to place me in Europe so that I could be, at that moment of crisis, together with those two special individuals whose love instigated my creation…
WHEN WILL WE EVER LEARN…
So Now it's YOUR turn, dear Reader. What did YOU learn?
Please ADD and SHARE your insights in the COMMENT BOX Below
Next Episode –>
🙂
READY TO COMMIT TO YOUR SELF-IMPROVEMENT?
ENROLL IN OUR F*R*E*E 30-DAY MENTORED SELF-STUDY BOOT CAMP
🙂
Oh, by the way,
If you got value from todays content please 'like' it and $hare it with three people who could most benefit from its message
🙂
FREEDOM, STRENGTH AND HONOR TO YOU

"Teaching families to FIND money, CREATE income and DEVELOP Generational WEALTH"
Let's stay in touch
Phone: 610-781-2392
Skype: prpock
PARTICIPATE in our Generation Of Wealth Initiatives
M-W-F: "Rules Of Money" CyberLunch – Noon EST, Noon CST, Noon MST, Noon PST – Registration Required
Tu-Th: "How The Markets Work" CyberLunch – Noon EST, Noon CST, Noon MST, Noon PST – Registration Required
DAILY: "Grow Rich MasterMind" – Click here to Sample
MONDAYS: "Timeless Wisdom In Action" MasterMind Study Group – click here to view our  Facebook Group
BY APPOINTMENT: "FIND MONEY" Interviews – Click To Request Appointment

ON SOCIAL MEDIA: Blog – Twitter – YouTube – Pinterest  – Google+ – LinkedIn –  Facebook
LOVE WEALTH – LOVE HEALTH – LOVE HAPPINESS – LOVE LOVE

🙂
Oh, and by the way, did I mention that we help families Find Money, Create Income and Develop Wealth. Click here or on the image below to get the process started. Because YOU are WORTH MORE!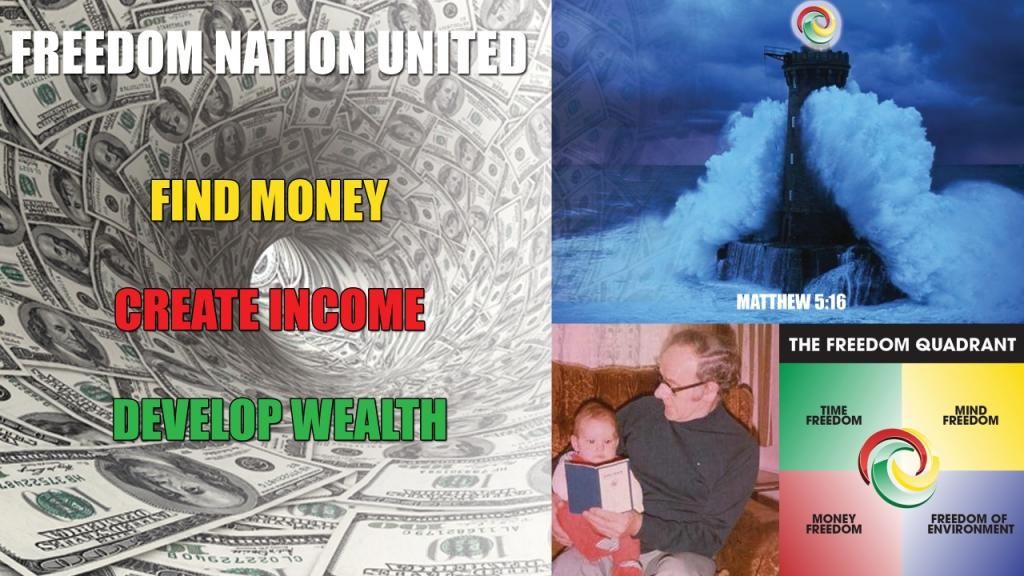 THANK YOU, THANK YOU, THANK YOU