JOURNAL OF A LIFE – Stroke Number Two – Walking Himself Fit
 #freedomquadrant 
What we see in others is always a reflection of ourselves. Why? We only live our lives, not theirs. Think about it. 🙂
  (See more…)
JOURNAL OF A LIFE
Yes, Yes, Yes
Welcome, Welcome, Welcome
Freedom Nation United


Find Money, Create Income and Develop Wealth
Poke about and check us out –> –> –> –> –> –> –> –> –>
🙂
As a great mentor of mine – Joe Schroeder – never tired of saying "A Life Worth Living is a Life Worth Recording" so today I am here to share another episode in the life's journey of one of the great people whose life I am privileged to have shared a part of – my mother AnneKaete Pocklington.
<— Prior Episode – The Man With A Stroke Who Drove Himself To Hospital
Stroke Number Two – Walking Himself Fit
Imagine, if you will, you receive the news that you could never work again at a job you loved.
How would you feel?
Imagine that you were being made to feel responsible for your loved one's having a stroke.
How would that one grab you?
Yet out of that situation another example of two people who love each other overcoming obstacles was born…
READ ON…
Stroke Number Two – Walking Himself Fit
YES, it was stroke number two.
We called the Doctor who immediately called a Specialist, the same who had treated Bill before, Dr. Quereshi!
Because of who Bill was, he came immediately and pronounced it was, indeed, another stroke. Turned round to me and said very firmly: "Hear this, Mrs. This Man will never work again. Remember Mrs. NEVER!" As if it had been my fault that Bill had been back to work FAR TOO SOON.
When Bill heard these words, my Darling Bill, he cried and cried. It took me a long time to calm him. In fact, that was one of the things with the Stroke. He would suddenly cry, the tears running silently down his face. And I loved him, so it nearly broke my heart. But gradually that stopped.
He got Invalidity Pay and his Power Station Pension and we had no money worries. We both could just concentrate on getting Bill better. He was very, very good. He would do anything I suggested to help himself get better, and gently strong again. I would praise him constantly and he would tell me proudly what he could already do again.
A few months later we, or he alone, would go for a walk every day. Starting up with just down the Street, gradually, over weeks and weeks, progressing to walking a few measured miles — and on, and on. Helping in the House, go to the shops, anything that would benefit. This led, gradually, to becoming a Walker, with the right outfit, Trousers, Jacket, Headwear and, mainly, Boots. These Boots were made for walking …. And a walking Stick that could be a Seat. He was so determined to get better and fitter, he walked, bit by bit, mile after mile, the whole PENNINE WAY. In small doses, but right from the beginning to the end. I would take him to a starting point or Valley, by Car. He had his Map. Some hours later I would pick him up in another Valley. And take him, tired but very happy, back to Base, his Home.
This went on for months and months, taking a rest during most of the Winter and starting again in the Spring the next year, when it was nice again. Some bits we would do together, but very small bits. I was not fit enough. But by far the most of it he did alone. He always said he preferred to walk alone. It was a Mammoth Task but Bill was Bill and he did what he thought best, always.
Life was almost back to normal again. I had learned to drive for my 50th birthday. So we had sometimes shared the Driving if we went a long Way. But on the whole, Bill was driving most of the time. Even to his starting Points. I took over then. And I think he had to prove to himself that he was capable.
His mood had changed a little bit. He could be happy one minute and just the opposite the next, since his stroke.
We still went out with Iris and Dougie, Betty and Harry, but he did not enjoy it as much as he used to do. We missed more than we used to do. When he was 65 he did not want a Party and was not keen on being made a fuss of. And gradually, very gradually, my Bill, who absolutely loved Company, began to withdraw a Iittle. I would see him sitting still, just listening, rather than taking part enthusiastically. Well, he was going on 70, we are all different. Had the Stroke done more harm than one saw? Or were WE just getting older and so we both had changed?
He ALWAYS loved to be smart and he did not seem to be thrilled anymore, about new Shirts, Ties or Pullovers. In fact, he could become quite cross if I bought him anything to wear he had not approved beforehand. But, on the whole, we did not seem to have altered that much, considering Bill had to retire early and we were now daily together, all the time. I had retired long before the stroke happened, so we were both always together.
Bill did not seem so happy traveling together. We went, once a year, to Jever, Wilhelmshaven, renting a lovely Flat for our stay. Bill loved that Flat very, very much. Every year we looked forward to 'our' Flat, opposite the Woods, in gentle Countryside without Hills, and we enjoyed our stay. Gradually there too, Bill would be less enthusiastic to go. He would enjoy IT and Paula's Company when we were there, but was not so keen on going. He was altogether quieter than he had been. Was he 'older' in his mind than I? Was another Stroke coming? His whole Character changed bit by bit. Moody, jealous of Visitors, even our Son. Restless, somehow.
I already find this part of Bill's life – of our life together – which we start now – VERY HARD to write.
Whereas it was so wonderful, talking about the complete Happiness, in every way, this part, because it is so full of anxiety, uncertainty, real and true worry – Bill for himself, me for him – it is hard to recall. It contains many unhappy times. We both nearing 70 and things were not as easy to take.
But the sheer pleasure of writing Bill's Story so far. And the real achievement in his life, would never have been seen in a WHOLE if this Story had not been written. And I hope, when the Grandchildren are over 40, and want to know what their Ancestors, or Grandparents were like. By then they are all dead. Then I hope they will read Bill's Story and will realize just what a wonderful Person he was, and what HE achieved in his life, without ANY HELP from anybody.
🙂
If  life is the best teacher, doesn't it make sense to learn from the lives of others?
So what did I learn from today's episode?
I learned again of the strength of the bond that love forged between my mother and my father, and
I learned that Yorkshire stubbornness can have distinct advantages when one has something to prove to oneself…
So Now it's YOUR turn, dear Reader. What did YOU learn?
Please ADD and SHARE your insights in the COMMENT BOX Below
Next Episode –> What's Happening
🙂
READY TO COMMIT TO YOUR SELF-IMPROVEMENT?
ENROLL IN OUR F*R*E*E 30-DAY MENTORED SELF-STUDY BOOT CAMP
🙂
Oh, by the way,
If you got value from todays content please 'like' it and $hare it with three people who could most benefit from its message
🙂
FREEDOM, STRENGTH AND HONOR TO YOU

"Teaching families to FIND money, CREATE income and DEVELOP Generational WEALTH"
Let's stay in touch
Phone: 610-781-2392
Skype: prpock
PARTICIPATE in our Generation Of Wealth Initiatives
M-W-F: "Rules Of Money" CyberLunch – Noon EST, Noon CST, Noon MST, Noon PST – Registration Required
Tu-Th: "How The Markets Work" CyberLunch – Noon EST, Noon CST, Noon MST, Noon PST – Registration Required
DAILY: "Grow Rich MasterMind" – Click here to Sample
MONDAYS: "Timeless Wisdom In Action" MasterMind Study Group – click here to view our  Facebook Group
BY APPOINTMENT: "FIND MONEY" Interviews – Click To Request Appointment

ON SOCIAL MEDIA: Blog – Twitter – YouTube – Pinterest  – Google+ – LinkedIn –  Facebook
LOVE WEALTH – LOVE HEALTH – LOVE HAPPINESS – LOVE LOVE

🙂
Oh, and by the way, did I mention that we help families Find Money, Create Income and Develop Wealth. Click here or on the image below to get the process started. Because YOU are WORTH MORE!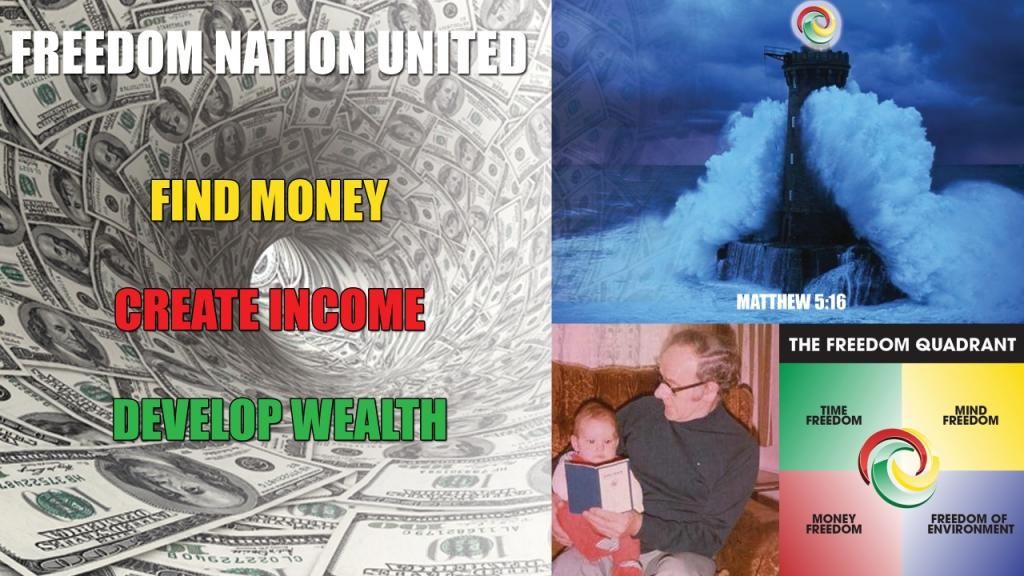 THANK YOU, THANK YOU, THANK YOU