JOURNAL OF A LIFE – What's Happening – The Beginning of An End
 #freedomquadrant 
To a hammer every problem looks like a nail. Choose your counselors for diversity of ideas, not conformity 🙂
  (See more…)
JOURNAL OF A LIFE
Yes, Yes, Yes
Welcome, Welcome, Welcome
Freedom Nation United


Find Money, Create Income and Develop Wealth
Poke about and check us out –> –> –> –> –> –> –> –> –>
🙂
As a great mentor of mine – Joe Schroeder – never tired of saying "A Life Worth Living is a Life Worth Recording" so today I am here to share another episode in the life's journey of one of the great people whose life I am privileged to have shared a part of – my mother AnneKaete Pocklington.
<— Prior Episode – Stroke # 2 – Walking Himself Fit
What's Happening – The Beginning of An End
Imagine, if you will, you are getting older.
You have prepared yourself for the "downsizing".
Where would you choose to live?
What would your criteria be for a location?
Then, gradually, you notice subtle changes in your loved ones' moods.
What to do?
READ ON…
What's Happening – The Beginning of An End
It must have been sometime in the 1990s, when Bill started to have shaking of the hands and feet. Not much, but these limbs were never quite still, unless he was asleep. It did not bother him, he could carry cups alright, use knife and fork, and everything required of the hands could be done. Just that they were NOT still.
We really did not talk about it for a long time and when we did, we were not anxious about it all. It did not interfere with anything.
We had sold our lovely 3-bedroomed semi-detached CHERRY TREE DRIVE. We had moved there in 1970. It had a through Lounge, Garden front and back, a Garage, Bathroom and kitchen of course.  Altogether a lovely House which we both loved. But it did bother Bill very, very much, that he had to stop work 5 years before his retirement age. Just 60 years old. Not able to save more towards retirement as he, in his head, had planned. And also, that we would need 'a Man' for every little thing needed to be done in the house. He had always been a 'do-it-yourself' Man. The planned modernization of the kitchen had not been done. Bill became very, very Anxious and frightened. As usual, Anne had an answer.
We had been on the waiting list for a Council owned Flat or House since the 1970s when I worked for the Housing Department in Calderdale, which was then Halifax. We put our name down at the time for a definite Reason. It did not cost anything, did not eat anything, so why not?
At that time Eileen and Peter lived in Germany. Peter doing his 'DOCTOR' around that time. If they should want to come back to England, what even they thought at that time they might, especially when he had his Doctorate. I thought that, in that case, they could live in our house with their Children, until they knew what and where they would live and settle, while Bill and I could rent a Flat or Bungalow, for whatever time it would take. Having learned lessons from Sister Freda, I also did not want to fall out with my beloved Daughter in Law, Eileen, whom I loved dearly.
This was never required but I could go to the Council  (1989) and say I needed a Flat urgently. And the time we had been on the Waiting list did count in our favour now.  Then, in a very short time, a matter of weeks, we had an offer of a flat in TODMORDEN. We looked at it. The present Tenant kindly let us have a look round, and we liked it. Bill, especially, was absolutely thrilled by the thought that his worries would now be over. We both knew TODMORDEN and some of the people there because we both had been to Night school there for years, me as a Teacher, Bill as a Student in Annelie's Class. And we were very good friends with Annelie and Alan and Marianne, so it was not as if we were going to strange parts. Friends are even more important as we get older than they always were. Yes, Todmorden was very good and Bill was very eager to move there.
He also felt great about the money we did get for our house. We had not realized how the prices of that sort of Property had risen. So he felt much better about a secure future. The interest of the money would pay the Rent on the Flat.
Bill was not able to do all the work decorating the new Flat. But Iris and Dougie were great helping him. Making it appear that they just LOVED decorating, not because Bill could not do it. That was so lovely. And some, quite a lot, was done professionally. But it seemed better to Bill that he could do some, and he felt great. The Flat in CORNHOLME became a beautiful home. All new furniture as the old one would not have fitted and looked right in this small Flat. All good Furniture and cut Glass, Crystals etc. other precious things went in a Container to Peter and Eileen. They had just bought a larger House and could do with it. 2 Men, from an Export firm, took three days to wrap and pack it all. That fascinated Bill.
Bill really and truly loved our little Flat with just one bedroom, Lounge, kitchen and Bathroom.  We went to Church on Sundays. Partly to get to know the people and the Village.  And the Congregation, as ever, came up trumps, generous in their friendliness. Bill could go for lovely walks. I often went with him, walking in a beautiful narrow Valley, with a babbling Brook, in PUDSEY, a near Hamlet. Yes, BOBBIN MILL CLOSE made him very happy — and well.
In 1991 we bought a lovely 'Cerise' VW POLO.  Our first VW.  It was a really lovely Car and I loved it. Bill was now hardly ever driving. But soon he would not like it anymore. And then did not even like being a passenger in it. We would not go for long drives anymore. But Germany once a year, and in the autumn 'the Trough of Boland' were still favourites.
But gradually, very gradually, he would become very moody. Lovely one Minute, the opposite the next.
We had a system for years, when I was in a 'funny' mood (maybe in the change) I would say, Gosh, I am in a queer mood, just leave me be and I will come round. He accepted that and left me to work through it. But this was now his turn, and the "Change" in men came to mind. And he became strange, selfish (for the first time in his life). Even eating up all the Pudding without asking Guests if they liked another helping. Not much, but so very strange for him. All completely opposite from the Bill he was. His walking became slower and slower. And always we had happy times in between.
In 1992 we got an exchange and moved nearer to the Centre of Todmorden, so Bill could be in 3 Minutes in the Park, and was only eight Minutes from the Town Centre.
In 1996 Bill insisted that we bought a 4-5 door Car. He felt too hemmed in by the 3-door :Polo. I was sorry that the :Polo had to go, it was barely 5 years old, But Bill firmly insisted. So it was sold and a lovely VW Golf was bought. I soon got used to it and could not understand why I had to be bullied into it.
The move to the Centre of Todmorden came about through Bill's insistence. I think now, that he really was looking for a life without Car. Which would have suited him well.
As the chance of an exchange was very slim, we had not much hope, but we applied. Only to be told that our fear was true, it was a case of 'NO'. As we started to look around where the Council Dwellings were, in about February 1992, we chanced to look at a Block, away from Estates, where the Tenant of one Flat saw us and enquired what we were looking for. That only CHANCE MEETING led eventually into us moving, in April 1992 into our present, lovely Flat (for this type of Senior Accommodation) at No. 1 MEADOW VIEW. This Lady had been desperate to get a Flat at Bobbin Mill Close, Cornholme, as she had two daughters already living there in Flats. So, our beautiful decorated and carpeted Flat was exchanged for a dreadfully non decorated, dirty Flat. But that did not matter, Bill was so happy to move somewhere. Living in the Country, with a View over a Meadow, and a little Riverlet right behind the House, and yet, only 8 Min. from the Town Centre. I am still so happy here, it is lovely.
Bill went every day at least once into Todmorden and just loved it so very much. When I look at my Diaries, and 'letters to Mutti' things were often bad, very bad, from about 1996 onwards. But there were always Days, Moments, Happenings where, in my Diaries, for me to thank God with all my heart for giving me my Bill back, for hours, a Day, or Minutes. So it was a mixture of a TIME.
These things, I write now, were not recorded in the right Order. This is better for me. No proper Order, just as it comes. They are events in Bill's life, almost as muddled as he was at times. Diaries just tell me that I was often in great despair, as I could not tell what had happened to our Life, or my Pal. OR WAS IT ME?
Bill became very jealous about all sorts of people. Friends, Relations, my Sisters, even our Darling Son Peter. We would look forward to each of them coming for a visit. Got exited about their coming!! Then after only a Couple of days, he would find some excuse to have a tremendous Row with ME. A really bad one, an unfair quarrel, which boiled down to nothing. This happened from occasionally to frequent to ALWAYS. Just out of the blue. I really could not understand the World anymore. I just assumed, he was a grumpy old Man one read about or saw on TV. (Like 'One foot in the Grave').
In about 1997 Bill had a lot of Pain in his Chest and various tests were made after Gaviston and all sorts of remedies had no effect. The Heart was soon eliminated. He saw various Doctors in the Hospital. Private as well as NHS.
What was Happening?
🙂
If  life is the best teacher, doesn't it make sense to learn from the lives of others?
So what did I learn from today's episode?
I learned how amazingly foresightful my parents were in preparing for life's eventualities "down the road", and
I took personal pleasure in reading of the pleasure both my mum and dad were able to have as they adapted to the circumstances these changes brought with them…
So Now it's YOUR turn, dear Reader. What did YOU learn?
Please ADD and SHARE your insights in the COMMENT BOX Below
Next Episode –> To Know or Not To Know – Dealing With Uncertainty
🙂
READY TO COMMIT TO YOUR SELF-IMPROVEMENT?
ENROLL IN OUR F*R*E*E 30-DAY MENTORED SELF-STUDY BOOT CAMP
🙂
Oh, by the way,
If you got value from todays content please 'like' it and $hare it with three people who could most benefit from its message
🙂
FREEDOM, STRENGTH AND HONOR TO YOU

"Teaching families to FIND money, CREATE income and DEVELOP Generational WEALTH"
Let's stay in touch
Phone: 610-781-2392
Skype: prpock
PARTICIPATE in our Generation Of Wealth Initiatives
M-W-F: "Rules Of Money" CyberLunch – Noon EST, Noon CST, Noon MST, Noon PST – Registration Required
Tu-Th: "How The Markets Work" CyberLunch – Noon EST, Noon CST, Noon MST, Noon PST – Registration Required
DAILY: "Grow Rich MasterMind" – Click here to Sample
MONDAYS: "Timeless Wisdom In Action" MasterMind Study Group – click here to view our  Facebook Group
BY APPOINTMENT: "FIND MONEY" Interviews – Click To Request Appointment

ON SOCIAL MEDIA: Blog – Twitter – YouTube – Pinterest  – Google+ – LinkedIn –  Facebook
LOVE WEALTH – LOVE HEALTH – LOVE HAPPINESS – LOVE LOVE

🙂
Oh, and by the way, did I mention that we help families Find Money, Create Income and Develop Wealth. Click here or on the image below to get the process started. Because YOU are WORTH MORE!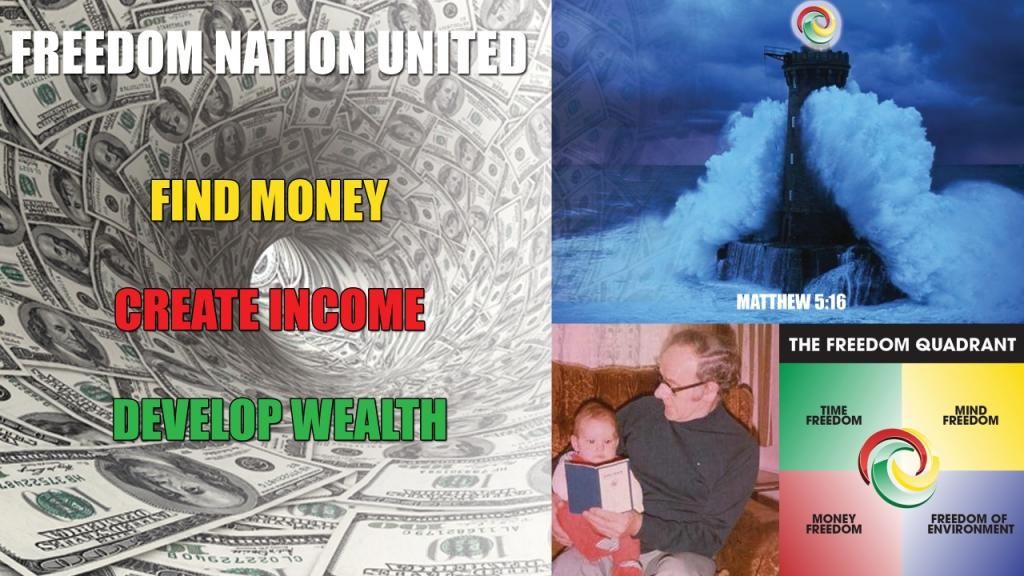 THANK YOU, THANK YOU, THANK YOU