JOURNAL OF A LIFE – To Know Or Not To Know – Dealing With Uncertainty
 #freedomquadrant 
Acting with purpose upon inspiration brought about by preparation.
Now that's Magic 🙂
  (See more…)
JOURNAL OF A LIFE
Yes, Yes, Yes
Welcome, Welcome, Welcome
Freedom Nation United


Find Money, Create Income and Develop Wealth
Poke about and check us out –> –> –> –> –> –> –> –> –>
🙂
As a great mentor of mine – Joe Schroeder – never tired of saying "A Life Worth Living is a Life Worth Recording" so today I am here to share another episode in the life's journey of one of the great people whose life I am privileged to have shared a part of – my mother AnneKaete Pocklington.
<— Prior Episode – What's Happening – The Beginning Of An End
To Know Or Not To Know – Dealing With Uncertainty
Imagine, if you will, you feel like you are on some sort of medical 'mystery tour'.
Nothing too serious, but disconcerting nonetheless.
Then your sister is stricken with a nasty, debilitating ailment.
How does one deal with that?
How would you deal with that?
READ ON…
To Know Or Not To Know – Dealing With Uncertainty
Dr. Quereshi, who examined Bill for some trouble, asked suddenly, how long he had 'IT'. Shaking his hands and saying CHOREA? I knew by the movement of his hand what he meant as I had never heard the Word CHOREA. It was a new word to me. He then quickly assured me, and Bill, NOT TO misunderstand, not HUNTINGTONS CHOREA, but a Chorea caused by the Stroke. He explained that, depending where the stroke hit the brain, this could happen.
He then talked about that this was rare, and how he would like Bill to come sometimes to his Lectures. To show the Students what a Chorea looked like. It was so rare that they only knew it from books, hardly ever saw it. Bill agreed at once to do this, but was never actually requested to do so. This might have been in 1996/7, but we did not remember exactly.
Bill had to have an endoscopy to see if all was well in his Oesophogus.  About the Pain in his Chest. It turned out to be just slightly inflamed and was corrected with various Medicines.
Bill also, around that time, had to see Dr. Somerville a few times because of Bowel and Bladder Problems. This was all found to be clear but an 'eye' was going to be kept on him. An Echocardiogram was also taken in December 97. This is an Ultrasound scan of the heart and lasts about an hour. One Mystery seemed to follow another. Doctors were, I think, puzzled. Everything went on its way and we both thought all these were precautions and nothing found to be amiss and too serious.
In the meantime, his Sister DOROTHY in Sheffield became more and more ill. They, she and her husband Charly had visited us for their Holiday, at Cornholme, before and after they were married. And in Meadow View as well. Dolly was then well but could not walk well on her own because of Balance Problems. Her limbs too, acted involuntarily. Some very much and nothing like Bill's slight movement. As she also had had a Stroke at 61, we thought she might have also this 'Chorea', like Bill.
For that reason they liked to have a Holiday with us, as a Hotel was not as suitable and relaxed for them. She had had a very deep Depression after her Stroke, and was then frightened of Life. Before she married Charly she would ring me often, at times very often, at 4 o'clock in the morning. Because she was down or just full of 'Angst'.
When Dolly was only 61 she was in an Psychiatric Home for a while. This was absolutely dreadful. Dark, smelly, and all old people sitting in a narrow Room, facing each other, on Rows of Chairs. One Window very high up, you could not look out.
Dear Charly rescued her from there and made her the promise to marry her when she was better. I shall forever thank him about that because he took a tremendous job on. Marrying somebody who was mentally quite alright, just did not always act as one should, for some unknown reason. Willpower made her better to a certain extent when Doctors had given up with this MYSTERY ILLNESS.
After a few years she got gradually worse, and Charly rang us up a lot to tell me what Dolly was like. Various stages. Bill and I talked always about it and were very, very sorry. We did not visit 'because' Dolly did not WANT Visitors, to see her how she was now. She was very aware that she was slowly becoming incontinent etc.
Bill talked or bullied his Sister Freda into seeing her Sister. He would also fallout with Sister Freda for anything or nothing. These two got worse and worse as they got older.
Freda reported back that "she did not seem bad at all". Not telling us that she could not talk anymore, was doubly incontinent etc. etc.
Dolly died in 1999 at the age of 74 and we went to the Funeral in Sheffield. She was at Rest now and we were thankful.
But what did this to Bill. What had it to do with him? Our own Doctor stood firm by his word. HE was too old for it. HE was treated for depression, then deep depression etc. etc., as he seemed to get worse rapidly. But then again, he also had his, and OUR, very good times. Holidays by the Sea, near Cuxhaven. Happy Memories were recalled. Where he had landed the very first time he came to Germany. Finding the actual Pier etc. It did him such a lot of good. And as the Sea there is full of Iodine, I thought he must be short of that as he was so wonderful and entirely HIMSELF.
Our OWN VERY SPECIAL HOLIDAY, for our 50th Wedding Anniversary. That was also something really special. Bill did not communicate much with fellow travelers, but that WAS the new Bill now. And, after all, it was OUR VERY SPECIAL TIME. I had got quite used to it that he was now NOT anymore the jovial, very friendly Companion everybody loved. He had changed, so what And Bill had, WE HAD, such a wonderful time on our Wallace Arnold Holiday in three European Cities. VIENNA, PRAGUE and BUDAPEST. All per Bus, never any more than 3 hours drive before stopping in wonderful first class Hotels. It was an extra ordinary trip, and our actual Anniversary DAY, the 1st May 1998, was made very wonderful by EVERYBODY.
We got very friendly with one wonderful couple from TEDBURY in Gloucestershire. Still are good friends with Peggy and Jim Bradley. Jim is a (married) Catholic Priest. I never knew there was such a Man, but there it is. Otherwise we kept to ourselves most of the time. But went as a foursome to a wonderful Concert in a Centuries old Building in PRAGUE. Bill loved that very, very much. We were very, very happy. He had nobody to be jealous about, he had my whole concentration and felt safe. Again, this is looking at it with hindsight.
In 1999 we went to Hanne for Christmas and to see the new Millennium in together. What would the new Millennium bring us all? Bill would be well again, and he was always calm in Hanne's Company, we had lots to look forward to, and we did, LOOK FORWARD. Forgotten was Sister Dolly and her illness, and all was well. For three whole weeks. Yes, he was lovely and interested and we never had to rush anything.  IT, and HE, was gentle and WELL.
In 2001 Bill had to go into Hospital as his Urine Flow was giving us some Concern. Bill had not noticed but I had, that the Flow was not good. But he agreed, when I told him what I thought. The outcome of all that was, that he was told, on the 11th July 2001, that he had a prostate Cancer. It shattered Bill completely. It was decided he would have an implant Injection every 12 weeks which would, hopefully, dry up the Cancer. He had his first injection just below the Belly Button, on the 15th July 2001. He had no Pain or Discomfort through either Cancer or treatment.
During that stay in Hospital I received a call rang me "could I please come straight away". Bill had asked for them to call me to come.  As I arrived there, I got a shock. I had come as quick as I could and had dropped whatever I was doing. IT WAS TERRIBLE, my Darling, Darling Bill was in a terrible state!
I could not believe what had happened. It took me 3 full hours to calm him down and dry his tears. It took all my strength but I managed it, without any help from Staff. Not one of the Nurses, who were gathered around a Desk, asked if they could help. A little Sympathy would have helped both of us.
And as he came home a few days later he was calm — but never the same again after that. We had entered an uncertain time.
AND THE REST IS HISTORY
🙂
If  life is the best teacher, doesn't it make sense to learn from the lives of others?
So what did I learn from today's episode?
I learned that nothing in life is certain.
I learned a lot about the power of love and the way it had of improving, at least for some short periods, the pain of knowing and the pain of not knowing, and
I learned to appreciate how much a simple act of sympathy can mean in a time of crisis…
So Now it's YOUR turn, dear Reader. What did YOU learn?
Please ADD and SHARE your insights in the COMMENT BOX Below
Next Episode –> And When The Earth Shall Claim Your Limbs
🙂
READY TO COMMIT TO YOUR SELF-IMPROVEMENT?
ENROLL IN OUR F*R*E*E 30-DAY MENTORED SELF-STUDY BOOT CAMP
🙂
Oh, by the way,
If you got value from todays content please 'like' it and $hare it with three people who could most benefit from its message
🙂
FREEDOM, STRENGTH AND HONOR TO YOU

"Teaching families to FIND money, CREATE income and DEVELOP Generational WEALTH"
Let's stay in touch
Phone: 610-781-2392
Skype: prpock
PARTICIPATE in our Generation Of Wealth Initiatives
M-W-F: "Rules Of Money" CyberLunch – Noon EST, Noon CST, Noon MST, Noon PST – Registration Required
Tu-Th: "How The Markets Work" CyberLunch – Noon EST, Noon CST, Noon MST, Noon PST – Registration Required
DAILY: "Grow Rich MasterMind" – Click here to Sample
MONDAYS: "Timeless Wisdom In Action" MasterMind Study Group – click here to view our  Facebook Group
BY APPOINTMENT: "FIND MONEY" Interviews – Click To Request Appointment

ON SOCIAL MEDIA: Blog – Twitter – YouTube – Pinterest  – Google+ – LinkedIn –  Facebook
LOVE WEALTH – LOVE HEALTH – LOVE HAPPINESS – LOVE LOVE

🙂
Oh, and by the way, did I mention that we help families Find Money, Create Income and Develop Wealth. Click here or on the image below to get the process started. Because YOU are WORTH MORE!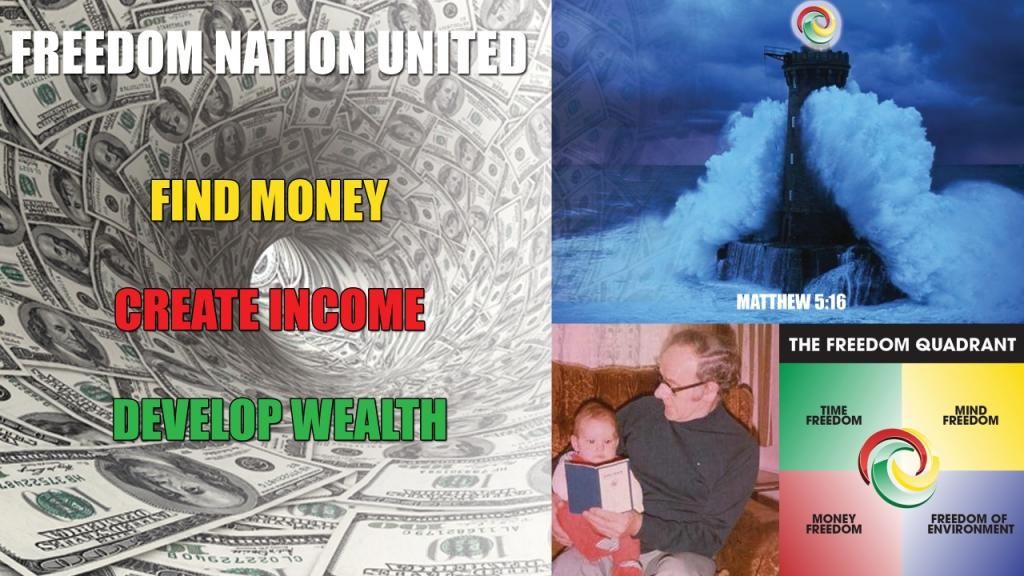 THANK YOU, THANK YOU, THANK YOU