Thanksgiving – ONE IMMIGRANT'S STORY
Yes, Yes, Yes
Welcome, Welcome, Welcome
Freedom Nation United


Find Money, Create Income and Develop Wealth
Poke about and check us out –> –> –> –> –> –> –> –> –>
🙂
Today, in this season, I just wanted to share a piece of my life for which I am grateful.
A life's lesson that meant so much to a small family experiencing the people of this new Country.
An experience without which my life's path would probably have turned out so differently.
THANKSGIVING – ONE IMMIGRANT'S STORY
We came across to the United States
A small family
Peter, Eileen, Vicky, Anne-Marie, Andrew
Landed – September 21, 1981
A new adventure had begun.
Now in Europe we do not have the formal "Thanksgiving Day" as a tradition.
But we were, somehow, blessed
Blessed by the hearts of the Smith family
Norma, Will, Sandie, Brian, Matt.
No way, Norma and Will had decided,was this family
new to this America, this United States, this Pennsylvania
new to these strange peoples with their strange customs
No way were we going to be sitting alone
Wondering what the fuss was all about.
And so they invited us into their home
To share what they had.
Sort of like the Native Americans did for their first settlers.
Strange Foods – Cranberries, Turkeys, Grandma's stuffing recipe ….
Strange Drinks – Wild Turkey, Bourbon, Yukon Jack …
Strange Sports – They called it football but played it with their hands …
And so started a tradition that we have been blessed with 31 times already
A tradition at which circumstance has decided that today the two male patriarchs will not be physically at the table
but whose Spirits must, most surely, participate.
Strangers have come and gone at our table.
Like when we provided food and companionship to a US sailor
stuck at the old Philadelphia Navy Yard
A long way from home and family.
Family has come and gone at our table
New babies, new wives, new husbands, new friends, old friends no longer with us in body.
Locations have changed – as health or other circumstances have demanded
We've been as many as 35 as few as 5
Sometimes it seemed as if the only tradition was that no two years would be alike
But two things have remained constant
LOVE and GRATITUDE.
So, for me, count Thanksgiving up there as possibly the greatest of all holidays.
It is not burdened by the man-made divisions imposed by the multitude of religious traditions.
It can be shared by all – regardless of color, creed, political persuasion or any of the other things that divide this brotherhood of man.
It is truly a poor man who has nothing for which to give thanks.
When we sit down and give thanks, may our table be blessed with
the loving spirit of thanksgivings past,
the hope of thanksgivings to come, and
the sure knowledge that one of the simplest of all gifts is a heartfelt "Thank You".
Thank You, once again, to Norma and the Smith family
Embodiments of the phrase
"A Stranger is just a friend you haven't met yet"
And to you who have blessed these words with the time you took
to read them and add your meaning into them
From Me To You
THANK YOU, THANK YOU, THANK YOU.
Oh, and by the way,
If you got value from todays content please add YOUR in-sights to the comment box below, then 'like' it and $hare this post with three people who could most benefit from its message
🙂 See you next time 🙂
FREEDOM, STRENGTH AND HONOR TO YOU

"Teaching families to FIND money, CREATE income and DEVELOP Generational WEALTH"
Let's stay in touch
Phone: 610-781-2392
Skype: prpock
PARTICIPATE in our Generation Of Wealth Initiatives
M-W-F: "Rules Of Money" CyberLunch – Noon EST, Noon CST, Noon MST, Noon PST – Registration Required
Tu-Th: "How The Markets Work" CyberLunch – Noon EST, Noon CST, Noon MST, Noon PST – Registration Required
DAILY: "Grow Rich MasterMind" – Click here to Sample
MONDAYS: "Timeless Wisdom In Action" MasterMind Study Group – click here to view our  Facebook Group
BY APPOINTMENT: "FIND MONEY" Interviews – Click To Request Appointment

ON SOCIAL MEDIA: Blog – Twitter – YouTube – Pinterest  – Google+ – LinkedIn –  Facebook
LOVE WEALTH – LOVE HEALTH – LOVE HAPPINESS – LOVE LOVE

🙂
Oh, and by the way, did I mention that we help families Find Money, Create Income and Develop Wealth. Click here or on the image below to get the process started. Because YOU are WORTH MORE!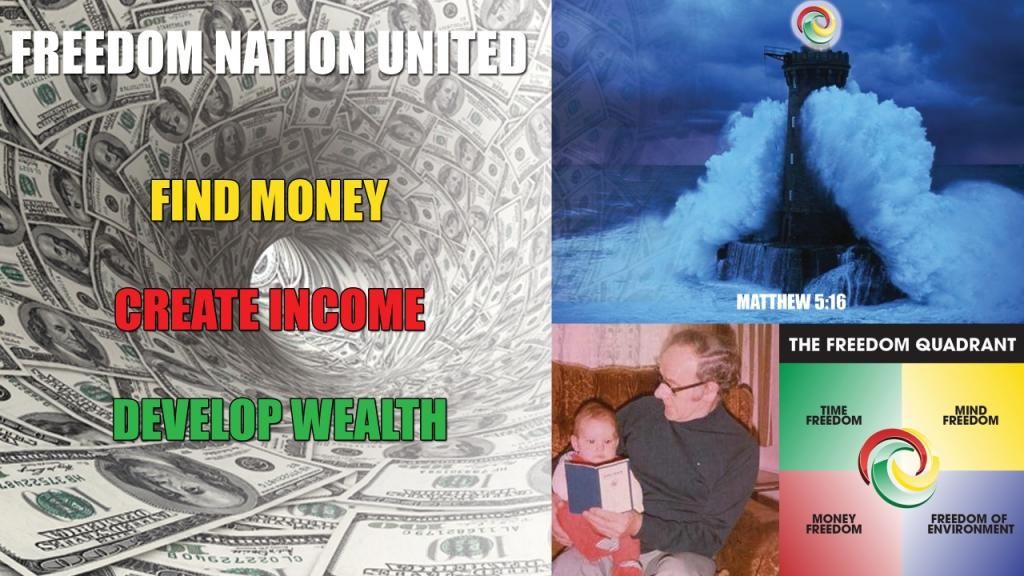 THANK YOU, THANK YOU, THANK YOU