REAL PEOPLE In Action – Step 15 – Getting My Second Wind
 #freedomquadrant 
The person who says "it can't be done" is usually busy keeping
out of the way of the person doing it. Carnegie To Hill wisdom:-)
  (See more…)
REAL PEOPLE In Action – Step 15 – Getting My Second Wind
Yes, Yes, Yes
Welcome, Welcome, Welcome
Freedom Nation United


Find Money, Create Income and Develop Wealth
Poke about and check us out –> –> –> –> –> –> –> –> –>
Step 15 – Getting My Second Wind
So impressed that you are still giving it your best. 14 steps undertaken,nearly half-way…
How do you feel about the step you just completed –> Step 14 – WOW LOOK AT THE VIEW FROM HERE
How do you FEEL about the journey you are demonstrating your commitment to?
Is it easier now to get your MAJOR INTENTION completed?
Are the exercizes that you are choosing helping you feel better physically?
How does your physical condition help you develop mental toughness?
Did you manage to get through yesterday's MANDATORY assignments?
What OPTIONAL assignments did you choose to do?
Look again at the five things you chose to do yesterday that you feel good about. Pretty good, eh?
However, yesterday has gone – you can do nothing about it.
It was given to you as a gift to invest or waste. To use or abuse as you saw fit.
Again it is your decision time
Are you ready to continue with your commitment to invest in yourself?
If not – I want you to exit this blog RIGHT NOW!
Frankly, your time, and mine, is too valuable to me for you to even continue on this journey.
🙂
OK Now! What's up next on this step of the journey?
Begin today's game by turning to your "MY RESOURCES" section
Turn to your "BOOKS TO STUDY" Page
Enter the book "The Science of Getting Rich" by Wallace Wattles and note it to be Mandatory
Obtain access to this book either through local library loan, purchase from a book-seller, or download from the internet.
Now turn to your "ABOUT ME" section
Put a heading on the next page "What is my TV selling me"
Next, in the "DAILY ROUTINE SECTION"
Turn over to start a new fresh day.
Divide the left-hand page into two columns
Use the left-hand column to document the PRE-GAME tasks, Today's PLAY-Book, and POST-GAME tasks.
Use the right hand column to track your INCOME and EXPENSES
Record money received today in black
Record money spent today in red, and note whether the items purchased are viewed as needs (N) or wants (W)
NOTE: Don't go crazy on expenses – categorization is OK – for example, GROCERIES (N)
On the right-hand page you can now:
1. Document your one MAJOR INTENTION for the day. Is it the same as you had when you were preparing for sleep?
2. Plan your day, and
3. As the day progresses, you will keep an hourly record of your actual time investment in the things you do.
So here are today's basic assignments:
PRE-GAME (upon awakening)
Complete at least one of the physical exercizes that you decided you can fit into your daily routine
e.g. 20 minutes walk by walking 10 minutes in one direction, turning around and returning to your start point.
Read ALOUD the Napoleon Hill SELF-CONFIDENCE FORMULA (found in the Chapter 'FAITH') – Click Here to Listen
Decide on the EXACT timing for the 30 minutes you will spend thinking of the person you intend to become.
Decide on the EXACT timing for the 10 minutes you will spend demanding of yourself the development of self-confidence.
You will only get what you expect and are willing to inspect.
GAME EXECUTION
Decide on the EXACT timing and duration of your visit to the Local Library.
Decide on the EXACT timing you will schedule to dial-In and listen to the Daily Master-Mind Call
Listen to the Daily Master-Mind Call
LIVE: 9:00 A.M. U.S. Eastern Standard Time Call-In Number 712-432-0900 Access Code: 565762#
OR, POST-CALL RECORDING(Available from about 30 minutes after the call until the next day's call)
Call-In Number 712-432-0990 Access Code: 565762#
OR, Click Here to download from the internet
Today bring your notebook
Turn to the "MY RESOURCES" section
Put a heading on the next page "PHILOSOPHIES I CAN LIVE BY"
When on the call pay attention to the Master-Mind Dialogue
Record just ONE more concept that caught your attention as worthy of further consideration.
Review the blog post on "What Do Committed Leaders Do" <== click here
Consider whether your life experience validates the topics covered
Add your opinion as a comment on the post
In your ABOUT ME section on the page "What my TV is selling me"
Write down the name of the TV program you selected and list the product names of the first 21 commercials they broadcast – duplicated expected.
READ ALOUD the Napoleon Hill "Think And Grow Rich" Chapter on AUTO-SUGGESTION
OPTIONAL ITEMS:
1. Read the article: Ten Ideas for Young Entrepreneurs.
2. Watch the video: Money Advice From Kids To Grown-Ups
3. Listen To The Audio: Gamification Of Money
POST-GAME (Immediatey before going to sleep)
Turn to your "ABOUT ME" section
Put a heading on the next page "PEOPLE I ADMIRE"
Add the name of just one person with up to three attributes you admire about them.
Document 5 (five) things you did well today and how you feel about them
e.g. I feel great because I took action on…
Decide on a main intention for the following day
Review the documentation of where your time was allocated for the day,
writing down in your notebook the time allocated to this personal development program
as well as the time actually spent.
Read ALOUD the Napoleon Hill SELF-CONFIDENCE FORMULA (found in the Chapter 'FAITH') – Click Here to Listen
Congratulate yourself on having completed another step without quitting… on yourself.
Ready to take the next step? Click here for Step 16 – I am Investing – In MYSELF 
🙂
Oh, and by the way,
If you got value from today's content please add YOUR in-sights to the comment box below, then 'like' it and $hare this post with three people who could most benefit from its message
🙂 See you next time 🙂
FREEDOM, STRENGTH AND HONOR TO YOU

"Teaching families to FIND money, CREATE income and DEVELOP Generational WEALTH"
Let's stay in touch
Phone: 610-781-2392
Skype: prpock
PARTICIPATE in our Generation Of Wealth Initiatives
M-W-F: "Rules Of Money" CyberLunch – Noon EST, Noon CST, Noon MST, Noon PST – Registration Required
Tu-Th: "How The Markets Work" CyberLunch – Noon EST, Noon CST, Noon MST, Noon PST – Registration Required
DAILY: "Grow Rich MasterMind" – Click here to Sample
MONDAYS: "Timeless Wisdom In Action" MasterMind Study Group – click here to view our  Facebook Group
BY APPOINTMENT: "FIND MONEY" Interviews – Click To Request Appointment

ON SOCIAL MEDIA: Blog – Twitter – YouTube – Pinterest  – Google+ – LinkedIn –  Facebook
LOVE WEALTH – LOVE HEALTH – LOVE HAPPINESS – LOVE LOVE

🙂
Oh, and by the way, did I mention that we help families Find Money, Create Income and Develop Wealth. Click here or on the image below to get the process started. Because YOU are WORTH MORE!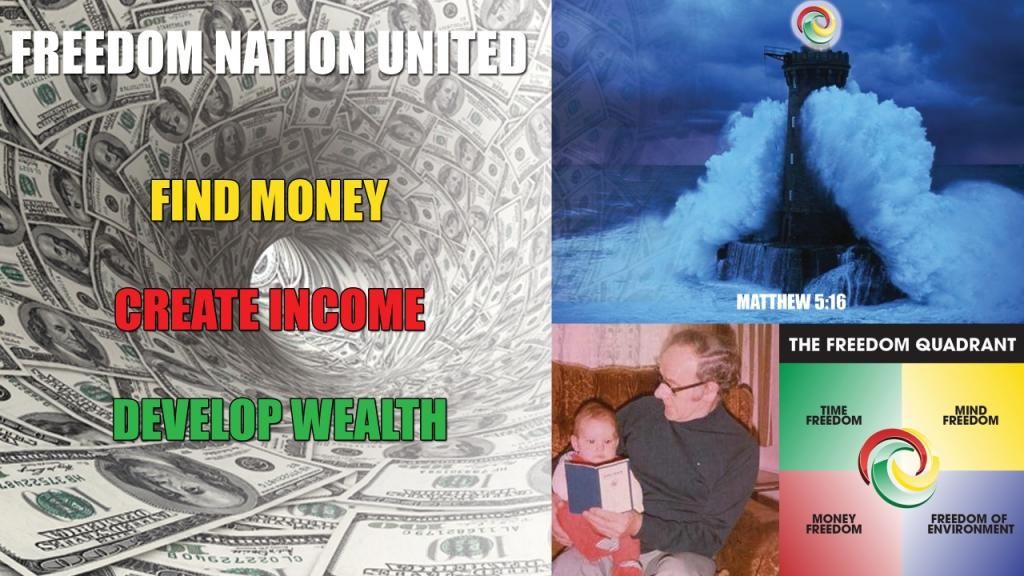 THANK YOU, THANK YOU, THANK YOU