Goods Guard Bill
"History may be written in the books of the famous – but it is created by the lives of everyday individuals"
Anne-Kaete Pocklington
THE STORY OF BILL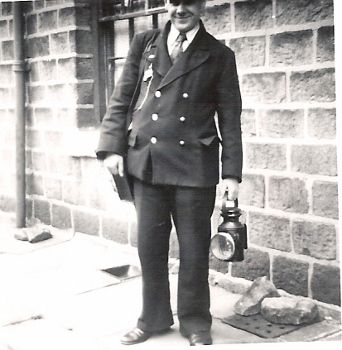 Goods Guard Bill
Phyllis had a Grocery shop, Roy was an Engineer on the Railway. His Dad had also been on the Railway and Roy thought this was a good job to consider seriously. For one important Reason alone, it was pensionable. You paid towards this Pension whilst working and would have a Private Pension on the end. THAT was NOT so in the Mills. Roy had been on the Railway and served a proper indentured apprenticeship and became an Engineer. Bill was too old for that, but why not have a look at what was there. They were old enough to almost be our Parents. And in those days YOU LISTENED when they advised.
Bill looked, enquired, thought about it, and APPLIED at his first opportunity. He had a very good Interview with a very good Report from his Bosses at the Mill. In those days that was needed and very IMPORTANT. And he got the Job as a learner GOODSGUARD. And the 'learning' part was very important. LOTS and LOTS to learn. A Passenger Guard has not as much to learn, a different job all together. A GOODSGUARD has over 400 Rules to learn by heart, must know the Braking System, as HE is in Charge of the Train. The Driver makes the Train go, the Goodsguard stops it from running away. In our Area very, very important as you had to know ALL the Gradients in an approx. 50 Mile Radius. He must learn all the Routes by Heart, this is vital!
And so Bill learned his Routes, and his Rules. Studied at work and at home. In the evenings, or whenever he was off duty, this was Shift work again, as in the Mills. But not the usual morning, afternoon or Night, but any hour, of the Day and Night could be starting time, depending which Goods were transported, and when and how.
Again we were a team of a different sort. I would ask the questions with the Rulebook in my hand, HE would answer. On and on and on. Over and over again. I looked at the Railway System with different eyes after that. It was serious but his determination was terrific.
And he passed first time and became a very proud GOODS GUARD when he received his Watch, Lamp, Signal, Whistle and huge Leather Bag to carry it all, and the Rule Book in it. And, of course, his Uniform. Not as glamorous as the Passenger Guards, but to him very important just the same. He had served a long Apprenticeship to be in this Position.
And this gave him his first 'good' Wage. It was not terrific, more nights, more money, just as it came, but our little Family started to save a little. We felt, and Bill in particular, if there was enough money in the Bank, at all times, so that I could travel home any time, if needed, that was a kind of security. The homesickness was nowhere near as bad after that. We both felt more secure.
Bill absolutely loved it when we saved up for things and then went out choosing and buying, to better our home. One could buy everything on Credit, called HP (Hire Purchase), which was a never, never affair, but that was not his way. You saved, and then you had the pleasure of buying. That was good for me. I would have had all sorts of HP in those Days, I think. Buy today, and worry about the Payment tomorrow, never mind the Interest you have to pay on all this borrowing. When we had bought our first pieces of furniture, all that time ago, we had HP and had £90 worth of Goods, and paid back £120 in a Year. That was Bill's lesson, learnt the hard way.
And we both took "New Year" very seriously. We must not owe a Penny on that night. Even normal Household Bills. They were saved each payday in little tins, ready for the Bill to come. That way, when we got our Bills, our friends dreaded these, we were always happy because we knew we had a little more in the tins, and could now have a treat of something SPECIAL, maybe 'Salmon' for tea!!!!!
Bill loved his Railway years. Again made good and lasting friends, like Arthur and Jean Robinson. Jean, Arthur and their daughter Andrea gave us much fun and good times when Bill taught Arthur to drive. Jean was from Scotland, Arthur a Yorkshire Lad from GOOLE.
One thing comes to mind.  When Arthur had learnt a little while (Jean often went with them for the ride) He suddenly had Arthur stop on an uphill Road. What was an /uphill start/ lesson. Bill placed his own Gold watch just behind the wheel and had Arthur start the Car. Arthur was horrified, Jean still thinks of it with horror, but Bill laughed and, of course, Arthur had not rolled back onto his Watch. That was also Bill. He taught many, many friends to drive.
It was not easy to get up at 2, 3, or 4 in the morning, but that was the way it was. And Bill never, NEVER ever would let me get up to make him his Breakfast. If I had to get up just at the same time that was alright, but not to get up special. Some Railwaymens' wives got up to make their Man his Breakfast, whatever the starting time was. Bill always said he would have to get up half an hour earlier,  I stopped his routine, when I got up.  Women were so fussy!  His way he could do two or three things at the same time, and I made him sit down for Breakfast.
The other important facts for both of us was the fact that we could travel by train half price, with 3 free passes a year, one of them even through Holland, and half fare in Germany. It enabled us to have a journey home to see my Parents and Family almost every year. That was, indeed, wonderful. For Bill as important as for me, as that was his Family as well.
And my Mother and Aunty still loved to spoil him. And when he joked about me, and told them I was not treating him right at all, never darned his Socks etc. ( he could have a wicked sense of Humor), I was taken aside endlessly all the Holiday and told I must serve the poor Man better than that. And his eyes would shine with mischief.
One of his best times was, when he and Mutti were in the kitchen together and she would bake him certain German Potato pancakes, called Kartoffelpuffer. These were eaten with Apple Sauce or Sugar. She would bake them, and Bill sitting in readiness, would eat them there and then, straight from the Pan. Only when he had his fill were the Rest baked for our meal. That way these two had a lot of fun and laughter.
🙂
You saved and then you had the pleasure of buying.  Imagine that?  Guess that might have helped avoid the 'Financial Meltdown' of the 2008 markets. But time marches on inexorably. What was that Churchill said about those who ignore history are doomed to repeat it?
🙂
For myself, I hope that today's post has, in some way, encouraged you – Dear Reader – to reflect on the life journeys you have and are undertaking.
As well as those undertaken by those who are near and dear to YOU.
You are who you are because of these journeys.
Where is YOUR journey taking you next, I wonder?
🙂
Oh, and by the way,
If you got value from todays content please 'like' it and $hare it with three people who could most benefit from its message
🙂
FREEDOM, STRENGTH AND HONOR TO YOU

Let's stay in touch
Phone: 610-781-2392
Skype: prpock
Facebook
LinkedIn
Twitter
YouTube
Google Plus
PARTICIPATE in our Generation Of Wealth Communities
We Are Think And Grow Rich Call (Mon – Fri) 712-432-0990 Access Code: 565762#
Generation Of Wealth Broadcast (Sat)
Timeless Wisdom In Action (Facebook Group)
Carnegie Project 10 Billion (Facebook Group)
Freedom Nation United Blog
LOVE WEALTH – LOVE HEALTH – LOVE HAPPINESS – LOVE LOVE