The Corridors Of Power
"History may be written in the books of the famous – but it is created by the lives of everyday individuals"
Anne-Kaete Pocklington
THE STORY OF BILL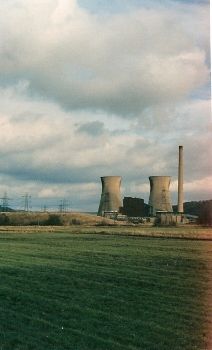 The Corridors Of Power
And at last he did look around. And again, a good friend, the husband of a Colleague of mine, Ted Clark, worked at the Power Station. He worked in the Store (and in that position you know everything about the place). So he knew they wanted Men and told Bill about it.
And Bill applied, got an Interview, and started at the Power station at Halifax. Lightening up the World, would it lighten up his Life again? Learning a new job from scratch. This was, I think, about 1964. Everybody, but EVERYBODY, who works in such a Power station, starts the same way, as a Labourer. They then can take various courses IN the Electricity Branch. One passes examinations, allowing a Person to apply for Promotion, in various Directions. No matter what they all were in the meantime, they all started where Bill was now starting. ON THE BOTTOM OF THE LADDER or, as we used to say ON THE HOT SEAT!
When he had started we also called it the Corridor of Power. That saying took another meaning all together, this was, once again, a tremendous job to learn, and DO.
It was really no more than cleaning, which sounds harmless enough. What does it mean in this case?
The Gangway around these enormous large Turbines, the huge Boilers, all sorts of Galleries and Corridors etc. The tiled floor at the very bottom. Everything was super clean. But what was by far the worst of all, the vacuuming on top of the Boilers. Very fine Ash was everywhere. This had to be shifted to stop Combustion.
Up these huge Ladders to get on top of these things, do the vacuuming, FOR AT MOST 10 MINUTES, and then down again to recover for 15 Minutes, while another Man went up. And this for every eight hour Shift. It was tremendous!
And, of course, once more hundreds of Rules to learn. In this case, even more important than the other Rules, he was already putting behind him. The entire Manpower at the Station depended on the Mates all remembering the Rules. These Men worked together and bonded together because they HAD to. By this time he worked in Elland Power Station.
After a while he became an Assistant Operator. Here you Assisted the OPERATOR, but also learned the job from him. One applied for all these jobs, had an Interview, and had passed some Exams, at every stage.
On a huge Console, with all sorts of Dials, Clocks, Buttons, Valves, Gauges he walked left and right to assist the Operator running the Turbines. Learning the 'going on' load and 'coming off' Load, of such a Turbine. Powdered coal, for instance, was blown across a Pipe, lighted and so the fire ate the Coal. Huge amounts per minute. Bill loved to talk about the amounts such a Turbine needed every minute.
And all the time still learning new Rules again, and how and when, had to be learned. Yes, Anne holding the book and asking the questions and Bill giving the Answers. We had, by now, much experience in these Question and Answer Games.
But he was proud when he became an official Assistant Turbine Operator.
But what happened then? You started straight away to learn the Operators Job and his Rules. The responsibility is tremendous, but Bill never minded that.
And when an Operators Job became vacant, either in your Power Station or somewhere else, you applied, get Interviews and, if lucky, get the job.
A Man who fancied to live somewhere else, another Station somewhere, applied for jobs, and when successful, moved with the help of the Electricity Board. They helped to sell your house and removed you free.
This applied from Labourer to Operator, or any other Job. Quite a few Labourers left after their christening in the HOT SEAT, or CORRIDORS of POWER, they just could not stand the heat. Bill did make it. But was glad when he got the Assistant job. And eventually applied and got the Operators Job, after a few years. The next would have been Foreman and he did not fancy that at all. But his FATE decided different before the Question arose.
He had his first Stroke at 60 and the second 18 months later and was retired early. But he loved being an Operator, helping another Labourer up the Ladder by teaching him, and was very conscientious.
The Men were all a great bunch of Fellows, all for one and one for All, where it mattered. It was a three shift job. 6 a.m. till 2 p.m., 2 p.m. till 9 p.m.,  and 9 p.m. till 6 a.m.
The middle shift was changed to please the men. A 9 instead of 10 finish so that they could go for a Pint after Shift. This was such a hot job, and the Pubs shut then at 10 or half past, in most places. Bill never went for this pint, he was too glad to get home to us.
What was also very nice were the various dances we had. A wonderful way of Wives getting to know one another and men getting to know the men out of the very noisy workplace. A very good and human approach, wonderful the thought behind it. And important in other ways, such a job could be very dangerous, if you did not concentrate and think of what you were doing. Safety was a Premium all the time.
Some of the dances were earned. If a Shift had not had to report an accident on Shift, they got rewarded, ending up with a Meal for the whole Shift. And if the Station had done well in that respect, they got a dance out of it. But these dances, at least once a year, were great. Bill absolutely loved to dance. We would dance all night. Not always with each other.
The Gentleman he was, if there was a Lady present without a Partner in all our dances anywhere, Bill would be the man who asked her to dance after telling me, of course, that he felt he wanted to. It was understood by both of us. That was the right thing to do. Where he was present NO Lady would be sitting all evening without a dance. As I would sometimes ask a Man to dance if he was on his own.
Yes, Bill certainly enjoyed such outings. And we had a lot of these when WE were still fit. The yearly Mayors Ball, my firms dance, Bills Firms dance. Dougie's firm dance, Golf Club dances. We did the Seasons.
Yes, it was a good time between 30 and 55, wonderful years, spend with good friends. And he loved to flirt. Not the sexy kind, just flirting and having fun.  And the Ladies loved to flirt with Bill, the Man with the laughing eyes.
🙂
How many times did this man have to start at the bottom of the ladder.  Each time working his way up. More tests. More exams. More responsibility. Yet, he did it.  Yes, Dad – "quitters never win and winners never quit".  Wonder where I learned that? Many talk the talk, but you walked the walk.
🙂
For myself, I hope that today's post has, in some way, encouraged you – Dear Reader – to reflect on the life journeys you have and are undertaking.
As well as those undertaken by those who are near and dear to YOU.
You are who you are because of these journeys.
Where is YOUR journey taking you next, I wonder?
🙂
Oh, and by the way,
If you got value from todays content please 'like' it and $hare it with three people who could most benefit from its message
🙂
FREEDOM, STRENGTH AND HONOR TO YOU

Let's stay in touch
Phone: 610-781-2392
Skype: prpock
Facebook
LinkedIn
Twitter
YouTube
Google Plus
PARTICIPATE in our Generation Of Wealth Communities
We Are Think And Grow Rich Call (Mon – Fri) 712-432-0990 Access Code: 565762#
Generation Of Wealth Broadcast (Sat)
Timeless Wisdom In Action (Facebook Group)
Carnegie Project 10 Billion (Facebook Group)
Freedom Nation United Blog
LOVE WEALTH – LOVE HEALTH – LOVE HAPPINESS – LOVE LOVE