The Day Ordinary Left Familiar
 #freedomquadrant 
WE should always see OURSELVES in the proper perspective – not through the phony prism of self-doubt 🙂
  (See more…)
The Day Ordinary Left Familiar
Yes, Yes, Yes
Welcome, Welcome, Welcome
Freedom Nation United


Find Money, Create Income and Develop Wealth
Poke about and check us out –> –> –> –> –> –> –> –> –>
The Day Ordinary Left Familiar
As is my custom, Friends Of Freedom, I was sitting with my morning beverage today going through my morning pre-game ritual, as outlined in the post Exercise – Envision – Read – Meditate – Pray – Empower .
(Yes, I do consider every day to be a present in the game of life)
I was thinking about what messages I have received that would benefit you, the reader of this Blog Post.
I got to thinking that the greatest of them all taught his disciples it was in the form of parables.
I remembered a coaching call with a Friend Of Freedom, the great Debbie Short, talking about how important it is for people to take responsibility for their lives, when I recalled a life lesson that had been taught to me in the form of a modern day parable.
A co-incidence? I don't think so
Accordingly I offer you, Dear Reader,  this modern day parable:
"The Dream Giver" By Bruce Wilkinson
which I, in turn, received with greatful thanks from via Khana LaJefa Kerns
a member of our "We are Think and Grow Rich" community of active seekers of truth and wisdom.
🙂
Ordinary Embraces His Big Dream
Not long ago and not far away, a Nobody named Ordinary lived in the Land of Familiar.
Every day was pretty much the same for Ordinary. In the mornings he got up and went to his Usual Job. After work, he ate almost the same dinner he'd eaten the evening before. Then he sat in his recliner and watched the box that mesmerized most Nobodies on most nights.
Sometimes, Best Friend came over to join Ordinary in front of the box. Sometimes, Ordinary went to his Parents' and they watched together.
For the most part, not much happened in Familiar that hadn't happened before. Ordinary thought he was content. He found the routines reliable. He blended in with the crowd. And mostly, he wanted only what he had. Until the day Ordinary noticed a small, nagging feeling that something big was missing from his life. Or maybe the feeling was that he was missing from something big. He wasn't sure.
The little feeling grew. And even though Nobodies in Familiar didn't generally expect the unexpected, Ordinary began to wish for it. Time passed. Then one morning Ordinary woke up with these words echoing in his mind: What you're missing, you already have…
Could it be? Ordinary looked and looked. And then he discovered that in a small corner of his heart lay a Big Dream. The Big Dream told him that he, a Nobody, was made to be a Somebody and destined to achieve Great Things.
Jumping out of bed, Ordinary discovered something else—a long white feather resting on the sill of his window. Where did it come from? What did it mean? With a jolt of excitement, Ordinary decided he'd been visited by the Dream Giver.
Now, Ordinary had heard rumors of various Nobodies in Familiar waking up to a Big Dream. But he had never imagined that it could happen to him.
He rushed to get dressed, his Big Dream beating brightly in his chest. He couldn't wait to get to his Usual Job and tell Best Friend the news.
But on his way to work, Ordinary realized he had a problem. His Big Dream was too big for a Nobody like Ordinary. He would be embarrassed to tell anyone. Even Best Friend would probably laugh.
Still, Ordinary was too excited to keep his dream to himself. As soon as he saw Best Friend, he blurted out the news: "The Dream Giver gave me a Big Dream! I was made to be a Somebody and destined to achieve Great Things!"
Best Friend looked surprised, but he didn't laugh. "That's very…big," he said. "But if I were you, I wouldn't talk about this Dream of yours too much. Nobodies around here might take you for a fool."
Ordinary didn't want to look like a fool. So after that he kept his Big Dream to himself. Day after day, Ordinary showed up at his Usual Job. But while he worked, he thought about his Dream. He thought about how wonderful it would be to do what he loved to do instead of just dreaming about it.
Ordinary's longing for his Big Dream grew and grew, until finally he realized that he'd never be happy unless he could pursue it. Why didn't the Dream Giver make it possible?
If the Dream Giver didn't, how could Ordinary ever leave Familiar? He had payments and expenses. He had regular duties. A lot of Nobodies counted on him for a lot of things. Ordinary felt completely stuck. Time passed, but nothing changed. He began to hate his Usual Job. This isn't what I was made to do, he'd say to himself. I just know it!
After a while, he began to worry that maybe he hadn't received a Big Dream after all. Maybe he'd just made it all up. And he grew sadder by the day.
One evening after work, Ordinary went to his Parents' to watch the box. But their box was broken, so the house was very quiet. It was even more quiet because his Mother was out shopping at Familiar Foods.
In the quietness, Ordinary started to think about his Dream again. He looked over at his Father sitting in his recliner, staring at the single page of Nobody's News. Maybe he could help. "Father," said Ordinary, "I'm growing sadder by the day. I don't like my Usual Job anymore. In fact, I think I hate it." Father looked up. "That's terrible!" he said. "What happened?"
Before he could stop himself, Ordinary started talking about the Dream Giver, and about his Big Dream. "I was made to be a Somebody and achieve Great Things!" he said. And then he told his Father the Name of his Dream. As he spoke, his voice trembled. He was sure that his Father would laugh or call him a fool. But his Father didn't. "I'm not surprised to hear you say these things," he said. "You're not?" said Ordinary.
"No," his Father said. "You've had that Dream ever since you were little. Don't you remember? You used to build that same dream with sticks and mud in front of this very house."
Then Ordinary did remember. He'd always had his Dream! It was what he'd always wanted to do, and what he'd always thought he'd be good at doing. His eyes filled with tears. "Father," he said, "I think I was born to do this."
Ordinary and his Father sat together quietly. His Father seemed to be remembering something, too. After a while he asked, "When you woke up to your Big Dream, Son, did you happen to find…a feather?" Ordinary was shocked. "How did you know?" he asked.
"A long time ago, I woke up to a Dream, too," his Father said. "And it came with a long white feather. It was a wonderful Dream. I kept the feather on my windowsill while I waited for a chance to pursue it. I waited and waited. But it never seemed possible… One day I noticed the feather had turned to dust."
Of all the sad words Ordinary had ever heard, these were the saddest. Before he left that night, his Father hugged him. "Don't make the same mistake I did, Son," he said. "You don't have to stay a Nobody. You can be a Dreamer!"
When Ordinary got home, he went straight to the window and picked up the long white feather. He turned it over carefully in his hands. He thought about his Father and the Dream he'd left behind.
Then he had a surprising idea. Could it be that maybe the Dream Giver gave every Nobody a Dream, but only some embraced their dreams? And even fewer pursued them? The more he thought about it, the more he thought it had to be true. One thing Ordinary did know for sure: He didn't want to repeat his Father's mistake. He wouldn't waste another day waiting for his Dream to seem possible. He would find a way to pursue it.
Time passed. Ordinary worked hard on his plan to begin his Dream. He made hard choices. He made difficult changes. He even made big sacrifices. Finally, one morning, he was ready. Ordinary ran all the way to his Usual Job, his Dream pounding hard in his chest. As soon as he saw Best Friend, Ordinary blurted out the news: "That Big Dream I told you about—I've decided to pursue it!"
Best Friend looked concerned. "You know as well as I do that Nobodies who pursue their Dreams leave Familiar," he said. "They set off like fools into the Unknown, in search of a place where—" "Yes, yes, I know," Ordinary broke in, "and I can't wait to get started!"
"But Ordinary, that journey is anything but sensible or safe. Why leave Familiar? It's so comfortable here. And besides, you've always lived here."
"I've thought about all that, too," said Ordinary. "But my Big Dream is too important and too wonderful to miss." Best Friend shook his head. "So you're going to become a Dreamer," he said.
"I am a Dreamer!" answered Ordinary.
"Today I'm going to tell my Boss that I'm leaving my Usual Job. Tomorrow I will begin my journey. Hey, Best Friend," added Ordinary eagerly, "you can have my recliner and my box!"
And with that, Ordinary walked away, humming a tune that he'd never heard before.
🙂
Again, don't just take it from me.
You can tell Infinite Intelligence – Debbie Short, Khana LaJefa Kerns and Bruce Wilkinson sent you!
🙂
Oh, and by the way,
If you got value from today's content please add YOUR in-sights to the comment box below, then 'like' it and $hare this post with three people who could most benefit from its message
🙂 See you next time 🙂
FREEDOM, STRENGTH AND HONOR TO YOU

"Teaching families to FIND money, CREATE income and DEVELOP Generational WEALTH"
Let's stay in touch
Phone: 610-781-2392
Skype: prpock
PARTICIPATE in our Generation Of Wealth Initiatives
M-W-F: "Rules Of Money" CyberLunch – Noon EST, Noon CST, Noon MST, Noon PST – Registration Required
Tu-Th: "How The Markets Work" CyberLunch – Noon EST, Noon CST, Noon MST, Noon PST – Registration Required
DAILY: "Grow Rich MasterMind" – Click here to Sample
MONDAYS: "Timeless Wisdom In Action" MasterMind Study Group – click here to view our  Facebook Group
BY APPOINTMENT: "FIND MONEY" Interviews – Click To Request Appointment

ON SOCIAL MEDIA: Blog – Twitter – YouTube – Pinterest  – Google+ – LinkedIn –  Facebook
LOVE WEALTH – LOVE HEALTH – LOVE HAPPINESS – LOVE LOVE

🙂
Oh, and by the way, did I mention that we help families Find Money, Create Income and Develop Wealth. Click here or on the image below to get the process started. Because YOU are WORTH MORE!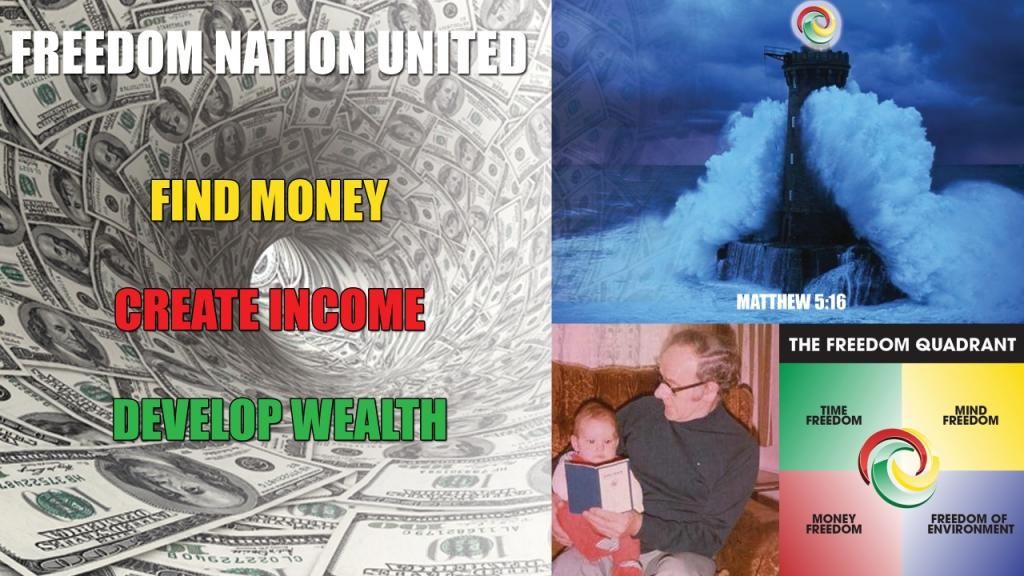 THANK YOU, THANK YOU, THANK YOU