What Personal Development Mistakes Are We Making?
 #freedomquadrant 
Ten More Commandments #3
Thou shalt not cross bridges before ye come to them, for no one yet has succeeded in accomplishing this 🙂
  (See more…)
What Personal Development Mistakes Are We Making?
Yes, Yes, Yes
Welcome, Welcome, Welcome
Freedom Nation United


Find Money, Create Income and Develop Wealth
Poke about and check us out –> –> –> –> –> –> –> –> –>
What Personal Development Mistakes Are We Making?
As is my custom, Friends Of Freedom, I was sitting with my morning beverage today going through my morning pre-game ritual, as outlined in the post Exercise – Envision – Read – Meditate – Pray – Empower .
(Yes, I do consider every day to be a present in the game of life)
I was thinking about what messages I have received that would benefit the communities of action that I am a part of.
I had been sharing mind together with Paul Hutchings, Mahara Tucker, Phil McGarvey, Wallace Wattles and the rest of the "We Are Think And Grow Rich" Internet group –
We had begun our study of Wattles' work "Promote Yourself" and the topic of the importance of personal development to anyone's plan for success
After all, no less than the great Jim Rohn observed
"Unless you change how you are, you will always have what you've got."
No lesser authority than the Dalhai Lama states
"If you don't love yourself, you cannot love others. You will not be able to love others. If you have no compassion for yourself then you are not able of developing compassion for others."
I was thinking about the advice given by the great Zig Ziglar in his book "See You at The Top"  where he spends all of Chapter 6 providing "Fifteen Steps To A Healthy Self-Image" and notes that
"Once you accept yourself, it will no longer be a matter of life or death for others to accept you … they will be accepting the real you and the real you is much nicer than the phony conformist who tries so hard to become somebody he isn't"
But then, as I was researching the topic for you I came across an article in dumblittleman.comentitled
and I got to thinking.
One of the most profound pieces of advice given to me early in my coaching career was the observation that "it isn't practice that makes perfect, it's perfect practice" .  Following that logic, if we are to have a better personal development plan, wouldn't  it be best to  learn from the "mistakes" of others – so I checked it out and found so much value it would immoral of me not to share…
As we execute on our own personal development plan 'mistakes' might we be un-wittingly guilty of?
What questions could we be asking about OUR plan? Are any of these rearing their heads?
#1: Are You Fixing Your Weaknesses? 
For this he recommends that we focus the majority of our personal development efforts on our top 20% of skills, strengths, and talents. For the rest of the 80% do what we can to avoid them, delegate them to someone else, or create a system to avoid doing them. If a weakness is preventing us from hitting our goals, then get just good enough so that we can continue to focus on becoming an expert at we're good at.
#2: Do You Want to Become "Better"?
For this he asks "…What does 'better' mean?" Change "better" to something specific like "know how to build a website so I can share my advice." That's how personal development actually happens in the real world.
#3: Are You Learning Awesome Theories?
Remember  theories are also like crack or girl scout cookies – they're addictive. It's helpful to remember this simple concept – "everything that's not stupid works." It's better to just find a path that's not stupid and stick to it. (You can always improve it later). Learning theories isn't personal development. Implementing them is.
#4: Have You Never Had a Major Failure?
Name one successful person who's never failed. The strange paradox is that you cannot learn much from successes, but the bigger the failure the more you learn. The only possible way to avoid failing is to not try in the first place.
Work hard for those failures, because that's the best way possible for you to grow.
#5: Are You Crazy Busy?
Who has time to work on themselves?
Yep, it's tough.
It's really got to be a matter of priority. How much of a priority is it that you improve yourself, your skills, and your life?
There are two solutions:
First, you can schedule time for whatever kind of personal development you want to focus on. Then you guard that time with your life.
Second, if you can't do that for whatever reason, you need to find ways to incorporate your improvement in other activities you have to do anyway.
Truth be told, you should probably find a way to do both.
#6: Did You Choose The Newest and Shiniest Version?
It's easier to think that the newest thing out there is the best. The newest strategy, technique, tactic, idea, book, etc. …
Remember, most personal development is about subjects that are timeless – the mind, the body, the spirit, selling, finances, communication, friendship, love, etc.
Don't make it more complicated than it needs to be.
#7: Is Your Personal Development for Personal Development's Sake?
If "personal development" doesn't have a result, then it doesn't count. <– <–
By "result" I mean a tangible, objective, other-people-can-see-change kind of result. That means you have to get something from your improvement efforts.
For example,  More Money, More Confidence, More Influence.
If you're not seeing those things, maybe your personal development path isn't quite on track. 
#8: Do You Love to Read?
Loving to read is great, but dangerous.
With your personal development, spend maximum 25% of your time reading, learning, and researching. The other 75% (or more) should be spent taking action.
Mostly we already know, inside ourselves, what to do.
Wanna be fit? Start with jogging before work and stop eating fast food. Wanna make friends? Start by joining a club or organization. Wanna be productive? Close your email.
So again, maximum 25% reading and minimum 75% doing.
But don't just take it from me. Click Below to read the full article
The Bottom line…
PUT YOURSELF OUT THERE
If you're passionately pursuing improvement and have an open mind to change, you're almost guaranteed to succeed.
Love you guys,
🙂
Oh, and by the way,
If you got value from today's content please add YOUR in-sights to the comment box below, then 'like' it and $hare this post with three people who could most benefit from its message
🙂 See you next time 🙂
FREEDOM, STRENGTH AND HONOR TO YOU

"Teaching families to FIND money, CREATE income and DEVELOP Generational WEALTH"
Let's stay in touch
Phone: 610-781-2392
Skype: prpock
PARTICIPATE in our Generation Of Wealth Initiatives
M-W-F: "Rules Of Money" CyberLunch – Noon EST, Noon CST, Noon MST, Noon PST – Registration Required
Tu-Th: "How The Markets Work" CyberLunch – Noon EST, Noon CST, Noon MST, Noon PST – Registration Required
DAILY: "Grow Rich MasterMind" – Click here to Sample
MONDAYS: "Timeless Wisdom In Action" MasterMind Study Group – click here to view our  Facebook Group
BY APPOINTMENT: "FIND MONEY" Interviews – Click To Request Appointment

ON SOCIAL MEDIA: Blog – Twitter – YouTube – Pinterest  – Google+ – LinkedIn –  Facebook
LOVE WEALTH – LOVE HEALTH – LOVE HAPPINESS – LOVE LOVE

🙂
Oh, and by the way, did I mention that we help families Find Money, Create Income and Develop Wealth. Click here or on the image below to get the process started. Because YOU are WORTH MORE!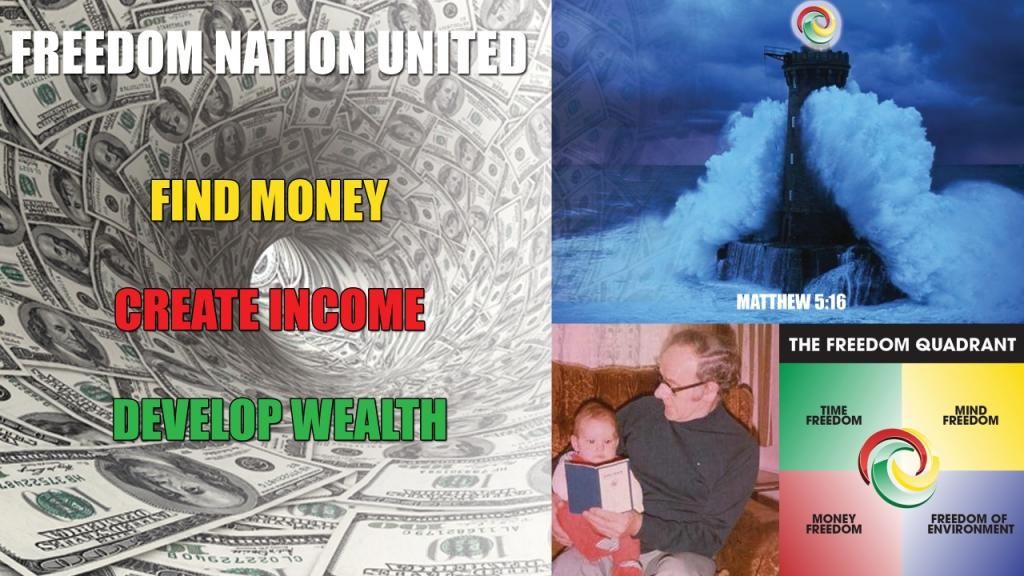 THANK YOU, THANK YOU, THANK YOU