Getting Paid Daily
Developing ANY skill REQUIRES four stages: Unconsciously Incompetent;
Consciously Incompetent; Consciously Competent; Unconsciously Competent.
Don't beat yourself up 🙂
#FreedomQuadrant
Welcome, my friend, to FREEDOM NATION UNITED, where we help families to FIND Money, CREATE Income and DEVELOP Generational Wealth – for themselves, their families and those they love and care about.
This is the home of the REAL PEOPLE HELPING REAL PEOPLE Leadership Development program 
AND of the the GRANDFATHER PROJECT: WHAT YOUR GRANDFATHER SHOULD HAVE TAUGHT YOUR FATHER ABOUT THE RULES OF MONEY Brown Bag Lunches
🙂
As is my custom, I was sitting with my morning beverage today going through my morning pre-game ritual, as outlined in the post Exercise – Envision – Read – Meditate – Pray – Empower .
(Yes, I do consider every day to be a present in the game of life)
I was thinking about what messages I have received that would benefit you, the reader of this Blog Post.
As so often happens I had music from the "Soundtrack Of My Life" playing in my head.
Remember the song "Money" on the "Dark Side Of The Moon" Album by Pink Floyd?
Money…. Can't wait… Get a good job… Get more pay… You're OK….
That's how the song "Money" by Pink Floyd begins.
What was the Universe telling me, I thought.
And then it hit me.  That proverbial 'Ton Of Bricks' again.
Funny how it always seems to work that way.
Co-incidence? I don't think so 🙂
🙂
Money…. Can't wait… Get a good job… Get more pay… You're OK….
Isn't that how most people's 45 year plan was laid out for them?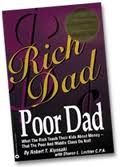 In Robert Kiyosaki's life-changing (for me) work "Rich Dad Poor Dad" he describes "successful" Poor Dad's life plan as
Go To School
Get Good Grades
Get a Good Job
Work Hard
Retire Get A Pension
Die
All his working life he had sold his time for money.  Yet somehow, it seems that, for him, as for many, there was always more month than money!  🙁
So how are things right now?
According to a Career Builder.com survey from April 12, 2011 "Six in 10 workers say that they are living paycheck to paycheck".
Sound familiar?  🙁
So, tired of the "rat-race", what do you do?
🙂 You go into business for yourself.
🙂 You are worth more than your Company is willing to pay you, right?
🙂 You have the spirit of an entrepreneur, right?
🙂 You want to be in control of your income, right?
Ask yourself
Are you in control of your income?
Be honest with yourself
Are you in control of your income?
🙂
Here's the rub
If you are self-employed in any way
You are! – in control of your income, that is.
What does that mean?
If  your  income is not where it needs to be for you to be profitable you need to look in the mirror and ask yourself some key questions:
🙂 Am I waiting for someone else to create sales pieces?
🙂 Am I waiting for other people to recruit others?
🙂 Am I in a deadly waiting game?
🙂 Are my daily disciplines, disciplines of doership?
Be honest with yourself.
Why is this?
If you are experiencing problems it is probably because you are working with too few a number.
Admit it, You cannot "love" people into action.
Recognize, You can control your process.
Take Action…. Daily
🙂
You control, how many people you reach with your message.
You control, how many ads you place.
You control, How many postcards you mail.
You Control ….
Yes, YOU!
🙂
As the GREAT Franco Gonzalez once told me:
Always remember that the "shy" entrepreneur has skinny kids! 😮 )
🙂
As humans, we
are creatures of habit,
habits that will make or break us,
What is your "daily bread" of DOERSHIP?
Is it nourishing your growth into a BUSINESS?
OUR Process determines OUR Results.
🙂
Here's the good news
If your results are not what you want them to be – you can change them starting today
🙂
Its a simple (but not easy) 4-step process
🙂 Find someone who is both getting the results you want AND has values you would want to share.
🙂 Get to know what they are doing,
🙂 Learn what they had to give up to get there, and
🙂 Just do it – daily and in excess.
The journey of a thousand miles begins with the first step
🙂
🙂 SO – IS MONEY THE ROOT OF ALL EVIL? OR THE PRODUCT OF VIRTUE?
I SUGGEST YOU WATCH THIS VIDEO 🙂
YOU SEE MONEY NEVER COMES TO WHERE IT IS NOT APPRECIATED…
🙂
Again, don't just take it from me.
You can tell Infinite Intelligence – Pink Floyd, Robert Kiyosaki and Franco Gonzalez sent you! 🙂
For myself, I hope that today's post allows us to reflect on where we are, where we want to be, and what we  are doing to get there.  More importantly, that it provides a spark and that carburetor adjustment that will accelerate our journey on the road to FREEDOM and all that means to you…
🙂
READY TO COMMIT TO YOUR SELF-IMPROVEMENT?
ENROLL IN OUR F*R*E*E 30-DAY MENTORED SELF-STUDY BOOT CAMP
🙂
Oh, and by the way,
If you got value from todays content please 'like' it and $hare it with three people who could most benefit from its message
See you on my next blog
🙂
FREEDOM, STRENGTH AND HONOR TO YOU

Let's stay in touch
Phone: 610-781-2392
Skype: prpock
Facebook
LinkedIn
Twitter
YouTube
Google Plus
PARTICIPATE in our Generation Of Wealth Communities
We Are Think And Grow Rich Call (M – F) 712-432-0990 Access Code: 565762# sample here
Generation Of Wealth Broadcast (Sat)
Timeless Wisdom In Action (Facebook Group)
Carnegie Project 10 Billion (Facebook Group)
Freedom Nation United Blog
LOVE WEALTH – LOVE HEALTH – LOVE HAPPINESS – LOVE LOVE